10 November 2014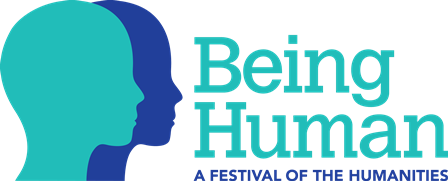 This Saturday, the British Library and Speakers Corner Trust will be at Senate House, University of London, to help celebrate the launch of the Being Human Festival. We're very excited that Zoe Williams and Jeremy Gilbert will be joining us to introduce our two debates, 'Truth, Propaganda and Purpose', and 'Truth, Lies and the Individual'.  
'Too Much Information?' is the theme for the day at Senate House, which will hold talks, workshops, and tours to explore the role of communication, and new communication technologies and behaviours, in our everyday lives. Many of the events focus on the Ministry of Information, which found its wartime home at Senate House, and Mass Observation, the organisation that provided the Ministry with public opinion research.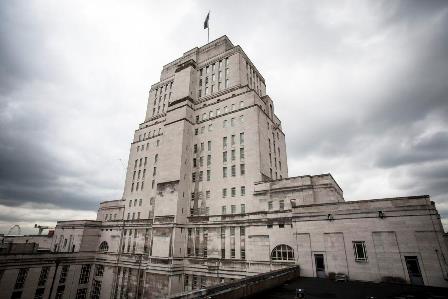 Senate House, University of London. Photograph by Andy Day.
The day doesn't just focus on communication in the recent past though. There are fast-paced presentations on new research in the digital humanities, and workshops on researching the UK Web Archive. The day concludes with 'Openess, Secrets and Lies', a discussion on information sharing, privacy and secrecy online. The panel includes Sir Nigel Shadbolt, Heather Brooke, Ben Hammersley and Doc Rocket.
Our public debates are a chance for you to respond to the themes of the day, and tell us your concerns and aspirations for the way that we communicate in the 21st century. At 1.40pm, join us to debate 'Truth, Propaganda and Purpose'. Author and journalist Zoe Williams will introduce our debate, where we will discuss what forms of political communication and persuasion online are justifiable - and how easy is it for us to discover "the truth" online anyway?
At 3.20pm, Jeremy Gilbert, Professor of Cultural and Political Theory, University of East London, will introduce, 'Truth, Lies and the Individual'. What expectations do we have of others when we communicate online, what standards (if any) do we want to see applied, and do we know how to "play by the rules"?
Join us in the Crush Hall, on the ground floor of Senate House, and let us know what you think.    
22 September 2014
Professor Marsh writes:
Beginning on 29th September 2014 and running for 7 weeks, the University of Sheffield has developed a new, free, online course 'Exploring Play: the Importance of Play in Everyday Life' which will be delivered through the FutureLearn platform. Through the course, we aim to investigate play as a serious subject for study and in particular examine the place of play as an
important part of our everyday lives, across our life courses. Play is not only something that occurs in childhood, with a moving away from 'childish pleasures' in adulthood, but it is an essential part of life.
'Exploring Play' doesn't require any previous knowledge in the area, just an enthusiasm to know more. It introduces key theories and concepts, and explores the many definitions there are of play. Given that play is such a fuzzy concept, some consideration is given to the meaning of play from different personal, academic and professional perspectives and its value in terms of its contribution to our daily lives is a matter for extensive reflection.
The course is highly interactive and uses video, articles, discussions, quizzes and a wide variety of resources including the British Library Playtimes website. This website was created as part of the AHRC Beyond Text project Children's Playground Games and Songs in the New Media Age and provides information on the history and nature of play, drawing on some of the data collected in that project. In the 'Exploring Play' course, learners will engage with the material on the British Library website and consider what it tells them about changes in play over time.



Children playing on stones in a river © University of Sheffield
One of the main aims of the course is to enable participants to understand the very varied nature of play as it takes place across difference contexts. For example, the nature of play in different cultures is explored and learners will consider the way in which the values of different societies impact on the play that takes place within them.

Muffin the Mule puppet, V&A Museum of Childhood Collection
A very wide range of topics is considered, including outdoor play spaces for children and teenagers, playful adult engagement with urban environments, disability and play, play in virtual worlds and play in the workplace. Through the seven weeks of the course, learners will gain a great deal of knowledge about play - and engage in some playful learning activities along the way!
To sign up visit: www.futurelearn.com/courses/play
25 February 2014
Robert Davies, Engagement Support Officer for Social Sciences at the British Library, writes:
In January, I was pleased to attend the one day conference 'Working with Paradata, Marginalia and Fieldnotes: The Centrality of By-Products of Social Research' at the University of Leicester.
The conference was convened by the University of Leicester, the National Centre for Research Methods (Novella Group) and the Institute of Education. The aim of the day was to provide an opportunity 'for dialogue across disciplines and research paradigms: across the social sciences and humanities, historical and contemporary data, primary and secondary resources, quantitative and qualitative approaches'.  The programme and range of speakers truly reflected this aim.
On arrival one of my fellow delegates asked me the question:
'So which area of interest brings you here?'
To which I responded:
'Well, I suppose, I come at this from two directions; as a former conservator of manuscripts and printed books I understand marginalia, as an Engagement Support Officer for Social Sciences I am fascinated by how we might re-use more recent 'secondary data' to help understand contemporary society, but I am not sure what Paradata means.'
So what do we mean by marginalia and paradata?  To quote Henrietta O'Connor:
'…[they are] material collected as part of, supporting or in addition to the research process.  Annotations and augmentations revealed through the analysis of original documents.  By-products, non-standard 'data', ephemera, letters, pictures, notes.'
Speakers and delegates went on to consider methodologies for undertaking the analysis of marginalia and field-notes (such as the application of narrative analysis); the potential ethical implications of undertaking secondary analysis of 'historic' surveys and following up with the subjects of those surveys; how the analysis of marginalia and field-notes can cast a light on what we understand to be 'acceptable' research practices at any given point and how such perceptions shift over time. It included discussion of the latest technological developments which can, and are, being used to collect paradata during large telephone and on-line surveys to understand low response and drop-out rates and to make appropriate adjustments to the surveys as they progress; how individuals may feel that data is being collected by 'stealth'; and the potential for, and difficulties of, including cognitive and behaviour coding in surveys.
The conference concluded with an examination of the marginalia and notes of the writer Vernon Lee (Violet Paget). It examined the importance of capturing marginalia during digitisation projects and the sustainability of data which is 'born' digital (regardless of whether the digital content is generated through digitisation projects of 'historic' material or via large national household surveys).
In the spirit of the conference, to gain alternative perspectives on the day I thoroughly recommend reading Llordllama's Research Ramblings and viewing a storify by Dr Helen Kara of the tweets posted on the day.  I hope the bibliography below may be of some use (although it is a very small selection of the books and articles available on the subjects covered during the conference).
Bibliography
Andrews, M.; Squire, C.; Tamboukou (editors) Doing Narrative Research, Sage, 2008.  British Library shelfmark: YC.2012.a.10037
Crone, R.; Halsey, K.; Owens, W.R.; Towheed, S. (editors) The History of Reading.  vol. 1. International perspectives, c.1500-1990. vol. 2. Evidence from the British Isles, c.1750-1950. vol. 3. Methods, strategies, tactics. British Library shelfmarks:
Volume 1 - YC.2013.a.1041; Volume 2 - YC.2013.a.1042; Volume 3 - YC.2013.a.1043
Elliott, H.; Ryan, J.; Hollway, W.  Research encounters, reflexivity and supervision, International Journal of Social Research Methodology, Issue 5, Volume 15, pp 433-444. (2012)
Gillies, V.; Edwards, R. Working with archived classic family and community studies: illuminating past and present conventions around acceptable research practice.  International Journal of Social Research Methodology, Issue 4, Volume 15, pp 321-330. (2012)
Groves, R. M.; Heeringa, S. G. Responsive design for household surveys: tools for actively controlling survey errors and costs.  Journal of the Royal Statistical Society. Series A, Statistics in society. VOL 169; NUMBER 3, (2006),pp 439-457.
Kirgis, N.;  Lepkowski, JM. "Design and Management Strategies for Paradata Driven Responsive Design: Illustrations from the 2006-2010 National Survey of Family Growth," in Improving Surveys with Paradata: Analytic Use of Process Data, Krueter, F. (editor). New York: J.W. Wiley & Sons, (2013).
O'Connor, H.; Goodwin, J. Revisiting Norbert Elias's sociology of community: learning from the Leicester re-studies. The Sociological review. VOL 60; NUMBER 3, 2012, pp 476-497.  Blackwell Publishing Ltd , 2012.
O'Connor, H.; Goodwin, J. Through the interviewer's Lens: Representations of 1960s Households and Families in a Lost Sociological Study, Sociological Research Online, Volume 15, Issue 4, (2009).
Turner, Malgorzata New perspectives on interviewer-related error in surveys : application of survey paradata (2013), University of Southampton, Thesis available via the British Library Electronic Theses Online System (EThOS).

Other Resources
The Research Ethics Guidebook: A resource for social scientists Online 
Developing Generic Ethics Principles for Social Science: An Academy of Social Sciences Initiative on Research Ethics
12 November 2013
In this post Polly Russell highlights the Library's work to assess the feasibility of digitising the complete run of Spare Rib magazine and asks Spare Rib contributors to get in touch.
Members of the Spare Rib Collective Preparing Issue No. 25 in June 1974. From Right to left, Marsha Rowe, Rosie Parker, Rose Ades, Marion Fudger (nee Slade). © Martin Ward, reproduced with kind permission from Marsha Rowe
Few titles sum up an era and a movement like Spare Rib. The magazine ran from 1972-1993 and for many women was the debating chamber of feminism in the UK.
The British Library has recently embarked on a pilot project to assess the feasibility of digitising the complete run of Spare Rib magazine.
Although the entire run of the magazine has always been available to readers at the British Library and other libraries, digitising the copies and making them freely available online would transform access for researchers and the wider public. As Spare Rib is still in copyright, in order for this project to go ahead it is crucial for the British Library that the majority Spare Rib contributors (including illustrators and photographers) grant permission for their material to be digitised and made available online for non-commercial use. 
The contributors and Spare Rib collective members we have spoken to date have been very positive but we still need to contact a great number of former contributors to ask their permission to digitise their content.
The British Library is undertaking a feasibility study to see whether this will be possible. Without sufficient permissions to digitise the project will not go ahead.
If you were a contributor to Spare Rib then we want to hear from you! Please fill in our online form with your information http://bl.sites.hubspot.com/spare-rib-introduction.
This project follows the success of our 'Sisterhood & After' Women's Liberation Oral History archive and website which was launched at the Library earlier this year, as well as a sell-out conference which debated the history and future of the feminism. For more information on this project go to www.bl.uk/learning/histcitizen/sisterhood.
Polly Russell, British Library
30 August 2013
Dr Peter Johnston is an historian and lecturer who recently worked on researching and writing labels and other text to accompany our Propaganda: Power and Persuasion exhibition. 
Until the invention of the radio, the means of disseminating propaganda remained much the same throughout millennia. Monuments, public speeches, coins, and the growing use of the printed word, were all common forms of propaganda from the time of Alexander the Great to the reign of Queen Victoria.
However, with the rapid technological change of the twentieth century, propaganda similarly underwent a massive change. The development of the radio – which Lenin called "a newspaper without paper… and without boundaries" – and in particular the moving image, first in cinemas, and then via televisions that ensured moving pictures could be brought into the home, gave propaganda even greater reach.
The growth of the internet, however, has transformed propaganda beyond anything those tasked with its production and spread in earlier generations could have imagined. The internet is a wilderness of information that is, unlike previous methods of disseminating propaganda, near impossible to regulate or officiate. What's more, with the extent that we engage with this medium, and use it to share, spread and promote information, we have all become propagandists!
This thesis of course depends on the definition of propaganda. My preferred definition is that of the late Phil Taylor, who wrote that "essentially, propaganda is really no more than the communication of ideas designed to persuade people to think and behave in a desired way." That means that, when engaging in social media, promoting ideas from politicians, intellectuals, friends, musicians or corporations through likes, shares, retweets and more, we are promoting that information and attempting to influence how people think about these things. How is that not engaging in the spread of propaganda?
Propaganda is not the insidious, deceptive, manipulative pattern of negatively influencing behaviour that many people consider it to be. While there's no doubt it has been used for those purposes in the past, and continues to do so in the present, propaganda has also been used for good, in the spread of public health messaging, for example. Therefore, propaganda itself is an ethically neutral idea – it is the content that varies.
Due to the growth of the internet, and in particular the explosion of social media, the information-generating process has been democratised. Whenever we post an opinion on Facebook, Twitter, or any other social media site, we are issuing propaganda, a piece of information designed to make those who read it think about an issue or behave in a certain way conducive to what we want them to. Corporations have realised this, which is why they have such an active social media presence. Branding and advertising has become a major aspect of social media for all businesses, with a far greater personalisation to match the needs of consumers. By promoting brands, we are engaging in issuing propaganda on their behalf. 
Social media has enormous potential, which is why China, for example, has its own social media site, Weibo. In the popular revolutions, uprisings and protests across the world in recent years, social media has played a major part in mobilising, informing and influencing public opinion and shaping consensus of events from around the world. Modern communications are utilised by both sides, and it is here that the modern propaganda and information war is fought, in front of a global audience.
However, such a tool is not without its weaknesses. Disinformation regularly occurs, with fake or doctored pictures being used. Social media has the potential to spread information rapidly around the world. The recent uprising in Egypt has seen such images, and as testament to the times it is through other social media that such falsehoods are exposed. However, due to the sheer nature of information being generated on social media sites, reactions are often instantaneous, without any deep analysis being given. In that way, many people are often unwilling propagandists, deceived by the speed at which information is generated that compels an instantaneous response.
Social media also carries the potential for anonymity, and recently there have been several cases where accounts have been exposed as fake, or deliberately designed for political purposes. Such accounts operate very much in the black propaganda mould that was seen throughout the First and Second World Wars, deceptive propaganda that was issued under one guise but emanated from another source. This direct parallel demonstrates just how important social media is in the ongoing information war.  
Because of this, it means that you should never instantly believe everything you read, and that the same rules of scepticism and analysis need to be applied to digital propaganda as to any other, namely:
Who is producing the propaganda?

What they are saying?

Who is the propaganda directed at? Who are the intended audience?

Why?

With what effect?
By doing so, a critical engagement with information can be maintained.
Propaganda has always evolved along with communications technology. As new ways develop to spread information, so too will they be used to spread propaganda. That is what propaganda is! As such, the internet may currently be the final frontier, but there's no reason not to think horizons will be extended further in future.
You can follow Dr Peter Johnston on Twitter @PeteAJohnston 
13 August 2013
The ORCiD and DataCite Interoperability Network (ODIN) project, which BL Social Sciences are a project partner are holding a community event for those interested in persistent identifiers for research objects and researchers and contributors.
We are now only two months away from the first major ODIN community event. The combined codesprint and 1st year conference which mark the half-way point of the 2-year project will take place over three days October 15-17, hosted by ODIN partners CERN. This event - the first of the two major ODIN community events - will be a combination of a traditional-style conference and a technology-focused, hands-on codesprint geared towards developers. The conference part of the event will enable the ODIN partners to disseminate findings and to obtain feedback & validation on the work completed so far. The codesprint part will be a venue for participants and invited experts to work together to assemble concrete demonstrations of the potential of open and interoperable identifier systems.
Coding with confidence
The codesprint part of the event is a 11/2 day-and-night hands-on technical workshop. Participants from several ODIN partner organizations and external experts will come together to pool their resources and work on coding projects. These projects will demonstrate the potential of the identifier "awareness layer" which is at the heart of ODIN's mission.
See this page for a provisional list of codesprint projects. We will have more to say about the specific goals and practicalities for the codesprint in the coming weeks, so stay tuned!
In the meantime, feel free to register, to contact us with questions, and/or to leave suggestions about additional projects.
Engaging with the community
The final day of the event is a conventional plenary-style conference open to all, where ODIN partners will present results from the first half of the 2-year project and receive feedback from the community. In addition to ODIN partners themselves, representatives from numerous stakeholder organizations will attend and present, including CrossRef, CERIF/EuroCRIS, UK Data Service, PLoS and others.
A provisional schedule for the conference is available here.
Date with a supercollider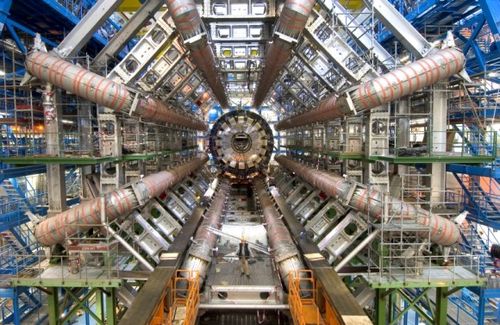 Large Hadron Collider (credit: http://www.universetoday.com)
For those of us who have not visited CERN before, one item in the event programme looks particularly exciting: a guided tour of the massive Large Hadron Collider facility which our hosts at CERN have organized.
Check the event page on the ODIN website for the latest information, including the tentative programme, a list of confirmed speakers, accommodation and more:
http://odin-project.eu/events/1st-year-big-bang-and-codesprint/ 
This entry was re-posted from the ODIN Project blog
02 August 2013
In this guest post Jenni Orme, Records Specialist for Diverse Histories at The National Archives, introduces their 'Files on film' competition which hopes to use archive material to inspire budding film makers.
Like many other heritage organisations, The National Archives is always looking for new ways of engaging with as many audiences as possible to make them aware of the collections we hold. As part of this goal, we have launched a short film competition, Files on film, supported by the Friends of The National Archives, highlighting some of the diversity that is contained within our records. We wanted to bring what are often 'hidden histories' in national collections like ours, in to the spotlight.

Image taken from www.nationalarchives.gov.uk/filesonfilm.
The competition was inspired by similar ideas in other sectors, particularly charities, which have used film competitions in the past to enhance particular campaigns or launch new initiatives. We're hoping to engage with a creative, technology-savvy audience to see what they could do when inspired by The National Archives' records and encourage similar creative use of our collections in the future.
As you might imagine, narrowing down a selection of documents from our collection of over 11 million was not an easy task! We could have had a hundred documents very easily, but didn't want to overwhelm people, so finally settled on ten items, mainly extracts from files. In the pieces we chose, we aimed to reflect some of the underrepresented histories in our collection. Some are well known areas of history on which the documents provide a slightly different slant, for example the plans to evacuate disabled children during the Second World War and how to provide them with safe accommodation and shelters. Others are areas that are perhaps less well known within our collections, such as the treatment of lesbians in the Women's Royal Air Force (WRAF) in the mid-twentieth century.
Another is a 'document' in the loosest sense of the word. A true mystery lies in the jewellery box and contents left behind by Mary Smith, "a lunatic". No more is known about her, other than her personal effects were never collected after being submitted as exhibits at the Court of Chancery in 1811. After the court case was settled, her possessions became part of the Chancery holdings which eventually passed to The National Archives.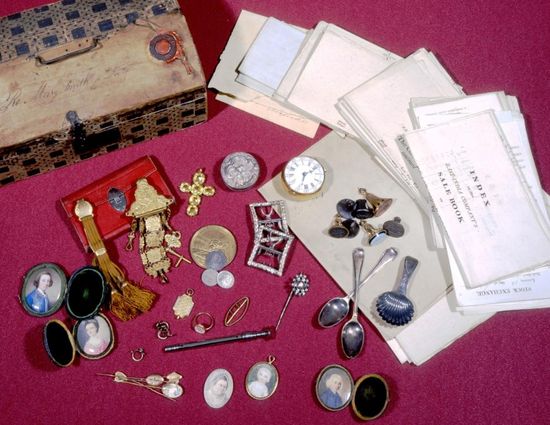 "Mary Smith of Middx, a lunatic": Jewellery box containing various articles of jewellery. The articles were deposited by Thomas Long of Christ Hospital, London." 1811. The National Archives (TNA): C 114/190.
Other women appear in the selection in the form of the suffragette protest on the night of the 1911 census. Two contrasting householder forms are included, one showing the personal protest of a female head of household, "No vote, no census", the other showing the opinion of the husband of a suffragette, who as the head of household objects to the "silly subterfuge" of his wife having crossed her name off the family list.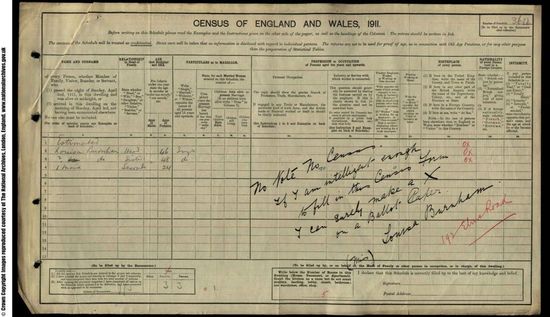 1911 Census householder schedule for Louisa Burnham. Registration Sub-District: Clapham Civil Parish, Township or Place: Wandsworth Borough (part), 1911.  TNA: RG 14/2277/362.
All 10 documents are available to download from the Files on film website, along with brief contexts to accompany each one. You can also read more about some of them on our blog.
We're asking budding filmmakers to be inspired by any part of the documents and submit a 3 minute film. Entries close on 24 September, 2013 and the winner will be chosen by a panel of judges including Oliver Morley, Chief Executive and Keeper of The National Archives and BAFTA award-winning filmmaker David Katznelson whose credits include Downton Abbey and Games of Thrones.
The winning entry will be shown on The National Archives' website and will receive a cash prize of £450, while one runner-up will receive £200.
For inspiration, and to prove that anyone can do it (!), some of the staff at The National Archives have put together a short film of our own to introduce the competition.
Full details of how to enter, terms and conditions and the digitised documents are available on the competition page, and check #filesonfilm on twitter for updates.
We hope you'll feel inspired to get involved. As they (almost) say in the 'business', Lights, Camera, Archives! (Sorry.)
03 May 2013
Calling all researchers and developers!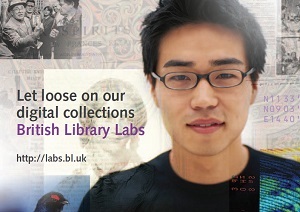 Our colleagues at BL Labs have launched a new competition. Propose an innovative and transformative project that answers a research question using the British Library's digital collections / data and if your idea is chosen, the Labs team will work with you to make it happen and you could win a prize of up to £3,000.

From the digitisation of thousands of books, newspapers and manuscripts, the collecting of UK websites, bird sounds or location data for our maps, over the last two decades we've been faithfully amassing a vast and wide-ranging digital collection for the nation. What remains elusive however is understanding what researchers need in place in order to unlock the potential for new discoveries within these fascinating and diverse digital collections. The Labs competition is designed to attract scholars, explorers and trailblazers to the Library who see the potential for new and innovative research lurking within these immense digital collections. Through soliciting innovative and transformative projects utilising this content you will be giving us a steer as to the types of platforms, arrangements, services and tools needed to surface it. We'll even throw the Library's resources behind you to make your idea a reality.

To find out more, visit the competition pages (deadline for submission of ideas is the 26 June 2013), sign up to the wiki,  express your interest and participate in one of the related events, virtually (17 May 2013, 1500 GMT), hack event in London on the 28 and 29 May, 2013 or one of our roadshow events, or hack event in London on the 28 and 29 May, 2013

Good luck!
This post originally appeared on the British Library digital scholarship blog here and was posted by Mahendra Mahey. Follow BL Labs on Twitter @BL_Labs.