09 April 2019
XKCD, "Click and Drag". © Randall Munroe, 2012 https://xkcd.com/1110/
We're really excited to announce two new Collaborative Doctoral Awards for research into web comics, funded by the Arts and Humanities Research Council. We are working with City, University of London and University of the Arts London to engage in new research on digital comics creation, reading and collecting in the UK.
This work will help us to understand collection management challenges for the diverse and innovative field of web comics in the UK.  The knowledge generated by this research will not only help us to build collections of web comics, but will help those writing, reading, collecting and researching web comics. We will be able to apply the research more widely too, supporting our development as we explore complex digital publications through our work on Emerging Formats.  
Understanding UK digital comics information and publishing practices: From creation to consumption
In partnership with City, University of London, this research will take a User Experience centred approach. It will examine the use of tools, technologies and sharing of information in the production, publication, collecting and reading of web comics. We're interested in what motivates people and how this informs their behaviour and use of particular technologies. Knowing the sorts of platforms and tools people use will help us prioritise and plan our own collections and collection management requirements. More importantly, knowing what's important to people in how they choose to create, share, and read web comics will help us understand what's important in building our collections.
At City, University of London this PhD will be supervised by Dr Ernesto Priego and Dr Stephann Makri at the Centre for Human Computer Interaction Design. Ernesto is the founder and editor-in-chief of The Comics Grid: Journal of Comics Scholarship. His research covers a wide range of themes on digital and print comics, and also digital information management practice. Stephann's work focuses on information and behaviour in digital contexts. His research has covered legal information and news, as well as how readers work with libraries and archives.
More details on how to apply for this studentship.
Collecting UK Digital Comics: social, cultural and technological factors for cultural institutions
In partnership with the University of the Arts London, this research will investigate the form and content of digital comics, exploring the differences between comics that are adaptive, hypertextual, interactive, multimedia, motion based and experimental. It will look at how cultural institutions respond to innovative digital material, and the cultural, social and ethical questions that inform collection building. There are strong links between the characteristics of digital comics, and other types of innovative publication we are considering under our Emerging Formats work. The collection management challenges are not solely technological, and this research will help us understand the wider cultural and social questions that influence the way that digital comics can be represented and used within the Library.    
At the University of the Arts London, this PhD will be supervised by Professor Roger Sabin and Dr Ian Hague, and the student will be able to join the newly-formed Comics Research Hub. Roger is the author of Comics, Comix and Graphic Novels (Phaidon, 1996) and is series editor for Palgrave Studies in Comics and Graphic Novels. His work has helped establish the academic field of Comics Studies in the UK. Ian's research has been on the form of digital comics and cultural and social studies of comics. He is the director of the Comics Forum annual conference.
More details on how to apply for this studentship.
The supervisors for both PhDs at the British Library are Stella Wisdom, Digital Scholarship, and Ian Cooke, Contemporary British Collections.
The awards support fees and provide a stipend for 3 years for the PhD student. More details on how we work with PhD students can be found on our Research Collaboration pages.
03 September 2018
Our free online course starts today. Learning from the Past is  for anyone interested in studying the past, what historians do, and why and how research on the past matters for understanding the world today. The course runs for 3 weeks, and is the second course produced by the University of Nottingham in partnership with the British Library.
Over three weeks, this course will introduce the ways in which historians conduct research, and the materials that are used to understand the past. Throughout the course, examples from across the Library's varied collections are examined by curators and researchers. The course will also do two other important things. First, it will show the challenges that historians face in understanding and decoding the records of the past: books, archives, photographs, maps, recorded sound and digital records. Second, it will discuss how a study of the past helps us contextualise the issues of today. For example, we cannot fully understand the radical shift in our impact on the environment without knowing how societies in the past used natural resources.
The origins for this course come from our earlier work on the course Propaganda and Ideology in Everyday Life – which sought to explain how contemporary political research provides insight into the values and philosophies that lie at the heart of international debates, co-operation and conflict. We also sought to show how education, and in this case online learning platforms, can be used as a space where people with different ideas and opinions can communicate with each other, understand those differences and also see where there are points of agreement.
The response from learners to this course was incredible. Over the weeks, we saw conversations emerge between participants from around the world on "big political issues" but also in the more personal sphere: the gardens in their towns, food that reminded them of home, and the books and photographs that they always carry with them. We also saw that learners were enthusiastic to follow the debates that drew on current research, and followed links to academic texts where we made them available.
So, we wanted to produce a course that supported this desire for access to the 'cutting edge' of historical research, but also took the time to describe the practicalities of research. How do you decide what questions you are going to ask in your research? How can you find the materials that will help you to answer those questions? And how will you avoid the pitfalls of taking the records of the past at face value? Learning from the Past brings together researchers from the University of Nottingham and University of Birmingham, as well as curators from the British Library. Over the 3 weeks of the course, we will look at the materials and methods that researchers employ.
The first day of a new course is always exciting. I've been following our first steps for learners to introduce themselves and their research interests. There's lots of interest in family history and local history, but also other topics such as history of science or a general interest in how researchers work and analyse evidence. A lot of learners want to know more about how to use libraries and archives, and are interested in the practical elements of the course. 
A big topic for our first week is on the significance of language, and language change, in communicating ideas and values. I'm currently enjoying the discussion thread on 'what three words would you use to introduce yourself to a visitor from Mars'?   
If you're interested in how historians work, thinking about starting your own research project, want inspiration for your existing work, or want to know why history matters today, join in the discussion at Learning from the Past: A guide for the curious Researcher. No need to worry if you're reading this after 3rd September - you can join any time before the course ends on 23rd September.  
19 December 2017
Over the next few weeks, here on the Social Science blog and on the Digital Scholarship blog, Jonathan Sims and Sarah Middle will discuss work done at the British Library to provide insights into appeal cases heard by the Judicial Committee of the Privy Council (JCPC).  
To start us off, here is some background about the Judicial Committee (JCPC) itself with signposts to resources to support your research, and a brief consideration of whether metadata describing Privy Council appeal cases and judgments can be exploited more effectively.
The court and its jurisdiction
The Privy Council has long acted as a final court of appeal for an extraordinarily wide range of legal cases including both civil and criminal appeals. Details of the wide jurisdiction, current role and powers of the Judicial Committee of the Privy Council (JCPC) are set out on its website. Perhaps foremost among these is the Judicial Committee's role to act as a final appeal court for a number of Commonwealth countries. Hearings are often filmed and made available online.
Courtroom three at the Supreme Court, London
Today the Judicial Committee of the Privy Council (JCPC) shares a home with the Supreme Court at the Middlesex Guildhall in Parliament Square, London, where appeals to the JCPC are typically heard in Courtroom Three. However until early this century JCPC hearings took place in a chamber accessed via an unobtrusive door to the Privy Council offices in Downing Street, opposite the Foreign and Commonwealth Office. The Soane Museum's website includes drawings from Sir John's designs for these offices (see below, Soane …). However the grandeur evident in drawings and in an 1846 illustration (see below, Sitting …) gave way to more cramped and modest conditions by the time of a 1921 appeal against the judgment of the Lincoln Consistory Court (see below, Archdeacon …).  Depicting an earlier era, Christian Schussele's mid nineteenth century painting Benjamin Franklin appearing before the Privy Council, depicts a rich and vivid spectacle of the court sitting in 1774 in the Royal Cockpit. (See below, Isaacson.)
The corner of Downing Street and Whitehall
The origins of the Privy Council's jurisdiction are introduced on the JCPC website, and background commentary about the Privy Council records at the UK National Archives suggests that the Council's judicial function had become distinguishable from legislative and administrative roles by the sixteenth century. With the creation of the Judicial Committee in 1833 during the Lord Chancellorship of Henry Brougham colonial appeals to the Privy Council were ensured to be heard by professional lawyers, (see below Lobban) and by the start of the twentieth century the JCPC "was the final appellate court over a vast global Empire" of colonies, possessions and self-governing Dominions. (Mohr) A YouTube video embedded on the JCPC website provides a brief and engaging history of the court and its jurisdiction.
Biographical information about Privy Council judges can be found across the British Library collections. Archival collections including the Coleridge Family Papers. (MS 85495-86488), Hardwicke Papers (including five, indexed volumes of "appeal-causes before the Privy Council, 1722-1769", Add. MS 36,216 - 36,220.), India Office Records and private papers, papers of several Lord Chancellors and Prime Ministers (for example, Robert Peel Add 40181 - 40617 and William Gladstone Add. 44086-44835) offer glimpses into the lives and work of  Privy Council judges, the judicial business of the Privy Council, and sometimes into specific cases. These can be searched on the archives catalogue. Photographs and biographical detail of the first colonial judges appointed to the Judicial Committee including Henry De Villiers (South Africa), Samuel James Way (Australia), Samuel Strong (Canada), and Ameer Ali (India) can be found in British Library's journal and newspaper collections.
Speaking in 2013 and highlighting the modern internationalism of today's JCPC, Lord Neuberger drew attention to the long-standing position that, although usually sitting for convenience in Westminster, the JCPC applies the law of the state in question.  The Privy Council has considered law from varied locations and legal traditions including Common Law, acts of the Oireachtas from the Irish Free State, French, Spanish and Romano-Dutch law, Venetian and Sardinian law, customary law from Africa, Ottoman and Chinese law, and Hindu, Islamic and Buddhist law from India. (Haldane p. 154) Research indicates that the huge majority of cases originated in India, with the next highest number attributed to Canada. (See Richardson and below Campbell)
High Court, Calcutta, now Kolkata. (Photo Stretton, W.G., 1875, British Library Online Gallery)
Recorder's Court, Rangoon, now Yangon (Photo Jackson, J. 1868, British Library Online Gallery)
The JCPC has heard appeals from courts closer to London too. These include Admiralty and Prize appeals, cases from ecclesiastical courts, and cases pertaining to issues of congenital or temporary mental ill-health, jurisdictions inherited from the High Court of Delegates in the 1830s. During the twentieth century, the court also heard certain cases concerning patents and copyright, and appeals in disciplinary cases from a small number of professional bodies.
Getting to grips with Privy Council appeals, judgments and printed case papers
A snapshot cross section of the court's caseload is given in Alex Giles' blog piece Stories from the Empire: Privy Council Cases 1917-1920 while the cultural and international legal significance of particular cases are vividly brought to life in panels from the 2014 exhibition A Court at the Crossroads of Empire: Stories from the Judicial Committee of the Privy Council through the stories of individual litigants and lawyers.
 A more comprehensive representation of the JCPC case load than the selective coverage distributed throughout numerous law reports can be found in collections of official transcripts of the judgments. Very substantial collections are available online and bound into volumes of case papers. The website of the British and Irish Legal Information Institute BAILII provides easy access to a collection of judgment transcripts digitised from the JCPC's own collection. More or less equivalent is the collection of judgments bound in with the British Library volumes of JCPC case papers, although some variations in coverage and numbering are evident in comparison with the BAILII set.  
In turn, the case papers, which sometimes amount to thousands of pages for an individual case, provide far more insight to individual cases and the operation of justice than the judgments are capable of offering. Largely made up of records of proceedings reprinted and authenticated from those in the originating courts and distributed for the purposes of the Privy Council appeal hearings, they provide rare opportunities to examine historical law in action in courts around the world. As Weait says of transcripts of criminal trials and their value for teaching law, (see below) the case papers reflect the vibrant dispute, and dialogue of proceedings providing opportunity to take a "critically reflective stance" on the "distillation, reduction and abstraction" of process that is provided in "monologue" appellate judgments.
However, as studies of legal case files also suggest, the printed records of proceedings also offer material traces of how law absorbs and constructs the wider social world through authenticated documentary and sworn evidence. It was the level of detail in spatial representations demanded of documentary evidence that one researcher valued. The information was simply unavailable elsewhere. Valued too was the archive of nuanced language and insight on private devotional practices that offered a reflection of a less homogenous, cultural identity than had commonly circulated in contemporary political narrative.  Further insights afforded by the case papers are illustrated in another of Giles' blog pieces and in summaries of talks by legal historians at a symposium held at the Institute of Advanced Legal Studies.
The few accessible and comprehensive sets of these internationally significant papers are all located in Britain, distributed to archival collections following the disposal of the appeals.  This includes of course the British Library set. (Please note that printed cases and records of proceedings for selected cases beyond the scope of this set can also be found among the Hardwicke papers and India Office Records at the British Library.)  A catalogue entry on the National Archives website helpfully places another set of the printed case papers in context of the wider collections of Privy Council records, although it does not currently facilitate access to the individual cases. Fortunately, free online access to a subset of the case papers is provided by BAILII (British and Irish Legal Information Institute). Case papers for a small selection of appeals are also provided on Exeter University website Privy Council Papers.  
Elsewhere online resources have focused on cases from specific geographical areas and historical periods. These include the Ames Foundation's Annotated Digital Catalogue of Colonial Appeals (see below, O'Connor and Bilder) whose principal project provides digital images of printed cases in appeals from the American colonies prior to independence, and draws extensive metadata for each case from Privy Council records including the Acts of the Privy Council of England (Colonial Series) and the original Privy Council Registers  and the relevant parts of the PC 1 series (see below, Privy …). Another example is that provided by Macquarie University, which provides detailed information about pre-1850 Australian cases. Additionally, the Anglo-Indian Legal History site by Mitch Fraas contains data about the first 50 appeals from India (1679-1774).
For the final part of today's blog we look at the how the metadata that describes the nineteenth and twentieth century judgments underpins some of the online services described above, how it facilitates discovery of and access to these resources, and how it might be further exploited.
Exploiting the appeal case metadata for collection discovery and research
The relevant section of BAILII (British and Irish Legal Information Institute) allows the user to search the text of the JCPC judgments, browse the judgments by year and view digitised versions of case documents, where available (see Whittle's article for more information). Access to the BAILII documents is additionally provided by the LawCite search interface from AustLII, the Australasian Legal Information Institute. Many of the BAILII cases can also be explored and accessed based on the geographical location of the originating courts and the year of the JCPC judgment via a resource provided by IALS (Institute of Advanced Legal Studies), as well as via the University of Exeter's Privy Council Papers resource.
IALS visualises selected JCPC cases based on their geographical location and judgment year
The brief details describing each appeal case, its judgments and case papers (the metadata) in several of the above online resources is based on information used to identify and manage collections of judgments and case papers formerly housed at the Privy Council Office in Downing Street. Initially in Microsoft Word documents, these were donated to several institutions including the British Library.
In a single document E.C. Stretton recorded the contents of 137 volumes entitled Printed Cases in Indian and Colonial Appeals (now part of the series PCAP 6 covering cases heard between 1792 and 1878 in the catalogue of the UK National Archives). In addition to the origin of the appeal and details of the parties and documents included for each case in a particular volume, the Stretton metadata also includes, in some cases, information about the outcome of the appeal and the names of presiding Privy Council judges.  Much of this information is now searchable in the catalogue of Exeter University's Privy Council Papers resource.
Additional annual documents that acted as an index to cases decided between 1860 and 1998, providing basic data in a tabular structure, also underpins some of these online resources. While acting as a helpful finding aid used to identify the year and judgment number of a given case the detail and structure of this data made it immediately obvious that the information could be used to ask questions about the whole body of cases.
With such a huge body of cases to negotiate, stretching over so many years, would an approach that offers some perspective on the case load as a whole be valuable?  Giles suggests that there were around 140 cases per year between 1917 and 1920 - we have seen their wide geographical and cultural scope - and behind each case lies a rich and extensive source in the case papers.
At the British Library this tabular metadata was converted to a spreadsheet that forms the basis for data visualisation experiments that will be outlined in future blog posts.  Drawing inspiration from digital humanities projects we wondered how this structured data could be exploited to ask questions about the JCPC case load as a whole or to facilitate discovery and retrieval of judgments and case papers relevant to particular research interests. Could the data facilitate easier understanding of the geographic distribution of the origins of the appeals, or demonstrate how this distribution was structured by year? Could it help to investigate typical duration of cases (from appeal year to judgment year) and explore relationships between duration and the distance of the originating court from Westminster? Could we determine which appellants or respondents occurred most frequently in the dataset? What other connections and relationships could be discovered to facilitate research or help with identification of relevant appeals and case papers for further investigation?
This is the first in a series of posts about a project to make information about JCPC appeal cases easier to discover. Later posts on the Digital Scholarship blog will look at ways of visualising the information about them:
Many of the resources discussed above are signposted in a collection guide on the British Library website: Judicial Committee of the Privy Council appeal cases.
Further Reading
Some of the resources listed below contain links to online subscription websites. If you or you institution do not have a subscription to these websites they can be accessed in the British Library reading rooms.
The image also can be seen on Leslie Katz' blog 
Soane Museum: collections online: drawings http://collections.soane.org/drawings : architectural & other: office of works : London, Board of Trade and Privy Council Offices, Whitehall & Downing Street: designs for new offices and scheme for the improvement of Downing Street, 1823-33 (284 catalogued drawings)
Weait, M (2012) Criminal Law: Thinking about Criminal Law from a Trial Perspective, p163, in Hunter, C Integrating Socio-Legal Studies into the Law Curriculum (Palgrave Macmillan)
03 June 2017
Visualisation of links between websites from the UK crawled during 1996, generated by Rainer Simon
On Wednesday 14th June, we'll be discussing the potential of the archived web in understanding contemporary society and politics.
Our event is chaired by Eliane Glaser, author of Get Real: How to see through the Hype, Spin and Lies of Modern Life, and features contributions from Andy Jackson (British Library), Jefferson Bailey (Internet Archive), Jane Winters (University of London) and Valérie Schafer (French National Centre for Scientific Research).
The first web archive, the Internet Archive, began in 1996. Since then, many university and national libraries around the world have started web archiving initiatives. The British Library began in 2004, and, since 2013 has collected an annual snapshot of all UK web sites. As such, there are very rich collections built up around the world that have documented political and social movements both at international and local levels. For example, the Library of Congress has led collections on the Arab Spring, and the UK Web Archive has collections on past General Elections.
As libraries have gained more experience with building collections of the archived web, so researchers and other users of web archives have developed new methodologies and tools for analysing the collections. As advances are made, so new challenges arise and are identified. The web itself is changing, with one of the biggest challenges for archiving being the use of social media - generating huge amounts of data, but often being highly time dependent and reliant on specific software and hardware to interpret.
As with any large and complex collection, context remains an important consideration. Web archive collections are informed by curatorial or academic judgement on what might be the most significant websites, and may not reflect the most popular sites at a time. When it comes to reporting current events, social media and the web can be portrayed as more "democratic" and open to wider participation than more traditional news media. However, communication on the web includes rumour, satire and misdirection, alongside eyewitness reports and a whole range of data sources and types. Technology to archive the web lags behind the technology to create web sites, so some elements of a web page may be missed by web archiving tools. Additionally, web archiving at a national level often takes place within a legal framework that restricts collecting within national borders. The omissions of web archives can be a useful and interesting source for understanding the structure of web, but, as with other forms of analysis, researchers need information on what decisions were made, and under what conditions, a collection was made.
These are some of the issues that we'll be discussing on 14th June. We'd love you to join us and contribute to the debate. More details and booking can be found on our Whats On pages.  
Our panel discussion forms part of the Digital Conversations series and also connects to a week of conferences, hackathons and other events in London that talk about recent advances in web archiving and research on the archived web.You can follow discussions from the conferences on Twitter, using our hashtag #WAweek2017
28 March 2017
Polly Russell, Lead Curator for Politics and Public Life, reports on our event to mark International Women's Day 2017: 'Rebels in the Archives'.
Earlier this month, to mark International Women's Day, the British Library hosted 'Rebels in the Archives', a sell-out panel discussion with four women who, in different ways, have uncovered the hidden histories of women's lives in Britain's past.
The evening kicked off with Heidi Safia Mirza, Professor of Race, Faith and Culture at Goldsmith's College and author of Young Female and Black. Heidi discussed how Women of Colour have been rendered invisible by the absences and omissions which characterise most representations of the past. Attend to the archive, look beyond the obvious and take responsibility for finding and accounting for Women of Colour when researching women's lives was her message.
Next up was Abi Morgan, BAFTA and Emmy Award winning writer and producer whose film Suffragette introduced cinema audiences around the world to the story of how working class women fought to get the vote in the UK. Abi described the process of writing the film's script, how libraries and archives held the key to the narrative and character and of the totemic importance of archival objects – she described the tiny purse Emily Wilding Davison was holding when she fatefully stepped in front of the King's horse at the Epsom Derby on the 4th June 1913 and how this brought to life the fragility and courage of 'extraordinary sacrifice made by the ordinary'.
From left to right the 'Rebels in the Archives' Panel: Heidi Mirza; Abi Morgan; Margaretta Jolly; Debi Withers; Jill Liddington. Image courtesy of Polly Russell.
Writer and historian Jill Liddington followed Abi and heroically compressed a life's work into a splendid 15 minute presentation. Jill, the author of a seminal account of northern working-class women's contribution to the Suffragist movement, One Hand Tied Behind Us, detailed how archives and libraries held the key to a history of women which had previously been omitted from historical record.
The final speaker of the evening, curator, researcher and digital expert Debi Withers, brought us bang up to date with a discussion of how digital archives and catalogues have the potential, if opened up to tagging and searching, to widen access to and enable links between feminist archives.
The evening's discussions were expertly chaired by Margaretta Jolly, Reader in Cultural Studies at the University of Sussex and someone directly responsible for increasing the number of women rebels in the British Library archives – Margaretta contributed 60 Women's Liberation Movement oral histories to the British Library as part of the Sisterhood & After project she led in 2013.
After audience questions Margaretta concluded the evening by noting that though the panel employed diverse approaches to understanding the past, worked across different formats and spoke to different audiences, their work was evidence that archives and libraries are places where the rebels of the past could b e uncovered so th at rebels of the future may thrive.
You can see a short video of the evening's highlights and a podcast of the evening is also available on the British Library's SoundCloud channel.
The event was developed in association with the University of Sussex and was supported by the Living Knowledge Network.
21 December 2016
Rachel Tavernor, a British Library PhD Placement Researcher, writes about an upcoming event 'Rebels in the Archives' that will be held at the British Library in 2017.
On 8 March 2017, to celebrate International Women's Day, the British Library will host a panel conversation on the power and potential of archiving feminist movements. Rebels in the Archives is an evening dedicated to stories of sexism, sisterhood and struggle.
Our speakers include Jill Liddington, Abi Morgan, Heidi Safia Mirza and Deborah Withers. Margaretta Jolly, project director of Sisterhood and After: An Oral History of the Women's Liberation Movement, will chair this panel of influential feminists as they debate questions of politics, representation and preservation.
Our panel will be sharing stories of the rebels and rebellion that inspire them. Discussing their own engagement (as historians, screenwriters, researchers and curators) with archives of activism. As well as debating the ways in which collecting, curating and communicating activism can be a radical practice.
Photograph copyright of Theo McInnes and reproduced here with their kind permission.
Jill Liddington is a writer, historian and Honorary Research Fellow at the University of Leeds. She has researched and written on votes for women since the 1970s, when she first visited the Fawcett Library (now Women's Library). Her latest book Vanishing for the Vote: Suffrage, Citizenship and The Battle for the Census, tells how suffragette organizations urged women, all still voteless, to boycott the census on 2 April 1911.
Abi Morgan is a BAFTA and Emmy Award winning writer and producer. Abi is the screenwriter of Suffragette, the first ever mainstream film about the British campaign for equal votes. The story focuses on the lives of working class women involved in the movement. Radicalised and turning to violence as the only route to change, they were willing to lose everything in their fight for equality – their jobs, their homes, their children and their lives.
Heidi Safia Mirza is a visiting Professor of Race, Faith and Culture at Goldsmith's College, University of London and Professor Emerita in Equalities Studies at the UCL Institute of Education. Heidi advises English Heritage on diversity and established the Runnymede Collection at the Black Cultural Archives (BCA), a race-relations archive documenting the late 20th Century civil rights struggle for Multicultural Britain. She is author and editor of several books, including Young Female and Black, Black British Feminism and Black and Postcolonial Feminism in New Times: Researching Educational Inequalities.
Deborah Withers is a writer, curator, researcher and publisher. Their new book Feminism, Digital Culture and the Politics of Transmission: Theory, Practice and Cultural Heritage, asks: what does it mean to say that feminism has cultural heritage? The book explores how digital technologies have enabled impassioned amateurs to make 'archives' within the first decade of the 21st century. In 2010, Deborah founded HammerOn Press, a grassroots publishing label rooted in feminist / queer do it yourself culture. They are also an active trustee of the Feminist Archive South, and have curated two Heritage Lottery Funded exhibitions Sistershow Revisited and Music & Liberation.
Margaretta Jolly is a Reader in Cultural Studies and Director of the Centre for Life History and Life Writing Research at the University of Sussex. Her current book-in-progress is Sisterhood and After: An Oral History of the UK Women's Liberation Movement (forthcoming). Her book, In Love and Struggle: Letters and Contemporary Feminism explores feminist relationships as they have been expressed in letters and emails since the 1970s and was awarded the 2009 Feminist and Women's Studies Association Book Prize.
Booking for Rebels in the Archives is now open. We hope you are able to join us and are able to contribute to this discussion.
20 April 2016
Our free online course Propaganda and Ideology in Everyday Life starts on 16th May 2016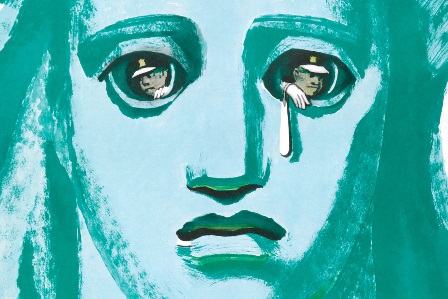 Svoboda po-amerikanski (Freedom, American Style) by B Prorokov, 1971
Freedom, justice, community, place and choice: words which are politically-charged and fundamental in our experience of everyday lives. Over five weeks, our online course explores how words and images gain different meanings, how we interpret the symbols we encounter, and how these interpretations are sometimes 'quoted back' to us with a specific political intent.
Our course is developed and delivered with the Centre for the Study of Political Ideologies at the University of Nottingham. Learners can sign up for the course now, free of charge, at the FutureLearn website. Learning is structured across a small number of activities each week, which are broken down into simple steps. A step might be a short video presentation, or a reading or a question to discuss. Discussion is the most important part of our course, allowing us to learn from each-other's experiences and opinions. The nature of a Massive Online Open Course (MOOC) means that we can explore our shared interests in comparative political study and the way in which our material worlds reflect and shape our political experience.
This is the second year in which we have run this course. In 2015, we had nearly 12,000 learners from 20 countries around the world. Our focus on learning through discussion meant that all participants, including those of us who developed the course, learnt through contributing to a lively debate that ran through all five weeks. Some of this learning has been incorporated into this year's course, including a focus on the experience of migration in expressions of identity, and how definitions of the 'unnatural' influences our political views. In preparation for this year, we have reviewed and updated course content, including the addition of four new films.     
A unique feature of our course is that we ask participants to share images either that they find online or of photographs that they have taken themselves. These images relate to the themes discussed each week, and are surprising in how they reveal our responses to concepts such as 'freedom', 'nature' and 'community'. Many of the images shared last year were of open spaces, representing nature as an expression of freedom but also as something threatened by unrestrained freedom or consumption. You can see a selection of images shared on our Flickr site.
We were incredibly impressed by the quality of interaction on our course last year, and learners were very positive about course content and the course leaders. We hope that you will join us from 16th May when the course restarts, and sign up today at www.futurelearn.com/courses/propaganda/