30 October 2020
Written by The Business of Women's Words team.
Think 1970s UK feminism was a purely metropolitan affair? Ever wondered whether the Women's Liberation Movement stretched beyond the boundaries of big cities? The new digital map resource at the British Library might have some surprising answers.
Spare Rib cover, Nov 1976, Issue 52 © Michael Ann Mullen
 The Spare Rib map is the first digital resource to visualise the networks and activities of the Women's Liberation Movement (WLM) across the UK and Ireland. It has been created by the Business of Women's Words project, a research partnership between the British Library and the Universities of Sussex and Cambridge funded by the Leverhulme Trust. Its data is drawn from Spare Rib  (1972-1993), the iconic feminist magazine digitised by the British Library. Based on a sample (around 30%) of Spare Rib's listings, adverts and letters pages, the map represents a slice of the intense feminist activity that flowered during the magazine's twenty-year run. What it shows is that the WLM was a truly national movement, with datapoints ranging from the Western Isles of Scotland to Leiston in Suffolk, and from Derry in Ireland to Falmouth in Cornwall.

Snapshot of the Spare Rib map from 1983
The map sheds new light on the structure of the WLM and illuminates its regional centres and hubs, as well as a wider web of more isolated feminist activity. Lancaster, for example, was a regional hub that hosted a number of feminist publications, women's counselling services, a lesbian helpline and took part in the Feminist Book Fortnight; and Bangor in Wales offered an array of feminist groups, businesses selling feminist postcards, jewellery and shoes, and alternative communal accommodation. The map's colour-coded categories and symbols visualise the sheer diversity of activities and goods generated by the WLM, from political demonstrations to carpentry workshops to co-operatively produced clothing.
Although the WLM is often thought of as outside capitalist transactions of buying and selling, the map makes clear that Spare Rib, and the movement more broadly, was a site of exchange – personal, ideological, but also commercial. Businesses, from dating agencies to therapists to bookshops and publishers, were a key part of the feminist community and helped to advance the reach of the movement. The extraordinary number of women-only or lesbian B&Bs advertised in Spare Rib in the 1980s, for instance, demonstrate how women-run businesses extended the movement into some of the most rural parts of the UK, from the Lake District to the Isle of Arran, and from Piltown in Ireland to Yelverton in Devon. By drawing on letters as well as listings and adverts sent into Spare Rib, the map visualises not only the nationwide distribution of feminist events, commodities and services, but a network of (often critical) consumers and activists. It charts change over time, revealing the changing priorities and infrastructure of the movement, from consciousness raising groups to women's centres, feminist businesses and women's studies courses.
Fully searchable by category, year, keyword and geographical location, the Spare Rib map is a rich interactive resource which opens up new avenues of research for historians of UK and Irish women's movements across two decades of intense activism.
09 April 2020
Our free online course, Learning from the Past: A guide for the curious researcher, starts on 20 April. The course has been developed in partnership with the University of Nottingham, and is available from FutureLearn.
The course aims to introduce sources used by researchers, with an emphasis on material that can be discovered and accessed online, and the methods that researchers use to analyse and understand these sources. We are also interested in how an understanding of the past both informs and is influenced by contemporary issues - such as globalisation or climate change. 
Over three weeks, we look at language and history, images and artefacts, and newer types of research resource. Learners can find out about British Library collections and projects, such as:
The course is designed for anyone who has an interest in the past. Our learners include students considering a research project, people who have followed a personal research interest for years, and those getting started on family or local history projects.  
As a taster of the course, you can see Phil Hatfield, Head of the Eccles Centre for American Studies, talking about an 18th century map of Canada and the Arctic at https://www.futurelearn.com/courses/learning-from-the-past/0/steps/58711 
26 February 2020
Extrème défense! World War One postcard, from the British Library's collection
Our free online course Propaganda and Ideology in Everyday Life will be running for 5 weeks from Monday 2nd March. You can find out more and join this course at https://www.futurelearn.com/courses/propaganda . 
The course is for anyone interested in news, current affairs, politics and history. Over five weeks, we examine how "big political" ideas get expressed and repeated in different cultures and societies around the world, and what that means for our everyday experience. We explore ideas around freedom, justice, community, place and commerce. On the face of it, these themes appear universal - few people disagree that freedom is a good thing. However, definitions of freedom vary, and there are competing views about who and what should be prioritised when freedom is considered.
In our course, we are interested in how this is experienced in people's lives today. Our learners come from around the world, from a wide variety of backgrounds and political beliefs. Current news stories often point to a sharp polarisation of opinion, in particular in online communication and social media. As course leaders, we believe that online education can counter this, by providing a space in which people can respectfully explore and describe differences of opinions and belief - as well as understanding shared values. This is something that we have experienced, and learnt from, in earlier versions of this course.
Propaganda and Ideology in Everyday Life draws on the collections and expertise of the British Library, and combines this with current research from the University of Nottingham's Centre for the Study of Political Ideologies. In the course, you will see examples from our map collections and Chinese collections, as well as examples from modern British publications. Our course leaders are the co-directors of the Centre: Maiken Umbach, Professor of Modern History, and Mathew Humphrey, Professor of Political Theory. Maiken and Mathew are joined by Ian Cooke, Head of Contemporary British Publications at the British Library.  
We are excited to start meeting our new learners on Monday 2nd March. You can join at https://www.futurelearn.com/courses/propaganda
10 May 2019
Emma Abotsi, British Sociological Association Fellow
I am the new British Sociological Association's (BSA) Postdoctoral Fellow at the British Library.  The Fellowship provides an opportunity for a postdoctoral researcher to conduct archival research using the British Library's collections (you can find out more about last year's inaugural Fellowship on our Research Case Studies pages)
This year's theme for the Fellowship is race and ethnicity in the UK and the aim of the project is to explore how archival methods can be used to examine contemporary concerns around this topic.
Before starting this Fellowship, I conducted research on the transnational parenting and educational practices of British-Ghanaian families. I have also worked as an Assistant Archivist at the Black Cultural Archives, where I catalogued the collections of Stella Dadzie, who co-founded the Organisation of Women of Asian and African Descent (OWAAD) and Dr Jan McKenley, who was also a key member of OWAAD and other black women's groups.
Southall Black Sisters Annual Report 1992/93. Southall Black Sisters. © Southall Black Sisters
With a background, and a keen interest in education and community activism in Britain's African Caribbean and Asian communities, I have spent my first few months of the Fellowship exploring relevant materials from the Library's collections. This includes Pulse, a publication by the National Association of Afro Caribbean Societies from 1986, which features a piece on the lack of diversity in the British (English) curriculum and the Annual Report of the Southall Black Sisters, an activist group of Asian and Black (African and Caribbean) women providing support for, and campaigning against, gender-based violence, and racism.
I have now narrowed the focus of this project to exploring Black and Asian activism and community projects around education in the UK since the 1960s. The items I discover as part of my research will be used in academic publications as well as learning resources aimed at A Level Sociology students.
I am excited about the opportunity this Fellowship provides to explore the British Library's collections relating to Britain's minority communities and to develop a range of outputs that will contribute to the study of race and ethnicity in the UK. I will also share findings from my work on this blog throughout the Fellowship.
09 April 2019
XKCD, "Click and Drag". © Randall Munroe, 2012 https://xkcd.com/1110/
We're really excited to announce two new Collaborative Doctoral Awards for research into web comics, funded by the Arts and Humanities Research Council. We are working with City, University of London and University of the Arts London to engage in new research on digital comics creation, reading and collecting in the UK.
This work will help us to understand collection management challenges for the diverse and innovative field of web comics in the UK.  The knowledge generated by this research will not only help us to build collections of web comics, but will help those writing, reading, collecting and researching web comics. We will be able to apply the research more widely too, supporting our development as we explore complex digital publications through our work on Emerging Formats.  
Understanding UK digital comics information and publishing practices: From creation to consumption
In partnership with City, University of London, this research will take a User Experience centred approach. It will examine the use of tools, technologies and sharing of information in the production, publication, collecting and reading of web comics. We're interested in what motivates people and how this informs their behaviour and use of particular technologies. Knowing the sorts of platforms and tools people use will help us prioritise and plan our own collections and collection management requirements. More importantly, knowing what's important to people in how they choose to create, share, and read web comics will help us understand what's important in building our collections.
At City, University of London this PhD will be supervised by Dr Ernesto Priego and Dr Stephann Makri at the Centre for Human Computer Interaction Design. Ernesto is the founder and editor-in-chief of The Comics Grid: Journal of Comics Scholarship. His research covers a wide range of themes on digital and print comics, and also digital information management practice. Stephann's work focuses on information and behaviour in digital contexts. His research has covered legal information and news, as well as how readers work with libraries and archives.
More details on how to apply for this studentship.
Collecting UK Digital Comics: social, cultural and technological factors for cultural institutions
In partnership with the University of the Arts London, this research will investigate the form and content of digital comics, exploring the differences between comics that are adaptive, hypertextual, interactive, multimedia, motion based and experimental. It will look at how cultural institutions respond to innovative digital material, and the cultural, social and ethical questions that inform collection building. There are strong links between the characteristics of digital comics, and other types of innovative publication we are considering under our Emerging Formats work. The collection management challenges are not solely technological, and this research will help us understand the wider cultural and social questions that influence the way that digital comics can be represented and used within the Library.    
At the University of the Arts London, this PhD will be supervised by Professor Roger Sabin and Dr Ian Hague, and the student will be able to join the newly-formed Comics Research Hub. Roger is the author of Comics, Comix and Graphic Novels (Phaidon, 1996) and is series editor for Palgrave Studies in Comics and Graphic Novels. His work has helped establish the academic field of Comics Studies in the UK. Ian's research has been on the form of digital comics and cultural and social studies of comics. He is the director of the Comics Forum annual conference.
More details on how to apply for this studentship.
The supervisors for both PhDs at the British Library are Stella Wisdom, Digital Scholarship, and Ian Cooke, Contemporary British Collections.
The awards support fees and provide a stipend for 3 years for the PhD student. More details on how we work with PhD students can be found on our Research Collaboration pages.
20 November 2018
The Annual Equality Lecture with the British Sociological Association took place on 25 October 2018
'Education is a right, not a privilege' (Kalwant Bhopal, 2018)
Please note: The British Sociological Association have uploaded a video of the lecture to their Vimeo site here: https://vimeo.com/302226095
On the 25 October this year the British Library and British Sociological Association were delighted to host Professor Kalwant Bhopal who delivered a timely, insightful and important lecture about the current state of ethnic inequality within the UK higher education system.
Professor Bhopal's lecture began with a look at the demographics of universities in the UK and differences in attainment between different ethnic groups. Her lecture showed that whilst there has been growth in recent years in the numbers of Black and Minority Ethnic (BME) students attending university, there remain stark differences in attainment and outcomes. For example, White students are more likely to receive a first class or higher-second class degree than BME students. This 'attainment gap' is particularly pronounced for Black students from Black African and Black Caribbean backgrounds.
She went on to look at the social and cultural reasons for these differences. Professor Bhopal showed that within secondary education BME students overall achieve good results at A level, compared to their White peers. However, BME students are less likely to apply, or be able to apply, to elite universities such as Oxford, Cambridge and those within the Russell Group. And when they do apply, they are less likely to achieve places. This evidence suggests that cultural and social factors within the higher education system are working to disadvantage BME students, and privilege White students, particularly so those White students from already privileged backgrounds.
So, what are the cultural and social factors that work to maintain White privilege in education, and disadvantage BME students? Professor Bhopal argued that socially embedded racism which operates in all processes, and at all levels, within universities, creates a vastly different playing field for BME students. From the university application process which favours particular forms of knowledge, to teaching at university which prioritises White experience and history, to the fact that within university teaching itself, BME lecturers are hugely underrepresented (only 8% of UK Professors are from BME backgrounds), the mechanics and culture of our university system propagate and reproduce ethnic inequality. Given this, it will come as no surprise that Black students are the group most likely to drop out of university.
Image: Professor Bhopal delivering her lecture. Photograph copyright of Tony Trueman for the British Sociological Association. Reproduced here with their kind permission.
Professor Bhopal was recently commissioned by the Equality Challenge Unit to understand minority ethnic 'flight' from UK higher education, to unpick ethnic differences in experience between academic staff and to understand how to attract and retain BME staff. A survey of 1,200 university staff as well as qualitative interviews, gave some clear indications about why BME staff might leave or hope to leave the UK higher education system.
This research showed that BME staff were more likely than their White colleagues to consider working abroad. There were perceptions that certain overseas countries (such as the USA) were more positive in their treatment of BME staff. Within the USA for example, Black Studies is an academic discipline and African American studies is taught at some of the most prestigious institutions including Harvard and Yale. Respondents to the survey felt that within the UK, race and ethnic studies were not highly regarded, and BME staff who worked in this area felt they were harshly judged. There was concern about limitations on career prospects, which was not surprising given the under-representation of BME scholars at senior levels.
Professor Bhopal concluded her lecture with advice and guidance for policy makers and university leaders about ways towards an equal future for all in higher education. First and foremost, higher education institutions must acknowledge that institutional racism is a problem which permeates processes and systems. Central to this is understanding and recognising how White privilege operates in real world interactions within universities; in interviews, at lectures, in seminars, at meetings and in informal and social scenarios. She suggests there should be greater rigour in monitoring BME attainment, with mandatory targets for elite universities around attracting and supporting BME students. Similarly, there must be targets for the recruitment of BME staff into senior roles and unconscious bias training should be mandatory.
The lecture was followed by an abundance of questions about how we achieve ethnic equality in higher education and more broadly, by a very well-informed and passionate audience. The questions and discussions continued into the foyer as the lecture closed, with people queuing up to ask Professor Bhopal to sign copies of her recent book. 
To find out more about Professor Bhopal's recent work, please visit her report with Clare Pitkin on the Race Equality Charter: https://www.ucu.org.uk/HEIs-and-the-Race-Equality-Charter
A podcast of this lecture has been uploaded to the British Library SoundCloud here: https://soundcloud.com/the-british-library/the-annual-equality-lecture-social-justice-exclusion-and-white-privilege-in-universities
01 July 2015
The importance of early years, childhood and adolescence: Evidence from longitudinal studies
Monday 30 November 2015
British Library Conference Centre
www.closer.ac.uk/event/conference2015
SUBMISSION  DEADLINE: 27 July 2015
________________________________________________________
We are delighted to invite proposals from researchers using longitudinal data to explore the broad theme of: The importance of early years, childhood and adolescence. Submissions will be considered for an oral presentation or poster. Analyses involving cross-study comparisons are particularly encouraged.
Important Dates
Deadline for receipt of submissions: 27 July 2015
Notification of acceptance: Early Sept 2015
Registration Opens: Mid Sept 2015
Deadline for final camera-ready copy: 9 OCTOBER    
CLOSER CONFERENCE: 30 November 2015
Selected submissions may be considered for publication in a "Conference Edition" of Longitudinal and Life Course Studies.
A prize for best Student Poster, as judged by the Conference Programme Committee, will be awarded during the conference.
_________________________________________________________
The UK's longitudinal studies are leading sources of evidence on how our early circumstances and experiences affect our paths through life and our outcomes in adulthood. CLOSER is bringing together researchers from across disciplines to showcase outstanding longitudinal research in the importance of early years, childhood and adolescence. It is an opportunity to share ideas and innovations with longitudinal researchers from across disciplines and sectors, both from the UK and abroad. It will also showcase the latest resources for research, including a new cutting-edge metadata search platform.
About CLOSER
Image: copyright CLOSER, reproduced with permission
Promoting excellence in cohort and longitudinal research
CLOSER (Cohort and Longitudinal Studies Enhancement Resources) aims to maximise the use, value and impact of the UK's cohort and longitudinal studies. Bringing together nine leading studies, the British Library and the UK Data Service, CLOSER works to stimulate interdisciplinary research, develop shared resources, provide training, and share expertise.
Studies
CLOSER is funded by the Economic and Social Research Council and the Medical Research Council.
27 February 2015
This week, we announced our new online course Propaganda and Ideology in Everyday Life. This is the first online course of its type that is using the Library's collections, and we are developing and delivering it with the Centre for the Study of Ideologies at the University of Nottingham. The course will start in May, and run on the FutureLearn platform.
During the course, learners will explore and debate issues such as: freedom, community, place, justice and choice. These concepts form the building blocks of our political views but they mean different things to different people. We'll be exploring how those words come to hold different meanings and how political ideas can impact on everyday lives.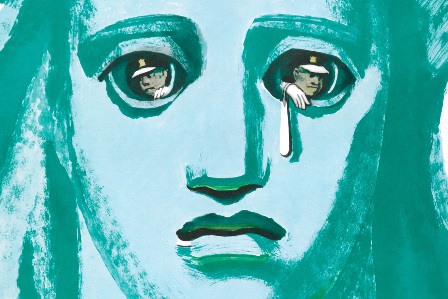 B. Prorokov, Freedom American-Style. 1971. (detail of poster).
There are two academic leads on the course. Mathew Humphrey, Professor of Political Theory, works on environmental political theory and theories of ideology. Maiken Umbach, Professor of Modern History, researches the relationship between political ideas and material culture (eg through the built environment or private photography).
The 5-week course draws on themes and items used in our 2013 exhibition, Propaganda Power and Persuasion. One of the most enjoyable aspects of curating that exhibition was giving public tours and talking to people as they visited the exhibition. This is a subject that everybody has an opinion on and experience of, and this new course will provide a new space in which to continue discussions started during that exhibition, and to look at the subject in a new light.
An exciting aspect of this course is that we'll be calling on learners to post images to an online gallery, contributing to the debate on what freedom or protest or community might mean. The online nature of the course means that people can join from all over the world, and there are no previous qualifications or experience required to take part.
Registration is open now. You can fnd out more, and see a video trailer for the course online.