04 June 2013
In this post Andrew Dixon, Lead Curator for Management and Business Studies, writes about his engagement activities with Management and Business Studies researchers and asks how we can support the Business History research community   
It has now been almost six months since I took up my present role at the British Library.  This personal landmark seems like a good reason to share some thoughts about how the British Library has been engaging with the MBS research community (here at the Library we refer to the subject as Management and Business Studies or MBS for short).  The phrase "MBS research community" is perhaps a misnomer as it implies that there is one heterogeneous group of like-minded, like-funded and like-reported researchers and projects.  In fact members of the business and management community are a diverse bunch whose interests range from post modernist critiques of capitalism to full on number crunching of raw economic datasets.  Still, this diversity makes for an interesting life and one thing that they do all seem to have in common is that they like to share their thoughts and opinions. 
To give some examples of how we try to engage with the MBS research community for this subject, I have attended a number of meetings and events in order to build contacts and tap into the collective wisdom of academics, policy makers, students, practitioners and stakeholders. The overriding purpose of these activities has been to engage with our readers to help make informed decisions about how best to develop coherent collections to meet their research needs.   Some of these activities have been hosted at the British Library such as the Open Access event that marked the end of my first week in post.   This resulted in a number of contacts that were to prove useful as time progressed.   Attending the Annual Research Conference of the Association of Business Schools held at Lancaster University was another useful exercise.  My colleague Sally Halper and I had the opportunity to give a presentation on the MBS resources at the British Library, to explain our content strategy and to elicit opinions about how best to meet the research needs of the business schools.  This event formed part of a pattern with others undertaken along with colleagues.  These included a presentation about the Business & IP Centre, a Library facility that supports entrepreneurs and innovators in launching and developing businesses, at Brunel University and participation in a Study Conference at Kingston University.  These reinforced our view that there is a large demand from business and management academics for resources that support specialist research rather than the teaching and learning support often offered by their own institutional libraries.  The British Library as a national library has a vital role to play in this.  Of particular interest to participants across events were the implications of the coming into force of the Non Print Legal Deposit regime, British Library plans to engage with Open Access and the use of the British Library MBS Portal as a means of doing this.
Another more specific project that I have been involved in is a review of how we can support the Business History research community.  Anecdotal evidence suggests this group have been seen as "falling in the gap" between MBS and History research support.  As a practical first step we have targeted the development our annual report collection as a type of resource that is particularly valued by many business and management historians.  To this end I have conducted focus groups and targeted interviews with business historians and other stakeholders with a particular interest in using such material.  The Library has traditionally received a large amount of such items but in a rather uncoordinated way as annual reports have not been covered by legal deposit and active collecting had tended to be focused on the leading FTSE companies.  Other material has, however, found its way into the collection often as part of donations of wider collections relating to companies or industries.  So far we have received a variety of opinions as to how best configure and develop our holdings so as to make them of most use to researchers.  Widely proffered opinions have included that we should build collections around industries and sectors across time and that we attempt to develop holdings for the "lost years" from the mid sixties to the end of the century where this kind of material can be particularly difficult to find.  We are also investigating how researchers react to digital storage and provision for such collections.
This is very much an ongoing consultation so if you would like to offer your opinion individually or take part in one of the forthcoming focus groups then please do contact me, preferably by the end of June, at andrew.dixon@bl.uk and we can find the best way to feed your ideas into the process.  Indeed, do feel free to contact me on more general MBS related topics as well.  A part of the purpose of all of the activities outlined above and of others that are taking place in the Library is to engage with our users to sense-check that our actions will lead to outcomes that help them to access and exploit our unique resources and collections to best effect.  We are always keen to hear from those in the MBS community, be they students, academics or practitioners, who want to contribute to this ongoing process. 
17 April 2013
In this post Jon Sims, Curator for Law and Socio-Legal Studies, explains Legal Biographies and outlines a forthcoming event: Legal Biography: a national socio-legal training day on 15th May 2013. This is the second national socio-legal training day to be organised jointly by the Institute of Advanced Legal Studies, the British Library and the Socio-Legal Studies Association.
As varied cultural currents narrate the 1970s and 1980s through the political life of Baroness Thatcher (called to the Bar, Lincoln's Inn, in 1954), it occurs to me that a recorded interview with Baron Joffe (called to the South African Bar in 1962, just one year before the Rivonia Trial) is among the British Library's oral history collections (law and the legal system).  
Legal Biographies "are a rich and important source of information about the legal system, the evolution of case law and statute and legal cultures more generally". "Yet … they have been much neglected in the study of law" states the website of the London School of Economics Legal Biography Project. 
Further steps to remedy this neglect will be made next month, on the 15th May 2013, at the Institute of Advanced Legal Studies. The "Legal Biography: a national socio-legal training day", organised jointly by the Institute, the Socio-Legal Studies Association, and the British Library, will focus on methodological considerations and problems involved in doing archival research for legal biographies. The day aims to draw attention to archives that newcomers to the field may not be aware of and to consider the practical problems involved in analysing sources.


Sorabji, Cornelia, bachelor of civil law in 1892, called to the bar 1923, diaries covering 1919 – 23  are held at The British Library e.g. File reference: Mss Eur F165/81. Photograph of Bust at Lincolns in by James Frankling CC-BY-SA-3.0 via Wikimedia Commons 

Given recent initiatives in research methods training and the roles of social-sciences and history in the evolution of disciplinary paradigms in academic legal research, growing interest in legal biography is perhaps unsurprising. Interest in biography and life course research is clearly evident from the British Sociological Association's conference programmes and Auto/Biography Study Group for example. 
Names such as Maine, Maitland, Milsom and Holdsworth are prominent in the story of history's role in British legal scholarship. However the work of Hurst and Horrowitz (what is it about Ms and Hs!) demonstrate, as Ibbetson points out on page 875 of The Oxford Handbook of Legal Studies (OUP 2003), a shift in US legal history which, at least superficially, suggests the utility of biographical methods. This was the shift of focus away from legal doctrine and towards "institutional frameworks", "legal practitioners and administrators".  Biography has also recently been described as the "new history" of the moment. 
Examples of North American academic interest in legal biography can be seen for example through the Women's Legal History – biography project at Stanford, the Osgoode Society for Canadian Legal History - Oral History Programme.
UK socio-legal enquiry has embraced investigation of the professions and institutions of law, looks beyond the roles of legal elites to administrators (court clerks, street level enforcers, and bureaucratic decision makers), and also searches beyond the monologue of the appeal judgments for the lives of the litigants. The litigants story has also emerged, for example through critical evaluation of the narrative of standard institutional histories, asking for example, what happened to the eponymous Miss Bebb of the landmark case, [1914] 1 Ch 286, concerning the opening of the legal profession to women.
However, while legal studies embraces, at times, the need to look beyond legal rules and doctrines, legal biography, as this LSE Project reminds us, also aids our understanding of the "evolution of case law and statute".
The Legal Biographies training day on the 15th May is the second national socio-legal training day to be organised jointly by the Institute of Advanced Legal Studies (IALS), the British Library and the Socio-Legal Studies Association (SLSA).  If you are interested to find out more about methods and resources in legal biography then why not register and come along to IALS (Russell Square, London) to learn from the experiences of legal academics, archivists and librarian's working in the field. 
Confirmed speakers include: Rosemary Auchmuty, (Reading University) talking about researching the life stories behind Bebb v The Law Society - a case concerning women's admission to the legal profession, Lesley Dingle (Squire Law Library ) talking about the Eminent Scholars Archive, Guy Holborn (Librarian at Lincoln's Inn, adviser to the LSE Legal Biographies Project and author of Sources of biographical information on past lawyers) on biographical method and the Inns of Court, Les Moran (Birkbeck) and Linda Mulcahy (LSE Legal Biographies Project) on using image in legal biography, Giles Mandelbrote (Lambeth Palace Librarian and Archivist) on Ecclesiastical court records at Lambeth Palace Library,  Jon Sims (British Library) on exploiting the library's collections for legal biography, Mara Malagodi (LSE) on archival investigations and researching the neglected constitutional legacy of Sir Ivor Jennings in Asia,  Susannah Rayner (SOAS) and Antonia Moon (British Library) on archival resources at the School of Oriental and African History and India Office Archives, , Elizabeth Dawson (IALS Archivist) on using archival resources at the Institute of Advanced Legal Studies.
Online Registration and Further Details: for further details and online registration for Legal Biography: A national socio-legal training day (15 May 2013, 10:00 - 17:00) please see the Events Calendar on the Institute of Advanced Legal Studies website. The cost for the day's event, including lunch and refreshments is £30 (Student rate), £60 (SLSA members), and £70 (full price). 
Our 'help for researchers' pages contain more information about The British Library's Socio-Legal Studies Collections
Jon Sims, Curator for Law and Socio-Legal Studies, can be followed on twitter @SSCRLaw
10 April 2013
Applications are invited for a PhD scholarship on the project "Freedom, oppression and resistance: Evolving stories in South African political ephemera and propaganda, 1948-2004". Informed by a critical geopolitics approach, the project provides for a longitudinal analysis of the changing expressions of power, resistance and participation within the British Library's holdings of political ephemera. Supported by the University of Sheffield and British Library, this project draws together South African state and civil-society produced narratives of nationalism, citizenship and participation during the Apartheid (1948-1994) and early post-Apartheid (1994-2004) periods. Focussing upon the political ideals and ideologies expressed through political ephemera, this project will address the evolving nature of political participation within contested public spheres in South Africa. In particular, attention is focused upon the ways in which Apartheid and resistance influenced and were manifest in everyday political life and thought. Overall, the project will contribute to understandings of the changing nature and role of (un)civil society in South Africa as located within shifting landscapes of invited and invented spaces of public participation.
The studentship is supervised by Dr Daniel Hammett and Professor Charles Pattie (University of Sheffield) and Ian Cooke (British Library). The scholarship pays: UK/EU tuition fees (Overseas students can apply but will need to cover the difference in fees), a stipend at standard RCUK rate (£13,726 in 2013-14) and a research support grant of £500 per year. Awards are tenable for a maximum of three years, subject to satisfactory progression, with the project scholarship starting September 2013. For further details see: http://www.sheffield.ac.uk/postgraduate/research/scholarships/britishlibrary.
Applications and enquiries are welcome from interested applicants with a first class or upper second class first degree in a relevant subject area and who hold or expect to complete a Masters level degree before September 2013. Deadline for applications: 5pm 31 May 2013.
Enquiries and applications should be directed to Dr Daniel Hammett – D.Hammett@sheffield.ac.uk
19 February 2013
Last week I attended a couple of the curator sessions which formed part of our social science doctoral training day. One of the sessions was by Dr Luke McKernan, our
Moving Image
Curator. The collections he looks after, and services he has developed, offer incredible potential to researchers across the social sciences and I wanted to briefly highlight some of them here.
Many people may not realise that the British Library holds moving image material, but in fact there are over 55,000 items in our collections, including ethnographic videos, documentaries and 14,000 music videos. These resources are available to access via our listening and viewing service and can be found through our main catalogue.
Dr Luke McKernan speaks about the new Broadcast News service
There is a new service which could add significant value to social science research, particularly that which undertakes discourse analysis on news sources as part of its methodology. The British Library Broadcast News service provides access to television and radio news programmes from seventeen channels which have been broadcast in the UK since May 2010. Forty-six hours are recorded per day and they are almost immediately available to watch in our reading rooms. Many of the programmes recorded come with subtitles, which we have been able to use to provide a word-search function. This will allow you to find news programmes relevant to your research as well as particular moments within those programmes which will be of interest to you.
The channels we record include: BBC, ITV, Channel 4, Sky News, Al-Jazeera English, NHK World, CNN, France 24, Bloomberg, Russia Today and China's CCTV News.
Luke McKernan has more relevant information about this service, and other moving image services on his blog. He is currently investigating speech-to-text technology and how this will enable us to make even more moving image and sound collection fully searchable. You can read more about this process here.
Other resources
Tom Hulme, our ESRC intern, has written a case study about using Broadcast News at the British Library. Read it here.
14 February 2013
Eleanor Bird, one of the British Library's collaborative doctoral students, describes her experience of meeting other BL PhD students and writes of the different ways they make use of BL collections in their research.
On Thursday 10th January the British Library (BL) hosted a day for its collaborative doctoral (CD) students and BL staff working across different areas. This was held in the conference centre and was organised by Liz Lewis (Engagement Manager for Arts and Humanities at the BL).
Having just started my PhD in Narratives of Slavery in Canada at the University of Sheffield (supervised at the British Library by Dr Philip Hatfield), I thoroughly enjoyed the chance to meet up with fellow BL CD students - past and present - to hear more about the projects they have been involved in, and about how they have used the BL collections in their work.
A particular highlight for me was the student presentation session in which we each gave a short three-minute talk introducing our work. It was really interesting to see how the students are working with collections in diverse ways. For example, Ami Pass (University of Lincoln) is utilising her strong background in science to evaluate techniques for preserving BL material. Meanwhile, Lauren Blake (University of Sheffield) is conducting oral history interviews on food activism and William Frost (University of Sheffield) is investigating English-speaking tourists' experience in Norway, drawing from the Library's rich travel narrative collection.
It was an exciting and vibrant atmosphere which generated some very good feedback from staff and students alike. This was the first time we had met as a group and we hope this will be the first of many more.
Useful links
Find out more about our Americas collections here.
Read Phil Hatfield's personal blog here.
Find out more about how we work with Higher Education here.
22 January 2013
What do social science curators at the British Library get up to? This post looks across the work of the scoial science department to show the range of activities undertaken by our team.
Every month my colleague @BLRobertDavies and I compile a list of recent activity by members of our department. We circulate this to our colleagues at the British Library as a way of keeping our colleagues in touch with the work that we do. It struck me this month that a post about range of activities undertaken here might provide some insight about what it is like to work within the area of social sciences in an institution which isn't a university, think-tank, charity or research unit (but has strong links with all of these). I hope that this post might offer a view into the varied life of a social science curator and may even be fuel for thought for those hoping to pursue a social science career.
The Social Sciences department at the British Library includes curators from a range of backgrounds across Information Management, teaching and research (and a combination of all of these). There are subject and area-specific curators who work with the British Library's collections to both manage these collections and improve access to the collections by those who need to use them. For example, last month we launched our Social Welfare Portal which has been developed by our team members who manage our Social Policy and Official Publications materials. It is a great example of how material is curated by Library staff in such a way as to be useful and accessible to audiences both within and outside of academia. Another way material is curated online is through the development of special website collections, for example, one colleague has recently developed a special collection of websites on Slavery in the Caribbean.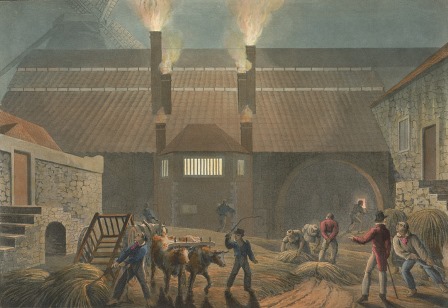 Exterior of an Antigua Boiling House, William Clark 1823 (BL Shelfmark: 1796.c.9). From the Library's 'Caribbean Views' gallery

The British Library is unusual in that under the legal deposit act, we receive copies of all materials published in the UK. Yet this doesn't mean that we don't still select and acquire materials. For example, materials are selected on a monthly basis to comprise the reference collections which are held on the open shelves in our reading rooms, while publications published overseas and/or which fall outside the legal deposit act, are selected and acquired by curators.
As the home of our national collections, we want to ensure that the collections are well-used and understood by members of the public. To ensure that the collections are accessible our team members offer in-house workshops and seminars with their audiences, develop public events and often contribute to postgraduate study through seminars about our resources and research methodologies. One of our ESRC placement colleagues developed case studies about our collections which are aimed at social science postgraduates to show the range of our collections and how they can be used to enhance research. These are held on the ESRC website.
For school children, the Learning Team develops materials, workshops and teaching aides alongside the curatorial experts. For example, the Sounds Familiar resource and Food Stories were developed with our curators. We also work with colleagues across the Library to develop our major exhibitions. In fact, the May exhibition on Propaganda has been developed by one of our team members.
Much of what we do requires a very good working knowledge of what academic and other researchers need in order to undertake their research. Department members devote time to developing links and relationships with our users. Sometimes this is done through visits and through developing joint events for knowledge exchange (big events during December covered diverse subjects such as 'Queer' Families, Impact in Social Sciences, and Welfare Research), sometimes through collaborative research and collection enhancement activity (for example, the Sisterhood and After project) and sometimes through working with membership organisations, participation on external boards and committees and national and international projects. Curators on our team publish books, scholarly articles and blogs and contribute to strategic activity across the higher education sector and beyond.
Sisters! Question Every Aspect of Our Lives, 1975 © See Red Women's Workshop*
It is very stimulating to be able to work alongside such an erudite bunch of people, and while the knowledge held by colleagues can sometimes be daunting it also means that there is never a dull moment at the British Library!
*Via The Women's Library, London and part of their 2009 exhibition Ms Understood: Women's Liberation and 1970s Britain
15 January 2013
On the 7th December 2012, the Library hosted the second event of the "Digital Methods as Mainstream Methodology" seminar series. This guest blog gives an overview of the event, the speakers and the topics and issues discussed.
The "Digital Methods as Mainstream Methodology" seminar series is funded by the National Centre for Research Methods Networks for Methodological Innovation. The network consists of three seminars that started in June 2012 at the University of Bristol. This network aims to:
To inspire researchers to deploy relevant, effective, innovative, digital methods, via a series of three open seminars;
To identify future training needs so that the wider social science community can make use of digital methods;
To foster networks for sharing of expertise between social scientists from a variety of disciplines and career stages, and computer and information scientists;
To provide networking and dissemination opportunities and provide a space to share expertise for researchers at all career stages.
The second seminar kicked-off with an introductory welcome speech and an overview of Social Science resources and the UK Web Archive by Peter Webster (Web Archiving Engagement and Liaison manager at The British Library). The seminar had three guest speakers, including Professor of Information Science, Mike Thelwall from the University of Wolverhampton, Professor of New Media, Sue Thomas, from De Montfort University and Dr.Danah Boyd, senior researcher at Microsoft Research/Research Assistant Professor in Media, Culture and Communication at New York University.
Additionally, the event incorporated creative, specialist "Pecha Kucha" (Japanese for "chit chat"), presentations by postgraduate students and early career researchers currently working with digital research methods across a diverse range of subject areas, including the humanities and social sciences. Each presentation contained 10 slides, and forced presenters to concisely present their material in a rapid fashion, forcing them to deliver their talk in around 3 minutes.
The day was rounded off with a discussion session led by Christine Hine. The session reflected on a number of connecting issues that emerged across and between the two events, and across and between specific projects and overarching issues related to contemporary digital methods. These included: the thorny question of ethics and how to juggle authenticity and meaning with privacy and anonymity when working with digital content; working with secondary digital data as opposed to data that is produced (through, say, e-focus groups); and the difficulties of keeping up with the pace of change, particularly when it comes to dissemination. One thought provoking and challenging suggestion was for digital methods networks to initiate their own inter-and-multi-disciplinary open-access journals! A closing remark by one of the participants reflected on both the powerful opportunities and the powerful responsibilities involved in inhabiting a searchable world.
It was an exciting and informative day for all. More information about the seminars can be found at: http://digitalmethodsnmi.com/
This post was written by Dr Steven Roberts Lecturer in Social Policy and Sociology at The University of Kent, Haley Watson Associate Partner: Trilateral Research & Consulting and Dr Yvette Morey Research Fellow at University of the West of England.
04 December 2012
This post outlines the event 'New Perspectives on Education and Culture' which was held at the British Library on Monday 3rd December 2012.
Yesterday we hosted an ESRC funded event called 'New Perspectives on Education and Culture' which was the final seminar in a series on Knowledge Cultures organised by Dr Kim Allen and Professor Jocey Quinn. The day explored what counts as 'valid' knowledge in our culture (what is it important to know?) and looked at who is included and excluded in processes of knowledge culture and exchange. For libraries and museums, as well as for those working across the education and arts sectors, these questions are central if we are to ensure equality in access to knowledge.
Dr Nina Power from the University of Roehampton began the day by deconstructing the question about 'valid' knowledge and how such knowledge is obtained and taught. She drew on the work of the philosopher Jacques Ranciere and made use of Ranciere's story 'The Ignorant Schoolmaster'. In this story Ranciere posits a model of learning which seeks to equalise the relationship between pupil and teacher. He suggests that if both student and teacher start at the position of 'ignorance' the power differential inherent to (and reiterated by) the traditional teacher/knowledge - student/ignorance dichotomy can be productively disrupted. Nina explored how this alternative model might shed light on the relationships which exist within the academy in the current context of higher education cuts, a pressurised working environment for academics and the wider social and economic instability in which access to 'valid' forms of knowledge is a vital resource.
Professor John Holmwood, the new President of the British Sociological Association and one of the co-founders of the Campaign for the Public University (organised to oppose the marketisation of higher education by the government) was the next speaker, but unfortunately I didn't get to hear his talk as I had to attend to this event which was happening in the next room. (It was a busy day for our department!). However, Kim Allen and Jocey Quinn will also be writing up the event and you will soon be able to read about John's talk here. Sorry John!
During the afternoon there was a panel discussion with 5 presenters who all approached the central questions from different perspectives. Nora McGregor from the British Library raised some pertinent questions about the role of the curator in the digital age. She showed how improved access to knowledge and improved capacity to share knowledge via the internet has destabilised the position of the 'expert' curator, and has opened up a space in which the professional 'expert' and the expert member of the public can interact in new ways. For example, many maps at the British Library have been correctly georeferenced with information supplied by members of the public.
Katherine Stanley and Clive Menzies spoke about their involvement with the Occupy movement and described how the Tent City University developed as part of the activity. Katherine spoke about the experience of learning and sharing knowledge collectively in a space which while at first seemingly not very conducive to learning, developed to become an inspirational space in which to share knowledge and experience. Well-known academics such as Manuel Castells offered to provide lectures and the resulting Free University movement continues to operate. Clive Menzies spoke about the Critical Thinking course which evolved from the Tent City University and runs for 40 weeks of the year from January - October. Despite no official home, a hardcore group of students along with Clive have kept this free course alive. The talks by Nora, Katherine and Clive really spoke to the model of learning which Nina described in her account of Ranciere, so that despite the gloomy prospects for education in the current context, there seemed to be some hope for alternative models of learning and sharing knowledge.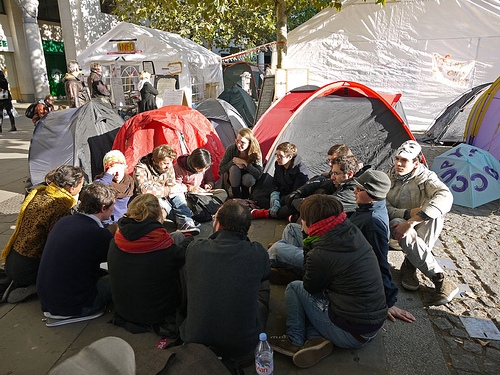 The Occupy Movement, London

Alan Denney 
Paul Hubbard, Head of Research Policy at HEFCE gave an account of how the funders of HEFCE respond to the questions posed by the day and described the way the 'validity' of knowledge is assessed in this context. The issue of assessing impact was raised by the audience such that there was considerable cross-over with the discussions talking place across the corridor! Finally, Dianne Shepherd, an information librarian from the wonderful Women's Library in London talked about how the collections held there are made accessible to researchers both within and outside higher education. She outlined two imaginative projects: Changing Lives and Sold Feelings which respectively demonstrate how the WL has worked with young people to develop a pupil-led curriculum and then with disempowered groups to document lived experience and emotions.

The Women's Library, London

Reading Tom
The day was very stimulating and many of us in attendance had questions and points to raise relevant to our work as educators, curators, librarians, researchers, activists and people interested in equality in access to education; I look forward to seeing how these discussions might develop and inform how we teach, learn and share knowledge.
Other useful links:
http://thenewputneydebates.wordpress.com/
Gender and Education Association
These views are from Sarah Evans (Engagment Development Manager in Social Sciences) @dr_sarahevans and don't necessarily reflect the views of the British Library as an institution.