02 August 2017
Chantelle Lewis is a PhD student working at the British Library on a project on Black, Asian and Minority Ethnic (BAME) publishing. In this post, Chantelle describes her project and a forthcoming event at the Library.
My name is Chantelle Lewis and I am a PhD student in the Sociology department at Goldsmiths College. My research is focused on the lived experiences of mixed race families in mono-cultural British towns. Since beginning my PhD, I have been interested in 'race' in Britain, racialised inequalities and the legacies of colonialism. I am keen to become a public sociologist emphasising how sociological research can help shape important social policies.
I am currently working as a PhD placement researcher within the Contemporary British Publications team at the British Library. The title of my placement is 'Independent, D-I-Y, and activist BAME publishing, in print and online, in 21st century Britain'. I am interested in the current production of inclusive publications, and how the Library can better engage with independent publishers and activists invested in widening representation of writers of colour.
I began by using the Library's online catalogue to assess its holdings of independent and activist publishing committed to writers of colour. Following this, I met with writers, publishers and activists, and asked them about their experience of supporting independent expression in print and online. The result of these meetings will be a networking event at the British Library titled 'Bringing Voices Together'.  I was inspired to organise Bringing Voices Together after the project illuminated devolved literary practices which could help structure a pragmatic response by the British Library.
The event will bring together people from the arts, literary, and activist world, together with staff from the British Library. The group will include people invested in the development of platforms for diverse forms of expression, as many face similar obstacles in a predominantly mono-cultural industry. 
Whilst meeting with writers, publishers and activists, I began to feel like there were key people I was speaking to who could benefit by connecting with others committed to inclusivity.  Inspired by the on-going project run by Birkbeck History department - History Acts , where historians meet with activists to discuss the possibility of collaboration, I was keen to do something similar as part of my placement. As well as having writers and publishers involved, there will be academics and researchers at the event. I am hopeful that this will allow for interdisciplinary discussions on past and present expression by writers of colour.
Part of Bringing Voices Together will be to gather information for the British Library's Contemporary Britain web pages on independent publishers who have committed to writers of colour in print and digital formats. This will serve as a starting point for the Library to become actively engaged with the varied formations of contemporary publishing in Britain. This information is also intended to help bookshops and public libraries connect with different voices, as well as offering more wide-ranging options for users of the Library.  We'll update this post with more details after the event.
Over the coming weeks, there will be a series of guest blog posts from myself and some of the people I have met who are engaged with inclusive independent publishing. Alongside the updates to the Contemporary Britain web pages, these articles will show that Bringing Voices Together is intended to be action driven, coupled with giving a much needed platform to different modes of expression. It also contributes to the notion of legacy and how collaboration can be at the forefront of change.
The fusion of attendees and speakers from publishing, literary, academic and activist backgrounds will allow a range of stakeholders to meet and debate the contemporary issues in publishing and the innovative ways these are being addressed. This will lead to a celebration of resourceful production which has been rewarded by the widening presence of public appreciation. It will also comment on the positive aspects of independent publishing and the opportunities it can present for inclusive expression.
The event gives all involved the opportunity to contribute to a conversation on inclusionary practices in publishing. The principle aim of the afternoon will be to provide recommendations on how the British Library can become more closely involved with writers of colour in independent publishing.
Chantelle Lewis BSc, MA and PhD candidate in Sociology
28 March 2017
Polly Russell, Lead Curator for Politics and Public Life, reports on our event to mark International Women's Day 2017: 'Rebels in the Archives'.
Earlier this month, to mark International Women's Day, the British Library hosted 'Rebels in the Archives', a sell-out panel discussion with four women who, in different ways, have uncovered the hidden histories of women's lives in Britain's past.
The evening kicked off with Heidi Safia Mirza, Professor of Race, Faith and Culture at Goldsmith's College and author of Young Female and Black. Heidi discussed how Women of Colour have been rendered invisible by the absences and omissions which characterise most representations of the past. Attend to the archive, look beyond the obvious and take responsibility for finding and accounting for Women of Colour when researching women's lives was her message.
Next up was Abi Morgan, BAFTA and Emmy Award winning writer and producer whose film Suffragette introduced cinema audiences around the world to the story of how working class women fought to get the vote in the UK. Abi described the process of writing the film's script, how libraries and archives held the key to the narrative and character and of the totemic importance of archival objects – she described the tiny purse Emily Wilding Davison was holding when she fatefully stepped in front of the King's horse at the Epsom Derby on the 4th June 1913 and how this brought to life the fragility and courage of 'extraordinary sacrifice made by the ordinary'.
From left to right the 'Rebels in the Archives' Panel: Heidi Mirza; Abi Morgan; Margaretta Jolly; Debi Withers; Jill Liddington. Image courtesy of Polly Russell.
Writer and historian Jill Liddington followed Abi and heroically compressed a life's work into a splendid 15 minute presentation. Jill, the author of a seminal account of northern working-class women's contribution to the Suffragist movement, One Hand Tied Behind Us, detailed how archives and libraries held the key to a history of women which had previously been omitted from historical record.
The final speaker of the evening, curator, researcher and digital expert Debi Withers, brought us bang up to date with a discussion of how digital archives and catalogues have the potential, if opened up to tagging and searching, to widen access to and enable links between feminist archives.
The evening's discussions were expertly chaired by Margaretta Jolly, Reader in Cultural Studies at the University of Sussex and someone directly responsible for increasing the number of women rebels in the British Library archives – Margaretta contributed 60 Women's Liberation Movement oral histories to the British Library as part of the Sisterhood & After project she led in 2013.
After audience questions Margaretta concluded the evening by noting that though the panel employed diverse approaches to understanding the past, worked across different formats and spoke to different audiences, their work was evidence that archives and libraries are places where the rebels of the past could b e uncovered so th at rebels of the future may thrive.
You can see a short video of the evening's highlights and a podcast of the evening is also available on the British Library's SoundCloud channel.
The event was developed in association with the University of Sussex and was supported by the Living Knowledge Network.
16 January 2017
Rachel Tavernor is a Media and Cultural Studies PhD Researcher at the University of Sussex. In this post, she discusses her PhD Placement at the British Library.
At the start of 2016, I did not imagine that I would be finishing the year at the British Library. For the last three months, I have been based in their Research Development team, as part of their new PhD Placement Programme.
My placement focused on exploring twentieth and twenty-first century anti-poverty activism in the British Library Collections. After a preliminary mapping of the archives, and discovering how much material was available, I narrowed the focus of my placement to housing activism. Struggles for decent and affordable housing, with secure and fair tenancies, are at the forefront of many anti-poverty movements and are often led by women. I developed two strands of the project to explore the ways in which radical, feminist, and at times illegal, protest actions are archived.
Firstly, I traced housing activism, including rent strikes, squats and housing cooperatives, across the British Library Collections. Working with diverse materials, including oral histories, manuscripts, music and news media, I was able to map the differing voices in the archive. In particular, investigating the tensions between protesters, mainstream media and government narratives. A guide to the materials found in the collections will be available on a new project website, Archiving Activism (launching in Spring 2017), which will include images of relevant collection items.
Secondly, I developed a small research project on the practices of archiving activism. To understand and propose ways to archive activism, I conducted a series of nine interviews. Many very enjoyable hours were spent listening to campaigners, feminist archivists and academics who engage with archives of activism. The interviews informed an internal report that I produced for the British Library on potential ways to archive contemporary activism.

  Image: The gates of the British Library.   
We will be discussing archives, activism and feminism movements on 8 March 2017 with a panel discussion on Rebels in the Archives. One of the privileges of working with the Library was the opportunity to invite inspiring feminists, Jill Liddington, Abi Morgan, Heidi Safia Mirza and Deborah Withers, to contribute to this event (booking now open).
I recently presented my research project to PhD students at the annual CHASE conference, Encounters, and to British Library staff as part of the British Library Bitesize Talk Series. Both events gave me the opportunity to share my research and reflect on my time at the British Library. For those of you considering applying for a PhD Placement in 2017, here are my reasons for taking part:
Research Skills: you get a chance to use the skills that you've learnt conducting your PhD research in a new environment. You will also learn new research skills by working on a short-term project with industry outputs.
Rich Resources: you get the time to explore the rich resources of the British Library Collections. You also get to find out about the resources that are yet to be made public or are soon to be acquired… watch this space for some exciting new acquisitions.
Public Engagement: you get to engage people with your research and the British Library Collections. You may have the opportunity to create your own event, possibly presenting your research or supporting the Library with their large events programme.
Colleagues and Collaborators: you get to work with some fantastic colleagues who are passionate about the British Library and research. You also get to be part of a cohort of PhD Placement researchers and learn about a wide range of research that is conducted at the Library.
Inspiration: finally, the British Library is packed with inspiring people, both past and present. I return to my PhD research this week with new ideas, skills and experiences.
The British Library have just published a new call for applicants for 2017/2018 British Library PhD Placements. Included in the programme are placements on:
If you have any questions about the placements, contact Research.Development@bl.uk
21 December 2016
Rachel Tavernor, a British Library PhD Placement Researcher, writes about an upcoming event 'Rebels in the Archives' that will be held at the British Library in 2017.
On 8 March 2017, to celebrate International Women's Day, the British Library will host a panel conversation on the power and potential of archiving feminist movements. Rebels in the Archives is an evening dedicated to stories of sexism, sisterhood and struggle.
Our speakers include Jill Liddington, Abi Morgan, Heidi Safia Mirza and Deborah Withers. Margaretta Jolly, project director of Sisterhood and After: An Oral History of the Women's Liberation Movement, will chair this panel of influential feminists as they debate questions of politics, representation and preservation.
Our panel will be sharing stories of the rebels and rebellion that inspire them. Discussing their own engagement (as historians, screenwriters, researchers and curators) with archives of activism. As well as debating the ways in which collecting, curating and communicating activism can be a radical practice.
Photograph copyright of Theo McInnes and reproduced here with their kind permission.
Jill Liddington is a writer, historian and Honorary Research Fellow at the University of Leeds. She has researched and written on votes for women since the 1970s, when she first visited the Fawcett Library (now Women's Library). Her latest book Vanishing for the Vote: Suffrage, Citizenship and The Battle for the Census, tells how suffragette organizations urged women, all still voteless, to boycott the census on 2 April 1911.
Abi Morgan is a BAFTA and Emmy Award winning writer and producer. Abi is the screenwriter of Suffragette, the first ever mainstream film about the British campaign for equal votes. The story focuses on the lives of working class women involved in the movement. Radicalised and turning to violence as the only route to change, they were willing to lose everything in their fight for equality – their jobs, their homes, their children and their lives.
Heidi Safia Mirza is a visiting Professor of Race, Faith and Culture at Goldsmith's College, University of London and Professor Emerita in Equalities Studies at the UCL Institute of Education. Heidi advises English Heritage on diversity and established the Runnymede Collection at the Black Cultural Archives (BCA), a race-relations archive documenting the late 20th Century civil rights struggle for Multicultural Britain. She is author and editor of several books, including Young Female and Black, Black British Feminism and Black and Postcolonial Feminism in New Times: Researching Educational Inequalities.
Deborah Withers is a writer, curator, researcher and publisher. Their new book Feminism, Digital Culture and the Politics of Transmission: Theory, Practice and Cultural Heritage, asks: what does it mean to say that feminism has cultural heritage? The book explores how digital technologies have enabled impassioned amateurs to make 'archives' within the first decade of the 21st century. In 2010, Deborah founded HammerOn Press, a grassroots publishing label rooted in feminist / queer do it yourself culture. They are also an active trustee of the Feminist Archive South, and have curated two Heritage Lottery Funded exhibitions Sistershow Revisited and Music & Liberation.
Margaretta Jolly is a Reader in Cultural Studies and Director of the Centre for Life History and Life Writing Research at the University of Sussex. Her current book-in-progress is Sisterhood and After: An Oral History of the UK Women's Liberation Movement (forthcoming). Her book, In Love and Struggle: Letters and Contemporary Feminism explores feminist relationships as they have been expressed in letters and emails since the 1970s and was awarded the 2009 Feminist and Women's Studies Association Book Prize.
Booking for Rebels in the Archives is now open. We hope you are able to join us and are able to contribute to this discussion.
20 April 2016
Our free online course Propaganda and Ideology in Everyday Life starts on 16th May 2016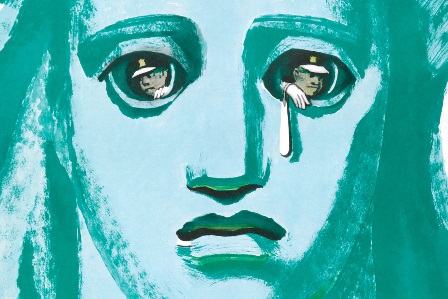 Svoboda po-amerikanski (Freedom, American Style) by B Prorokov, 1971
Freedom, justice, community, place and choice: words which are politically-charged and fundamental in our experience of everyday lives. Over five weeks, our online course explores how words and images gain different meanings, how we interpret the symbols we encounter, and how these interpretations are sometimes 'quoted back' to us with a specific political intent.
Our course is developed and delivered with the Centre for the Study of Political Ideologies at the University of Nottingham. Learners can sign up for the course now, free of charge, at the FutureLearn website. Learning is structured across a small number of activities each week, which are broken down into simple steps. A step might be a short video presentation, or a reading or a question to discuss. Discussion is the most important part of our course, allowing us to learn from each-other's experiences and opinions. The nature of a Massive Online Open Course (MOOC) means that we can explore our shared interests in comparative political study and the way in which our material worlds reflect and shape our political experience.
This is the second year in which we have run this course. In 2015, we had nearly 12,000 learners from 20 countries around the world. Our focus on learning through discussion meant that all participants, including those of us who developed the course, learnt through contributing to a lively debate that ran through all five weeks. Some of this learning has been incorporated into this year's course, including a focus on the experience of migration in expressions of identity, and how definitions of the 'unnatural' influences our political views. In preparation for this year, we have reviewed and updated course content, including the addition of four new films.     
A unique feature of our course is that we ask participants to share images either that they find online or of photographs that they have taken themselves. These images relate to the themes discussed each week, and are surprising in how they reveal our responses to concepts such as 'freedom', 'nature' and 'community'. Many of the images shared last year were of open spaces, representing nature as an expression of freedom but also as something threatened by unrestrained freedom or consumption. You can see a selection of images shared on our Flickr site.
We were incredibly impressed by the quality of interaction on our course last year, and learners were very positive about course content and the course leaders. We hope that you will join us from 16th May when the course restarts, and sign up today at www.futurelearn.com/courses/propaganda/
29 October 2015
Late News: We are pleased to announce that Professor Benjamin Bowling (Kings College
London) will also be speaking at the event.
Criminology and Criminal Justice are the focus of this year's all day workshop on sources and methods in socio-legal research. Following last year's suggestions for themes of future events the British Library, Institute of Advanced Legal Studies and Socio-Legal Studies Association have teamed up with the British Society of Criminology. The workshop will take place at the Institute of Advanced Legal Studies on Friday, 20 November 2015.
The event, aimed at PhD/MPhil researchers, early career academics and policy researchers, offers a valuable opportunity to benefit from insider views of several UK collections that support criminological and criminal justice research, but crucially, also offers the opportunity to hear an international group of distinguished researchers in law and criminology talk about particular sources and attendant methodological issues encountered in their research. There will be opportunities for questions and discussion throughout the day which finishes with a panel discussion.
From the British Library, Jon Sims, will provide a glimpse of content and services that offer potential to support contextual studies of criminal law, crime and criminal justice, offering examples that illustrate the scope of the Library's collections including news media, sound recordings, industry information, colonial public records, private historical papers, literary and pictorial sources. Beyond the British Library the day offers insight on the qualitative, quantitative and theoretical methods and data sources used by or found in the collections of the impressive array of speakers who have volunteered their time.  
From the Manheim Centre for the Study of Criminology and Criminal Justice at the LSE, Paul Rock (with Tim Newburn and David Downes) discuss the "large and worrying gaps in formal documentation" encountered during their research since 2009 on the official history of criminal justice (1959 to 1997) in context of the accumulation of records, and procedures of file selection and retention. From the National Archives (Kew), Nigel Taylor will discuss the context of Freedom of Information and Data Protection legislation, the EU Right to be forgotten ruling, compliance and inter-institutional dialogue surrounding decisions about access to records of criminal justice. Representatives from other UK national collections are Sharon Bolton, Data Curation Manager at the UK Data Service, who will be talking about finding quantitative and qualitative crime and criminological data sources and also highlighting associated resources such as case studies based on the data and teaching sets, and Stuart Stone, from the Institute of Criminology (Cambridge), talking about the world renowned, and strongly interdisciplinary, Radzinowicz Library.
On the theme of qualitative methods and the interpretation of texts, Lizzie Seal (University of Sussex) will discuss sources used for research on public reactions to the death penalty in mid twentieth-century Britain. Focusing on letters sent to successive Home Secretaries, she will compare these articulations of qualitative views with what sources accessible at the British Library - the Mass Observation Capital Punishment Survey, contemporary newspaper articles and oral history interviews from the Millennium Memory Bank - did and didn't reveal. Linda Mulcahy and Emma Rowden (LSE and University of Technology, Sydney) focus on Court Design Guides published by the UK government in the aftermath of the Beeching Report which concluded that the court system was in crisis. They discuss the use of a Foucauldian methodology and analysis that highlights relationships between data management and emerging themes, discourses on status, efficiency and danger, the privileging of some court users over others, and issues around designated space.
Visiting fellow at Queen Mary, Adrian Howe discusses standard positivist and post-structural methodologies deployed by feminist researchers in criminology and criminal justice. She will be looking at the role of statistical analysis, which allows for particular biases in the collection of data,  in determining the scale and in raising the policy profile of domestic violence, and on the discursive production of crime by non-feminists researchers. Also from the University of London David Nelken (Kings College) asks 'Whom Can We Trust?' in discussion of qualitative methods in comparative research, briefly addressing issues such as conflicting accounts of events in context of approaches he has called 'Virtually there', 'Researching there' and 'Being there' and 'second-order comparison'.
Paul Dawson, Research Manager at the Evidence and Insight Unit of the Mayor's Office for Policing and Crime (MOPAC), will discuss the use of police data, providing insight of the work of the unit through case studies, demonstrating data use and research within the Metropolitan Police Service, and offering advice about data access. Also in the context of policing and data access, Lisa Dickson from the Law School at the University of Kent will discuss her investigation of NHS disclosure to the police of confidential patient-identifiable information without patient consent through the Data Protection Act 1998. She will be talking about her use of Freedom of Information requests as a research method to secure the data, and about FOI responses as a distinctive and interesting source of research information.
On quantitative sources and methods, Nick Tilley (UCL) will be discussing the wide range of statistical sources available in criminology, what types of data are currently most commonly used, possibilities, pitfalls and practical problems for broadening the range of data sources, and other data sets that are often overlooked. Following on from this, Andromachi Tseloni (Loughborough University) offers an overview of common methods applied to the Crime Survey of England and Wales, asking what such analyses can and cannot tell about the issues examined. Continuing the focus on quantitative methods, but also the themes of policing data and domestic violence, Allan Brimicombe, Head of the Centre for Geo-Information Studies at UEL, will discuss the use of police recorded data to understand patterns of escalation to violence and homicide amongst repeat victims of domestic violence/abuse (DVA).
Booking information
This event is organised by the British Society of Criminology, Socio-Legal Studies Association, British Library and Institute for Advanced Legal Studies. The price of £90 (Students £65) includes lunch and refreshments. If you would like to take advantage of this great opportunity please visit http://events.sas.ac.uk/events/view/18733 on the Institute of Advanced Legal Studies events page for booking details, timings and access arrangements.