03 September 2018
Our free online course starts today. Learning from the Past is  for anyone interested in studying the past, what historians do, and why and how research on the past matters for understanding the world today. The course runs for 3 weeks, and is the second course produced by the University of Nottingham in partnership with the British Library.
Over three weeks, this course will introduce the ways in which historians conduct research, and the materials that are used to understand the past. Throughout the course, examples from across the Library's varied collections are examined by curators and researchers. The course will also do two other important things. First, it will show the challenges that historians face in understanding and decoding the records of the past: books, archives, photographs, maps, recorded sound and digital records. Second, it will discuss how a study of the past helps us contextualise the issues of today. For example, we cannot fully understand the radical shift in our impact on the environment without knowing how societies in the past used natural resources.
The origins for this course come from our earlier work on the course Propaganda and Ideology in Everyday Life – which sought to explain how contemporary political research provides insight into the values and philosophies that lie at the heart of international debates, co-operation and conflict. We also sought to show how education, and in this case online learning platforms, can be used as a space where people with different ideas and opinions can communicate with each other, understand those differences and also see where there are points of agreement.
The response from learners to this course was incredible. Over the weeks, we saw conversations emerge between participants from around the world on "big political issues" but also in the more personal sphere: the gardens in their towns, food that reminded them of home, and the books and photographs that they always carry with them. We also saw that learners were enthusiastic to follow the debates that drew on current research, and followed links to academic texts where we made them available.
So, we wanted to produce a course that supported this desire for access to the 'cutting edge' of historical research, but also took the time to describe the practicalities of research. How do you decide what questions you are going to ask in your research? How can you find the materials that will help you to answer those questions? And how will you avoid the pitfalls of taking the records of the past at face value? Learning from the Past brings together researchers from the University of Nottingham and University of Birmingham, as well as curators from the British Library. Over the 3 weeks of the course, we will look at the materials and methods that researchers employ.
The first day of a new course is always exciting. I've been following our first steps for learners to introduce themselves and their research interests. There's lots of interest in family history and local history, but also other topics such as history of science or a general interest in how researchers work and analyse evidence. A lot of learners want to know more about how to use libraries and archives, and are interested in the practical elements of the course. 
A big topic for our first week is on the significance of language, and language change, in communicating ideas and values. I'm currently enjoying the discussion thread on 'what three words would you use to introduce yourself to a visitor from Mars'?   
If you're interested in how historians work, thinking about starting your own research project, want inspiration for your existing work, or want to know why history matters today, join in the discussion at Learning from the Past: A guide for the curious Researcher. No need to worry if you're reading this after 3rd September - you can join any time before the course ends on 23rd September.  
16 January 2017
Rachel Tavernor is a Media and Cultural Studies PhD Researcher at the University of Sussex. In this post, she discusses her PhD Placement at the British Library.
At the start of 2016, I did not imagine that I would be finishing the year at the British Library. For the last three months, I have been based in their Research Development team, as part of their new PhD Placement Programme.
My placement focused on exploring twentieth and twenty-first century anti-poverty activism in the British Library Collections. After a preliminary mapping of the archives, and discovering how much material was available, I narrowed the focus of my placement to housing activism. Struggles for decent and affordable housing, with secure and fair tenancies, are at the forefront of many anti-poverty movements and are often led by women. I developed two strands of the project to explore the ways in which radical, feminist, and at times illegal, protest actions are archived.
Firstly, I traced housing activism, including rent strikes, squats and housing cooperatives, across the British Library Collections. Working with diverse materials, including oral histories, manuscripts, music and news media, I was able to map the differing voices in the archive. In particular, investigating the tensions between protesters, mainstream media and government narratives. A guide to the materials found in the collections will be available on a new project website, Archiving Activism (launching in Spring 2017), which will include images of relevant collection items.
Secondly, I developed a small research project on the practices of archiving activism. To understand and propose ways to archive activism, I conducted a series of nine interviews. Many very enjoyable hours were spent listening to campaigners, feminist archivists and academics who engage with archives of activism. The interviews informed an internal report that I produced for the British Library on potential ways to archive contemporary activism.

  Image: The gates of the British Library.   
We will be discussing archives, activism and feminism movements on 8 March 2017 with a panel discussion on Rebels in the Archives. One of the privileges of working with the Library was the opportunity to invite inspiring feminists, Jill Liddington, Abi Morgan, Heidi Safia Mirza and Deborah Withers, to contribute to this event (booking now open).
I recently presented my research project to PhD students at the annual CHASE conference, Encounters, and to British Library staff as part of the British Library Bitesize Talk Series. Both events gave me the opportunity to share my research and reflect on my time at the British Library. For those of you considering applying for a PhD Placement in 2017, here are my reasons for taking part:
Research Skills: you get a chance to use the skills that you've learnt conducting your PhD research in a new environment. You will also learn new research skills by working on a short-term project with industry outputs.
Rich Resources: you get the time to explore the rich resources of the British Library Collections. You also get to find out about the resources that are yet to be made public or are soon to be acquired… watch this space for some exciting new acquisitions.
Public Engagement: you get to engage people with your research and the British Library Collections. You may have the opportunity to create your own event, possibly presenting your research or supporting the Library with their large events programme.
Colleagues and Collaborators: you get to work with some fantastic colleagues who are passionate about the British Library and research. You also get to be part of a cohort of PhD Placement researchers and learn about a wide range of research that is conducted at the Library.
Inspiration: finally, the British Library is packed with inspiring people, both past and present. I return to my PhD research this week with new ideas, skills and experiences.
The British Library have just published a new call for applicants for 2017/2018 British Library PhD Placements. Included in the programme are placements on:
If you have any questions about the placements, contact [email protected]
21 December 2016
Rachel Tavernor, a British Library PhD Placement Researcher, writes about an upcoming event 'Rebels in the Archives' that will be held at the British Library in 2017.
On 8 March 2017, to celebrate International Women's Day, the British Library will host a panel conversation on the power and potential of archiving feminist movements. Rebels in the Archives is an evening dedicated to stories of sexism, sisterhood and struggle.
Our speakers include Jill Liddington, Abi Morgan, Heidi Safia Mirza and Deborah Withers. Margaretta Jolly, project director of Sisterhood and After: An Oral History of the Women's Liberation Movement, will chair this panel of influential feminists as they debate questions of politics, representation and preservation.
Our panel will be sharing stories of the rebels and rebellion that inspire them. Discussing their own engagement (as historians, screenwriters, researchers and curators) with archives of activism. As well as debating the ways in which collecting, curating and communicating activism can be a radical practice.
Photograph copyright of Theo McInnes and reproduced here with their kind permission.
Jill Liddington is a writer, historian and Honorary Research Fellow at the University of Leeds. She has researched and written on votes for women since the 1970s, when she first visited the Fawcett Library (now Women's Library). Her latest book Vanishing for the Vote: Suffrage, Citizenship and The Battle for the Census, tells how suffragette organizations urged women, all still voteless, to boycott the census on 2 April 1911.
Abi Morgan is a BAFTA and Emmy Award winning writer and producer. Abi is the screenwriter of Suffragette, the first ever mainstream film about the British campaign for equal votes. The story focuses on the lives of working class women involved in the movement. Radicalised and turning to violence as the only route to change, they were willing to lose everything in their fight for equality – their jobs, their homes, their children and their lives.
Heidi Safia Mirza is a visiting Professor of Race, Faith and Culture at Goldsmith's College, University of London and Professor Emerita in Equalities Studies at the UCL Institute of Education. Heidi advises English Heritage on diversity and established the Runnymede Collection at the Black Cultural Archives (BCA), a race-relations archive documenting the late 20th Century civil rights struggle for Multicultural Britain. She is author and editor of several books, including Young Female and Black, Black British Feminism and Black and Postcolonial Feminism in New Times: Researching Educational Inequalities.
Deborah Withers is a writer, curator, researcher and publisher. Their new book Feminism, Digital Culture and the Politics of Transmission: Theory, Practice and Cultural Heritage, asks: what does it mean to say that feminism has cultural heritage? The book explores how digital technologies have enabled impassioned amateurs to make 'archives' within the first decade of the 21st century. In 2010, Deborah founded HammerOn Press, a grassroots publishing label rooted in feminist / queer do it yourself culture. They are also an active trustee of the Feminist Archive South, and have curated two Heritage Lottery Funded exhibitions Sistershow Revisited and Music & Liberation.
Margaretta Jolly is a Reader in Cultural Studies and Director of the Centre for Life History and Life Writing Research at the University of Sussex. Her current book-in-progress is Sisterhood and After: An Oral History of the UK Women's Liberation Movement (forthcoming). Her book, In Love and Struggle: Letters and Contemporary Feminism explores feminist relationships as they have been expressed in letters and emails since the 1970s and was awarded the 2009 Feminist and Women's Studies Association Book Prize.
Booking for Rebels in the Archives is now open. We hope you are able to join us and are able to contribute to this discussion.
23 March 2015
Over the last few months members of the team, along with colleagues from across the library and external partners, have been working to organise numerous public events.  This post gives details of some of these events.
On Wednesday of this week (25th March), we will be holding the next event in our Talk Science Series.  On this occassion, journalist and Antarctic veteran Alok Jha (ITV) will chair a discussion with Director of the British Antarctic Survey Professor Jane Francis, UCL anaesthetist and space medicine expert Dr Kevin Fong and University of Cambridge historian Dr Michael Bravoon the subject of 'Scientists in extreme environments'. They will consider numerous questions including:
Why do scientists work in extreme environments, and is it worth the financial and human cost?
Why do Scientists travel to the tops of mountains, the polar regions and even outer space in order to conduct experiments, make observations and set up instruments and what have we learned from doing science in extreme environments?
Is what we gain worth the high financial, and sometimes human, cost?
Does exploring these places also make science a vehicle through which geopolitics is played out and do we need to explore for the sake of exploration?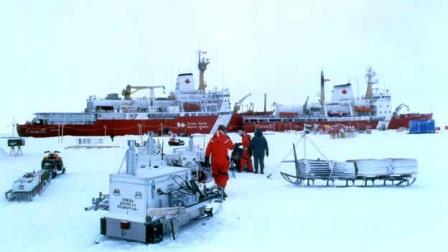 For further inforamtion on the event and to book a ticket please visit the library's What's On page
On the 11 May, we will be holding Family History/Public History? in association with the Raphael Samuel History Centre, London.  This evening event will consider how family history spans both private stories and public history. It challenges our ideas of what we mean by 'proper' history and experiments with the limits of fiction and non-fiction.
Richard Benson and Alison Light read from their recent work and discuss writing their family histories of the working classes.
Richard Benson's The Farm (2005), an account of his family during the forced sale of their farm, was shortlisted for the Guardian First Book Award. The Valley (2014), which sets his family stories against the history of the mining industry, was a Radio 4 Book of the Week; it was praised for combining 'the epic sweep of Gone with the Wind with the microscopic intensity of Tolstoy'.
Alison Light is author of the much-acclaimed Mrs Woolf and the Servants (2007). Common People: the History of an English Family (2014) explores her own family history across two centuries. Shortlisted for the 2014 Samuel Johnson Prize, one reviewer deemed it 'part memoir, part thrilling social history of the England of the Industrial Revolution, but above all a work of quiet poetry'.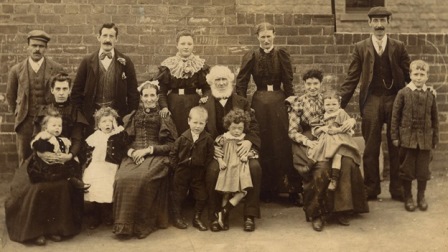 The Private History/Public History event is free, but booking is essential.
We will be holding a one day conference, in association with Urban Photo Fest and Goldsmiths, University of London, on the the 29th May on 'Visual Urbanism: Locating Place in Time'.  Throughout the day speakers and delegates will examine interdisciplinary approaches to investigating urban space and consider topics such as how does the temporal dimension influence practices of urban place-making; what happens to our perception of urban space when we look at it both forwards and backwards in time; and how can time-based media be used to challenge linear notions of time?
A keynote talk will be given by Professor Michael Keith (Centre on Migration, Policy and Society (COMPAS), University of Oxford). The event will include a short film festival showcasing work by artists and researchers exploring urban space through moving images and sound.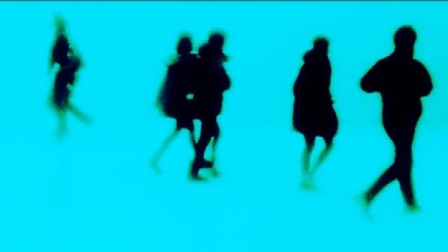 Refreshments, a sandwich lunch and wine reception are included in the ticket price.  Tickets can be booked here.
We are delighted that Shami Chakrabarti, Director of Liberty, will deliver the fifth Annual British Sociological Association/British Library Equality Lecture on the evening of the 22nd June.
Drawing on her recently published book 'On Liberty' and her work in high-profile campaigns, from privacy laws to anti-terror legislation, Shami explores how our world has changed since 9/11. Her talk considers whether governments have decided that the rule of law and human rights are often 'too costly', and look at the unprecedented pressures those rights are under today. She outlines why our fundamental rights and freedoms are indispensable, even paramount in upholding democracy and democratic Institutions.
The event will be chaired by Professor Eileen Green, Chair of the British Sociological Association and Professor Emerita in Sociology at Teesside University.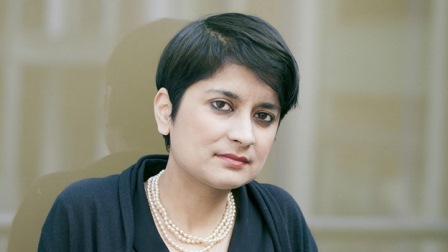 Shami Chakrabarti. Image used courtesy of Liberty.
Tickets are £10.00 full price, with concessions available and can be booked here.
Now are you are you sat down or sitting down while reading this? Have you got or do you have a preference for one form over the other?   If you do, why not join us on the 29th June for English Grammar Day 2015?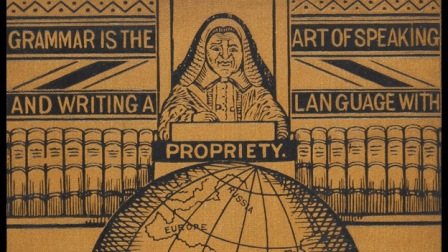 English has a number of ways of expressing the same concept and with approximately 400 million mother-tongue speakers and an estimated 1400 million non-native speakers it has become a diverse, flexible language that continues to adapt, evolve – and provoke strong reactions. Despite – perhaps because of – this extraordinary diversity debates about English usage have been commonplace since at least the 18th century. Jonathan Swift's Proposal for Correcting, Improving, & Ascertaining the English Tongue (1712) warned against the dangers of unregulated language, linking jargon and slang with declining morals and poor social behaviour.
In the 20th and 21st century radio phone-ins, newspaper letters' pages and online discussion forums bear witness to continued enthusiasm for dissecting the state of the nation's linguistic health – more often than not with a particular focus on notions of 'grammatical correctness'.
Recent developments in the National Curriculum have placed the teaching of grammar in schools once more at centre stage and divided opinion among politicians, teachers, linguists, and journalists, as well as the wider public. How have teachers implemented changes to their teaching and learning programmes to adapt to the new syllabuses and assessment criteria? What resources are available for students, teachers and the general public to learn more about English grammar and vocabulary?
What do teachers, professionals, academics and the general public feel is the cultural and educational significance of knowledge about the language? Join us for a day of talks, and feel free to ask our panel of experts to explore any aspect of English grammar from ain't to innit. 
To book a place please see our 'What's On' page
In addition to the above events we also have London and the Nation and A Magna Carta for Women?  taking palce in July.
Gosh! There is a lot going on.  We hope you will join us. 
02 February 2015
2014 saw British Library curators working across diverse themes, including: sport, law, language, gender, ageing and democracy. Through conferences, exhibitions, workshops and collection development, we worked with a range of audiences, uncovering new insights to our collections and learning more about contemporary research. Here are some highlights:
The annual Chartered Management Institute/British Library Management Book of the Year awards ceremony was held in the British Library conference centre on the 3rd February 2014.  Details of the category winners can be found on the CMI website along with videos which summarise each of the books.  The videos were produced by students from Ravensbourne College of Design and Communication.  The overall winner for 2014 was The Ten Principals behind Great Customer Experience by Matt Wilkinson.  We look forward to participating in the 2015 awards ceremony, which takes place on the 9th of February this year.
As part of the public events series linked to the Beautiful Science: Picturing Data, Inspiring Insight   exhibition, we held a public discussion 'Beyond Nature versus Nurture'.  This event brought together social scientists and scientists to discuss how the nature versus nurture debate has been revolutionised by the study of Epigenetics and to debate the moral, ethical and social consequences of the growing understanding of how nurture affects nature. The speakers were Professors George Davey-Smith and Nikolas Rose.  The evening was chaired by Professor Jane Elliott. The discussion is available as a podcast and can also be watched on the library's Youtube channel.
To mark Le Grand Départ of the Tour de France 2014 from Yorkshire, members of the team, with colleagues from across the library, curated and installed a display of collection items at the library's Boston Spa site near Wetherby. The display included accounts of the early days of cycling as a mass pastime and sport, including an 1897 description of a 'bicycle gymkhana', more recent journalistic accounts of the legendary cycling extravaganza, typographical prints responding creatively to the 2011 Tour de France – including Mark Cavendish's Green Jersey win – and the original manuscript of Tim Moore's best-selling French Revolutions, his 2001 account of cycling the entire 3,630km route of the 2000 Tour de France.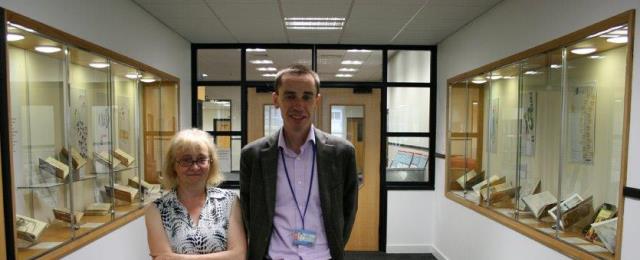 Gill Ridgley and Robert Davies following the installation of Le Grand Tour exhibition at Boston Spa
In addition to the exhibition there was a 'peloton' of blogs written by staff including 'Pedal Power' which explored how patents held by the library shed light on the technical development of the bicycle over the last two hundred years and 'Escorting Stoller's Depart' which reports on the Tour de British Library when members of staff cycled from St Pancras to Boston Spa to mark the start of the Tour de France.
In April we held a one day conference Portraying Ageing: Cultural Assumptions and Practical Implications in partnership with the The School of Language, Linguistics and Film – Queen Mary, University of London and the Centre for Policy on Ageing.  The conference brought together experts from different backgrounds to share and discuss, from a variety of theoretical and practical viewpoints, how age and ageing are not only biological events but also cultural and social constructions and how insights from research can be translated into policy and practice.  They keynote address was given by Professor Lynne Segal, Anniversary Professor of Psychology & Gender Studies at Birkbeck, Guardian Columnist and author of 'Out of Time: The Pleasures and the Perils of Ageing'. The conference was filmed and the videos can be accessed via a page on the Social Welfare Portal.  An overview of the day is also available via the 'Age is in the eye of the beholder' blog post.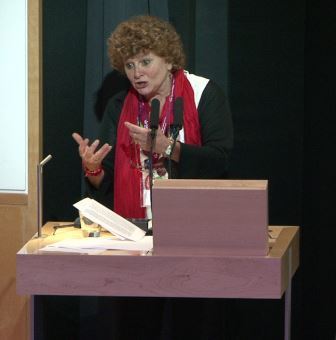 Professor Lynne Segal delivering the keynote address at the Portraying Ageing Conference.
We were delighted to hold the Fourth Annual Equality lecture in association with the British Sociological Association.  This year our speaker was Dr Tom Shakespeare, a senior lecturer in medical sociology at the University of East Anglia and disability rights advocate. Tom's research interests centre on disability studies and bioethics and his publications include: The Sexual Politics of Disability (1996), Genetic Politics (2002) and Disability Rights and Wrongs (2006). He has worked at the World Health Organization in Geneva where he helped write and edit the World Report on Disability (WHO 2011) and has been involved in the disability movement for 25 years.
The theme of Tom's talk was 'Enabling Equality: from disabling barriers to equal participation' and explored what it takes to achieve equality for disabled people, in the era of the UN Convention on the Rights of Persons with Disabilities and 'welfare reform'.  The lecture is available on our podcast page and as a video on the British Sociological Association's vimeo channel.
Members of the team assisted colleagues from across the library in the planning and delivery of the Languages and the First World War International Conference which was held in association with the University of Antwerp and timed to coincide with the opening of the library exhibition Enduring War: Grief, Grit and Humour.  The conference aimed to study how the languages of combatant nations influenced each other; the use of trench slang to both include and exclude individuals; censorship and propaganda; the development of interpreting as a profession; personal communication and silence during and after the war and how the First World War still influences how we all speak today.  The speakers represented a range of academic disciplines and were drawn from across Europe, North America and Australia.  The programme and related blogs can be found on the dedicated conference tumblr page. Some of the twitter feed from the conference is available via Storyfi.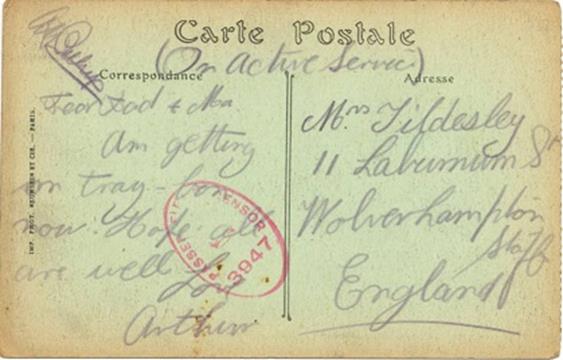 Postcard home: Arthur Tildesley writes to his Mother and Father that he is 'tray bon'.
In June we hosted the inaugural English Grammar Day, which was inspired by renewed political interest in the role of grammar in English teaching and assessment and debates about the cultural and educational significance of knowledge about grammar. EGD 2014 was a sell out event and a forum for reflections on the state of, and attitudes towards, English grammar – in school and beyond – with public contributions encouraged in the form of a lively 'Any Questions' style Panel session. The event brought together academic linguists, teachers, PGCE students, teacher trainers and non-specialists and we look forward to hosting EGD 2015 on June 29 and making this an annual event.
The year also saw British Online Archives made available via remote access for British Library readers.  This is an online platform which brings together digitised images, and descriptions, of collections held in archives and libraries from across Britain.   Collections include the BBC Handbooks and Listener Research, Parliamentary Labour Party records, missionary and colonial papers (recording some of the earliest contacts between Europeans and the populations of Africa, the Americas, and the Pacific), and the archive of the Communist Party of Great Britain.  More information on some of the material available via the service can be found in an earlier Social Sciences blog post.
Holders of British Library Reader Pass can now access these collections from outside our Reading Rooms, using our Remote e-Resources service at https://eresources.remote.bl.uk:2443/login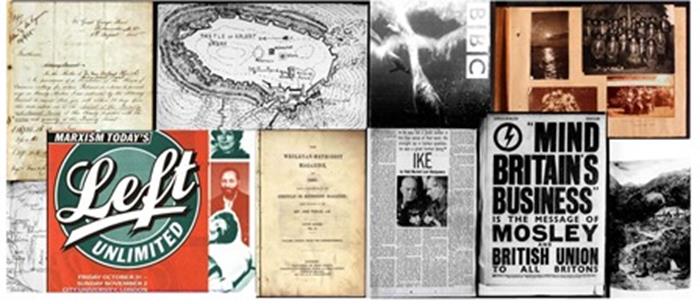 Images taken from British Archives Online.
In partnership with the Institute of Advanced Legal Studies and the Socio-Legal Studies Association we held the third national socio-legal training day.  The theme this year was Law, Gender and Sexuality.  The day aimed to draw attention to archives and content which newcomers to the investigation of intersections between law, gender and sexuality may not be aware of and to consider the methodological and practical issues involved in analysing sources. Information about the programme and details of speakers can be found here and overviews of the day can be found here and here.
We also launched our new series of public discussions 'Enduring Ideas' in partnership with the Academy of Social Sciences.  The series aims to explore some of the key concepts which underpin society.  In the first event, Professor Matthew Flinders, University of Sheffield and author of Defending Politics, discussed 'Enduring Ideas: The Problem with Democracy'.
During the evening Professor Flinders asked and addressed many questions: does the apparent shift from healthy scepticism to corrosive cynicism have more to do with our unrealistic expectations of politics than a failure of democratic politics?  Do the problems with democracy – if they exist – tell us more about a failure on the part of the public to understand politics rather than a failure of politicians to understand us?  Is the problem with democracy is not that it is in short supply but that we have too much of it? He went on to suggest new ways of thinking about politics to ensure not the death but the life of democracy.  A podcast of the talk is available here.
Naturally, this post only provides a snapshot of some of the activities we were involved in, in 2014.  We've enjoyed working with colleagues from across academia; libraries; archives; third sector organisations; professional bodies such as the Academy of Social Sciences, British Sociological Association and the Sociological Research Association, enormously.  It has also been a great way to meet so many members of the public.  We're already looking forward to a new Enduring Ideas discussion, Talk Science, the Annual Equality Lecture and more in 2015.  Keep an eye on What's On for events.
02 December 2014
Louise Kimpton Nye writes:
Last month Polly Russell and I joined about 1000 other people in a vast auditorium at the Institute for Education for the Feminism in London Conference. We were there partly for professional reasons - Polly, a Curator at the British Library, manages a project to digitise, preserve and make freely available the complete run of Spare Rib magazine and I have been working as a volunteer with her for the last ten months. But we were also there as committed feminists, curious to find out more about feminist campaigns, issues and arguments. The atmosphere in that auditorium at the start of the conference was exciting, welcoming, irreverent yet serious and this set the tone for the rest of the day.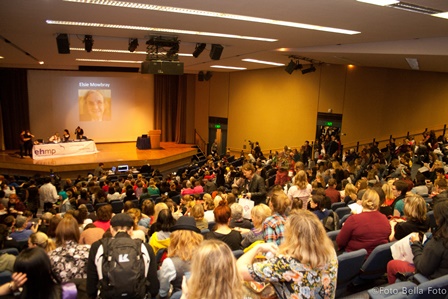 Photograph used with kind permission of Foto Bella Foto
     
The conference comprised lectures, panel discussions and workshops on a wide range of feminist issues including Grounding Feminist Activity in our Everyday Life, Intersecting Oppressions In The Sex Industry and Sisterhood Around The Globe, for instance.  Annette Lawson OBE (National Alliance of Women's Organisations) kicked off the day with her keynote speech, 'Feminism in Context' in which she explored the sources of misogyny and asked why people are often reluctant to use the word 'feminist'.  Lawson was followed by a rousing speech from Dr Gail Dines, author of Pornland: How Pornography has Hijacked our Sexuality and Professor of Sociology and Women's Studies.  
Dines aims to put the radical back into feminism, and argued that the core principal of feminism, 'the personal is political' has been undermined by too much emphasis on personal empowerment at the expense of a wider collective feminist activism.  She argued that women in positions of privilege and power have 'sold out' to do the bidding of powerful men and that while patriarchal power structures are embedded in institutions, women are never going to gain a rightful share. Dines is a powerful speaker who doesn't mince her words. She captivated the crowd with her no holds barred analysis of pornography and racism in pornography, subjects we had another opportunity to explore at a film and discussion event over the lunch break, The Porn Industry has Hijacked our Sexuality.
In the morning, we attended Feminist Archives and Activism: Knowing Our Past - Creating Our Future, a workshop which explored the importance of preserving and celebrating feminist history.  From our perspective this was an opportunity to find out about the important work of feminist libraries and archives, to meet a range of feminist librarians and archivists and to talk about our project to digitise Spare Rib. Organised by the newly formed national network of Feminist Libraries and Archives, FLA, this workshop was chaired by Sue O' Sullivan, member of the Spare Rib collective and Sheba Press. Panel  members included Yasmin Ahmed from the Feminist Library , Frankie Green from the Women's Liberation Music Archive, Jalna Hanmer from the Feminist Archive North, Zaimal Azad from Nottingham Women's Centre, Sue John from Glasgow Women's Library, and Liz Kelly and Joan Scanlon from the radical feminist journal Trouble & Strife.
Liz Kelly talked about the impetus for digitising Trouble and Strife magazine – a desire to ensure that the ideas of older-generation feminists are available online to younger feminists. The interactive online resource takes articles from past editions of the magazine and reflects on these from a present-day perspective.  Kelly was keen to encourage women to get in touch if they wish to contribute to the website,  www.troubleandstrife.org.
Yasmin Ahmed, gave us a potted history of the Feminist Library which started in 1975 and houses a large archive of Women's Liberation Movement material, as well as an extensive collection of feminist books, journals, photos, leaflets and pamphlets charting different feminist perspectives from around the world.  Ahmed's presentation stimulated some interesting discussion about modern attitudes to de-cluttering and whether it is 'worth' keeping our old magazines and other memorabilia.  The resounding message from the older feminists in the room was "don't throw anything away!"  Indeed, the Feminist Library will take people's old books, photos, leaflets etc. and archive them.  One younger delegate said how much she enjoys handling the resources held in libraries and archives, in contrast to using the internet for research. Others concurred with this and argued that physical space of a library can play an important part in creating and maintaining feminist communities. The consensus was clear, in our digital age there is still a place for physical items and for spaces where feminist activists, historians and scholars can come together and share ideas and resources.

Photograph used with kind permission of Foto Bella Foto
In the afternoon, I attended the workshop on Fighting Against Patriarchy in Turkey.   The panel comprised four inspiring young women from the Istanbul Feminist Collective who gave us a vivid picture of how feminists are organising in Turkey to develop a feminist theory and practise against the system of patriarchy.  These women made a real impression on me.  They had such a firm handle on what is needed to make a real difference to real women in Turkey and explained their goals with focus and clarity.   Violence and sexual violence against women were key themes.  They talked about how the women's movement in Turkey has successfully argued that so-called 'custom killing' or 'honour killing' should be called femicide.  For them, every male crime against a woman is political in a country where at least three women per day are killed.  But it is in the domestic sphere and in the labour market that the Istanbul Feminist Collective believe deep change is needed if women are to gain the independence needed to rise up against violence and oppression.  Men control women's labour in Turkey, both paid and unpaid, the collective argue.   'We want our dues back from men' was how one of the panellists described their goal to 'force the state to demolish the gender division of labour'.  This was powerful stuff. 
Male violence against women and rape were key themes running through the day.  They were explored by both keynote speakers at the start of the day and further discussed in some of the workshops.  Violence against women was also the main topic of the closing plenary, with the Awarding of the Emma Humphreys Memorial Prize which recognises individual women and women's groups who have raised awareness of violence against women and children.   Women nominated for the prize stood up to give their personal testimonies of how they had been affected by male violence in what was the most moving part of the day. 
Intense and inspiring in equal measure, the conference achieved a good balance between academic debate and discussion of how issues of inequality affect women in their everyday lives.  There was also plenty of entertainment on hand with the fantastic stand-up comedian Kate Smurthwaite chairing the plenary session and a poet in residence who spent the day gathering material for a poem which she then performed at the closing session.  The day ended on a real high note with a feminist party with performances from feminist band the Stepney Sisters, formed in 1975, performance poet, Carmina Masoliver, artist and activist Rebecca Mordan (founder of Scary Little Girls), and many more. Lively, engaging, challenging and rich, this conference had something for everyone.
22 September 2014
Professor Marsh writes:
Beginning on 29th September 2014 and running for 7 weeks, the University of Sheffield has developed a new, free, online course 'Exploring Play: the Importance of Play in Everyday Life' which will be delivered through the FutureLearn platform. Through the course, we aim to investigate play as a serious subject for study and in particular examine the place of play as an
important part of our everyday lives, across our life courses. Play is not only something that occurs in childhood, with a moving away from 'childish pleasures' in adulthood, but it is an essential part of life.
'Exploring Play' doesn't require any previous knowledge in the area, just an enthusiasm to know more. It introduces key theories and concepts, and explores the many definitions there are of play. Given that play is such a fuzzy concept, some consideration is given to the meaning of play from different personal, academic and professional perspectives and its value in terms of its contribution to our daily lives is a matter for extensive reflection.
The course is highly interactive and uses video, articles, discussions, quizzes and a wide variety of resources including the British Library Playtimes website. This website was created as part of the AHRC Beyond Text project Children's Playground Games and Songs in the New Media Age and provides information on the history and nature of play, drawing on some of the data collected in that project. In the 'Exploring Play' course, learners will engage with the material on the British Library website and consider what it tells them about changes in play over time.



Children playing on stones in a river © University of Sheffield
One of the main aims of the course is to enable participants to understand the very varied nature of play as it takes place across difference contexts. For example, the nature of play in different cultures is explored and learners will consider the way in which the values of different societies impact on the play that takes place within them.

Muffin the Mule puppet, V&A Museum of Childhood Collection
A very wide range of topics is considered, including outdoor play spaces for children and teenagers, playful adult engagement with urban environments, disability and play, play in virtual worlds and play in the workplace. Through the seven weeks of the course, learners will gain a great deal of knowledge about play - and engage in some playful learning activities along the way!
To sign up visit: www.futurelearn.com/courses/play
25 July 2014
Earlier this year, Jon Sims, Legal Studies Curator, told us what to expect in this year's Socio-Legal studies training day on law, gender and sexuality. In this post, Jon describes some of the archives and collections discussed at the day, and the recent research and projects available at the British Library.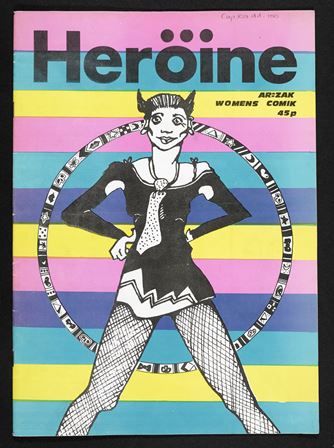 Heroine, 1978 (c) Suzi Varty. On display in our exhibition Comics Unmasked.
This year's joint socio-legal training day saw a number of established academic researchers and staff from UK research collections talking about sources and analysis that underpin the investigation of intersections between law, gender and sexuality. The aim of these days is to introduce newcomers to more unusual information sources and methods that lie outside the typical domain of doctrinal legal research.  Sources used by speakers included:
feminist judgments project, at the University of Kent;
Stonewall's "House of Lords #EqualMarriage Bingo" card, which circulated on social media at the time of the Marriage (same sex couples) bill and offered a template of cliché and prejudice with which to interrogate discourse about the bill;
wills valued (pre and post 1858) for their biographical potency and their potential to challenge assumptions about vertical genealogy by applying messier legal constructions of queer kinship;
pre-Wolfenden police photographs used to explore institutionally embedded ways of seeing homosexuality; and
a t-shirt used to help explore the contexts and subtext of its production story, including its gendered and legal dimensions.
Resources from the IALS Archives were highlighted for their potential to support research on women's history in the legal academy. The Hall Carpenter Archive,  Women's Library and Gender Studies collections were introduced by Heather Dawson of the LSE. The remainder of this post serves to highlight British Library resources.
British Library resources
Sharing extracts of interviews with Lesley Abdela  and Vera Baird, British Library curator Polly Russell illustrated the potential of the Sisterhood and After: Women's Liberation oral History collection to provide context for reforms relating, for example, to equality in pay, educational and job opportunities, and  reproductive health. Further sound recordings were also highlighted including the Hall-Carpenter Oral History archive (catalogue no: C456) which compliments the LSE and LAGNA collections; The Millthorpe Project: Interviews with Lesbian, Gay, Bisexual and Trans Trade Unionists; Before Stonewall (C1159); and around 60 recordings on the theme of gender studies. (ICA Talks on BL Sounds) .
There's a growing cross-disciplinary research literature including feminist law journals, work on law's silence on gender and sexuality, its default male hetero-normativity and impact, biographically and empirically based work on the legal professions, and work on women and gender studies work more generally. This can be found through the Library's catalogue, numerous legal and women's studies e-resources, bibliographies and guides. Useful collections and reviews of the literature include Ruthann Robson's (ed) 3 volume Sexuality and the Law (in the Social Science Reading Room at SPIS 346.013) and Rosemary Hunter's Gendered socio of socio-legal studies in Exploring the 'socio' of socio-legal studies (SPIS 340.115).
The day's focus on Library collections lay elsewhere however. Attempting to demonstrate the potential of the Library's diverse collections to help explore the social and cultural context of law's relationship with gender and sexuality, Jon Sims started at the modern end of things. First off, he used the Broadcast News service archive of France 24 as an example of visual analysis of the diverse composition of the assembled conservative right united in France in opposition to same sex marriage legislation or in support of traditional family values (Sun Feb 2nd 2014 17.00 to 19.59). Similarly, there are multiple disciplinary perspectives on the Ugandan Anti-Homosexuality bill (intermittently available online, also held at the British Library, shelf mark: CSC 251/6 : bill No.18 of 2009, Bills Supplement No.13 to Uganda Gazette No.47 Volume CII. 25th September 2009) and its impact, for example on closeting, HIV prevention and treatment. These can be discovered via Africa Wide and Sabinet (freely available in the reading rooms).
Following Rashida Manjoo's (UN Special Rapporteur on violence against women)  recent mission to the UK and mention of "over-sexualized portrayals of women and girls" in the media, the Library's collections of tabloid newspapers, "lads mags", and "women's glossies", offer potential support for researching relationships between the circulation and perpetuation of gender stereotypes, unresponsive and unsupportive criminal justice contexts, and low reporting and conviction rates for violent crimes against women. In a similar vein, Shannon Sampert's 2010 Canadian study on Newspapers and Sexual Assault Myths is available in the reading Rooms (22 Can. J. Women & L. 301 2010  HeinOnline)
While once-elusive reports with references like A/HRC/26/38 or A/HRC/26/39  now can be found routinely on UN websites, the British Library's UN Depository Collection and statistics from other Inter-Governmental Organisations, such as the OECD, also contribute to our understanding of laws role in facilitating both discrimination against women and girls and in protecting rights. One example,  Gender, Institutions and Development, a statistical data set within OECD i-Library,  provides comparative international figures on for example inheritance rights, female genital mutilation (FGM), legal age of marriage, levels of domestic violence, custody and guardianship rights, reproductive rights and unmet need for contraception, and access to public space.
In Jon's next post, he'll talk about resources from earlier in the 20th century, throwing light on the interaction between law, gender and sexuality.
References
Rosemary Hunter. 2012. 'Feminist Judgements as Teaching Resources'. Oňati Socio-Legal Series. Vol. 2, no. 5. See SSRN abstract 2115435
Rosemary Hunter, Clare McGlynn and Erica Rackley. ed.s. 2010. Feminist Judgements: from theory to practice. Oxford: Hart. British Library shelfmark: YC.2013.a.12208