07 August 2014
At the start of World War One, professional sports associations came under intense pressure to cancel fixtures. Clubs and supporters alike were criticised for taking part in leisure activities that diverted the energies of "fit young men" from the armed services. Such criticism was felt acutely by the Football Association, as the football season was about to start. Against this background, the FA and clubs alike argued that professional football, and matches, made a significant contribution to the war effort, and that criticisms of players and supporters alike were disproportionate and unfair. Fundraising at matches, and the establishment of a football 'Pals Battalion', were both widely promoted.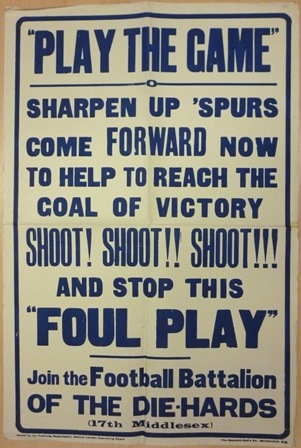 "Play the game" Sharpen up 'Spurs…Join the Football Battalions of the Die-Hards (17th Middlesex) [text: blue]. Issued by the Publicity Department, Central London Recruiting Depot Printed by The Haycock-Cadle Co., [1914?]. British Library ref: Tab.11748.a (number 93) 
If you attended football matches in Britain during the First World War, you would be likely to see posters of this nature displayed at grounds. At the start of the War, Britain had a small professional army, and recruitment was a vital early goal. Unlike many other European countries, Britain did not have a system of conscription, a situation that remained until early 1916.
In the first decades of the 20th century, posters were even more part of everyday life, and, alongside newspapers, the most significant form of mass-communication. When we think about wartime recruitment posters, we often imagine the visually iconic examples, technically very skilled and with a strong and direct emotional appeal. Some striking examples of these can be seen in our current exhibition Enduring War: Grief, Grit and Humour.
However, many posters were much simpler, relying on bold text to get their message across. Our collections at the British Library reveal a mix of complex and more simple designs. Despite their apparent simplicity, the football posters showed a good understanding of their audience. The use of humour to create a sense of camaraderie was significant, as the call was to join a 'Pals Battalion' of football players and supporters.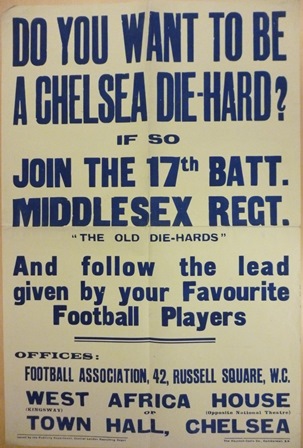 Do you want to be a Chelsea die-hard? [text: blue] Issued by the Publicity Department, Central London Recruiting Depot Printed by The Haycock-Cadle Co., [1914?] British Library ref Tab.11748.a (number 101)
The 17th Battalion Middlesex Regiment, with recruiting offices at West Africa House, Kingsway, was established during December 1914, for players, officials and supporters of football. The Battalion was formed in an atmosphere of hostility towards the continuance of sporting fixtures, with much public criticism directed at professional football. During the late summer of 1914, a number of vocal and well-publicised commentators complained about the continuance of public entertainments that, they argued, diverted young men from volunteering to join the army. 
Professional football in particular came in for criticism, putting pressure on the Football Association to cancel matches and the 1914-15 FA Cup. The criticism reflected class prejudices against professional sports (as opposed to amateur) in general, and football in particular, as players and supporters were admonished for ignoring their "greater duty". Professional players were presented as employees rather than sportsmen, and clubs were criticised for not releasing players from contracts so that they could sign up. In response, the FA pointed to the small numbers of professional players who received a living wage, that many had already signed up (and no clubs had refused to release a player from a contract), and that professional matches had been used as venues for recruitment and raising substantial funds for war relief.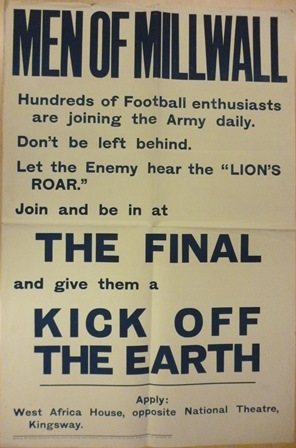 Men of Millwall ... [1914?]. British Library ref: Tab.11748.a (number 117)
The 17th Battalion left for France in November 1915, suffering heavy casualties at the battle of the Somme in 1916, and, later, at Redan Ridge, Oppy and Cambrai. The battalion is also remembered for Walter Tull, the first black infantry officer in the British army, and a professional footballer for Tottenham Hotspur and Northampton Town. Tull was commissioned as a Second Lieutenant in May 1917, and killed in action in France in 1918. The 17th Battalion itself was disbanded at the beginning February 1918, as part of a wider reorganisation of British troops fighting in France, although members of the battalion continued fighting in different units. Six years later, in 1924, the president of the Football Association unveiled a memorial tablet to all footballers who had fought and died during the war.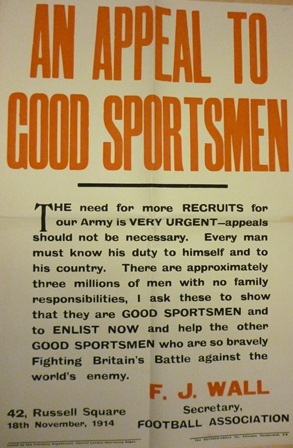 An appeal to good sportsmen… F.J. Wall, Secretary, Football Association [text: red, black]. Issued by the Publicity Department, Central London Recruiting Depot Printed by The Haycock-Cadle Co., 1914. 18th November 1914.
British Library ref: Tab.11748.a (number 92)
Further reading
Andrew Riddoch and John Kemp. 2008. When the Whistle Blows: The Story of the Footballers' Battalion in the Great War. Somerset: Haynes Publishing.
Available in the British Library at: YC.2010.a.1402
Everard Wyrall. 1926 & 1929. The Die-Hards in the Great War. A history ... 1914-1919. 2 vol. London: Harrison & Sons.
Available in the British Library at: 09084.cc.48.
01 November 2013
On the evening of the 15 October we held the 20th and final event in our series (with the Academy of Social Sciences) on 'Myths and Realities'. The series began in 2009 and has examined discrepancies between political and press representations of social issues such as immigration, nutrition, education, crime, food, the environment, welfare and more to understand the gap between social science evidence and more broadly accepted and propagated social 'truths'. Each event included talks from academics and social science practitioners in which they presented evidence from their field about the particular set of beliefs under discussion. Nearly all of the events have been podcast and are available here as well as on SoundCloud to download.
The final event was chaired by Professor Dame Janet Finch and the speakers were Professors Ivor Gaber and John Holmwood. It aimed to take a broad view of the role of the press and politicians in reproducing particular narratives about our society and to examine the role of social scientists in presenting evidence and challenging misconceptions.
Prof. Gaber gave the first presentation, and with a background in journalism and communications, offered his insights into the notion that as a journalist, one should 'never let the facts get in the way of a good story'. Gaber critiqued this axiom to show that whilst this way of working could be seen to be responsible for many of the current 'myths' about society (e.g. the 'scroungers' discourse, 'problem families', 'drugs', 'immigration' and so on), it is also a cultural facet of an industry which is highly pressured and competitive, shaped by particular patterns of ownership and bias as well as by audience expectations. Gaber drew on writers such as Stanley Cohen (e.g. Folk Devils and Moral Panics) and Stuart Hall (e.g. in Policing the Crisis) to talk about the way in which particular narratives about society become subject to exaggeration and distortion as well as about how the press are often guilty of giving primacy to the views and opinions of particular groups (as has been discussed again more recently in relation to the 'riots' of 2011). Finally, Gaber raised the question of what objectivity is to the press (a 'gold standard?', 'worthy aspiration?') and finished on a lighter note with this comic song by Dan and Dan films!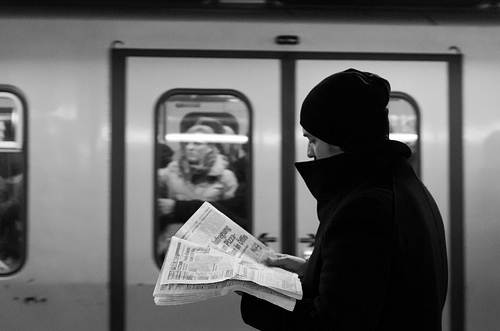 Above: 'News on the way' by Vratislav Darmek

Prof. John Holmwood's presentation took a different approach, deconstructing the notion of the 'expert' social scientist verses the general public/the press. He suggested that there is a danger to the notion of democracy in thinking of oneself (in this case, the social scientist) as the expert or definer of what counts as valid knowledge. In fact, and as recent events have shown, it is in the public interest to question the nature of 'expertise'. This took me back to another event held here at the British Library (to which Holmwood contributed) where we examined the relationship between power and knowledge (asking whose knowledge counts?). He suggested that when we think of lived realities, and how these realities are perceived and understood by the individual through various practices and experiences, it can become difficult to make a clear distinction between 'knowledge' and 'belief'. If this position is held to be a useful one to take when considering beliefs in other areas of social science, then why isn't the same approach taken when we examine the different 'truths' about society put forward by the press, the public, and social scientists?  Holmwood suggested that there was some truth in Paul Dacre's recent point that politicians and the press on the left perhaps do not trust the public enough. Holmwood's intervention was a useful and in some ways surprising one which gave the audience plenty of food for thought for subsequent participatory session as well as for events we hold in the future.
The audience contributed to the subsequent discussion with questions such as:
Are all these 'myths' necessarily always right-wing?
Why does the value of cognitive psychology not feature in this discussion?
How do 'myths' and 'realities' around pornography feature in this context?
The event itself (excluding audience questions and further discussion I'm afraid) can now be viewed as a video online via our YouTube channel. Please feel free to use this video to generate your own discussions, or in your teaching, and please feel free to share the link!
02 October 2013
The final event in our long-running and successful series of social science debates 'Myths and Realities' (in partnership with the Academy of Social Sciences) takes place on the evening of 15th October. It will be a bit of a celebration of the series (with a drink included in the ticket price) as well as a chance to address the broad question of why we (members of the general public as well as our politicians!) often believe the various social 'myths', rhetoric and narratives that we do, despite evidence to the contrary which is often available for public access.
For example, government figures suggest that benefit fraud costs the nation around £1.6 billion last year whilst tax fraud costs around £14 billion. So why then is the cost of benefit fraud to the nation seen as far higher in the public imagination? This is just one example of the kind of gap between widely held views about society and the evidence about social and economic reality that this series has explored. Other examples include the social reality of immigration, addiction, work-life 'balance', crime and punishment, educational standards (not as good as my day!) and health and food (is the modern diet really as bad as all that?) and social class (are we really all middle-class now?). We've had some great speakers from the academic realm and from policy and practice across the series, and many of our podcasts are on the British Library's website as well as on SoundCloud.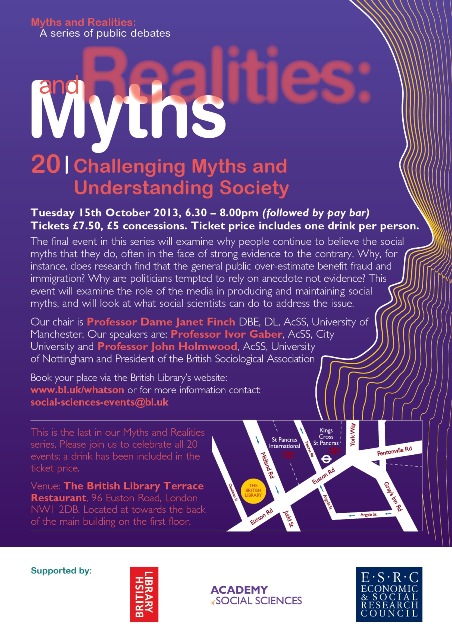 Our final event will build and draw on the questions and points raised across the series to examine the role of the press in producing and maintaining some of these social 'myths'. We will look at how we, as members of the public, access evidence about the society we live in (and whether we are interested in doing so?), the responsibility and role of our politicians in revealing social 'truths'  and what social scientists could be doing to bring about greater clarity for all.
The event will be chaired by Professor Dame Janet Finch who was awarded her CBE for services to Social Science in 1999, she is Emeritus Professor of Sociology at the Morgan Centre at the University of Manchester and was Vice Chancellor of Keele University.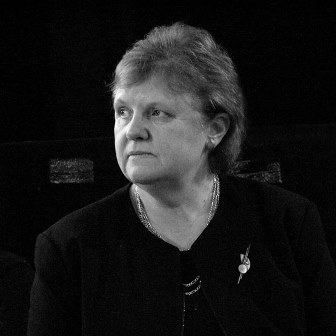 Above: Professor Dame Janet Finch. By Mholland [Public domain], via Wikimedia Commons.
Our speakers will be:
Professor Ivor Gaber, Professor of Journalism at City University. As well as having worked as a senior editor for major news organisations such as the BBC and Channel Four, he has published widely on political communications and has also worked as a media consultant for various organisations and governments.
Professor John Holmwood, Professor of Sociology and Social Policy at the University of Nottingham. He is the President of the British Sociological Association and co-founder of the Campaign for the Public University. His current research addresses issues of pragmatism and public sociology.
Please join us for an evening of discussion and debate, as well as a glass of wine to celebrate the end of the series! Tickets are available via the British Library events pages and box office.
p.s. In 2014 we will be launching a new series of social science events for the public. Watch this space...
13 September 2013
Toby Austin Locke, a member of the Social Sciences department at the British Library, writes about the dangers of forms of propaganda which promote non-action and acceptance.
We tend to think of propaganda as something fairly active; a message or instruction to act or think in a certain way, a persuasive force. The images that spring to mind when we speak of propaganda, the quasi-mythological Uncle Sam, the deified images of noble Soviet workers, or even the seductive images that flit across our television screens and line the walls of the underground stations, all appear to encourage us to act or think in a certain way, to stand by our country, to honour the workers, to use the right aftershave in order to achieve absolute sexual virility. But the current exhibition here at the British Library has made me start thinking about another form of what could be considered propaganda, a form that is potentially far more pervasive and powerful. Propaganda that rather than persuading us to think or act in a certain way,  encourages us not to think or act at all, to keep our heads down, to maintain our apathy.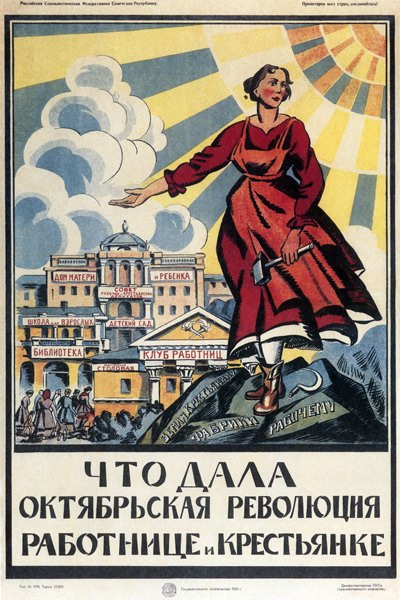 Above: Soviet Women c.1920 by Unknown artist, via Wikimedia Commons. Copyright statement and download here. [Public domain]

There is a famous piece of propaganda which illustrates this particularly well, one which has recently seen resurgence in the popular imagination and has transformed from an old, forgotten piece of state propaganda to a potent commercial image, practically a brand in its own right. I'm thinking of the famous Ministry of Information poster 'Keep Calm and Carry On.' This image was never used for its intended purpose. It was originally designed to be distributed should Nazi forces have invaded England.
The sentiment behind this message is open to questioning. Would the British public really be encouraged to 'keep calm and carry on' had Hitler's forces reached England? Would we really want to 'keep calm and carry on' as fascism took hold of Europe?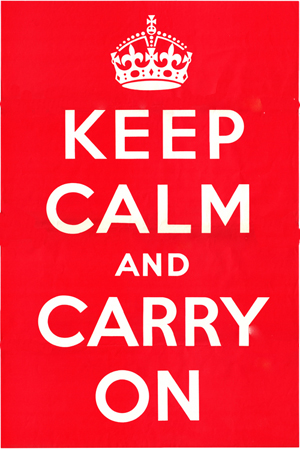 Above: Keep Calm and Carry On. By original poster by UK Government, enhancements, conversion to PNG by oaktree_b, via Wikimedia Commons. Copyright and download here. [Public domain]
To my mind at least the answer is no. When atrocities are occurring all around you, when ethics are no longer a matter of concern, when peoples lives and existence are at stake, the last thing I would like to see happen is for everyone to 'keep calm and carry on'. Surely if there are ever times for people to rise up and take action, it would be under such conditions.
The question I'm trying to raise here, perhaps a little clumsily, is regarding the role of non-action, of ignoring, of not knowing in certain power relations. In a short video snippet, Bruno Latour briefly mentions two possible areas of study: the geography of not knowing and the history of ignorance. He points out the work-like elements of knowing, the labour involved in knowledge, that may often make not-knowing or ignoring the easier option. Facing up to painful truths is certainly not easy, but does ignoring the ethical consequences of such truths seem like the best alternative? It comes back to J.S. Mill's statement "it is better to be a human being dissatisfied than a pig satisfied; better to be Socrates dissatisfied than a fool satisfied." (2010 :46) Would we rather know and act to attain ethical outcomes and perhaps be dissatisfied, or remain in ignorance and contentment?
It could be suggested that such a message is found articulated in political discourse today through the current UK Government's mantra regarding people who want to 'work hard and get on' and the pan-European political insistence of the necessity of austerity. Supporters of the welfare state across the country are coming out in protest against the 'bedroom tax' and wider austerity measures, but the mantra of Government, particularly regarding those who want to 'get on', offers them no support – it is here to support those who keep their head down and keep going. Whilst there are equally arguments to be heard in favour of the Government's approach, a supporter of welfare provision could certainly make a case for this mantra being a reincarnation of the 'keep calm and carry on' approach to propaganda, encouraging people to look the other way, and not think too hard about the wider consequences of what is going on around them. Of course, the ethical implications of such an approach are open to debate, and are certainly not about to be resolved here.
Toby Austin Locke currently works on the Social Welfare Portal at the British Library. The views represented here are his own and do not reflect those of the organisation. You can follow him on twitter @BLSocialWelfare (in a professional capacity) and his personal twitter account is @TobyaLocke.
Toby Austin Locke is currently working in the British Library social sciences team on the Social Welfare Portal and is due to start working towards his doctorate in October 2013 at Goldsmiths College, University of London. You can contact him on twitter 
@tobyalocke
 or read more of his blog-posts at - See more at: http://britishlibrary.typepad.co.uk/socialscience/2013/02/encounters-between-art-and-science.html#sthash.U42T6ySO.dpuf
12 September 2013
The following article was prepared by Ruth Fox, Director of the Hansard Society, to open the discussion on our second of four public debates to accompany our exhibition Propaganda: Power and Persuasion. The debate was held on Tuesday 3 September. It has also been published on the website of Speakers Corner Trust, our partner for the debate programme.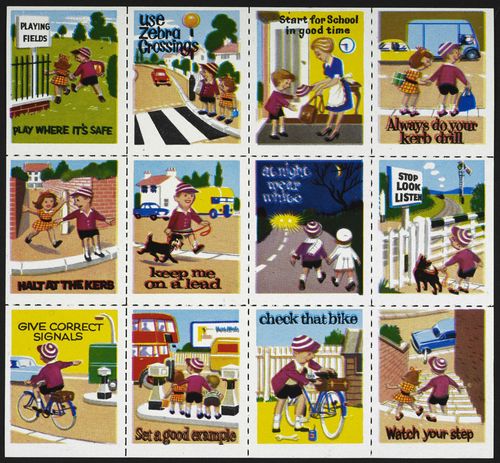 Stamps produced by the Tufty Club. The Tufty Club was set up in 1961 by the Royal Society for the Prevention of Accidents to encourage better road safety amongst children Copyright Statement
What do Joseph Goebbels and Tufty the Squirrel have in common? Not much at first glance. Goebbels advanced the Nazi cause for over a decade, and Tufty taught millions of school children a 'quasi-military kerb drill' to safely cross the road. But in fact they embody the two poles of the propaganda spectrum – sinister and sympathetic, malignant and benign. And each, in their own way, influenced millions of people to change their attitudes and behaviour.
Propaganda is a word loaded with negative connotations – brainwashing, deception, lies, half-truths and hoodwinking – and is often associated with times of war. But strip the term of a particular context provided by time and place and propaganda – good and bad – is all around us. The Goebbels-Tufty comparison may be facetious, but the extraordinary extent of the difference serves to underline an important point: we have to think about the intent and if we think only of the sinister and not the sympathetic we fail to truly understand why and how hearts and minds are won. For stripped to its core, propaganda is no more and no less than the dissemination of ideas designed to convince the public to think and act in a certain way and for a particular purpose. And influencing beliefs and behaviours need not always be a bad thing.

llustration from the Medical Officer journal to promote better public health. At the time, flies were held responsible for contaminating food and spreading diseases such as tuberculosis.

Propaganda by those in authority can be motivated by genuine concern for the public interest such as the health and safety of citizens. For every war that has been shaped by propaganda, so too a disease has been tackled by a mass public information campaign designed to eradicate health threats posed by killers such as tuberculosis and polio. The first national public health campaign urged mothers to 'kill the fly and save the child' here in Britain in 1910. In the 1960s every parent knew that 'coughs and sneezes spread diseases', and by the late 1980s fewer citizens were likely to be ignorant about AIDS following the government's 1987 tombstone campaign.
Today, across the globe governments promote the '5 A Day' campaign to encourage citizens to eat five daily portions of fruit and vegetables following a recommendation by the World Health Organisation. For some this is the nanny state in action. Of course the government wants to encourage people to eat more nutritious food but they also want to change behaviour in order to conserve resources and reduce the cost to the public purse posed by health problems like diabetes and obesity. Is that a bad thing?
Propaganda is also used to create a sense of identity and belonging and not always by the state. Historically, governments have utilised images and items – the national anthem, coins, flags, stamps, buildings or monuments – to promote a sense of national identity and patriotism. But so too have anti-establishment campaigns: the wearing of suffragette colours, or anti-apartheid and CND badges was a clear statement of a person's views and an encouragement to others to join them in common cause. These iconic images portray meaning and belonging in the same way as the Swastika or the Hammer and Sickle, or an Oak Tree or Red Rose. Some are malevolent some are not; but all, in their own way, are instruments of manipulation targeted at hearts and minds.
Patriotic symbolism need not be jingoistic or even solely targeted at domestic citizens. The London 2012 Olympic opening ceremony on the theme 'Isles of Wonder' was described as a 'love letter to Britain'. The organisers may not have intended it to be propaganda, but in showcasing the cultural, economic and social achievements and prestige of Britain it was explicitly designed to influence people's emotional response at home and abroad, bathing the country in a positive light even before the sport had begun. It was soft propaganda for 'Brand Britain'.
One of the most effective propagandists of recent years has been Her Majesty the Queen. Following her 'annus horribilis' in 1992 and the death of Diana in 1997 the Royal Family embarked on a concerted effort to change public attitudes towards them. The propaganda toolbox was cracked open in a carefully choreographed effort to win back public support. The power of symbols and ceremony and a nod to modernity and accessibility through the embrace of social media were all harnessed in the effort, buttressed by the propagandists' clever use of humour culminating in the iconic James Bond moment during the Olympic opening ceremony. As the country marked the Diamond Jubilee, royal popularity hit a fifteen year high and the Queen herself has personal ratings that politicians can only dream of. But is this twenty-year public relations effort necessarily a bad thing? Only if you're a republican perhaps.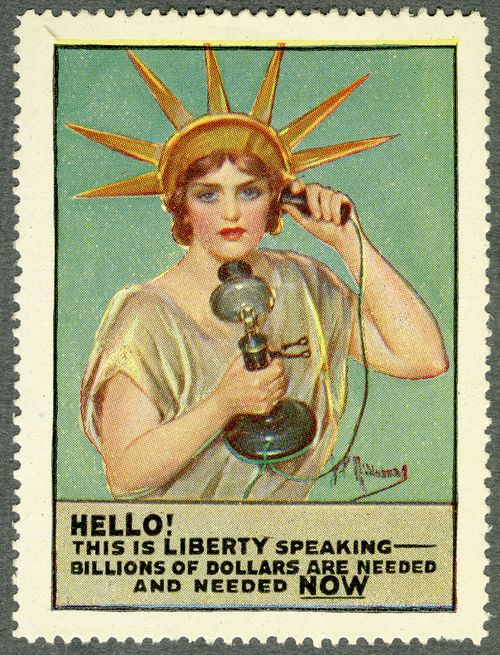 Liberty provided a symbol that would be understood anywhere in the United States. The theme of "freedom imperilled" deflected from discussion of the rationale for joining the war. National War Savings Committee. Paper bags with war savings messages. c.1916. Copyright Statement
Even in wartime, some forms of propaganda can be a good thing. If the country has to go to war, better to win than lose; but to do so recruits, money and supplies are needed. So it's in the national interest for the Parliamentary Recruitment Committee to promote a 'Your country needs YOU' campaign, encourage the population to 'lend a hand' through war savings, and remind everyone that 'careless talk costs lives'. And, particularly as an island nation facing the disruption of international transport links, it's vital that food and energy supplies – so essential to morale – are maintained. So propaganda efforts to promote rationing and the conservation of coal supplies are all beneficial for the national cause. In World War Two, as food imports fell by a third, an additional six million acres of land was cultivated largely as a result of the Dig for Victory campaign which informed the public how to grow vegetables in their gardens and on public land. Without this public information propaganda to change citizens' behaviour the country might have been starved to surrender.
So there are times when we can say 'thank goodness' for propaganda.  Ultimately it is the intention of propaganda that should determine our view of its merits. The society in which we now live, with a watchful media and powerful social media platforms, means British citizens are less likely than in years past to have the wool pulled over their eyes and the government to escape challenge. That's not to say it can't happen; merely that it's more difficult than before for malevolent propaganda to prevail, at least in peacetime. And as social media democratises access to powerful channels of communication we could all be propagandists in the future.
11 September 2013
Ian Cooke, co-curator of 'Propaganda: Power and Persuasion' provides a summary of public debates held at the Library in partnership with Speakers Corner Trust.
Over four days 2- 5 September, the British Library held four public debates related to the theme of our exhibition Propaganda: Power and Persuasion. We worked with Speakers Corner Trust to plan the programme of debates, and were extremely lucky to have four inspirational speakers to introduce and lead our debates. 
Dr Evan Harris, Associate Director of the Hacked Off campaign for a free and accountable press, introduced our first debate 'Is the News Propaganda?'. On subsequent days, Ruth Fox, Director of the Hansard Society, asked us to re-examine our views about propaganda, and consider more-positive aspects. Anthony Barnett, founder of openDemocracy, led a lively discussion on our attitudes to media new and old, and how we respond to a sense of "information overload". Finally, Agnès Callamard, Executive Director of Article19, gave a strong defence of freedom of speech as the best means of combatting the "propaganda of hate".  
Each speaker gave a short introduction to the topic, and then the direction and theme of the debate, as well as the content, came from the audience present. This worked better on some days than others, but on every day I was struck by the richness and seriousness of the discussion that came from the audience. I learnt a lot, and the four days have made me look at these subjects in a different light. I'm very grateful to everyone who attended on these days. For the rest of this post, I'll try to summarise some of the main points that came out in the debates. However, this is of course a personal view, and I'm sure that, for those of you who came along, you'd probably have different things to say.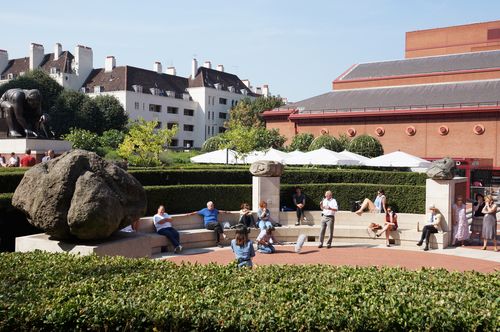 Introducing the last of our debates, Peter Bradley, the Director of Speakers Corner Trust, reminded us that 'rights are like muscles, you need to exercise them or they grow weak'. A strong theme through all four days was the importance of freedom of speech and expression, and the value in ensuring this is extended and nurtured for all. Access to the means of communication, including through new media and social media, empowers and provides the means for groups to organise and gain support. More than this though, it can also provide a means of redress, to correct distortions and challenge prejudice. As Ruth Fox demonstrated, the use of powerful symbols, for example on banners and badges, could generate feelings of solidarity.
There are, of course, challenges. People talked about the inequality of access to spaces for debate, resulting from structural issues around ownership of the national and international news organisations and social media platforms, or around access to new technologies. Online information sources can sometimes give the impression of creating a "deluge" of news. Difficulties in sorting that which we find trustworthy from the untrustworthy can lead us to the conclusion that all sources are unreliable, and promote a sense of cynicism where we feel powerless and alienated. In the case of social-media, the capacity to harass and abuse, often anonymously or under cover of a pseudonym, appears unchecked. Much of the discussion over the four days sought ways in which we could overcome such difficulties.
We discussed regulation in the case of news reporting. In other circumstances, there was support for education as a way of challenging cynicism, coping with perceived "information overload", and understanding how to exercise our right to free expression without restricting this for others. One person noted that those who used new media more frequently became more confident in recognising authenticity in online communications. Understanding the process by which news becomes news can help us make decisions about what sources we trust. The teaching of history is one way in which a critical analysis of sources can be introduced. 
The programme was devised to accompany our exhibition on propaganda, so there was much discussion about what the word meant to people. Talking about news reporting, propaganda could be thought of as intentional, editorial, bias. Also, and perhaps more damagingly, it could be a failure to analyse things presented as fact or to critically question sources. A lack of accountability or poor systems of redress could also contribute to propaganda. Here, we were thinking about propaganda as being the narrowing of argument and heightening of inequalities in access to debate. However, the presence of bias in debate and commentary could also be a healthy sign – one that shows that freedom of expression is protected. The crucial element here would be an accompanying plurality of voices.
Ruth Fox reminded us that persuasive speech could also be used to mutually beneficial ends. Health campaigning by state bodies can result in savings for services, and more productive populations, but also result in genuine benefits in wellbeing for individuals. As with other, more readily-recognised forms of propaganda, the appeal is often made to emotions, using powerful images and symbols.    
An important issue in the way that we respond to these powerful messages is trust. This was a theme raised by many of our speakers and in subsequent discussions. At some points there seemed to be a reluctance to place trust in many of the sources of information that we receive, with both social media and more traditional media faring poorly. The point was made that we tend to place more trust in sources and people that are local. Also, that we are more likely to trust sources that we agree with – which can be a useful tool for propagandists. This leads back to the importance of education and access to debate. The more we understand about how the messages that we find influential are produced, the better-equipped we are to analyse and assess them. Access to the arenas of debate, and making use of that access, makes the sources of information more accountable and more reflective of the range of interests and opinions within a society.   
04 September 2013
Ian Cooke, co-curator of 'Propaganda: Power and Persuasion' writes about the Ministry of Information.
'If the Ministry of Information were to become a beloved feature of our political life, then I should indeed feel that something had gone very wrong with the mental and spiritual health of my countrymen.' Harold Nicolson M.P., Parliamentary Secretary to the Ministry of Information, writing in the BBC Handbook, 1941.
Some of the most memorable propaganda from the Second World War was generated from or with the support of the Ministry of Information. "Careless Talk costs Lives", "Dig for Victory", "Keep Calm and Carry On" all now have an enduring power, recognition and popularity in British culture today. It may be surprising then that these all came from a Ministry that was seen as highly unpopular and ineffective when it began on 4 September 1939.
This was in fact the second time that a Ministry of Information had been set up in Britain. During the First World War, the Department of Information was created in February 1917 from a number of bodies with responsibilities for propaganda and press in allied and neutral countries and in military zones. Maintenance of morale, recruitment and war savings campaigns within the UK remained the responsibility of a network of commercial, Parliamentary and voluntary committees. The Department became the Ministry of Information in March 1918, and was dissolved in November 1918.
Planning for a revived Ministry of Information, in the event of war in Europe, began as early as 1936, drawing on experiences and recollections of those who worked in the First World War. In our exhibition, you can see a note on the volume of material produced by the Department in 1917 – 40 million items in just 10 months. The renewed Ministry of Information held responsibility for domestic propaganda and censorship (unlike its First World War predecessor) as well as propaganda in allied and neutral countries. As well as producing publicity materials itself, the Ministry was intended to advise other government departments on publicity and co-ordinate this work. From the start, the relationship between the Ministry and other government departments was difficult, with battles over who made decisions on public information material. There was also a feeling within the Ministry that its role regulating BBC news output was ambiguous and it had not been given the necessary authority to carry it out. In practice, reporting of the war on the BBC and in the British press was more obstructed by the reluctance of the Service Ministries to release timely information. Public opinion, however, placed the blame on the Ministry of Information. All these difficulties are perhaps reflected in the rapid succession of Ministers in its first years: Lord Hugh MacMillan (September 1939- January 1940), Lord John Reith (January- May 1940), Alfred Duff Cooper (May 1940- July 1941), and Brendan Bracken (from July 1941).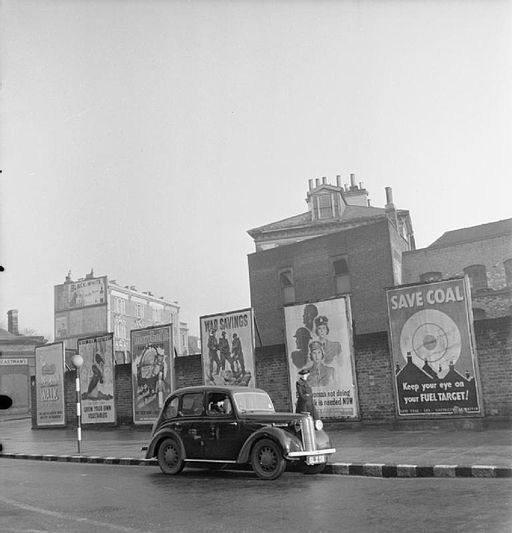 Above: Ministry of Information posters by Ministry of Information Photo Division Photographer via Wikimedia Commons.


For its first years, the Ministry was unpopular within government and also with the press and public in Britain. Its early attempts at producing posters were met with strong resistance. A poster with white lettering on a red background, very much in the style of "Keep Calm and Carry On", carried the message: 'Your Courage, Your Cheerfulness, Your Resolution, Will Bring Us Victory'. Public and press picked up on the distinction between "your" and "us", complaining that the message appeared to be too aloof or condescending – worse, that it suggested that the British public would be relied on to deliver victory for the political elite in Whitehall. This didn't, however, stop the brewery Courage releasing their own version of the poster with the amended words, '… your Courage will add per 1d pint to the Exchequer'. The "Keep Calm" poster, intended for use in the event of imminent invasion, was never used – although it is doubtful that it would have achieved the level of popularity in 1939 that it has enjoyed in recent years.
Similarly, the development of the Home Intelligence Department, to observe and report on public morale through Britain, although of high importance to the planning of public information, was initially met with suspicion and derision. Those tasked with interviewing members of the public, and reporting on morale around the country, were described as 'Cooper's Snoopers', after the then Minister, Duff Cooper.
The Ministry learnt from its early mistakes, and heeded the advice given from, amongst others, Mass Observation on the tone and appearance of posters and leaflets. The use of plain text and distant tone was replaced with more sophisticated tactics, using humour and images. Significant too, the appointment of Brendan Bracken as Minister brought better political support for the Ministry (Bracken was a close friend of Churchill's) and, crucially, improved the flow of information to the British press from the War Office, Admiralty and Air Ministry.    
Following the end of the Second World War, the Ministry was closed. Responsibility for publicity to countries outside the UK passed to the Foreign Office and Colonial Office, while newly-formed Central Office of Information (COI) took over responsibility for advising government departments and commissioning publicity. Over the next 60 years, the COI were responsible for commissioning some of the most memorable British publicity campaigns, including the Green Cross Code (with the Royal Society for the Prevention of Accidents), the "Clunk Click" campaign to promote use of seatbelts in cars, "Coughs and Sneezes" and AIDS awareness publicity. From 2010, however, government spending on marketing campaigns was substantially reduced as part of wider public spending cuts, and the COI closed at the end of March 2012.
30 August 2013
Dr Peter Johnston is an historian and lecturer who recently worked on researching and writing labels and other text to accompany our Propaganda: Power and Persuasion exhibition. 
Until the invention of the radio, the means of disseminating propaganda remained much the same throughout millennia. Monuments, public speeches, coins, and the growing use of the printed word, were all common forms of propaganda from the time of Alexander the Great to the reign of Queen Victoria.
However, with the rapid technological change of the twentieth century, propaganda similarly underwent a massive change. The development of the radio – which Lenin called "a newspaper without paper… and without boundaries" – and in particular the moving image, first in cinemas, and then via televisions that ensured moving pictures could be brought into the home, gave propaganda even greater reach.
The growth of the internet, however, has transformed propaganda beyond anything those tasked with its production and spread in earlier generations could have imagined. The internet is a wilderness of information that is, unlike previous methods of disseminating propaganda, near impossible to regulate or officiate. What's more, with the extent that we engage with this medium, and use it to share, spread and promote information, we have all become propagandists!
This thesis of course depends on the definition of propaganda. My preferred definition is that of the late Phil Taylor, who wrote that "essentially, propaganda is really no more than the communication of ideas designed to persuade people to think and behave in a desired way." That means that, when engaging in social media, promoting ideas from politicians, intellectuals, friends, musicians or corporations through likes, shares, retweets and more, we are promoting that information and attempting to influence how people think about these things. How is that not engaging in the spread of propaganda?
Propaganda is not the insidious, deceptive, manipulative pattern of negatively influencing behaviour that many people consider it to be. While there's no doubt it has been used for those purposes in the past, and continues to do so in the present, propaganda has also been used for good, in the spread of public health messaging, for example. Therefore, propaganda itself is an ethically neutral idea – it is the content that varies.
Due to the growth of the internet, and in particular the explosion of social media, the information-generating process has been democratised. Whenever we post an opinion on Facebook, Twitter, or any other social media site, we are issuing propaganda, a piece of information designed to make those who read it think about an issue or behave in a certain way conducive to what we want them to. Corporations have realised this, which is why they have such an active social media presence. Branding and advertising has become a major aspect of social media for all businesses, with a far greater personalisation to match the needs of consumers. By promoting brands, we are engaging in issuing propaganda on their behalf. 
Social media has enormous potential, which is why China, for example, has its own social media site, Weibo. In the popular revolutions, uprisings and protests across the world in recent years, social media has played a major part in mobilising, informing and influencing public opinion and shaping consensus of events from around the world. Modern communications are utilised by both sides, and it is here that the modern propaganda and information war is fought, in front of a global audience.
However, such a tool is not without its weaknesses. Disinformation regularly occurs, with fake or doctored pictures being used. Social media has the potential to spread information rapidly around the world. The recent uprising in Egypt has seen such images, and as testament to the times it is through other social media that such falsehoods are exposed. However, due to the sheer nature of information being generated on social media sites, reactions are often instantaneous, without any deep analysis being given. In that way, many people are often unwilling propagandists, deceived by the speed at which information is generated that compels an instantaneous response.
Social media also carries the potential for anonymity, and recently there have been several cases where accounts have been exposed as fake, or deliberately designed for political purposes. Such accounts operate very much in the black propaganda mould that was seen throughout the First and Second World Wars, deceptive propaganda that was issued under one guise but emanated from another source. This direct parallel demonstrates just how important social media is in the ongoing information war.  
Because of this, it means that you should never instantly believe everything you read, and that the same rules of scepticism and analysis need to be applied to digital propaganda as to any other, namely:
Who is producing the propaganda?

What they are saying?

Who is the propaganda directed at? Who are the intended audience?

Why?

With what effect?
By doing so, a critical engagement with information can be maintained.
Propaganda has always evolved along with communications technology. As new ways develop to spread information, so too will they be used to spread propaganda. That is what propaganda is! As such, the internet may currently be the final frontier, but there's no reason not to think horizons will be extended further in future.
You can follow Dr Peter Johnston on Twitter @PeteAJohnston