09 April 2020
Our free online course, Learning from the Past: A guide for the curious researcher, starts on 20 April. The course has been developed in partnership with the University of Nottingham, and is available from FutureLearn.
The course aims to introduce sources used by researchers, with an emphasis on material that can be discovered and accessed online, and the methods that researchers use to analyse and understand these sources. We are also interested in how an understanding of the past both informs and is influenced by contemporary issues - such as globalisation or climate change. 
Over three weeks, we look at language and history, images and artefacts, and newer types of research resource. Learners can find out about British Library collections and projects, such as:
The course is designed for anyone who has an interest in the past. Our learners include students considering a research project, people who have followed a personal research interest for years, and those getting started on family or local history projects.  
As a taster of the course, you can see Phil Hatfield, Head of the Eccles Centre for American Studies, talking about an 18th century map of Canada and the Arctic at https://www.futurelearn.com/courses/learning-from-the-past/0/steps/58711 
20 September 2019
During a week when many people around the world are striking or demonstrating to demand action on climate change, it's interesting to look at some of the zines in the Library created by people campaigning on climate change. The Library collects a wide range of independently-produced publications ranging from political pamphlets to hyper-local newspapers. Amongst these are many small journals or one-off publications that can be described as zines. Zines are typically self-published, counter-cultural magazines and booklets. They are generally low-tech, following a DIY ethic, and contemporary zine publishing broaches a very wide range of issues including sexuality, mental health, racism, food politics alongside the longer-established themes of fanzines focusing on music, football or film.
The items below are examples of zines focusing on climate change and environmental issues such as packaging and waste.
A guide to zero waste, It's freezing in LA, Out of the city and into the Trees, Drax ten years on and Freaky Panda.
Alternative Green and Cracks in the Pavement
These publications are not only interesting and potentially inspiring, but they also form a useful research resource for anyone researching climate activism and campaigning. Because of the huge volume of material in the Library finding these types of materials in the catalogue is challenging.   This is true for all zines, in spite of recent changes in cataloguing practice with the introduction of a format heading 'Zines' in newer records.  
To find these zines I searched using different search terms, including 'environmental change' and 'climate change'. I also tried individual words 'green' and 'action' – in each case narrowing the results by selecting the format 'journals'. Some of the subject headings that feature in catalogue records for the materials pictured above are:
Environmental protection -- Periodicals; Environmental responsibility -- Periodicals;
Global environmental change -- Social aspects -- Periodicals; Global environmental change -- Political aspects -- Periodicals; Global environmental change -- Economic aspects -- Periodicals;
Climatic changes -- Periodicals;
Sustainable development -- Periodicals;
Environmentalists -- Biography -- Periodicals;
Environmentalism -- Periodicals;
Alternative lifestyles – Periodicals.
I found that many of the zines the Library holds on environmental issues and climate change are stored at the Boston Spa site, which is good news for users in Yorkshire, but means that users wanting to see these items in London need to think ahead and order them at least 48 hours ahead of visiting reading rooms.   The zines I featured in this post are held in London. Reading room reference staff and curatorial staff are sensitive to the difficulties involved in identifying zines in the catalogue and are ready to help anyone wanting to use zines in their research.  No single Library can hope to collect all the zines produced by individual creators; collecting zines is a collaborative effort, and researchers wanting to use zines are encouraged to consult the directory of UK and Ireland zine libraries to find out about zine collections they can access.
Looking for examples of climate change zines in our collections, I also found that these represent quite a small proportion of the zines we hold, compared to football fanzines, music zines, and zines on feminism, sexuality, anti-racism, anarchism or other personal and political issues.  This can be seen as a reflection of the way zines often offer a more individual space for their creator to explore issues they confront in their own life, but it also made me feel that there must be many more environmentalist zines out there that are not finding their way into our collections. The Library is always pleased to receive a single copy of any zine published in the UK or Ireland (which may be sent directly to the Legal deposit office). Zines published in other countries may be offered as donations. The Library is grateful for the contribution made by producers of independent publications to its work to represent contemporary society and issues more fully.
01 July 2019
Emma Abotsi, British Sociological Association Fellow at the British Library, writes 
During the first month of my fellowship, I learnt at the Doctoral Open Days that the British Library has approximately 170 million items, which include books, academic journals, government records, personal correspondence, oral histories, newspapers, stamps, and currencies from all over the world, and archived websites.
I felt excited about the possibilities for research, thinking, surely, that with this number of documents, I should be able to find ample material for my project on race and ethnicity.
However, it can be quite daunting to know where to start. I embarked on my search by having a 1-2-1 session with a Reference Specialist at the Social Sciences Reading Rooms to get training on how to use Explore (the British Library's main catalogue).
This platform was quite familiar to me because it is very similar to catalogues I have used at other academic and public libraries.
The Archives and Manuscript catalogue (for documents like personal papers, unpublished documents, and photographs) proved trickier, as information relating to items varies in detail. In some cases, it is better to start your search with the printed indexes like the list of the official publications of the India Office Records, which can be found in the Asian and African Studies Reading Room. These lists will help you get an idea of the documents in the collections.
Whether I was doing a search with Explore or a specialist catalogue like Archives and Manuscripts or SAMI (Sound and Moving Image Catalogue), I found it useful to speak to the relevant curator, who often had tips for navigating the catalogue and helpful suggestions for materials that I had not considered. For instance, my discussion with Debbie Cox, Lead Curator for Contemporary British Publishing, alerted me to recent independent publications that feature the experiences of Black and Asian youths such as Thiiird.
Thiiird Magazine s/s 2017. © Thiiird Magazine.
While searching through 170 million items can seem like an impossible task at times, the British Library's Reference Team are available to help with finding your way.


11 May 2018
Does your research or practice touch on issues of family and social justice, social welfare law or sources and methods in socio-legal research more generally?
If so then this month's national socio-legal research workshop at the Institute of Advanced Legal Studies (IALS)  in London on Friday 18 May 2018 presents an opportunity for you to learn from and network with others researching or supporting research in these fields.
This year's workshop, includes presentations on methodological issues from socio-legal researchers working in the fields of family and social welfare law, and presentations on collections at the British Library and the London School of Economics (LSE) that can support research in these areas.
Focusing on methodological challenges research case studies will look at researching safety, responsibility, accountability and resistance in relation to Grenfell Tower, Lakanal House and high-rise housing, experiences and support needs of new adoptive families, welfare cases at the Court of Protection, and involving people with intellectual disabilities in empirical research.
Library sessions focus on the British Library's collections especially the Social Welfare Portal, and on sources of social welfare law in the LSE Library.
For more information and booking please see https://www.sas.ac.uk/events/event/15339
Socio-legal research workshops at IALS are organised collaboratively by the Socio-Legal Studies Association, IALS and the British Library.
Details of previous workshops including selected presentations, papers and articles, can be found on the IALS website.
03 June 2017
Visualisation of links between websites from the UK crawled during 1996, generated by Rainer Simon
On Wednesday 14th June, we'll be discussing the potential of the archived web in understanding contemporary society and politics.
Our event is chaired by Eliane Glaser, author of Get Real: How to see through the Hype, Spin and Lies of Modern Life, and features contributions from Andy Jackson (British Library), Jefferson Bailey (Internet Archive), Jane Winters (University of London) and Valérie Schafer (French National Centre for Scientific Research).
The first web archive, the Internet Archive, began in 1996. Since then, many university and national libraries around the world have started web archiving initiatives. The British Library began in 2004, and, since 2013 has collected an annual snapshot of all UK web sites. As such, there are very rich collections built up around the world that have documented political and social movements both at international and local levels. For example, the Library of Congress has led collections on the Arab Spring, and the UK Web Archive has collections on past General Elections.
As libraries have gained more experience with building collections of the archived web, so researchers and other users of web archives have developed new methodologies and tools for analysing the collections. As advances are made, so new challenges arise and are identified. The web itself is changing, with one of the biggest challenges for archiving being the use of social media - generating huge amounts of data, but often being highly time dependent and reliant on specific software and hardware to interpret.
As with any large and complex collection, context remains an important consideration. Web archive collections are informed by curatorial or academic judgement on what might be the most significant websites, and may not reflect the most popular sites at a time. When it comes to reporting current events, social media and the web can be portrayed as more "democratic" and open to wider participation than more traditional news media. However, communication on the web includes rumour, satire and misdirection, alongside eyewitness reports and a whole range of data sources and types. Technology to archive the web lags behind the technology to create web sites, so some elements of a web page may be missed by web archiving tools. Additionally, web archiving at a national level often takes place within a legal framework that restricts collecting within national borders. The omissions of web archives can be a useful and interesting source for understanding the structure of web, but, as with other forms of analysis, researchers need information on what decisions were made, and under what conditions, a collection was made.
These are some of the issues that we'll be discussing on 14th June. We'd love you to join us and contribute to the debate. More details and booking can be found on our Whats On pages.  
Our panel discussion forms part of the Digital Conversations series and also connects to a week of conferences, hackathons and other events in London that talk about recent advances in web archiving and research on the archived web.You can follow discussions from the conferences on Twitter, using our hashtag #WAweek2017
23 July 2015
Are you:
-an ESRC-funded PhD student?
-interested in social science research and policy?
-interested in learning more about the British Library's collections?
-interested in working alongside expert curators?
-keen to learn about public engagement with research?
Then we may have a funded, three month ESRC placement for you!
Working at the Library is an amazing way to find out about the scope of the collections we have here and to be exposed to unique and unusual research materials that cannot be found elsewhere. The British Library has hosted a number of ESRC placements in the past, including projects on diverse topics such as sports archives, ageing and the body, migration, health studies and the use of the web in social science research. Previous placements have produced a range of useful outputs such as topical bibliographies, reports, webpages and events for the public and academic audiences.
There are 5 placements currently open to ESRC-funded PhD students. They are each funded for a three month period. These are outlined below. For more information and how to apply, please see full details on the RCUK website. The deadline for applications is 16:00 BST 28 August 2015.
We are also offering up to three placements for MRC or NERC-funded students and one placement for AHRC-funded students. For more details see the RCUK website.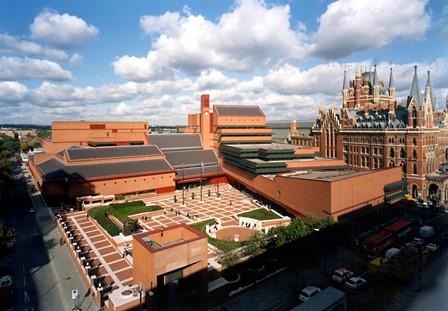 Above: The British Library, aerial view. Public Domain image.
Outline of projects for ESRC-funded placements
Mapping the 20th Century
Contribute to a major exhibition launching in November 2016 that will explore key aspects of national and international government policy, boundaries and identities through the 20th Century. You will focus on developing part of the exhibition narrative that discusses the role of maps in geopolitical contexts e.g. boundary mapping used to establish new national borders; the role of mapping in communicating the work and supporting the existence of supranational bodies such as the UN, EEC etc. (One placement available, open to ESRC students).
Social Science Now!
Develop the concept for a public event that makes social science research and policy accessible, exciting and relevant. The intern will work with an experienced team to research, plan and deliver an event as part of the BL's public programme. You will work closely with high-profile speakers to develop format and content, liaise with BL teams to engage in targeted promotion and post-event evaluation and other outputs (e.g. podcasts, videos). Time-permitting, you will also undertake research into a specific aspect of use of policy information in our collections relating to social science (One placement available, open to ESRC students).
UK General Election 2015 – the Web Legacy
The British Library is part of a consortium that has formed a collection of 7500 archived websites relating to the 2015 UK General Election. This is a unique resource for political and social research. You will be involved in improving discoverability and presentation of the collection using cutting edge web archiving tools; negotiating permissions from rights holders to make archived sites openly available worldwide as well as quality checking of gathered sites. You will have the opportunity to carry out research using the collection (e.g. analysing the role of the Internet in political communication) and to disseminate your findings through BL blogs and other routes (One placement, open to ESRC students).
American Foreign Policy - a User's Guide to the BL
The Eccles Centre for American Studies at the British Library houses one of the world's foremost collections of American books, manuscripts, journals, newspapers and sound recordings. You will develop a resource that will enable researchers to get the most out of the collections related to American foreign policy. The resource could take the form of bibliographies, case studies, learning resources or a web exhibition. You will also be involved in engagement and publicity work to promote use of this resource. (One placement available, open to ESRC students).
Asia, Africa and International Development
International partnerships are fundamental to the British Library's activities, including those in Asia and Africa. As well as hosting vast collections from these areas ourselves, it is our aspiration to support cultural institutions across Asia and Africa whose own collections are at risk from war or civil emergency. More broadly, the Library's international projects and partnerships seek to generate social and economic impact. This internship would involve drawing on the intern's knowledge and research of current best practise in international development to produce a report to the BL with recommendations about how it could more actively and more usefully engage in this area. (One placement, open to ESRC students).
12 December 2014
Rachael Kotarski, Content Specialist for Datasets, gives us an update on the ODIN project: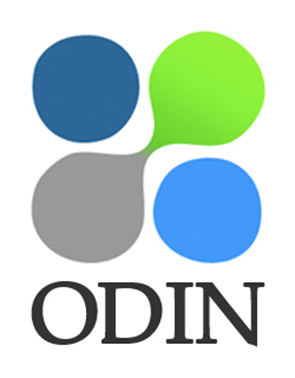 You may or may not have noticed from various blog posts that we love persistent identifiers at the British Library, especially for data. There's no better way to tell the difference between two datasets – or books, papers or people, than by checking their identifiers.
While these identifiers are important parts of the research machinery, they haven't been as well connected as they could be. Over the past two years the British Library has been involved in the EU-funded FP7 project, the ORCID and DataCite Interoperability Network – ODIN. The aim of the project was to investigate where the integration of identifiers for research objects (primarily research datasets) and the people involved in creating them could be improved.
There were many strands to this work carried out in parallel over the past two years. One that we have been heavily involved in is proving the concept of identifier use in humanities and social science, as compared with high energy physics data archives.
Proof of Concept in Humanities and Social Science
As part of the ODIN work here at the British Library, we have worked very closely with three major data archives in the UK to develop workflows for object and people identifiers. We worked with the UK Data Archive (UKDA, a node of the UK Data Service), the Archaeology Data Service (ADS) and the MRC National survey of Health and Development (MRC NSHD).
While these data archives all exist within a similar subject area, they all have different challenges in identifying long-term, dynamic and historical data. They have also all been at different stages in their use of identifiers. Despite these differences, the ultimate approach has been similar across humanities and social sciences, as well as in high energy physics:
Object identifiers are given to datasets as part of the ingest process
For highly dynamic and aggregated datasets, it may be possible to assign identifiers to the subset of data as downloaded
Identifiers for authors and contributors are requested as part of the submission information, and can be associated with other forms of identity or profile management at the archive
Identifiers for legacy datasets are added in a bulk-process
Feedback to the project has helped to direct technical changes to the way in which DataCite and ORCID work.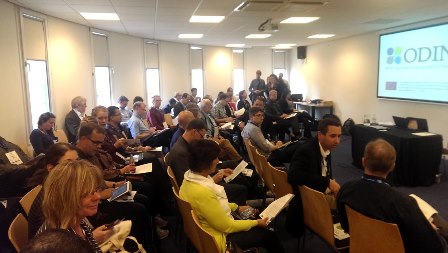 ODIN final event: standing room only. Photograph by Sergio Ruiz
If you run a data repository, find out more about DataCite in the UK. If you create, contribute to or manage research data, see if you have an International Standard Name Identifier (ISNI) or consider signing up for an ORCID iD.
ODIN Partners
Not all the reports from all the strands of work are available yet, but once they are they will be linked from http://odin-project.eu/project-outputs/deliverables/.
25 November 2014
Jerry Jenkins writes:  While unpacking some parcels earlier in the month, Matthew Shaw, the North American Curator and I were comparing the contents of our respective parcels.  I produced from my parcel an OECD title: How Was Life? Global Well-Being Since 1820.
It struck me on browsing the contents that this work provides a useful 'long view' of social development in many different fields and disciplines. The report is in the main concerned with socio-economic developments since the industrial revolution. 
In the foreword it states that the work goes beyond the traditional measures of GDP "to encompass a broader set of dimensions that shape people's living conditions such as their wages, longevity, education, height and personal security among others."
Across thirteen chapters, illustrated with figures and tables, the central themes of human well-being are analysed and explored in-depth. Each chapter is organised in a uniform way providing an introduction leading into eight sections all of which provide an overview of the historical sources consulted along with a description of the concepts used.  Each chapter also provides an explanation of the main research findings as well as devoting space to the important issue of data quality and recommendations for future research.
Its publication is a timely one, as it coincides well with a renewed interest in 'long history' as demonstrated by the publication of The History Manifesto by Jo Guldi and David Armitage which is freely available to read on the  publishers website. 
These two publications go some way to indicate how the 'long view' is coming into focus as methodology and data become accessible for both academics and practitioners to use in their work on modern society and all its competing pressures and the forces which shape it.
Along with How Was Life? Global Well-Being Since 1820 the library has a historic collection of OECD material available and accessible to the researcher in our Reading Rooms.  Furthermore, this title, along with many others by OECD, is available with the click of a mouse through the OECD i-library
I should also mention Matthew Shaw's recent acquisition was a leather bound pocket book diary of a Philadelphia oil worker from the 1870s, which I am sure you'll be able to read more about in a forthcoming entry on the Americas Studies blog in the future.
Jerry Jenkins is the British Library's Curator for International Organisations & North American Official Publications.