22 September 2014
Professor Marsh writes:
Beginning on 29th September 2014 and running for 7 weeks, the University of Sheffield has developed a new, free, online course 'Exploring Play: the Importance of Play in Everyday Life' which will be delivered through the FutureLearn platform. Through the course, we aim to investigate play as a serious subject for study and in particular examine the place of play as an
important part of our everyday lives, across our life courses. Play is not only something that occurs in childhood, with a moving away from 'childish pleasures' in adulthood, but it is an essential part of life.
'Exploring Play' doesn't require any previous knowledge in the area, just an enthusiasm to know more. It introduces key theories and concepts, and explores the many definitions there are of play. Given that play is such a fuzzy concept, some consideration is given to the meaning of play from different personal, academic and professional perspectives and its value in terms of its contribution to our daily lives is a matter for extensive reflection.
The course is highly interactive and uses video, articles, discussions, quizzes and a wide variety of resources including the British Library Playtimes website. This website was created as part of the AHRC Beyond Text project Children's Playground Games and Songs in the New Media Age and provides information on the history and nature of play, drawing on some of the data collected in that project. In the 'Exploring Play' course, learners will engage with the material on the British Library website and consider what it tells them about changes in play over time.



Children playing on stones in a river © University of Sheffield
One of the main aims of the course is to enable participants to understand the very varied nature of play as it takes place across difference contexts. For example, the nature of play in different cultures is explored and learners will consider the way in which the values of different societies impact on the play that takes place within them.

Muffin the Mule puppet, V&A Museum of Childhood Collection
A very wide range of topics is considered, including outdoor play spaces for children and teenagers, playful adult engagement with urban environments, disability and play, play in virtual worlds and play in the workplace. Through the seven weeks of the course, learners will gain a great deal of knowledge about play - and engage in some playful learning activities along the way!
To sign up visit: www.futurelearn.com/courses/play
31 July 2014
Last week, Jon Sims introduced some of the archives and collections discussed at this year's Socio-Legal studies training day on law, gender and sexuality . In this post, Jon looks at British Library resources that address the interaction of law, gender and sexuality during the 20th century
Stepping back in time, Mass Observation Online (available in the British Library reading rooms) provides access to survey material collected by volunteers during and following WWII, on themes including sexual behaviour, family planning, and war time industry. Stepping further back, English translations and academic commentary on classical works by Plato, Aeschylus or Aristophanes provide historical insight on, for example, women's role in high public office and the military, and female symbolism in the representation of justice. They also support investigation of the cultural impact of classical literature on the judicial and legislative process in the 19th and 20th centuries.
On August 4th 1921, with reference to ancient history and the supposed role of women in the destruction of classical empire and civilization, a proposed amendment to criminalise "gross indecency between females" was introduced by the Criminal Law Amendment Bill (House of Lords, 1921). The Parliamentary debate on the bill reveals varied contexts with which women and same sex sexual relations were framed by the men of both houses (Nancy Astor voted against the clause).
In addition to anecdote from family law practice, reference to the erosion of family structures and social institutions, "feminine morality" and vice, talk of "perversion" is couched in terms of "brain abnormalities" and neuro-science. While the "medico-legal" stance on sexuality enters this legislative discourse in the form of Ernest Wild's citation (HC Deb 4.8.1921, Vol. 145, Col.1802 – see references at end of this post) of Krafft Ebing's  Psychopathia Sexualis. Eine klinische-forensische studie, a study published first in 1886 and already reaching an English translation of its tenth edition by the end of the century. The spectre of eugenics is reflected in Lieutenant Colonel Moore-Brabazon's proposal that when "dealing with perverts" the best policy is to "not advertise them… because these cases are self-exterminating." (HC Deb 4.8.1921, Vol. 145, col. 1805). Wild's allusion to Havlock Ellis' Sexual Inversion brings to mind Ellis' later work in The Task of Social Hygiene.
The cultural influence of the social hygiene movement in relation to gender and sexuality was discussed by Frank Mort and Lucy Bland (ICA Talks on BL Sounds) in November 1987, less than a month before the introduction of the New Clause 14, later enacted as section 28 of the Local Government Act, prohibiting the promotion of homosexuality "by teaching or publishing material".
The harder to find parliamentary material for both of these bills can be accessed in the Social Science reading room. A popular cultural perspective can be seen in the Comics Unmasked exhibition, revealing the impact of anti-homosexual legislation and wide spread social prejudice. Friday Night at the Boozer, from AARGH! a benefit comic aimed at organising against the clause 28, captures the pub atmosphere of "ranting, bigoted boozers". In Committed Comix 'It Don't Come Easy', published in 1977 ten years after the decriminalisation of sexual acts between two consenting men in private, Eric Presland and Julian Howell recount the story of, "a pair of young men on a first date," who still, "check under the bed to ensure 'there's no fuzz hidden around'." The Homosexual Law Reform Society publications (1957 to 1974) also provide valuable insight into the social context in which the law operated with regard to sexuality.
By the time Wolfenden reported in 1957, the Examiner of Plays in the Lord Chamberlain's Office had, according to Steve Nicholson, "never passed a play about Lesbianism and … very very rarely one in which homosexuality is mentioned."  (Nicholson, 2011). As well as the Wolfenden report itself, readers at the British Library can access correspondence and readers' reports in the Lord Chamberlain's Plays  Collection (Manuscripts Collections Reader Guide 3: the play collections).
In general, the correspondence files in the Lord Chamberlain's plays collection reveal the frameworks, such as morality and decency and differentiation between public and private space, within which legislatively empowered censorship, in association with commercial and artistic theatrical interests, negotiated the bureaucratic application of law and its control of the public visibility of diverse sexuality (On the scope of its powers see for example the 1909 Report from joint select committee ..on stage plays (censorship) ). More particularly, attempts to negotiate the Lord Chamberlain's licence (security against the risk of prosecution) for public performance of one particular play, Jean Genet's The Balcony (LCP Corr 1965/469), explicitly problematic to the censor for its "major themes of blasphemy and perversion", including off stage voicing of faked sadomasochistic pain, lasted from 1957 until 1965; or from Wolfenden until just a few years before decriminalisation and  the abolition of theatre censorship by the Theatre Act 1968.
A longer look at some of the sources and collections discussed at the training day will feature in the Spring 2015 issue of Legal Information Management. More information about the day's programme can be found at http://events.sas.ac.uk/events/view/15965, and in the Socio-Legal Newsletter No.73 (Summer 2014)
References
Criminal Law Amendment Bill. HL Bills (1921) [8,a-d etc; 21, a – b & 22].
Harder-to-find House of Lords Bills, such as this one, can be requested from shelf mark BS 96/1. See our guide to Parliamentary Papers for more details.
Parliamentary debates on the Criminal Law Amendment Bill (1921) [HC Deb 4.8.1921, Vol. 145,  cols.1799-1807] ; [HL Deb 15.8.1921, Vol.    cols. 567 – 577].
Available in the Social Science reading room at BS. Ref. 13 and 14. See our guide to parliamentary proceedings
Standing Committee debate on Clause 28  (SC Deb (A) 8.12.1987, cols.1199 ff)
Available in the Social Science reading room at BS. Ref. 23 
Report from the Joint Select Committee of the House of Lords and the House of Commons on the stage plays (censorship); together with the proceedings of the committee, minutes of evidence, and appendices.
British Library shelfmark: Parliamentary papers B.S. Ref 1, 1909 session paper no.303, vol VIII pg 451
Report of the Committee on Homosexual Offences and Prostitution (Homosexual Offences and Prostitution). [the 'Wolfenden report']. 1957. Cmnd. 247
British Library shelfmark: B.S.18/158.; Parliamentary papers B.S. Ref 1, 1956-57 session, vol XIV pg 85
Committed Comix: It Don't Come Easy. 1977.
British Library shelfmark: Cup.821.dd.150.[C]
[Artists Against Rampant Government Homophobia] (1988). AARGH! Northampton
British Library shelfmark: YK.1990.b.10288
Arnot, M; 'Images of Motherhood: Achieving Justice in Nineteenth-century Infanticide Cases' Socio-Legal Studies and the Humanities: conference abstracts
Cohen, D (1987) 'The legal Status and political role of women in Plato's Laws', Revue internationale des droits de l'antiquité 34 (1987) pp27-40
British Library shelfmark P.P.1898.hab
Ellis, Havelock (1897) Studies in the psychology of sex. Vo. 1. Sexual inversion.
London. British Library shelfmark: Cup.364.b.1.
Ellis, Havelock (1912) The task of social hygiene. London.
British Library shelfmark: 08275.cc.55.
Krafft-Ebing, Richard von (1886) Psychopathia Sexualis. Eine klinische-forensische studie. Stuttgart.
British Library shelfmark: 7641.ff.29.
Krafft-Ebing, Richard von [translated by Francis J. Rebman] (1899) Psychopathia sexualis, with especial reference to antipathic sexual instinct ... The only authorised English translation of the tenth German edition. London.
British Library shelfmark: Cup.363.ff.22.
Homosexual Law Reform Society. [1959]. Homosexuals and the law, etc. London.
British Library shelfmark: 8296.a.13.
Homosexual Law Reform Society. 1963- . Spectrum A.T./ H.L.R.S. Newsletter. London.
British Library shelfmark: Cup.364.ff.1.
Homosexual Law Reform Society. [1965- ]. [Miscellaneous pamphlets and leaflets.] London.
British Library shelfmark: Cup.702.dd.1.
Homosexual Law Reform Society. [1966- ]. Report, 1963-66 [etc.]. London.
British Library shelfmark: P.201/52.
Nicholson, Steve. (2003- ) The censorship of British Drama 1900-1968. Exeter.
British Library shelfmarks: vol 1 (1900- 1932) YC.2003.a.4950; vol 2 (1933- 1952) YC .2005.a.12027; vol. 3 (the fifties) YC.2011.a.16019; vol. 4 (the sixties) forthcoming
25 July 2014
Earlier this year, Jon Sims, Legal Studies Curator, told us what to expect in this year's Socio-Legal studies training day on law, gender and sexuality. In this post, Jon describes some of the archives and collections discussed at the day, and the recent research and projects available at the British Library.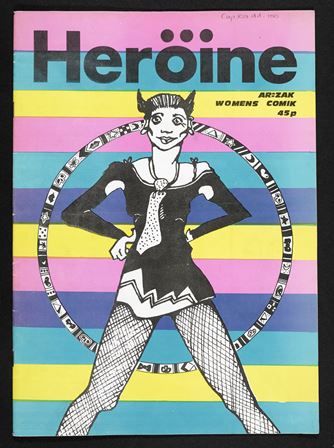 Heroine, 1978 (c) Suzi Varty. On display in our exhibition Comics Unmasked.
This year's joint socio-legal training day saw a number of established academic researchers and staff from UK research collections talking about sources and analysis that underpin the investigation of intersections between law, gender and sexuality. The aim of these days is to introduce newcomers to more unusual information sources and methods that lie outside the typical domain of doctrinal legal research.  Sources used by speakers included:
feminist judgments project, at the University of Kent;
Stonewall's "House of Lords #EqualMarriage Bingo" card, which circulated on social media at the time of the Marriage (same sex couples) bill and offered a template of cliché and prejudice with which to interrogate discourse about the bill;
wills valued (pre and post 1858) for their biographical potency and their potential to challenge assumptions about vertical genealogy by applying messier legal constructions of queer kinship;
pre-Wolfenden police photographs used to explore institutionally embedded ways of seeing homosexuality; and
a t-shirt used to help explore the contexts and subtext of its production story, including its gendered and legal dimensions.
Resources from the IALS Archives were highlighted for their potential to support research on women's history in the legal academy. The Hall Carpenter Archive,  Women's Library and Gender Studies collections were introduced by Heather Dawson of the LSE. The remainder of this post serves to highlight British Library resources.
British Library resources
Sharing extracts of interviews with Lesley Abdela  and Vera Baird, British Library curator Polly Russell illustrated the potential of the Sisterhood and After: Women's Liberation oral History collection to provide context for reforms relating, for example, to equality in pay, educational and job opportunities, and  reproductive health. Further sound recordings were also highlighted including the Hall-Carpenter Oral History archive (catalogue no: C456) which compliments the LSE and LAGNA collections; The Millthorpe Project: Interviews with Lesbian, Gay, Bisexual and Trans Trade Unionists; Before Stonewall (C1159); and around 60 recordings on the theme of gender studies. (ICA Talks on BL Sounds) .
There's a growing cross-disciplinary research literature including feminist law journals, work on law's silence on gender and sexuality, its default male hetero-normativity and impact, biographically and empirically based work on the legal professions, and work on women and gender studies work more generally. This can be found through the Library's catalogue, numerous legal and women's studies e-resources, bibliographies and guides. Useful collections and reviews of the literature include Ruthann Robson's (ed) 3 volume Sexuality and the Law (in the Social Science Reading Room at SPIS 346.013) and Rosemary Hunter's Gendered socio of socio-legal studies in Exploring the 'socio' of socio-legal studies (SPIS 340.115).
The day's focus on Library collections lay elsewhere however. Attempting to demonstrate the potential of the Library's diverse collections to help explore the social and cultural context of law's relationship with gender and sexuality, Jon Sims started at the modern end of things. First off, he used the Broadcast News service archive of France 24 as an example of visual analysis of the diverse composition of the assembled conservative right united in France in opposition to same sex marriage legislation or in support of traditional family values (Sun Feb 2nd 2014 17.00 to 19.59). Similarly, there are multiple disciplinary perspectives on the Ugandan Anti-Homosexuality bill (intermittently available online, also held at the British Library, shelf mark: CSC 251/6 : bill No.18 of 2009, Bills Supplement No.13 to Uganda Gazette No.47 Volume CII. 25th September 2009) and its impact, for example on closeting, HIV prevention and treatment. These can be discovered via Africa Wide and Sabinet (freely available in the reading rooms).
Following Rashida Manjoo's (UN Special Rapporteur on violence against women)  recent mission to the UK and mention of "over-sexualized portrayals of women and girls" in the media, the Library's collections of tabloid newspapers, "lads mags", and "women's glossies", offer potential support for researching relationships between the circulation and perpetuation of gender stereotypes, unresponsive and unsupportive criminal justice contexts, and low reporting and conviction rates for violent crimes against women. In a similar vein, Shannon Sampert's 2010 Canadian study on Newspapers and Sexual Assault Myths is available in the reading Rooms (22 Can. J. Women & L. 301 2010  HeinOnline)
While once-elusive reports with references like A/HRC/26/38 or A/HRC/26/39  now can be found routinely on UN websites, the British Library's UN Depository Collection and statistics from other Inter-Governmental Organisations, such as the OECD, also contribute to our understanding of laws role in facilitating both discrimination against women and girls and in protecting rights. One example,  Gender, Institutions and Development, a statistical data set within OECD i-Library,  provides comparative international figures on for example inheritance rights, female genital mutilation (FGM), legal age of marriage, levels of domestic violence, custody and guardianship rights, reproductive rights and unmet need for contraception, and access to public space.
In Jon's next post, he'll talk about resources from earlier in the 20th century, throwing light on the interaction between law, gender and sexuality.
References
Rosemary Hunter. 2012. 'Feminist Judgements as Teaching Resources'. Oňati Socio-Legal Series. Vol. 2, no. 5. See SSRN abstract 2115435
Rosemary Hunter, Clare McGlynn and Erica Rackley. ed.s. 2010. Feminist Judgements: from theory to practice. Oxford: Hart. British Library shelfmark: YC.2013.a.12208
06 May 2014
In this post Philip Eagle, Content and Collection Specialist for Business and Intellectual Property, provides more information about the Library's Item of the week.
On the 6th May 1994, twenty years ago this week, the Channel Tunnel was officially opened by HM the Queen and President François Mitterrand. The current Item of the Week on the British Library's website is a Deputation to the Prime Minister by promoters of an earlier Channel Tunnel scheme, published in 1913 and held in the Business & IP Centre's Trade Literature Collection.
The work describes a scheme quite close to today's Channel Tunnel, with two bored single-track tunnels from Dover to Sangatte. Trains would be electrically hauled and cross passages would be used for workers and to improve ventilation.
Much of the 136-page brochure, however, is taken up by arguments against the fear that a Channel Tunnel might provide an avenue for France or some other hostile nation to invade Britain, which had shut down the most serious previous attempt to start construction of a Tunnel in 1882. It is argued that changes in both the political situation and military technology since would make a Channel Tunnel less of a hazard to Britain in the event of a European war, and more helpful as a way of evading any naval blockade to trade.
Arguments for the Channel Tunnel are familiar - increased trade, tourism, and the avoidance of seasickness. The most prominent supporter of a Tunnel scheme listed in the brochure is the late William Ewart Gladstone, whose speech of 1890 supporting a tunnel is quoted. The brochure ends by predicting through trains from London to points as far away as Lisbon, Nice, Palermo, Constantinople and Siberia, and the possibility of a tunnel under the Bering Strait to link Russia with North America for a London-New York express.
The illustration shows a drawing of an even earlier scheme by Hector Horeau in 1851, which would have involved a submerged iron tube resting on the sea bed. The huge moored towers seen in the picture would have been retained after the completion of the tube, to hold it in place and provide ventilation.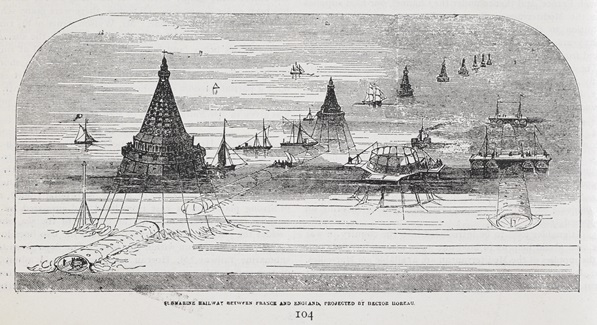 Elsewhere in the Trade Literature collection, we have a number of items covering the modern tunnel, including annual reports from Eurotunnel and Wimpey, and celebratory items in staff magazines from the contractors Tarmac and Costain. For people who want to see what St Pancras and Kings Cross were like before the Channel Tunnel Rail Link, we have a brochure published by the City and South London Railway tube company for their 1907 extension from Angel to Euston via Kings Cross (now part of the Northern Line), which has fascinating pictures of the station and the streets around.
29 April 2014
In this post Jon Sims, Curator for Law and Socio-Legal Studies, writes about the third national socio-legal training day to be organised by the Institute of Advanced Legal Studies, the British Library and the Socio-Legal Studies Association. The training day will be held on the 19 May 2014 at the Institute of Advanced legal Studies, London.
Question: What do the following have in common - a lapel badge exclaiming "keep your filthy laws off my body", the "disciplinary gaze" of the police in interwar London, OECD statistics, wills, the British Museum and National Portrait Gallery, feminist legal judgments, oral history recordings at the British Library, and a 1907 leaflet advertising a talk by a certain "Miss Pankhurst LL.B" (Bachelor of Laws)?
Answer: they are all topics or items from major collections to be discussed at Law, Gender and Sexuality: sources and methods in socio-legal research - an all-day event on 19 May 2014 at the Institute of Advanced Legal Studies, London.
Following the model of previous successful events, this year's training day aims to draw attention to archives and content which newcomers to the investigation of intersections between law, gender and sexuality may not be aware of and to consider the methodological and practical issues involved in analysing sources.  Read on for a taste of this year's presentations by academics, archivists, librarians and curators brought together specically for the event.
Launching the day, the law and feminism session sees Professors Rosemary Hunter and Rosemary Auchmuty discussing, respectively, empirical, feminist analysis and redrafting of legal judgments and the sources and methods informing feminist approaches to sexuality and law scholarship and the gendered interrogation of common identities assumed by the simplistic "gay and lesbian" coupling or notions of the "LGBT community". Later on, addressing same sex relationships Daniel Monk will focus on the insights afforded by wills, overlooked legal documents offering insights on family, gender, kinship and personal life and on issues associated with their use, while Rosie Harding draws from her utilisation of LGBTQ popular culture sources, sharing her experiences of working with autobiographical narratives, utopian film and literature, cartoons and images.
Drawing from the new "Sisterhood & After: An Oral History of the Women's Liberation Movement" project, Dr. Polly Russell will explore how activists involved in the Women's Liberation Movement challenged cultural assumptions about women and will raise questions about  the intersection between this and legislative change in the areas of reproductive rights, equal opportunities and education. Other British Library resources treating or offering a window on areas of law, gender and sexuality within varied, sometimes cross-disciplinary contexts, and not easily found within a traditional law library will be highlighted as well.
Introducing the Hall Carpenter Archive (1958 onwards) and the Women's Library@LSE in the context of the LSE collections for gender and sexuality studies, Heather Dawson provides background, scope and practical details for exploiting this renowned archive of post Wolfenden gay activism, and what a former Fawcett Society councillor is quoted to have described as "a gold mine of information of the political and social history of women".
While Elizabeth Dawson and Fiona Cownie investigate the potential for gender focussed research in the Archives of Legal Education at the Institute of Advanced Legal Studies, Professor Cownie shares theoretical and practical insights drawn from her research on Claire Palley, the first woman to be appointed to a Chair in Law in the U.K.  Bridging the themes of legal education and professions, and Men, Masculinities and Law, Professor Richard Collier draws attention to diverse primary sources and sociological data utilised in research on diversity, work life balance and wellbeing in law firms and universities, and father's activism in law reform.
On visual sources and methods Professor Amanda Perry-Kessaris provides a tour of treasures with a law, gender and sexuality theme hidden or showcased at locations such as the British Museum and the National Portrait Gallery, while Dr. Dominic Janes draws attention to the research potential of police photographs to investigate the "disciplinary gaze" of London's police and compare arrests of "effeminate homosexuals" and so called "normally" dressed men in club raids in the interwar years.
If you are interested in attending the conference why not register?  The student rate is just £30.00 for the whole day.
Articles developed from last year's event on legal biography can be read on SAS space using the search term Legal Biography and in special issues of Legal Information Management. 
25 February 2014
Robert Davies, Engagement Support Officer for Social Sciences at the British Library, writes:
In January, I was pleased to attend the one day conference 'Working with Paradata, Marginalia and Fieldnotes: The Centrality of By-Products of Social Research' at the University of Leicester.
The conference was convened by the University of Leicester, the National Centre for Research Methods (Novella Group) and the Institute of Education. The aim of the day was to provide an opportunity 'for dialogue across disciplines and research paradigms: across the social sciences and humanities, historical and contemporary data, primary and secondary resources, quantitative and qualitative approaches'.  The programme and range of speakers truly reflected this aim.
On arrival one of my fellow delegates asked me the question:
'So which area of interest brings you here?'
To which I responded:
'Well, I suppose, I come at this from two directions; as a former conservator of manuscripts and printed books I understand marginalia, as an Engagement Support Officer for Social Sciences I am fascinated by how we might re-use more recent 'secondary data' to help understand contemporary society, but I am not sure what Paradata means.'
So what do we mean by marginalia and paradata?  To quote Henrietta O'Connor:
'…[they are] material collected as part of, supporting or in addition to the research process.  Annotations and augmentations revealed through the analysis of original documents.  By-products, non-standard 'data', ephemera, letters, pictures, notes.'
Speakers and delegates went on to consider methodologies for undertaking the analysis of marginalia and field-notes (such as the application of narrative analysis); the potential ethical implications of undertaking secondary analysis of 'historic' surveys and following up with the subjects of those surveys; how the analysis of marginalia and field-notes can cast a light on what we understand to be 'acceptable' research practices at any given point and how such perceptions shift over time. It included discussion of the latest technological developments which can, and are, being used to collect paradata during large telephone and on-line surveys to understand low response and drop-out rates and to make appropriate adjustments to the surveys as they progress; how individuals may feel that data is being collected by 'stealth'; and the potential for, and difficulties of, including cognitive and behaviour coding in surveys.
The conference concluded with an examination of the marginalia and notes of the writer Vernon Lee (Violet Paget). It examined the importance of capturing marginalia during digitisation projects and the sustainability of data which is 'born' digital (regardless of whether the digital content is generated through digitisation projects of 'historic' material or via large national household surveys).
In the spirit of the conference, to gain alternative perspectives on the day I thoroughly recommend reading Llordllama's Research Ramblings and viewing a storify by Dr Helen Kara of the tweets posted on the day.  I hope the bibliography below may be of some use (although it is a very small selection of the books and articles available on the subjects covered during the conference).
Bibliography
Andrews, M.; Squire, C.; Tamboukou (editors) Doing Narrative Research, Sage, 2008.  British Library shelfmark: YC.2012.a.10037
Crone, R.; Halsey, K.; Owens, W.R.; Towheed, S. (editors) The History of Reading.  vol. 1. International perspectives, c.1500-1990. vol. 2. Evidence from the British Isles, c.1750-1950. vol. 3. Methods, strategies, tactics. British Library shelfmarks:
Volume 1 - YC.2013.a.1041; Volume 2 - YC.2013.a.1042; Volume 3 - YC.2013.a.1043
Elliott, H.; Ryan, J.; Hollway, W.  Research encounters, reflexivity and supervision, International Journal of Social Research Methodology, Issue 5, Volume 15, pp 433-444. (2012)
Gillies, V.; Edwards, R. Working with archived classic family and community studies: illuminating past and present conventions around acceptable research practice.  International Journal of Social Research Methodology, Issue 4, Volume 15, pp 321-330. (2012)
Groves, R. M.; Heeringa, S. G. Responsive design for household surveys: tools for actively controlling survey errors and costs.  Journal of the Royal Statistical Society. Series A, Statistics in society. VOL 169; NUMBER 3, (2006),pp 439-457.
Kirgis, N.;  Lepkowski, JM. "Design and Management Strategies for Paradata Driven Responsive Design: Illustrations from the 2006-2010 National Survey of Family Growth," in Improving Surveys with Paradata: Analytic Use of Process Data, Krueter, F. (editor). New York: J.W. Wiley & Sons, (2013).
O'Connor, H.; Goodwin, J. Revisiting Norbert Elias's sociology of community: learning from the Leicester re-studies. The Sociological review. VOL 60; NUMBER 3, 2012, pp 476-497.  Blackwell Publishing Ltd , 2012.
O'Connor, H.; Goodwin, J. Through the interviewer's Lens: Representations of 1960s Households and Families in a Lost Sociological Study, Sociological Research Online, Volume 15, Issue 4, (2009).
Turner, Malgorzata New perspectives on interviewer-related error in surveys : application of survey paradata (2013), University of Southampton, Thesis available via the British Library Electronic Theses Online System (EThOS).

Other Resources
The Research Ethics Guidebook: A resource for social scientists Online 
Developing Generic Ethics Principles for Social Science: An Academy of Social Sciences Initiative on Research Ethics
18 December 2013
In the second part of this guest post Alex Giles from City University, London, investigates stories from the empire from a socio-legal perspective, through researching Privy Council cases 1917-1920. 
Record of proceedings in courts below in a Judicial Committee appeal case. (BL pp1316). Copyright British Library Board.
The first part of Alex's blog can be found here
The Privy Council cases can also give an alternative angle on important moments in history. For example in the set for 1920 there are some interesting cases around the unrest in the Punjab in  March and April 1919 relating to the so-called Rowlatt Acts; leading to the infamous Jallianwala Bagh Massacre by the British Army in Amritsar on 13th April1.  One such case is  Bugga2; ostensibly reaching the Privy Council  because of a legal challenge to the retrospective nature of martial law regulations passed as a consequence of the above Acts, but more interesting as a primary resource material relating in detail some of the riots that led to the Massacre.
The case describes through the witness statements, confessions, charge sheets and police depositions, how a mob (some of whom are the Appellants in the case) run riot through the city of Amritsar leading to twenty of them being sentenced to death, and one to life imprisonment (for looting).
They attacked private and public buildings in Amritsar including the burning down of the local National Bank of India and murdering the bank manager and his assistant.  The whole event is described vividly through witness statements:
"I saw boy ringing and ringing bell, calling on people to close shops and get sticks and go to station…saw Muhammadi, whom I knew before, break window. I remonstrated with him, and another man I didn't know said 'Burn'. Another man came with oil…"
Or confessions:
"'We found Sahib [the Bank Manager] standing at his table with a pistol in his hand. The mob fell on the Sahib with dangs and he fell down from the blows. The Sahib did not fire his pistol at all…the pistol fell from his hand and I picked it up. Exhibit P 1 is the pistol in question….' thumbmark of the Accused"
Some of the men claim their confessions are false "made under Police pressure and threats" or "extorted by the Police through torture", others blame the "Muhammedans" or that "my brother had a quarrel with the Constable".  None of those sentenced appeared before an ordinary Indian criminal court – despite them still sitting during this period of martial law.
Another character in the Punjab at the time is Kali Nath Roy3, freedom fighter and editor of The Tribune, then published in Lahore. He is tried for sedition, and his case4 covering this period of March/April 1919, is a gold mine. Numerous articles from his newspaper campaign against the Rowlatt Acts, and his reports of the subsequent riots and the ill-treatment of those accused (including mention of the Bugga case above), are extensively reproduced within the case file to the Privy Council in an effort to illustrate the extent of his "indefensible language":
"The masses of India are no fools. They are as intelligent as the masses in any other country; more intelligent perhaps…they know what is what…No man who saw the behaviour of the crowds – at once the picture of manliness and dignity – will ever doubt the supreme fitness of the country to enjoy the priceless and inalienable right of constitutional liberty. The Rowlatt Act must become a dead letter…" Tribune 8th April 1919
The judgment at Roy's court martial points out "how soon after the appearance of these articles the serious outbreak took place in Amritsar". Not only can we read his reports of Gandhi's and Swani Shradhanada's5 stirring speeches and actions, but we can also see Roy's response to them  and his own justification (or defence) in his witness statement:
"I have always and uniformly condemned disorderliness and resort to physical force, not only as unjustifiable in themselves, but as futile, murderous and suicidal".
When Gandhi is arrested Roy  points out that he is writing " in the most unequivocal terms against any feeling of resentment or indignation and the need of strictly following the spirit of Mr Gandhi's precept – that of absolutely eschewing violence". He also explains that The Tribune is published in English and - far from being a rabble-rousing rag - is a respected publication: "the organ of the educated classes of the Province, a large number of its subscribers being Government officials".
There are some lovely gems in the exhibits of the case too – such as the telegrams; one from the moderate Surendra Nath Bannerjee, Chief Secretary to the Punjab Government and former Indian National Congress president,  pleading for better treatment of Roy, and another from Shradhanada to him at The Tribune on April 11th:
"Just received wire from Bombay. Mahatma Gandhi released today. He regrets loss of life, counsels restraint and avoiding violence. I, too, strongly urge calm restraint…God and truth guide you all."
Roy's appeal to the final court of the British Empire against his two year sentence fails, despite his belief that supporting "constitutional agitation for the removal of Indian grievances" was his "legitimate duty". However by the end of the year, along with others, he does in fact receive a Royal Pardon5; something intimated (but not explicit)in the final judgment. So his comment below is not as ironic as perhaps originally intended:
"The right of passive resistance is an acknowledged human, as distinguished from merely national, right; it is one of those rights which spring from the very fact that man is a rational, a conscientious, a self-determining being. And in no part of the world is this right more valued than in England".  The Tribune 6th March 1919
************* 
Volumes from this collection can be requested from shelf mark PP1316 for use in the Social Science Reading Room. For guidance on ordering and further information see the British Library web page Privy Council Appeal Cases.
 ************* 
Alex Giles LLB, studied law at Sheffield University, and the College of Law. He currently works for City University London in their City Law School libraries.
  ************* 
1.  see : History of India: A Chronology By John F. Riddick 2006
2. [1920] UKPC 14 Bugga and others v The King-Emperor (Appeal No. 171 of 1919) Lahore [20 February 1920]
3. See The State of India's Democracy  pp 178 by Sumit Ganguly, Larry Diamond, Marc F. Plattner  2007
4. [1920] UKPC 107 Kali Nath Roy v The King-Emperor (Appeal No. 164 of 1919) Lahore  [9 December 1920]
5.Hindu reformer, see: Advance Study in the History of Modern India (Volume-3: 1920-1947)  pp 226 By G. S. Chhabra. 2005
6. http://hansard.millbanksystems.com/commons/1920/nov/03/disturbances-pardons
12 December 2013
In this guest post Alex Giles from City University, London, investigates stories from the empire from a socio-legal perspective, through researching Privy Council cases 1917-1920 
Volumes in the series catalogued as Appeal Cases Heard Before the Judicial Committee of the Privy Council (shelf mark pp1316). Copyright British Library Board.
The British Library holds a collection of bound volumes of Privy Council cases from 1861 to 2007 (PP1316). Looking at just four years of these at the height of the British Empire makes fascinating reading. Although the final judgments of all Privy Council cases are currently freely available online from 1809 to 2013 on BAILLI (British and Irish Legal Information Institute) or COMMONLII (Commonwealth Legal Information Institute), these cases are often worth reading in full... In other words their Records of Proceedings, judgments of lower local courts, witness testimonies and attached exhibits can really add to our understanding from a socio-legal perspective of this, the final court of appeal for the British Empire and its peoples.
In any one year during the  period 1917 – 1920 a small group of "English" law lords in Whitehall, who made up the Judicial Committee of the Privy Council, were deciding on approximately 140 cases originating from all parts of the world such as Canada, Australia, India, the Far East, Africa and the West Indies. The breadth of cases is quite staggering; from ancestral land and inheritance disputes in India using local Hindu matakshara Law or Mohammedan Law, to large commercial cases involving hydro-electric power or mining interests in Canada or Australia. Press and publishing disputes, personal injury, breach of contract for the sale of pig iron, insurance cases, workers' compensation, licensing of a pub in Adelaide, patents, matrimonial and family, liability for fire damage to a rubber plantation, wills and probate – all with their own peculiar local flavour. One day they would be deciding on who should be running the local temple or muth in a Bengal village1, the next deciding on who owns vast tracts of territory in S. Rhodesia following the Matabele War and the fall of King Lobengula (a very interesting case which includes whole speeches by Cecil Rhodes2).
Map contained within the records of proceedings in courts below in  Judicial Committee appeal cases decided 1917 - 1920. BL pp1316. Copyright British Library Board.
Some cases in this set are still considered "good law" and are cited or mentioned in recent cases for example [1919] UKPC 136 Taylor v Davies3 regarding trusts4, or [1919] UKPC 825, which was recently cited in a case about HIV/Aids drugs patents6. Lawyers or law students may wish to read the entire original case in such instances.
Others' interest could be in a particular subject area such as Sugar Cultivation in Queensland and the status/role of non-European workers ([1919] UKPC 1187), or Railways in India ([1919] UKPC 1308). These often lengthy cases give primary source details through witness statements and other documentary evidence which incidentally paint a picture of workers' and peasants' lives, the caste system, local language and customs of the time.
Photograph of an unknown person contained within the records of proceedings in courts below in Judicial Committee appeal cases decided 1917 - 1920. BL pp1316. Copyright British Library Board.
Sometimes the final judgments that we have of these cases are lengthy and informative, other times they can be so brief as to give no indication whatsoever of what the case was about. For example in [1919] UKPC109 the final judgment simply tells us:
"Their lordships will humbly advise His Majesty that this appeal should be dismissed with costs."
So, without looking at the full case we wouldn't know that this involved a complex family matrimonial dispute: A Christian man marries a Buddhist girl for her dowry. On the morning of the marriage instead of sending the kumarihamy (woman who dresses the bride) he goes and asks her parents for the balance of the dower. This offends the Singhalese parents whose custom is to pay the dower after the marriage ceremony before the assembled guests. There follows a long drawn out and tragic dispute; disinheritance, theft, general nastiness and sadly no mention of love or affection between the couple. Instead the original district judge sides with "the Respondents who were Christians and could not bear false witness" as opposed to "the Appellants who were Buddhists" and "not above it". Fortunately a later judge is more discerning in weighing up the evidence, and comes to a more balanced decision, but from a socio-legal perspective what is interesting is the effect this has on their lives - which is recorded through their witness statements - and also the snapshot it gives us of a certain section of family life and the role of women in Ceylon at the time.
**********
Volumes from this collection can be requested from shelf mark PP1316 for use in the Social Science Reading Room. For guidance on ordering and further information see the British Library web page Privy Council Appeal Cases. 
************* 
Alex Giles LLB, studied law at Sheffield University, and the College of Law. He currently works for City University London in their City Law School libraries. 
************* 
1. [1919] UKPC 104 Mahunt  Damodar Ramanuj Das v Chemai Tihari (Appeal No 135 of 1917) Bengal [ 28  October 1919] 
2. Special Reference as to the Ownership of the Unalienated Land in Southern Rhodesia (Reasons) v JCPC [29 July 1918] (JCPC)   [1918] UKPC 78 (29 July 1918)
3. [1919] UKPC 136 Isabella Taylor v Robert Davies (Appeal No 51 of 1919) Ontario [19 December 1919] 
4. Cited:  Bagus Investments Ltd. V Kastening [2012] W.T.L.R. 1675 and Williams v Central Bank of Nigeria [2012] 3 W.L.R. 1501
5. [1919] UKPC 82 The Attorney General for the Dominion of Canada v The Ritchie Contracting and Supply Company Ltd (Appeal  No 160 of 1915) Canada [31 July 1919]
6. Merck Sharp Dohme Corp v Teva Pharma BV [2012] EWHC 627 (Pat)
7. [1919] UKPC 118 Addar Khan v John Mullins (Appeal No 78 of 1919) Queensland [2 December 1919]
8. [1919] UKPC 130 The East Indian Railway Company v Major Andrew Torton Kirkwood (Appeal No 92 0f 1919) Bengal [15   December 1919]
9. [1919] UKPC 10 Mengeltina Allahakoon v Selina Marguerita Abeyesekara (Appeal No.45 of 1917) Ceylon [6 February 1919]