25 August 2021
Unfortunately, the third-party platform that the British Library uses for email notifications for our Blogs is making changes to its infrastructure. This means that, from August 2021, we anticipate that email notifications will no longer be sent to subscribers (although the provider has been unable to specify when exactly these will cease).
To find out when new blogposts are published, we also recommend following us on Twitter @Contemporary_BL or checking this page https://blogs.bl.uk/socialscience/ on the British Library website, where all our Blogs are listed.  If you do use Twitter, please note that @BLSocSci and @BLsportsociety are no longer updated, but if and when we do start up a Social Sciences account again, it will be announced here and on @Contemporary_BL.
We want to assure you that we are actively looking into this issue and working to implement a solution which will continue your email notifications, however we do not know whether you will continue to receive notifications about new posts before we are able to implement this. But we promise to update the blog with further information as soon as we have it. Thank you for your patience and understanding while we resolve this.
We appreciate this is inconvenient and know many people are not on social media and have no intention of being so. Many rely on email notifications and may miss out without them. As soon as we have been able to implement a new solution we will post about it here. Thanks for bearing with us.
18 December 2018
Jonnie Robinson, Lead Curator of Spoken English, writes:
Congratulations, then, to Geraint Thomas, 2018 BBC Sports Personality of the Year (SPOTY), and to the magnificent England Roses for this year's Greatest Sporting Moment. Likewise to toxic and single-use – Word(s) of the Year according to lexicographers at Oxford and Collins respectively. And so to the rather more self-indulgent award that is the British Library's 5th annual Sports Word of the Year (SWOTY) – a twelve month labour of love monitoring the British sporting press and broadcast media collecting examples of eye-catching words, phrases to make my morning commute more palatable. The nominations for 2018 are:
February (Chemmy Alcott assessing artificial snow at Pyeongchang Winter Olympics, BBC 5 Live Breakfast): it's hero snow you roll on and you feel great.
June (Rio Ferdinand describing Marcus Rojo's winner for Argentina v Nigeria at 2018 World Cup Finals, BBC1) that's his week foot he puts it top bins.
July (Simon Hughes reflecting on Joe Root's bowling figures of 4-5 for Yorkshire v Lancashire in County Championship match at Old Trafford, BBC 5 Live Sport): he's a clever cricketer he's a sort of cricket badger.
September (Jamie Donaldson summing up Dustin Johnson's poor form on day 2 of 2018 Ryder Cup in Paris, BBC 5 Live Sport) I don't know what DJ is playing out there but if it had been stroke play it would have been a snowman.
September (Sean Ingle reflecting on Greg Rutherford's long jump career, Guardian Sport): Rutherford was just as impressive during clutch moments.
September (David Conn confirming FA's decision to withdraw proposed sale of Wembley Stadium, Guardian Sport): executives were clearly interested but potential buyers will no doubt have taken note in the split in opinion between the suits and the blazers.
November (Aaron Bower discussing Rugby League World Cup, Guardian Sport): Kelly scored twice for the Jillaroos as they won last year's women's World Cup in Australia.
December (Andy Bull reporting on new system for deciding which team bats first in Australia's Big Bash Twenty 20 cricket tournament): They will be calling hills or flats, just like children playing backyard cricket.
December (Richard Williams reviewing recently released Russian film Coach, Guardian Sport): Why choose a Panenka at a moment like that?
December (Jeremy Whittle reporting Jonathan Vaughter's assessment of Sky's decision to withdraw its sponsorship of cycling, Guardian Sport): 'He [Dave Brailsford] has an impressive ability to reach into the toilet and pull out chocolate'.
This year's list namechecks seven sports – skiing, football (3 entries), cricket (2), golf, athletics, rugby league and cycling – and illustrates a range of linguistic phenomena.
The rather neat distinction between suits [= 'business executives implicitly motivated by financial profit'] and blazers [= 'committee members implicitly motivated by maintaining the status quo'] is a wonderful example of metonymy: a figure of speech in which a thing or concept is referred to by the name of something closely associated with that thing or concept (e.g. according to Number Ten is common journalistic shorthand for reporting a statement by the Prime Minister). Panenka [= 'penalty kick in football in which the ball is chipped delicately into the middle of the goal after the goalkeeper has dived to one side'] provides a rare footballing example of eponymy: a person after whom something is named. Anybody of a certain age will know this audacious approach to penalties is named after Antonin Panenka, who successfully deployed the technique in a penalty shoot-out to secure the 1976 UEFA European Nations' Cup for Czechoslovakia against West Germany. The Panenka is so risky it remains pretty rare, but sufficiently iconic that English football fans will recall SPOTY host, Gary Lineker, famously missing a penalty with a Panenka in a friendly against Brazil in 1992 (if he'd scored he would have equalled Sir Bobby Charlton's then England goalscoring record). And we all remember Andrea Pirlo eliminating England with a Panenka in a penalty shoot-out at Euro 2012, although as an Italian he would call it il cucchiaio [= 'the spoon']. Having a technique named in one's honour is surprisingly rare in football – the Cruyff turn is probably the only other widely used term in English – but this kind of accolade is more common in more 'acrobatic' sports. Different types of jumps in figure skating, for instance, include the Salchow, the Axel, the Lutz etc. and this year two new eponyms entered my sporting lexicon – the Biles [= 'double half layout with full twist' named after US gymnast, Simone Biles'] and the Nat-meg [= 'run-scoring shot despatched between the legs', named after England cricketer, Natalie Sciver].
One other entry reveals another naming process typical of sporting discourse: the nickname, Jillaroo [= 'Australian Women's Rugby League team']. Some nicknames are so well-known they're arguably more widely used than the official team name (e.g. All Blacks for the New Zealand Rugby Union team), but it's surprising how often in sporting discourse more esoteric nicknames are used without further explanation, presumably because the user is confident the initiated will understand. Among the more obscure nicknames I've spotted in 2018 in Guardian Sport articles are: Matildas [= Australia Football (female)]; Pears [= Worcestershire County Cricket Club (male)]; She Cranes [= Uganda Netball (female)]; Mourners [= Neath Rugby Football Club (male)]; and Las Leonas [= Argentina Hockey (female)].
Two entries here are illustrative of sporting jargon: hero snow [= 'snow that is soft on top and firm underneath'] and clutch [= 'critical situation in which the outcome of a game or competition is at stake']. In addition to the reference to long jump here, in 2018 Guardian journalists have regularly alluded to clutch serves in tennis and clutch putts in golf. Jargon refers to technical terminology used by a speech community – i.e. for our purposes here, sportswomen, sportsmen and sports' enthusiasts – that can mystify outsiders.  Slang is even more subversive, more playful, and thus potentially even more incomprehensible and three items probably fall into this category.
Snowman [= 'a golf score of eight shots on one hole'] is a delightfully imaginative association of the figure 8 with a snowman (i.e. a circular head atop a slightly larger circular body). This kind of visual shorthand is equally apparent in the terms bagel (see SWOTY 2014) and Audi (see SWOTY 2017). Top bins [= 'shot into top corner of goal'] and badger [= 'overly keen/slightly know-all individual'] are expressions I first encountered among my (late teen/early 20s) children and friends. Badger, for instance, I first heard used among university hockey players to refer to a somewhat annoyingly enthusiastic club member who's never late for training, always brings the right kit, always has an opinion during half time team talks etc. – presumably the name derives from the notion that, like actual badgers, these are rare qualities among students?
The expression hills or flats is probably best characterised as Australian dialect, while one might speculate that reach into the toilet and pull out chocolate is either US dialect (Vaughters is American) or purely idiolectal. Playing cricket in the 1970s and 1980s I certainly recall spinning a bat in the air and calling either bridge [= 'the bat lands face down' i.e. presumably the equivalent of hills] or stream [= 'the bat lands face upwards' i.e. presumably flats] to determine which side had choice of batting or bowling first. To this day, amateur tennis and badminton players mirror this practice by calling rough or smooth to decide who serves first, based on tossing or spinning a racket so that the knot in the strings either stands proud or flush to the the racket head. The phrase reach into the toilet and pull out chocolate is, however, completely unfamiliar. A rather unwholesome image it is, nonetheless, analagous to polishing a turd, although the implication of pulling out chocolate is you can produce something desirable from something apparently worthless. The meaning is absolutely clear and reminds me a little of the claim, heard frequently in the mid-twentieth century, that if ever England needed a fast bowler they could whistle for one down a mine in Yorkshire.
Of the entries here only suits (but, surprisingly, not blazers) is included in this sense in the OED; clutch is recorded in Oxford Dictionaries Online; Panenka warrants an entry in Collins Dictionary and hero snow, badger and top bins have been submitted to Urban Dictionary. Of the other five, to my knowledge, none appears in conventional dictionaries, but snowman is included in Mike D'Auria's Golf Fore Ever (2010) and Wikipedia includes Jillaroos in this sense – although, intriguingly, Adrian Room's Dictionary of Sporting Games and Terminology (2010) suggests it refers to the Australian Women's U21 Hockey team. The phrases hills or flats and reach into the toilet and pull out chocolate have proved elusive beyond the references here (and associated articles), which makes the British Library's role in capturing and archiving this kind of linguistic evidence in our newspaper collections, TV and radio archive and UK Web Archive invaluable for anyone interested in documenting this kind of vernacular sporting language.
And so, finally, the winner for 2018. Well, it's Christmas so it's got to be snowman, hasn't it?
Follow British Library Accents and Dialects @VoicesofEnglish.
18 December 2017
Jonnie Robinson, Lead Curator of Spoken English, writes:
And so this is Christmas … and what have you done? Me? Well, I've been compiling examples of interesting English usage in the British sporting press and media for the 4th unofficial British Library Sports Word of the Year (SWOTY 2017). Unlike the various 'official' Word of the Year Awards, which collectively reflect how global politics continues to dominate public discourse – Oxford Dictionaries declared youthquake its winner; Collins chose fake news and Merriam-Webster plumped for feminism – this review, like most sports punditry, is completely unscientific and entirely subjective. So, on the day after Mo Farah finally won BBC Sports Personality of the Year and Jess Ennis was rightly recognised with a Lifetime Achievement Award, here are the 10 candidates for SWOTY 2017:
February (Ed Leigh of Sweden's Sven Thorgren's final jump at Air & Style Innsbruck 2017, BBC Ski Sunday): cab twelve sixty double shifty rewind roast beef
April (Peter Allis of Rory McIlroy's bunker shot at 7th hole at 2017 Masters, BBC2 Masters Day 3): that could've been a Lucy Locket … septic tank
June (Geoff Lemon of Australian batsman Adam Voges impressive Test batting average, Guardian Sport): Voges has immovably rolled out a banana lounge on the Test average list next to Bradman
August (Paul McInnes of interval between second and final session when Edgbaston staged first ever day-night Test in England, Guardian Sport) rather than bemoan the creation of an entirely new meal break, coined 'trunch' by my colleague Andy Bull, the Edgbaston crowd were bang into it
August (Guardian Sport 'in brief' review of 2017 Netball Quad Series) The Roses overturned a 13-point deficit in the first quarter to secure only their fifth win in 88 matches against the Silver Ferns
September (Sloane Stephens on her near flawless 2017 US Open Final victory, Guardian Sport) I made six unforced errors in the whole match? Shut the front door
April (Paul Rees speculating on coach Warren Gatland's tactical approach during Lions tour to New Zealand, Guardian Sport) Warrenball did for Australia four years ago but it will be the third generation version this summer
December (Ali Martin of England batsman James Vince's batting technique, Guardian Sport) 'Nick city' was how the likeable Kerry O'Keefe described the right-hander's open bat face in his first innings just seconds before Josh Hazlewood exploited this exact glitch via a tame punch to a ball
December (Ali Martin of England debutant Craig Overton's batting prospects in First Ashes Test, Guardian Sport): Overton, fresh from three ducks in the warm-ups, was on for the dreaded 'Audi'
December (Sean Dyche of Burnley briefly moving into Premier League top 4 following victory against Stoke City, Sky Sports News): I'm very proud I'm super proud prouder than the proudest man in Proudsville
As in previous years the list is drawn from several sports that make an annual appearance – one each for golf, tennis, rugby union, football and netball and four for cricket – while this year sees one newcomer in freestyle snowboarding. It's difficult to say whether the monopoly of certain sports is entirely down to my own reading preferences and sporting interests or more a reflection of the relative column inches/broadcast airtime afforded each sport. Certainly, in a year in which England's women won a thrilling World Cup and both our men and women have contested (less thrillingly) the Ashes, it's perhaps not surprising that cricket is particularly well represented.
Linguistically the list can be categorised in a number of ways. Two entries are examples of sporting jargon – words or expressions used by a profession or interest group that can be difficult for others to understand. Perhaps the most impenetrable sequence of words here is the wonderful cab twelve sixty double shifty rewind roast beef which I'm reliably informed describes a particularly impressive jump manoeuvre in which a snowboarder performs a 720º rotation with their hands between their legs on the opposite edge of the board before slowing down, over-rotating back and rotating another 360º before landing. I think. This list of snowboard tricks might help. Warrenball, on the other hand, refers to a style of attritional rugby based around attempting to break the opposition midfield defence with a series of 'crash ball' runners. The term, associated with the Wales coach Warren Gatland, is linguistically intriguing as it's formed by adding the suffix –ball to Gatland's first name, thus referencing Moneyball, a methodology employed by Oakland Athletics baseball team general manager, Billy Beane. The principle of Moneyball was to create a successful baseball team by prioritising statistical analysis and empirical evidence over collective coaching wisdom and 'instinct'. Both Moneyball and Warrenball, despite achieving consistent success, are often viewed negatively as somehow more dispassionate and sterile compared with other approaches perceived to be more imaginative or inventive, which is perhaps why Gatland himself distances himself from the term.
Three entries are intriguing as I suspect they started out life as nonce-words – i.e. a word coined for use on one specific occasion. Two are used in reference to cricket and might subsequently have been adopted more widely, but to my knowledge remain pretty low-frequency. The first, Audi [= four consecutive scores of nought] is a visual reference to the brand logo of the car manufacturer – four interlocking (i.e. consecutive) letters 'O' or zeroes. This visual association mirrors the use of bagel to refer to a score of 'love' (i.e. zero) in tennis, which was a nominee for SWOTY 2014. The second is trunch, a blend of 'lunch' and 'tea break' – the 'traditional' timings of intervals in Test match cricket – to represent the somewhat later timing of the interval during the floodlit evening session of a day-night Test. Lucy locket and septic tank are examples of rhyming slang for 'socket' and 'shank' respectively, both of which are in turn golfing jargon for the point where a club head meets the shaft and a mishit shot in which (for a right-handed player) the ball squirts out diagonally to the right of the intended target. This online Cockney Rhyming Slang website suggests Lucy Locket and septic tank are indeed established rhyming slang forms, but for 'pocket' and 'Yank' (i.e. American). The fact the word shank is disguised by the commentator in this way not only shows our great affection for the creative possibilities of rhyming slang, but would also be immediately understood by golfers as (rather like mentioning Macbeth to an actor about to appear in The Scottish Play) there is a well-known superstition among golfers that uttering the word shank will instantly result in succumbing to the shot oneself.
One entry this year captures the proliferation of nicknames in sporting nomenclature. In most cases this is part and parcel of the team itself – United or Wednesday enables us to distinguish between Sheffield United and Sheffield Wednesday, for instance. Many US team sports are characterised by teams that bear a franchise name – the Rams have played variously in Cleveland, Los Angeles, St Louis and are now based back in Los Angeles. This often mystifies British sports fans, although we can no longer claim it's a uniquely American phenomenon – consider the Rugby Union team Wasps who in the days of amateur Rugby Union were based in Sudbury, but shortly after the advent of professionalism relocated to High Wycombe and, more recently, Coventry. In many cases, teams have an additional nickname such as the Blades [= Sheffield United] and, especially in international sport, teams are increasingly likely (possibly for commercial reasons?) to be referred to by their nickname alone. The Roses [= England Netball] and Silver Ferns [= New Zealand Netball], here, are two examples of several I've found in the Guardian alone, including the following five that I suspect might prove difficult quiz questions for many: Djurtus [= Guinee-Bissau football (male)]; Brave Blossoms [= Japan Rugby Union (male)]; Black Ferns [New Zealand Rugby Union (female)]; Spar Proteas [= South Africa netball (female)]; and Kumuls [= Papua New Guinea Rugby League (male)]
The other four items fall loosely into the category of slang. They're certainly not exclusive to sport, but are interesting because they demonstrate how vernacular and colloquial expressions permeate even mainstream print and media coverage of sport. The term banana lounge is Australian slang for a 'sun-lounger/reclining deck chair', while shut the front door is a US English exclamation expressing surprise or disbelief. The final two are also originally US slang phrases, but in this case used by an English football manager and a former Australian cricketer. The use of –ville as a terminal element to refer to a fictitious place associated with a particular quality, is dated to 1863 by the OED; the analogous use of City is listed from 1946. The fact a Burnley football manager, Sean Dyche, chooses to express his pride by reference to Proudsville and Australian commentator, Kerry O'Keefe describes James Vince's tendency to be dismissed caught behind as Nick city are testament to how – like rhyming slang – such idiomatic expressions are so endlessly productive and entertaining.
Many of the terms above are documented in authoritative dictionaries in the British Library's collections, but some are yet to appear in print reference works, so their presence in our newspaper collections and web archives is an invaluable resource for language scholars monitoring the continued evolution of English. And as for this year's winner – much though I'm tempted by cab twelve sixty double shifty rewind roast beef I don't think I really understand it even now, so I'm going to plump for shut the front door, simply because I had to ask my seventeen-year-old daughter what Sloane Stephens meant.
21 December 2016
Jonnie Robinson, Lead Curator of Spoken English, writes:
So congratulations to Andy Murray on his well-deserved victory at the BBC Sports Personality of the Year (SPOTY) awards, one of countless ceremonies that take place at this time of year as clubs, societies, institutions and industries recognise the outstanding people, events or phenomena of the previous twelve months. In a year dominated by political upheaval it's perhaps not surprising that linguists at Oxford Dictionaries chose 'post-truth' as their Word of the Year 2016 from a list of candidates that included several items reflecting contemporary societal challenges – Brexiteer, glass cliff and alt-right. Here then, in similar spirit, are my ten nominations for the 3rd unofficial British Library Sports Word of the Year (SWOTY) selected from examples of interesting English usage in the British sporting press and media in 2016:
January (Lawrence Ostlere on Jade Clarke signing for Loughborough Lightning, Guardian Sport): The mid-courter values her time abroad and wants to see more young players experience the ANZ Championship
January (Richard Williams on the treacherous Hahnenkamm downhill slope in Kitzbühel, Guardian Sport): This week's new snow will enable the skiers to tackle the Streif's whole length, from its near vertical start to the fiendish icy traverse of the final schuss
March (Eddie Jones on the Welsh RFU's vacillation regarding Joe Marler's alleged description of Welsh prop Sampson Lee as 'gypsy boy', Radio 5 Live) They don't know whether they're Arthur or Martha
May (Robert Kitson on Saracens wing Chris Ashton, Guardian Sport) The player who used to appear several scones short of a tea party has matured and learned from his mistakes
June (Neil Lennon on Wales v Northern Ireland at Euro 2016, Radio 5 Live) The game's a bit eachy-peachy
June (Barney Ronay on England's humiliating Euro 2016 defeat to Iceland, Guardian Sport) For the next few months a post-Royxit vacuum beckons
July (Andy Sullivan on how to hit a fade shot, Sky Sports 1) I […] just open my stance up to hit that little lemonade
August (Aaron Bower quoting Gareth Ellis in the build-up to the Challenge Cup Final, Guardian Sport) Last year I was limping around with a pot on [my foot] and now I'm leading Hull out at a cup final
August (Emma John on the women's Olympic hockey final, Guardian Sport) The first four shuffles had gone begging before the Dutch keeper Joyce Sombroek was ruled to have deliberately fouled Sophie Bray
November (Simon Hughes on the wicket for India v England 2nd Test): [It's unlikely to be] a raging Bunsen straightaway
As in previous years the list is drawn from the usual suspects – football and rugby union (two entries each), rugby league, cricket and golf (one each), but this year includes netball, skiing and hockey for the first time. The ten nominations have been chosen as they demonstrate a range of linguistic phenomena from jargon, slang and dialect to loan-words and neologisms. Having spent several years teaching German I'm particularly pleased to include the skiing term schuss [= a straight downhill descent] as a rare example of a sporting loan-word. English dominates sporting discourse for a number of reasons – not just the current status of English as a global language, but also the influential role played by the British in codifying many (but by no means all) international sports. Thus loan-words are relatively rare, but alpine sport, understandably, is a notable exception as illustrated by e.g. piste, après-ski (both from French), langlauf (like schuss, from German), slalom and, of course, the word ski itself (both from Norwegian). Loan-words surface from time to time in other sports – in recent years football has appropriated rabona, tiki-taka and last year's SWOTY winner, gegenpressing, for instance – but unlike schuss these tend to appear italicised or within speech marks in print, reflecting their novelty or status as exotic, potentially temporary terms. Schuss is an example of sporting jargon – a technical term used by participants, coaches and fans and universally understood within those circles to describe a particular action, skill or element of the sport. The other examples of jargon here are shuffle [= a system used to determine the winner of a drawn contest in hockey in which an attacker has 8 seconds to score a goal in a one-on-one situation against the goalkeeper] and mid-courter [= netballer who specialises in playing centre, wing defence or wing attack]. Thankfully, GB goalkeeper, Maddie Hinch, cemented her reputation this summer as the world's best at penalty shuffles and anyone familiar with netball (or basketball) will know the value of a versatile mid-courter.
Six entries reveal sporting discourse as a particularly rich repository of vernacular forms. Three items might reasonably be categorised as dialect: eachy-peachy [= phrase equivalent to 'six of one, half a dozen of the other']; pot [= plaster cast]; and not know whether one is Arthur or Martha [= to be in a state of confusion]. The other three might be classified as slang: several scones short of a tea party [= slightly, albeit endearingly, mad]; lemonade [= rhyming slang for 'little fade', i.e. a golf shot that is directed intentionally left of the target and drifts right in the air before landing]; and Bunsen [= rhyming slang for 'Bunsen burner: turner', i.e. a wicket likely to be advantageous to spin bowlers]. Finally, Royxit [= the resignation of former England football manager Roy Hodgson] demonstrates the enthusiasm with which the media latched on to neologisms formed by analogy with Brexit – a blend of <British> and <exit> that quickly established itself as universal shorthand for the UK's decision to leave the European Union following this June's referendum. Politics, of course, has always had an impact on language so it will be interesting to see if forms like Brexit prove as prolific as the infinitely productive suffix <-gate> that originated in the Watergate scandal of the 1970s which prompted the resignation of US President Richard Nixon. In July 2016, for instance, Coiffeurgate trended on Twitter following revelations of French President François Hollande's allegedly extravagant hairdressing bill, and, during television coverage of this summer's Olympic marathon, Steve Cram urged fellow BBC commentators, Brendan Foster & Paula Radcliffe, to end a long-winded discussion of Bahrainian athlete Alemu Bekele's frequent stops to tie his shoelaces with the phrase enough of Lacegate. Guardian journalist Sean Ingle's use of Chexit and Lexit to refer, respectively, to Chelsea's and Liverpool's current absence from European football competition demonstrates how such light-hearted wordplay appeals to our sense of linguistic creativity.
Not surprisingly, Brexit merits an entry in the Oxford English Dictionary, unlike Royxit, which, as a neologism, is unlikely to meet criteria for inclusion. Many of this year's candidates are recorded in authoritative reference works, but some have yet to reach the attention of lexicographers, so their presence in the British Library's newspaper collections, web and sound archives is an invaluable resource for language scholars monitoring the continued evolution of English. The Oxford English Dictionary, for instance, includes mid-court and schuss, Collins English Dictionary categorises not know whether one is Arthur or Martha as 'Australian and New Zealand informal', while the Dictionary of the Scots Language records eachy-peachy from the 1960s. The New Partridge Dictionary of Slang and Unconventional English (2006 edition) includes several examples of NOUN short of a NOUN (e.g. sandwich short of a picnic) and the BBC Voices survey (2004/5) captured numerous similar variants (e.g. slice short of a loaf and brick short of a load) confirming this is an extremely productive metaphor for mild eccentricity, although neither features scone short of a tea party. I've been unable to find the others in print glossaries, although the Cockney Rhyming Slang website suggests Bunsen burner is established rhyming slang, albeit for 'earner', i.e. easy/quick profit, not for 'turner'. Proof of their authenticity, however, can be found in specialist reference works and publications: Martin Williamson's glossary of cricket terms includes Bunsen in the sense recorded here and a Golf Digest article confirms the use of lemonade in this sense and both forms bear witness to our enduring fascination with, and affection for, rhyming slang. Wikipedia explains the importance of shuffles in hockey, while pot is captured in a recording submitted to the Library's Evolving English WordBank.
And so to this year's winner … given the incomprehensible absence of female athletes in this year's SPOTY top three and comparative lack of representation in the nominations here drawn from women's sport – a reflection of the glaringly disproportionate prominence of men's sport in the mainstream media – combined with the presence of glass cliff in the Oxford Dictionaries Word of the Year nominations I'm going for shuffles in honour of the extraordinary achievement of GB women's hockey team securing their first Olympic Gold. Fingers crossed for an increased profile for women's sport and continued success in women's hockey in 2017 – especially @DUHC1 Women's 1st XI and @southgateHC Ladies 2nd XI.
22 December 2015
Jonnie Robinson, Lead Curator of Spoken English, writes:
It's that time of year again when clubs, societies, institutions and industries reflect on the previous twelve months and nominate people, events or phenomena for special recognition. In November, for instance, the Oxford English Dictionary (OED) stunned linguists and pedants alike by choosing a pictograph – the 'face with tears of joy' emoji as their Word of the Year; VLM reviewers deliberated the merits of Foals' What Went Down and Tame Impala's Currents for their Album of the Year; and on Sunday BBC Sports Personality of the Year was awarded to Andy Murray. So, in a year where, despite recent events on the football pitch, Jose Mourinho's outstanding contribution to our sporting lexicon drew academic attention, here are my nominations for Sports Word of the Year 2015 selected from examples of interesting English usage in the British sporting press and media:

February (BBC online Cricket World Cup live update) [Tim Southee] sends down an absolute jaffa which cuts Dilshan in half
May (Guardian Sport): [Martin Guptill] made a brief and extremely eye-catching return to crowd-pleasing one-day stylings with this massive six to cow corner
June (Mike Selvey, Guardian Sport): Tim Southee joined a pretty exclusive club of Test pace bowlers who have conceded a gallon in both innings of a Test
June (ex-Aussie cricketer Jason Gillespie, Radio 5 Live): we're not playing for sheep stations
July (Jim Maxwell, Test Match Special, Radio 5 Live): 120 looks a bit too skinny for Australia to defend
September (Robert Kitson quoting Orrel Director of Rugby, Ian Hollis, Guardian Sport): around here they still think union's a game of kick and clap
September (Robert Kitson, Guardian Sport): he doesn't care where he's playing, who he's playing against or what Twickenham alickadoos make of his appearance
November (Jamie Jackson, Guardian Sport): The victory was a triumph for Klopp's gegenpressing ethos
November (George Riley, England vs. New Zealand Rugby League First Test, BBC1): if ifs and buts were chips and putts we'd all be Gary Player
December (John Rawling, Fighting Talk, Radio 5 Live): Dennis Wise a nasty little five footer
The dominance of cricket and rugby in this year's nominations reflects the fact 2015 featured a Cricket World Cup, an Ashes series and Rugby Union World Cup, but golf and football also make the cut. Seven items are restricted to the discourse of their respective sports of which three are international cricketing slang: cow corner is an area on the leg-side boundary to which a batsman plays an 'agricultural', i.e. unconventional slog; a jaffa is an unplayable delivery; and if a bowler concedes 100 runs in a single innings he has the dubious distinction of recording a gallon – the less desirable equivalent of a batsman's century or ton; kick and clap is used by British Rugby League fans as an expression of disdain for Rugby Union deriving from a typical Union crowd's penchant for politely clapping repeated passages of kicking in contrast to League supporters' enthusiastic encouragement of running and passing; alickadoo is used within Rugby Union circles, equally disparagingly, to refer to a somewhat out of touch 'hanger-on' or feckless club administrator; gegenpressing refers, in football, to the tactic of collectively pressurising the opposition immediately after a turnover of possession; and a Dennis Wise is golfing shorthand for a relatively short but annoyingly scary putt – a jocular reference to ex-professional footballer, Dennis Wise, who had a reputation for confrontation despite his diminutive stature. Two are idiomatic expressions: not playing for sheep stations is an Australian phrase roughly equivalent to 'it's not a matter of life and death'; while if ifs and buts were chips and putts we'd all be Gary Player adds a sporting twist to a well-known saying – Gary Player is a South African professional golfer and nine-times major winner; finally skinny refers here to an uncompetitively low run total.
Most importantly, the ten have been selected as they demonstrate a range of linguistic phenomena, from jargon and slang to dialect and proverb. Perhaps surprisingly not many are documented in conventional dictionaries or glossaries, so their presence in the BL's newspaper collections and/or TV and radio archives represents an invaluable record for language scholars investigating developments in the English language. The OED (online) includes skinny as a colloquial form for 'mean/stingy/grudging', which captures the way it is used in northern dialect and one can readily see how, by extension, this might apply to a low score in cricket – sports reporters often refer, for instance, to a 'miserly defence'. The OED also has an entry for alickadoo, categorising it as originally Irish English, while John Miller's Essential Lingo Dictionary of Australian Words and Phrases has an entry for playing for sheep stations (2015: 161). Geoff Tibball attributes Dennis Wise to British journalist and presenter, Des Kelly, in his compilation of sporting quotations, The Bowler's Holding the Batsman's Willy (2008: 189) and the Oxford Dictionary of Phrase and Fable (2005) includes the proverb if ifs and ands were pots and pans, there'd be no work for tinkers' hands as a 'traditional response to an over-optimistic conditional expression' – i.e. a common retort to someone wistfully saying 'if only …'. Coincidentally, a variant of this also made an appearance on a recent episode of Coronation Street (16 November 2015) when Erica Holroyd comforted Liz McDonald over her latest calamitous relationship break-up: as me mother always says if ifs and buts were whisky and nuts we'd all have a merry Christmas.

To my knowledge, none of the other terms have been captured in English print reference works. An internet search for gegenpressing, however, returns 219,000 hits so this is clearly well established sporting jargon. As a former German teacher, I find it a particularly intriguing loan word as it contains a German element gegen [= 'against'] blended with an English gerund pressing. Similar constructions occur in German sporting discourse even when unidiomatic in English – das Dribbling, for instance. Like other loan words in football (cf. tiki-taka and catenaccio) the relish with which it has been adopted by the British press not only speaks volumes for the charisma of Liverpool manager, Jürgen Klopp, with whom it is most closely associated, but also reflects our constant desire to adopt the latest European tactical innovation. Cow corner, on the other hand, transports me to my schooldays and a Yorkshire cricket master, who viewed any shot in that direction with utter contempt. Neither this nor jaffa warrant entries in print dictionaries, but both appear in Wikipedia's Glossary of Cricket Terms; gallon is surprisingly absent, but is included in a rival online cricket glossary, while kick and clap appears in League Freak's Rugby League Dictionary.
So to this year's winner: much though I sympathise, as a Castleford Tigers fan, with the sentiment expressed in kick and clap and was delighted to see Kevin Sinfield come runner-up on Sunday, deep down even football fans with no affiliation to Liverpool (myself included) have to admit we're all rather excited about the arrival of Jürgen Klopp, so it's got to be gegenpressing, hasn't it?
23 March 2015
Over the last few months members of the team, along with colleagues from across the library and external partners, have been working to organise numerous public events.  This post gives details of some of these events.
On Wednesday of this week (25th March), we will be holding the next event in our Talk Science Series.  On this occassion, journalist and Antarctic veteran Alok Jha (ITV) will chair a discussion with Director of the British Antarctic Survey Professor Jane Francis, UCL anaesthetist and space medicine expert Dr Kevin Fong and University of Cambridge historian Dr Michael Bravoon the subject of 'Scientists in extreme environments'. They will consider numerous questions including:
Why do scientists work in extreme environments, and is it worth the financial and human cost?
Why do Scientists travel to the tops of mountains, the polar regions and even outer space in order to conduct experiments, make observations and set up instruments and what have we learned from doing science in extreme environments?
Is what we gain worth the high financial, and sometimes human, cost?
Does exploring these places also make science a vehicle through which geopolitics is played out and do we need to explore for the sake of exploration?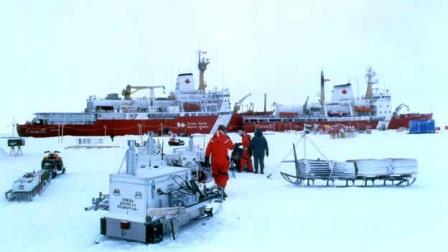 For further inforamtion on the event and to book a ticket please visit the library's What's On page
On the 11 May, we will be holding Family History/Public History? in association with the Raphael Samuel History Centre, London.  This evening event will consider how family history spans both private stories and public history. It challenges our ideas of what we mean by 'proper' history and experiments with the limits of fiction and non-fiction.
Richard Benson and Alison Light read from their recent work and discuss writing their family histories of the working classes.
Richard Benson's The Farm (2005), an account of his family during the forced sale of their farm, was shortlisted for the Guardian First Book Award. The Valley (2014), which sets his family stories against the history of the mining industry, was a Radio 4 Book of the Week; it was praised for combining 'the epic sweep of Gone with the Wind with the microscopic intensity of Tolstoy'.
Alison Light is author of the much-acclaimed Mrs Woolf and the Servants (2007). Common People: the History of an English Family (2014) explores her own family history across two centuries. Shortlisted for the 2014 Samuel Johnson Prize, one reviewer deemed it 'part memoir, part thrilling social history of the England of the Industrial Revolution, but above all a work of quiet poetry'.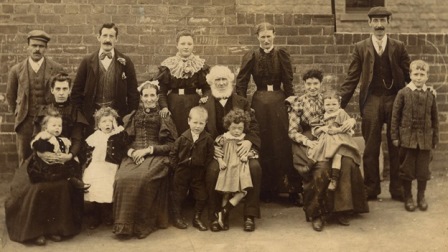 The Private History/Public History event is free, but booking is essential.
We will be holding a one day conference, in association with Urban Photo Fest and Goldsmiths, University of London, on the the 29th May on 'Visual Urbanism: Locating Place in Time'.  Throughout the day speakers and delegates will examine interdisciplinary approaches to investigating urban space and consider topics such as how does the temporal dimension influence practices of urban place-making; what happens to our perception of urban space when we look at it both forwards and backwards in time; and how can time-based media be used to challenge linear notions of time?
A keynote talk will be given by Professor Michael Keith (Centre on Migration, Policy and Society (COMPAS), University of Oxford). The event will include a short film festival showcasing work by artists and researchers exploring urban space through moving images and sound.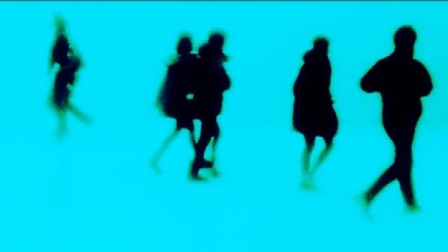 Refreshments, a sandwich lunch and wine reception are included in the ticket price.  Tickets can be booked here.
We are delighted that Shami Chakrabarti, Director of Liberty, will deliver the fifth Annual British Sociological Association/British Library Equality Lecture on the evening of the 22nd June.
Drawing on her recently published book 'On Liberty' and her work in high-profile campaigns, from privacy laws to anti-terror legislation, Shami explores how our world has changed since 9/11. Her talk considers whether governments have decided that the rule of law and human rights are often 'too costly', and look at the unprecedented pressures those rights are under today. She outlines why our fundamental rights and freedoms are indispensable, even paramount in upholding democracy and democratic Institutions.
The event will be chaired by Professor Eileen Green, Chair of the British Sociological Association and Professor Emerita in Sociology at Teesside University.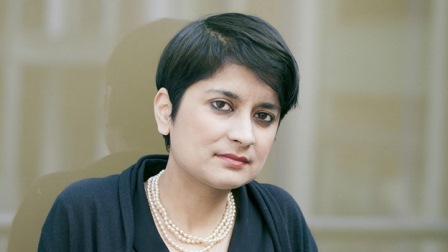 Shami Chakrabarti. Image used courtesy of Liberty.
Tickets are £10.00 full price, with concessions available and can be booked here.
Now are you are you sat down or sitting down while reading this? Have you got or do you have a preference for one form over the other?   If you do, why not join us on the 29th June for English Grammar Day 2015?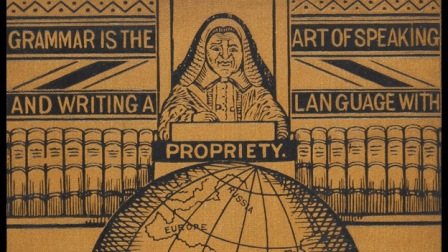 English has a number of ways of expressing the same concept and with approximately 400 million mother-tongue speakers and an estimated 1400 million non-native speakers it has become a diverse, flexible language that continues to adapt, evolve – and provoke strong reactions. Despite – perhaps because of – this extraordinary diversity debates about English usage have been commonplace since at least the 18th century. Jonathan Swift's Proposal for Correcting, Improving, & Ascertaining the English Tongue (1712) warned against the dangers of unregulated language, linking jargon and slang with declining morals and poor social behaviour.
In the 20th and 21st century radio phone-ins, newspaper letters' pages and online discussion forums bear witness to continued enthusiasm for dissecting the state of the nation's linguistic health – more often than not with a particular focus on notions of 'grammatical correctness'.
Recent developments in the National Curriculum have placed the teaching of grammar in schools once more at centre stage and divided opinion among politicians, teachers, linguists, and journalists, as well as the wider public. How have teachers implemented changes to their teaching and learning programmes to adapt to the new syllabuses and assessment criteria? What resources are available for students, teachers and the general public to learn more about English grammar and vocabulary?
What do teachers, professionals, academics and the general public feel is the cultural and educational significance of knowledge about the language? Join us for a day of talks, and feel free to ask our panel of experts to explore any aspect of English grammar from ain't to innit. 
To book a place please see our 'What's On' page
In addition to the above events we also have London and the Nation and A Magna Carta for Women?  taking palce in July.
Gosh! There is a lot going on.  We hope you will join us. 
02 February 2015
2014 saw British Library curators working across diverse themes, including: sport, law, language, gender, ageing and democracy. Through conferences, exhibitions, workshops and collection development, we worked with a range of audiences, uncovering new insights to our collections and learning more about contemporary research. Here are some highlights:
The annual Chartered Management Institute/British Library Management Book of the Year awards ceremony was held in the British Library conference centre on the 3rd February 2014.  Details of the category winners can be found on the CMI website along with videos which summarise each of the books.  The videos were produced by students from Ravensbourne College of Design and Communication.  The overall winner for 2014 was The Ten Principals behind Great Customer Experience by Matt Wilkinson.  We look forward to participating in the 2015 awards ceremony, which takes place on the 9th of February this year.
As part of the public events series linked to the Beautiful Science: Picturing Data, Inspiring Insight   exhibition, we held a public discussion 'Beyond Nature versus Nurture'.  This event brought together social scientists and scientists to discuss how the nature versus nurture debate has been revolutionised by the study of Epigenetics and to debate the moral, ethical and social consequences of the growing understanding of how nurture affects nature. The speakers were Professors George Davey-Smith and Nikolas Rose.  The evening was chaired by Professor Jane Elliott. The discussion is available as a podcast and can also be watched on the library's Youtube channel.
To mark Le Grand Départ of the Tour de France 2014 from Yorkshire, members of the team, with colleagues from across the library, curated and installed a display of collection items at the library's Boston Spa site near Wetherby. The display included accounts of the early days of cycling as a mass pastime and sport, including an 1897 description of a 'bicycle gymkhana', more recent journalistic accounts of the legendary cycling extravaganza, typographical prints responding creatively to the 2011 Tour de France – including Mark Cavendish's Green Jersey win – and the original manuscript of Tim Moore's best-selling French Revolutions, his 2001 account of cycling the entire 3,630km route of the 2000 Tour de France.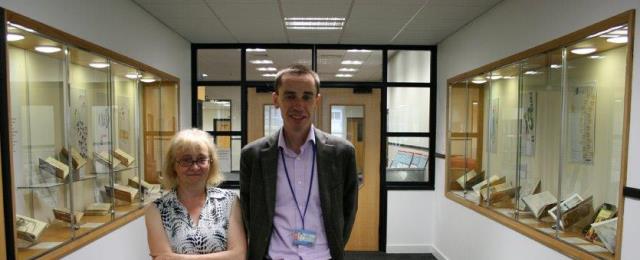 Gill Ridgley and Robert Davies following the installation of Le Grand Tour exhibition at Boston Spa
In addition to the exhibition there was a 'peloton' of blogs written by staff including 'Pedal Power' which explored how patents held by the library shed light on the technical development of the bicycle over the last two hundred years and 'Escorting Stoller's Depart' which reports on the Tour de British Library when members of staff cycled from St Pancras to Boston Spa to mark the start of the Tour de France.
In April we held a one day conference Portraying Ageing: Cultural Assumptions and Practical Implications in partnership with the The School of Language, Linguistics and Film – Queen Mary, University of London and the Centre for Policy on Ageing.  The conference brought together experts from different backgrounds to share and discuss, from a variety of theoretical and practical viewpoints, how age and ageing are not only biological events but also cultural and social constructions and how insights from research can be translated into policy and practice.  They keynote address was given by Professor Lynne Segal, Anniversary Professor of Psychology & Gender Studies at Birkbeck, Guardian Columnist and author of 'Out of Time: The Pleasures and the Perils of Ageing'. The conference was filmed and the videos can be accessed via a page on the Social Welfare Portal.  An overview of the day is also available via the 'Age is in the eye of the beholder' blog post.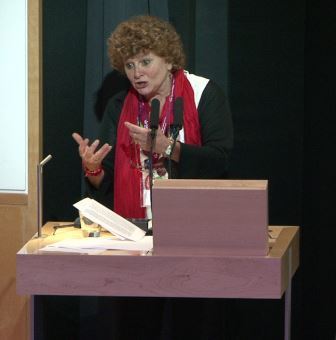 Professor Lynne Segal delivering the keynote address at the Portraying Ageing Conference.
We were delighted to hold the Fourth Annual Equality lecture in association with the British Sociological Association.  This year our speaker was Dr Tom Shakespeare, a senior lecturer in medical sociology at the University of East Anglia and disability rights advocate. Tom's research interests centre on disability studies and bioethics and his publications include: The Sexual Politics of Disability (1996), Genetic Politics (2002) and Disability Rights and Wrongs (2006). He has worked at the World Health Organization in Geneva where he helped write and edit the World Report on Disability (WHO 2011) and has been involved in the disability movement for 25 years.
The theme of Tom's talk was 'Enabling Equality: from disabling barriers to equal participation' and explored what it takes to achieve equality for disabled people, in the era of the UN Convention on the Rights of Persons with Disabilities and 'welfare reform'.  The lecture is available on our podcast page and as a video on the British Sociological Association's vimeo channel.
Members of the team assisted colleagues from across the library in the planning and delivery of the Languages and the First World War International Conference which was held in association with the University of Antwerp and timed to coincide with the opening of the library exhibition Enduring War: Grief, Grit and Humour.  The conference aimed to study how the languages of combatant nations influenced each other; the use of trench slang to both include and exclude individuals; censorship and propaganda; the development of interpreting as a profession; personal communication and silence during and after the war and how the First World War still influences how we all speak today.  The speakers represented a range of academic disciplines and were drawn from across Europe, North America and Australia.  The programme and related blogs can be found on the dedicated conference tumblr page. Some of the twitter feed from the conference is available via Storyfi.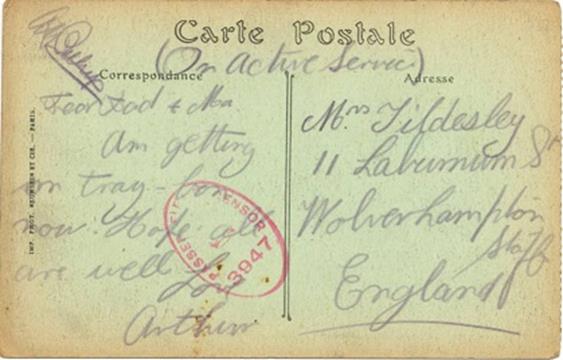 Postcard home: Arthur Tildesley writes to his Mother and Father that he is 'tray bon'.
In June we hosted the inaugural English Grammar Day, which was inspired by renewed political interest in the role of grammar in English teaching and assessment and debates about the cultural and educational significance of knowledge about grammar. EGD 2014 was a sell out event and a forum for reflections on the state of, and attitudes towards, English grammar – in school and beyond – with public contributions encouraged in the form of a lively 'Any Questions' style Panel session. The event brought together academic linguists, teachers, PGCE students, teacher trainers and non-specialists and we look forward to hosting EGD 2015 on June 29 and making this an annual event.
The year also saw British Online Archives made available via remote access for British Library readers.  This is an online platform which brings together digitised images, and descriptions, of collections held in archives and libraries from across Britain.   Collections include the BBC Handbooks and Listener Research, Parliamentary Labour Party records, missionary and colonial papers (recording some of the earliest contacts between Europeans and the populations of Africa, the Americas, and the Pacific), and the archive of the Communist Party of Great Britain.  More information on some of the material available via the service can be found in an earlier Social Sciences blog post.
Holders of British Library Reader Pass can now access these collections from outside our Reading Rooms, using our Remote e-Resources service at https://eresources.remote.bl.uk:2443/login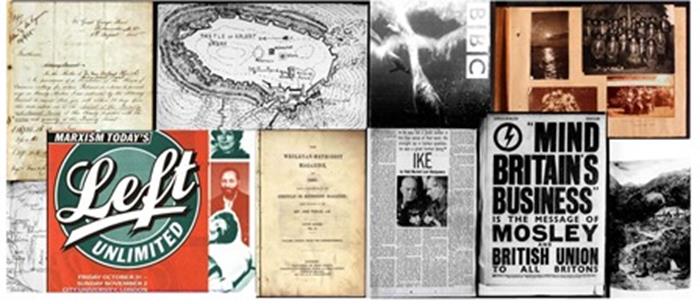 Images taken from British Archives Online.
In partnership with the Institute of Advanced Legal Studies and the Socio-Legal Studies Association we held the third national socio-legal training day.  The theme this year was Law, Gender and Sexuality.  The day aimed to draw attention to archives and content which newcomers to the investigation of intersections between law, gender and sexuality may not be aware of and to consider the methodological and practical issues involved in analysing sources. Information about the programme and details of speakers can be found here and overviews of the day can be found here and here.
We also launched our new series of public discussions 'Enduring Ideas' in partnership with the Academy of Social Sciences.  The series aims to explore some of the key concepts which underpin society.  In the first event, Professor Matthew Flinders, University of Sheffield and author of Defending Politics, discussed 'Enduring Ideas: The Problem with Democracy'.
During the evening Professor Flinders asked and addressed many questions: does the apparent shift from healthy scepticism to corrosive cynicism have more to do with our unrealistic expectations of politics than a failure of democratic politics?  Do the problems with democracy – if they exist – tell us more about a failure on the part of the public to understand politics rather than a failure of politicians to understand us?  Is the problem with democracy is not that it is in short supply but that we have too much of it? He went on to suggest new ways of thinking about politics to ensure not the death but the life of democracy.  A podcast of the talk is available here.
Naturally, this post only provides a snapshot of some of the activities we were involved in, in 2014.  We've enjoyed working with colleagues from across academia; libraries; archives; third sector organisations; professional bodies such as the Academy of Social Sciences, British Sociological Association and the Sociological Research Association, enormously.  It has also been a great way to meet so many members of the public.  We're already looking forward to a new Enduring Ideas discussion, Talk Science, the Annual Equality Lecture and more in 2015.  Keep an eye on What's On for events.
22 December 2014
Jonnie Robinson, Lead Curator of Spoken English, writes:
It's customary at this time of year for individuals, societies, institutions and industries to reflect on the previous twelve months and nominate people, events or phenomena for special recognition. In  November, for instance, lexicographers at the Oxford English Dictionary selected vape [= 'E-cigarette'] as Word of the Year 2014 (succeeding 2013's selfie) and last week BBC Sports Personality of the Year 2014 was awarded to Lewis Hamilton - best driver in a field of 24 (22 of whom apparently had inferior equipment) - ahead of Rory McIlroy - best driver, best chipper and best putter in a field of 175. So, in an equally subjective attempt to combine my two great interests - sport and language - here are my nominations for Sports Word of the Year 2014 selected from examples of interesting English usage in the British sporting press and media:
May (Adrian Chiles commenting on Hull City defence, ITV FA Cup Final): they must be too cream crackered to sort it out.
July (Guardian G2 Tour de France special):  Ey up or allez allez allez?
September (Peter Allis spotting two spectators in fancy dress watching difficult bunker shot, BBC Ryder Cup highlights): I'll tell you what they're two bobby-dazzlers there and is this going to be a bobby-dazzler?
October (Mike Selvey, Guardian Sport): He was, said Smudger, [...] the fellow who would pay the way for all of us, and he was not wrong.
October (Asteras Tripolis, Guardian Sport): The Argentinian scored twice but it was his first-half rabona that sparked a gasp from all inside the stadium.
November (Sachin Nakrani quoting QPR captain, Joey Barton, Guardian Sport): If you're not playing for Liverpool, who couldn't hit a cow's arse with a banjo, how do you get into the England squad?
November (Simon Cambers & Kevin Mitchell, Guardian Sport): Lamri [...] played a handful of minor matches on the Futures circuit, the last recorded of them when he double-bagled in a qualifier in Morocco two years ago.
November (Lizzy Ammon, Guardian Sport): [Moeen Ali] will be leaving his doosra delivery firmly in the locker for the foreseeable future.
December (Dean Ryan, Guardian Sport): "Jackling" [...] is something which can be taught as, apparently, the exceptional Francois Louw is doing with Burgess in training with Bath.
December (Martin Castrogiovanni): The widely reported, extraordinary rant that demonstrated the Italian prop's perfect mastery of the F-word and C-word.
Though not comprehensive, the list encompasses six sports: cycling, football, cricket, tennis, golf and rugby and entries were chosen to offer a range of linguistic research enquiries.
Four terms stand out as they are restricted to the discourse of their respective sports. Of these, two are loan words: rabona [= Spanish for 'to play truant'] - an impressive skill whereby a footballer kicks the ball by wrapping the kicking foot behind the standing leg thus appearing to kick the ball cross-legged; and doosra [Hindi/Urdu for 'the second/other one'] - a ball in cricket which spins away from a right-handed batsman but is delivered with a bowling action that appears to suggest the opposite. The other two are examples of the kind of jargon that inevitably occurs in descriptions designed for a specialist audience: jackling [= a blend of 'jackal' and 'tackle'] - the skill in rugby of winning the ball in a tackle before a ruck has been formed; and double-bagel [= a visual reference to two zeros] - a 6-0, 6-0 defeat in a three set match of tennis.
Six entries demonstrate how vernacular forms occur even in relatively formal sports discourse. Two items might best be categorised as dialect forms: ey up [= 'hello' or 'watch out'] and bobby-dazzler [= 'someone/something striking or impressive']. Dialect is extremely useful shorthand for conveying a sense of location and/or identity. Three are slang forms typical of an informal register: cream crackered [= rhyming slang for 'knackered', i.e. 'exhausted'], Smudger [= nickname for anyone called Smith] and couldn't hit a cow's arse with a banjo [= 'wildly inaccurate in front of goal']. This deliberate use of slang creates a sense of shared conversation between presenter and viewer/listener or between journalist and reader. Finally, swearing, though generally still taboo in mainstream press and media sports coverage (albeit part and parcel of the live experience itself), is included here as the Guardian remains unique among British newspapers in printing the C-word and F-word without resorting to asterisks to represent the letter <u>. I've often wondered whether this is confirmation of the paper's sociolinguistic maturity or more a reflection of childish editorial glee.
Most of the terms above are documented in authoritative dictionaries in the British Library's collections, but some are yet to appear in print reference works, so their presence in our newspaper collections is an invaluable resource for language scholars monitoring the continued evolution of English. For anyone interested, the Oxford English Dictionary (online) includes doosra, bobby-dazzler and cream crackered, the Collins English Dictionary (online) has an entry for jackling and includes rabona in a set of 'new word submission[s]' under consideration, while the Macmillan Dictionary (online) records bagel as 'in tennis, a score of 6-0'. The New Partridge Dictionary of Slang and Unconventional English noted Smudger in the mid-20th-century, while ey up appears in the 19th-century English Dialect Dictionary. Finally, the first person I ever heard use the phrase couldn't hit a cow's arse with a banjo was my brother-in-law who used it on a golfing holiday in the late 1980s to describe his wayward driving (and his unpredictable long-irons, inconsistent approach play and inept putting). I've not found it in a print publication, but I'm sure he'd be delighted to know it's accorded an entry at Urban Dictionary (online) and features in George Sandford's English Idioms blog.
And this year's winner is ... it's got to be bobby-dazzler, hasn't it?