11 July 2014
Keen observers of British Library blogs will have noticed a profusion, perhaps that should be a peloton, of posts related to the Tour de France 2014.  In this post Jerry Jenkins, Curator for International Organisations & North American Official Publications, describes his motivation for joining the 'Tour de British Library':
On Friday last week I had the pleasure of riding my folding Brompton bike, with colleagues on a tandem, from the Library's site in Boston Spa to Selby and back again. This was our contribution to the Tour de British Library, a monumental two-day cycle by library colleagues between the British Library's twin sites at St. Pancras in London and Boston Spa, Yorkshire to celebrate Le Grand Départ of the Tour de France 2014 from Leeds.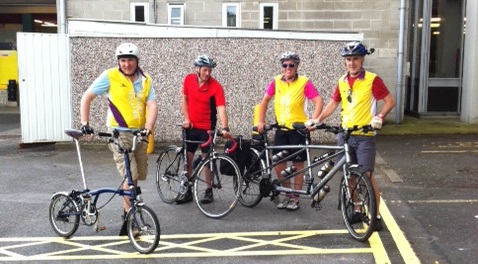 Jerry Jenkins and colleagues Roy, Lynne and Alastair preparing for their departure from Boston Spa to Selby.
When plans were drawn up to unite our London and Yorkshire sites with this two day, two-hundred mile ride to coincide with the start of the Tour de France, I was keen to take part. Aside from the obvious pleasure of going for a spin in the country, there is a good reason why this endeavour is appropriate: a large portion of the Library's collections are stored in Boston Spa.
Indeed, the 'Roswellesque' sounding Building 24, where official publications are stored, contains linear mile upon mile of shelving holding a treasure trove of information, debate, statistics, discourse, reports, pamphlets and periodicals on every conceivable subject, including a few items on cycling and bicycles.  In the daily life of the Library these publications quietly trundle back and forth to and from Boston Spa to the Reading Rooms at St Pancras in their own "petit depart".   So my excursion to join colleagues on the Tour de British Library for the final stage was, in part, homage to the collections.  The way they make their way up and down the country illustrates how the route between London and Yorkshire is well-worn with the transference of knowledge between the two British Library sites.
It was also a way of supporting other colleagues who had set off the day before from London with a copy of Douglas Cowie and Matthew Shaw's book, Stoller's Depart to Boston Spa as part of the Tour de British Library.  Stoller's Depart is an especially commissioned work to coincide with the Yorkshire Grand Depart.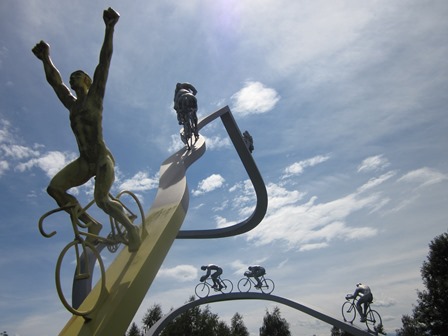 Le Tour de France dans les Pyrénées, by Jean-Bernard Métais.  Photograph by Jerry Jenkins.
To celebrate the Tour de France the Library currently has two displays of related material: The Grand Depart -Tour de Lead Graffiti at St Pancras and Le Grand Départ at Boston Spa.  Both displays can be viewed free of charge.
A resource guide to the library's holdings of Official Publications can be found here. 
03 July 2014
Sue Ashpitel, Business and Intellectual Property Collections Manager writes:
As some of the British Library's intrepid cyclists set off from St Pancras to Boston Spa to celebrate Le Grand Départ of the Tour de France 2014 from Leeds, we thought we should encourage them by reminding them just how much more arduous (yet strangely stylish) their trek north would have been 200 years ago at the very dawn of the bicycle age.
From our historic collection of British patent specifications we can show them coachmaker Denis Johnson's patent of 1818 for a "pedestrian curricle" (GB4321/1818).  This machine, popularly known as a Hobbyhorse, lacked pedals or any sort of driving gear and was, essentially, a sort of ride-on scooter. Intended to diminish "the labour and fatigue of persons in walking", Johnson's Hobbyhorse was closely based on the Draisienne invented a little earlier by the German Karl von Drais.
Well, pedals, tyres, brakes, a chain and some gears may be making the journey north so much easier for our colleagues than their regency counterparts but, when it comes to the clothing, we think a frock coat and top hat win the style race hands down!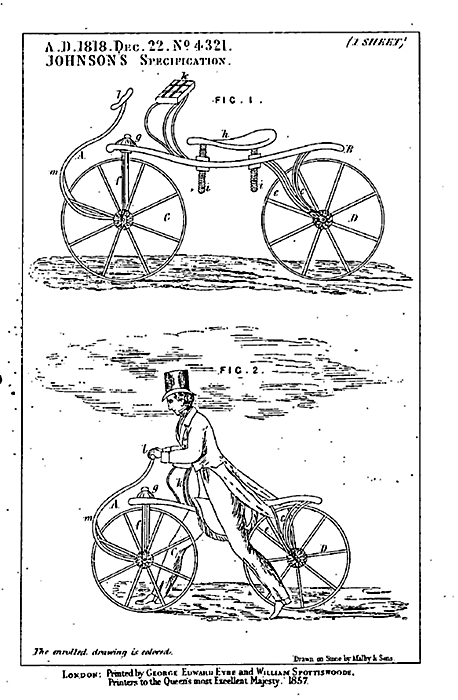 Image from Patent GB4321/1818. Johnson's specification for the Pedestrian Curricle or Velocipide
It would take another 60  or 70 years of development, hundreds of patents and a detour into the high-rise technology of the penny-farthing for the pedestrian curricle to evolve, by the late 1890s, into a bicycle familiar to today's cyclists. From this point on there was no major change in the shape and general appearance of the bicycle until the early 1960s when Alex Moulton patented his small-wheeled Moulton "F Frame" cycle (GB907467 of 1962).
To find out more about our collection of British patents you can contact our reference team in the Business & IP Centre on 020 7412 7454 or by submitting a query online.
Meanwhile, we wish our colleagues bonne route!
11 June 2014
With the World Cup starting this week, we post this piece from Germanic studies curator Susan Reed who writes about one particularly relevant donation:
We receive many donations in the British Library, but one of the more unusual ones to pass through my hands arrived just in time for the 2006 Football World Cup. Football Heroes was described as 'The complete album with over 700 Soccer Worldcup [sic] trading cards', which I have to admit made my heart sink for a moment: did we really want a football sticker album?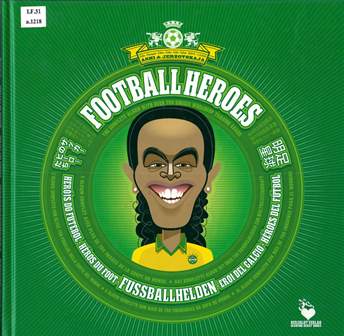 Ashi & Jerzovskaja [ed.]  Soccer heroes : the complete album with over 700 soccer World Cup trading cards = Fussball Helden : das komplette Album mit über 700 Sammelbildern zur Weltmeisterschaft (Zürich, 2006). LF.31.a.1218
But Football Heroes was in fact a clever and brilliantly executed homage to the albums many of us remember from childhood. It was the brainchild of Swiss graphic designer Jerzovskaja who explains: 'I could never afford the expensive collector pictures as a child … So I started to draw soccer pictures myself' (p. 11). This sowed the seed of what would become Football Heroes, for which Jerzovskaja brought together 50 artists to draw the teams competing in the 2006 World Cup and some famous national teams from the past.
Each team is shown  in basic sticker album style –  mugshots of each member arranged in a specific order – but the artists were free to choose their style and medium, and the pictures show a wide range of approaches. Some refer obviously to the team's nationality, such as cartoonist Beach's depiction of the 1934 Italian squad as ancient Romans, while some hint less directly at national culture: Christian Montenegro portrays the 2006 Iranian team in a stylised and modern form which nonetheless subtly recalls classical Persian art. Others go against expectations: the Argentinian duo 'Stupid Love' subvert their country's macho stereotype by depicting the 2006 team in pastel colours and a kind of 'Hello Kitty' style, surrounded by cupcakes and cute smiley animals.
One  of the most striking – and daring – depictions is again by Beach, and shows the 1958 Brazil team in series of images which together make a pastiche of Leonardo da Vinci's 'Last Supper' with Pelé in the role of Saviour. The book ends with a series of imaginary players drawn by Jerzovskaja with wonderful (and almost believable) names like 'Ringo Thickplank', 'Electro Zamboni' and 'Brickwall van der Tor'.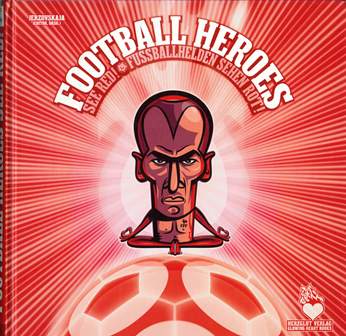 Jerzovskaja [ed.]   Football heroes  see red! The complete sticker album for the European Football Championship = Fussballhelden sehen rot! Das komplette sammelbilder-album zur fussball-Europameisterschaft; (Zürich, 2008). LD.31.b.1498
Two years later we received another album, Football Heroes See Red!, marking the 2008 European Championship and featuring 38 artists from 12 European countries. As well as the team 'sticker' pictures, this album includes a number of full page images, including 23 of the French player Zinédine Zidane. According to Jerzovskaja, Zidane 'embodies [the] notion of duality in the game,' which he wanted to explore in this album, 'the moment where passion spills over into something darker' (p.7).
But not everything is dark here. For example, the 2008 England team members are humorously portrayed (by Beach again) as missing pets. In a reference to his long absence following injury at the 2006 World Cup, Michael Owen becomes a heavily bandaged rabbit on a poster inscribed 'Lucky. Black + white marking. Slight limp'.
Jerzovskaja has gone on to produce other Football Heroes albums, including one devoted to the team he has followed since his teens, FC Winterthur. As well as expressing his passion for football, they are also proof of his commitment to promoting the work of graphic and comic artists from around the world.
15 May 2014
The Football World Cup starts next month, and the British Library is celebrating the event on 23rd May with a conference about football and culture. Our collections include fascinating titles about sport in general and football in particular. Barry Taylor curator for Hispanic Studies describes one of them and shows how football and culture are closer than one might think.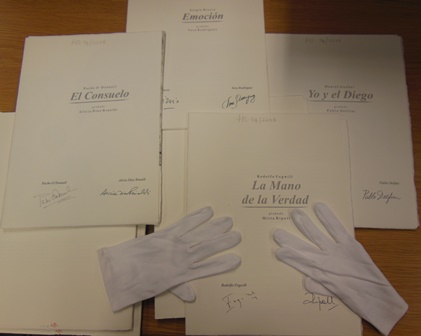 El libro homenaje a Diego A. Maradona. San Martín Pcia Bs As : SAFE, Sociedad Argentina de Fomento Editorial, 2001 British Library shelfmark: HS.74/2205
England fans may well remember Diego Maradona as the man whose hand ball won Argentina victory over England in the quarter final of the 1986 World Cup and paved the way to Argentine triumph over West Germany.
In his native country he is of course a god (to put it mildly) and this item from the BL collections points up some cultural differences between the two footballing nations who faced each other on 22 June 1986 at the Estadio Azteca in Mexico City.
'Cultural' itself is a word with quite different connotations in English and Spanish.  In vernacular English, culture lives in art galleries and concert rooms.  In Spanish, it's a much broader term, commonly used in the sense in which only anthropologists use it in English.  It's the whole way of life, as much in the streets and on the terraces as in the academy.
This lavish production also demonstrates the integration of the Argentine intellectual into the life of the nation.  In Latin America, poets are seen as the 'unacknowledged legislators of the world', speaking for the nation in times good and bad.  It's eloquent that the prefaces of this volume are by Rosa María Ravera ( President of the National Academy of Fine Arts) and Daniel Arcucci (Maradona's biographer and editor of the prestigious daily newspaper La Nación)
El libro homenaje a Diego A. Maradona contains texts by ten well known Argentine authors, illustrated by original prints by ten well known Argentine artists.  The artists are: Alicia Scavino, Alicia Díaz Rinaldi, Mirta Ripoll, Leonardo Gotleyb, Lucrecia Orloff, Carlos Scannapieco, Ricardo Tau, Pablo Delfini, Alberto Arjona, and Vera Rodriguez.   The authors are: Roberto Fontanarrosa, Pacho O'Donell, Federico Andahazi, Dalmiro Sáenz, Martín Caparrós, Elvio Gandolfo, Rodolfo Fogwill, Leopoldo Brizuela, Sergio Bizzio, and Daniel Guebel.  Authors and artists have signed each copy. It is an edition of 505 copies.
Measuring 42 x 33 cm, printed on hand-made paper, physically it consists of a  booklet (24 pages); another booklet with facsimiles of the texts (20 pages); 13 unbound quires; a postcard; and a pair of gloves..  This last element a fitting monument to the Hand of God.
 A Cultural History of the World Cup, a one day conference at the British Library, will be held on Friday 23 May 2014, 09.30- 17.00. Tickets £30 (full price), £15 (concessions) 
11 February 2014
Andrew Rackley, a collaborative doctoral student at the British Library and University of Central Lancashire writes:
I have a confession to make: I am a bit of a Luddite. I don't really get technology. I graduated as a historian, a medieval one at that, before qualifying as an archivist. My mother was a librarian and my father a paper maker, so books are kind of 'my thing'. Of course I maintain a web-presence, I have a Twitter account, although it's a little on the quiet side; I subscribe to Facebook, have done for a decade, not that it helps me understand quite why I do so; and I even have a smart-phone, which I'm fairly sure operates a considerable number of IQ points higher than myself. So how did I find myself at the British Library working towards a PhD entitled 'Archiving the Games: collecting, storing and disseminating the London 2012 knowledge legacy', a project that is principally interested in digital archives? The answer is quite simple really: I like sport.
As I write, I find it hard to disassociate myself from the excitement surrounding the opening of the 2014 Olympic Winter Games in Sochi, Russia. Not everyone will share in my enthusiasm, the Winter Olympics sometimes feels like it's considered the less glamorous cousin of the Summer Olympics – winter is to Eddie the Eagle as summer is to Usain Bolt – no disrespect to Eddie or the Winter Games of course; maybe it is just that the UK hasn't had quite as much success on the snow and ice as it has the track and field. On Sunday, Great Britain secured a first medal on snow, matching the haul from Vancouver in 2010, where Team GB took home one solitary medal (albeit gold). In fact, over the twenty-one Winter Olympics to date Britain has claimed a total of twenty-three medals compared to the sixty-five obtained on home soil in 2012 alone. Beyond this, Britain has never hosted the Winter Olympics, whereas no other city has played host to the three summer Games that London has.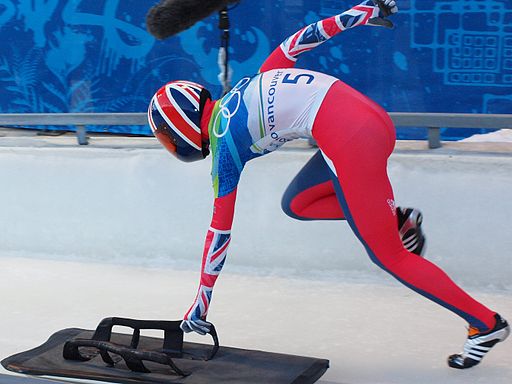 Above: Great Britain's Amy Williams won gold for the Skeleton at the Vancouver Olympic Winter Games in 2010. By jonwick04 [CC-BY-2.0], via Wikimedia Commons
Which brings me neatly back to London, where I now find myself, still hardly able to believe that eighteen months have disappeared since waving goodbye to the Olympics. During this time, there has been a lot of talk about legacy, often about how it has not yet delivered one (see also Donavan, 2012), but little attention has been paid to the documentary residue of the Games; that body of material, both analogue and digital, that resides in our museums, libraries and archives as testament to the nation's heritage. This is where my interest lies. This is London 2012's knowledge legacy.
There are many issues surrounding the archiving of an occasion such as the Olympic Games, not least of which is the scale of the event. London 2012 Olympic and Paralympic Games were just under six weeks in the execution, but over a decade in the planning, during which time a multitude of records in a great variety of formats were created. Alongside many physical records held at The National Archives, a vast amount of digital material is also available including the British Library's Web Archive, which includes Winning Endeavours, a page devoted to digitizing images from London's Olympic history, and the People's Record – a website dedicated to documenting the efforts of community groups around the UK as they entered into the Olympic spirit and joined in with the Cultural Olympiad. In addition, the British Library's Sport & Society website takes a look at the Olympics through the lens of the social sciences, suggesting many different uses to which records of sport can be put, many of which are not always obvious.
The Olympic flame may now be burning bright in Sochi, but the legacy left to London doesn't reside solely in the stadiums, housing or participation the media constantly reminds us of. There are many stories waiting in memory institutions, in the knowledge legacy, that serve to demonstrate how important sport can be to bring people together and unite communities. The scope of the records generated by the Olympics may have presented challenges for collection and storage, but the sheer variety of content available to disseminate to researchers is what makes these records a fantastic resource.
Now, if you'll excuse me, I believe the Curling is about to start, and I do like a bit of sport.
Further information and references

For extensive collections on sport, from Eddie the Eagle to Usain Bolt to curling, please search the British Library's catalogue here: Explore the British Library.
Donovan, T. (9 August 2012) London 2012: Olympics Job Legacy 'falls short'. BBC News.
For a Google Search on Olympics Legacy articles, click here.
---
About the author: Andrew Rackley is a collaborative doctoral student at the British Library and the University of Central Lancashire. His research principally focuses on how a national institution, such as the British Library, documents a Mega-Event like the Olympics, and his interests include sport and the relationship between memory and archives. Follow him on Twitter @andy_rack.
27 August 2013
Gill Ridgley, Lead Curator for Sociology, Cultural Studies and Sport writes about the background to the FA 1863 Minute Book which is now on display at the British Library.
The British Library and the Football Association joined forces on Wednesday 21 August to celebrate the 150th anniversary of the setting down of the laws of football.
Amid much excitement, the FA Minute Book, which contains the first laws of the game, was ceremoniously placed in an exhibition cabinet in the Library's Treasures Gallery alongside a small selection of football books in the British Library's own collections. Present were numerous eager media representatives, FA officials, and most notably, Greg Dyke, the Chairman of the FA, and Roy Hodgson, the England football manager.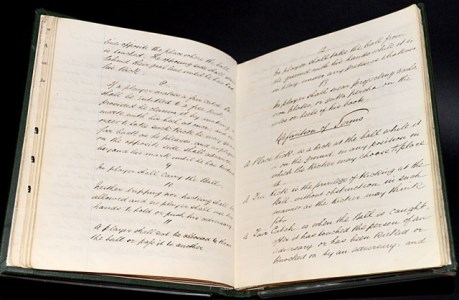 Above: Football Association 1863 Minute Book – contains the 13 original laws of football. Photo by British Library Image Services. Copyright © The British Library
The minute book, which is on loan to the British Library for the next four months, contains the deliberations of eight men who gathered on 26 October 1863 in the Freemasons Tavern in Holborn. Their aim was to draw up a series of laws regulating a game which was played throughout the country, but which was bedevilled by different interpretations of how matches should be played. By providing a proper legal framework, the game was able to spread much more widely, and British men working or living abroad were quick to foster it in their adoptive countries. Football under FA rules was rapidly taken up in South America and Italy, exported there by engineers, scientists and expatriates.
There are only 13 laws in the minute book itself, a far cry from the many rules now in place, and these were carefully written down by Ebenezer Morley (the first secretary of the FA) in a neat and legible hand. One of the rules sets down the dimensions of the pitch; another describes the goal (two upright posts with no crossbar) and another – most importantly - declares that 'no player shall carry the ball'. This particular prohibition finally helped to distinguish the game from rugby football, and both games were thereby able to develop, and flourish, independently.
The small display is actually the first football-related exhibition held by the Library and contains a tiny selection of early soccer publications chosen by Gill Ridgley and Jude England of the Social Sciences team. Among them are fanzines, early football calendars, manuals and referees' guides to the laws. There are also sound clips recalling the exploits of the great Stanley Matthews. Surrounded by these smaller treasures, the FA Minute Book holds centre stage,  co-existing very comfortably with iconic items like Magna Carta.
13 December 2012
Simone Bacchini writes:
It sometimes feels like the case for sport as a vehicle for social change is a bit overstated. Yet, the announcement that London has bid to host the 2018 Gay Games (http://tiny.cc/zl38ow) might be, well, a game changer.
The Gay Games was started in San Francisco, in 1982. Originally, it was called "Gay Olympics" but a lawsuit filed by the International Olympic Committee (IOC) meant that the name had to be changed. To date, there have been eight editions, mostly held in North America. The Gay Games is the world's largest sporting and cultural event organised by and for the LGBT (lesbian, gay, bisexual, and transsexual) community. Participation, however, is not restricted to athletes who identify as LBGT and, according to its statute, the label includes "transgender, transsexual, intersex, queer, questioning people, and of course, an essential constituency for change: straight allies." http://tiny.cc/sc48ow

Sporting events for minority groups, some of them facing varying degrees of discrimination have a double function. The strengthen in-group identity, by bringing together those who might feel isolated in the wider society in which they live. They also offer a chance of visibility, often helping dispel negative stereotypes.

Sport is one of the favourite arenas in which socially approved norms of gender behaviour are displayed, learned, and reinforced. So, it is often the case that gay men are not associated with sporting prowess, while women who engage in sport, especially the more "unfeminine" ones – such as boxing – are more or less overtly thought of, "accused", I am tempted to say, being lesbians. Which of course may or may not be true.

Obviously, for many LGBT people sport has never been an issue: they simply aren't interested. But for many others the world of competitive sports has been a difficult, often frightening one. For the non-heterosexual person, especially when young, the playing field and the locker rooms can feel like no-go areas, unless you're not open about your sexuality or this is not obvious. And that's a shame, frankly.

The Paralympics has been an important tool in changing views of and attitudes towards disability. Could the Gay Games do the same for homosexuality, bisexuality, transgenderism, etc? More visibility would certainly be good, although it remains to be seen the extent to which the media would be covering the event. And would attitudes be changed in Britain, if London were to win the bid? Well, that's a research topic for existing and aspiring social scientists and sociologists of sport out there. The future of sport may look a bit pinker, after 2018!
References
Journal of Homosexuality. Binghampton: Haworth.
London Reference Collection: SPIS Journals Display (open access)
Anderson, E. (2009). Inclusive Masculinity: The Changing Nature of Masculinities. London: Routledge.
General Reference Collection: SPIS306.7662 (open access)
Symons, C. (2010). The Gay Games: A History. London: Routledge.
Document Supply: m11/.11320
01 October 2012
Simone Bacchini writes:
With London 2012 well and truly over, it's time to think about what to do next. The topic was addressed by my colleague Gill, last week. So forgive me if I return to it. I'm not talking about Sochi 2014 or Rio 2016. I'm not even talking of actual sport; no sweaty bodies speeding along tracks or pulling punches in front of screaming crowds. It's people sitting at desks that I have in mid, a bit like me, now.
When we began working on the Sport and Society website, we didn't really know how exactly it would develop. What we did know was that we hoped it would be a useful resource for people interested in looking at sport – in particular the Olympics and Paralympics – 'through the lens of the social sciences.'
Over the past few months, we've added material to the website: articles written expressly for it and pieces which had already appeared elsewhere and that we were kindly allowed to use. By hosting events like the successful "Sourcing Sport" one-day conference and attending conferences hosted by other institutions, we were able to make contact with researchers based in countries as diverse as Argentina, Canada, China, and Turkey. Some of them resulted in original research now freely available on the website. This might sound a bit like we're blowing our own trumpet (and maybe we are. But only a bit!), but that's what we aimed to do: to facilitate research.
I don't know if – like the organisers of London 2012 – we'll be able to have 'inspired a generation' (albeit of researchers). But what we hope we'll have achieved is to have pointed out – to some maybe for the first time – how wide the scope for researching sport is.
The sociology of sport is a subfield of sociology now in its full maturity. Journals like the Sociology of Sport Journal and the International Review for the Sociology of Sport – to name only two – regularly publish innovative research on various aspects of the social side of physical activity. Publishers like Palgrave Macmillan and Routledge – and again, I'm naming just two – have been publishing monographs and edited volumes on topics that range from the discourses of Olympism to the soon-to-be-published Routledge Handbook of London 2012 Olympic and Paralympic Games. Cyberspace has been a hub of activity too. As well as the marvellous Sport and Society website (yes, now we are blowing our own trumpet!) to the resource-rich Winning endeavours, plus countless others, the internet has been instrumental in creating and maintaining research communities.
So where to now? Well, at some point in the future the Sport and Society website will have to wrap up and be archived. It will become part and parcel of the London 2012 legacy. But there is still time. Time to be inspired to explore new research avenues or revisit old ones. There is plenty of primary material: from newspaper reports to Government documents; from oral history recordings to TV footage.
Here at the British Library we aim to continue to assist all those who have ideas they want to explore. So, as well as to your local pool or running track, the next most important journey you might make now is to one of our reading rooms. We are here to help.
References
Sociology of Sport Journal. Champaign, Ill: Human Kinetics Publishers.
Document Supply shelfmark: 8319.696830.
International Review for the Sociology of Sport. London: Sage.
London Reference Collection shelfmark: ZA.9.a.188 (last 12 months available in Social Sciences Reading Room, open access: SPIS Journals Display).
Chatziefstathiou, D. and Henry, I. P. (eds.). Discourses of Olympism: From the Sorbonne 1894 to London 2012. Basingstoke: Palgrave MacMillan.
London Reference Collection: SPIS 796.4801 CHA 12 (open access).