23 September 2012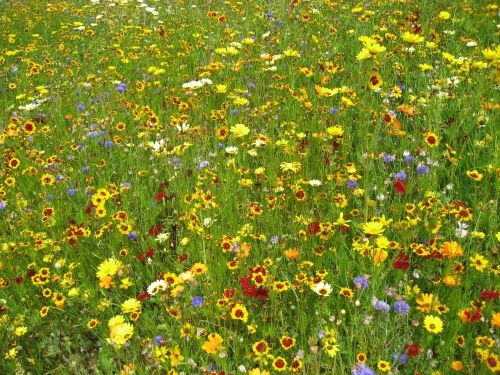 image: Bettis
Boris Johnson, in his speech outside Buckingham Palace after last Monday's parade spoke of a 'tear-sodden' farewell to the Olympic and Paralympic Games, and this just about summed it up for most of us. It hardly seems possible that seven years have elapsed since the Games were awarded to London, and that all the milestones that we passed – the clearing of the Games site, the creation of the logos and mascots, the completion of the venues, the planting of the Park, the inauguration of the Mobot, and so on and so forth, have now been done and dusted. Everything we did and said: the controversies, the bright ideas, the decisions, the objections, the recommendations and the action itself are officially  'history'.
Athletes, coaches, policy makers, performers, volunteers, media, researchers, official bodies, schools, archives, museums and libraries - numerous people and institutions have played a role, large and small, in putting London 2012 on the map. How many meetings have been held to talk logistics? How many people have been ticking off items on their 'to do' lists over weeks, months and years? It's impossible to imagine all that activity in retrospect.
So what are we left with, and what do we do next? The word 'legacy' has been used almost ad nauseam in connection with the event, but in some ways it is the most important factor of all when a country stages an Olympics and a Paralympics. If you don't take legacy seriously the positive aspects of the Games can evaporate or decay, and neither of these things are what we want for GB.
As with the preparations for the Games, we are all involved in different ways with legacy, and we all have separate responsibilities to give it its best chance. At the BL we aimed to do what we could to enhance the nation's archive of Olympics & Paralympics research material, working with LOCOG and other Games makers to collect the vast amount of publications produced by these organisations; searching out UK domain Games websites and archiving them, supporting initiatives like the cultural Olympiad, staging the Olympex exhibition and showcasing our collections through websites like Winning endeavours and Sport and society. We hope our contribution to the legacy of the Games will last for generations and be used by thousands of people wanting to find out more about what actually went on in those years of planning and performance from 2005 to 2012. Other archives like TNA will have done the same thing and will be hoping for the same things too.  So for us, the work continues, tracking down those errant publications, keeping an eye on what's being published as the years go by.
'What next?' is effectively all about legacy. The IOC & the IPC will want a thorough audit done of these Games, so that lessons learned can be passed on to the next host city. The world of academia will be particularly caught up in this next phase of the London 2012 process, analysing what happened, identifying what has changed and what may change in the future. Years may elapse before firm conclusions are reached, but let's hope that the Games legacy blossoms like the Olympic Park.
31 August 2012
Simone Bacchini writes: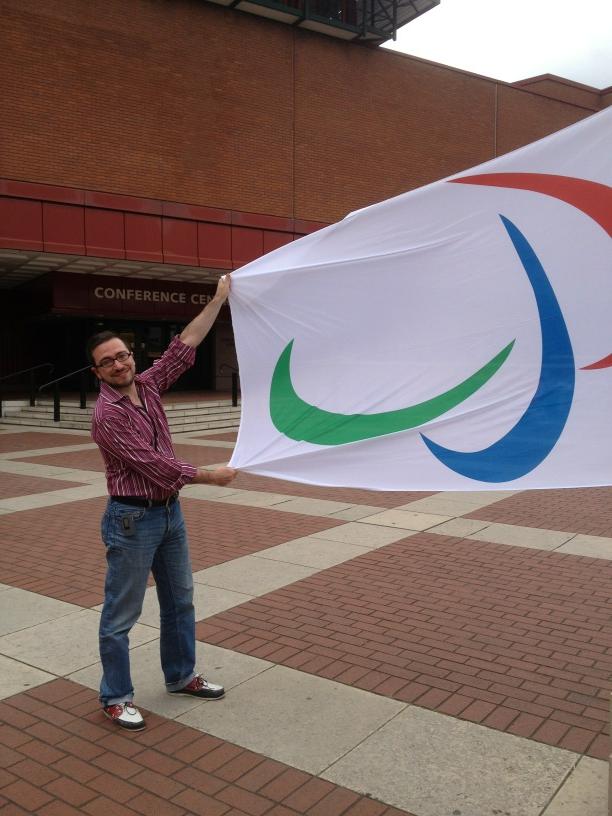 If you're expecting a balanced, unbiased article on the Paralympic spectacle I'm afraid you will be disappointed. To my surprise, the level of excitement I've been experiencing has been rather startling. Partly, it may be due to a semi-conscious desire not to let go of the party atmosphere, the general sense of excitement that took hold of Great Britain, and especially London, during the Olympics. I may be generalising, but I think the Games made us fell good about ourselves and – like all good parties – they gave us a break, albeit a temporary one, from the daily worries of our challenging times. But like all parties, the Olympics too ended. Except that they didn't, really; the Paralympics got it started again. 
Undoubtedly, for the host city and the host country, both the Olympics and the Paralympics have a special value. They are occasions to showcase the Nation; to project a preferred image, both to outsiders and, crucially, to itself. In the case of the Paralympics, an extra layer of meaning is added and it has to do with the way we – as a society – view disability. Of course one can't be naïve; a few days of highly visible elite sportsmanship will not translate instantly into the removal of all barriers, some of them physical, some cultural and psychological, that still affect the live of disabled people. For every Oscar Pistorious (isn't he great?), there are probably hundreds of people who find it difficult to go the office because of architectural barriers and transport systems that are not fit for purpose. According to data published in the Office for National Statistics Labour Force Survey (http://tiny.cc/7oiwjw), in 2009 there were 1.3million disabled people available for work in the UK. Of those, only half were in employment, compared with 80 per cent of non disabled people. There are certainly complex reasons behind this but certainly part of the problem has to do with perceptions of disability, which in turn has to do with still insufficient visibility of disability itself and of people with disabilities. And this is where the Paralympics and the attention given to them can and does help.  
The first International Stoke Mandeville Games for the Paralysed, held in Rome from 18th to 25th September 1960 received little attention. I wasn't able to find a single article in The Times for the period concerned (but I'm still searching!). During the Games the largest Italian daily, Corriere della Sera, only published three articles on the event which, after all, was being held in the Country's Capital. According to The Times (31/08/2012), 20 years ago the Barcelona Paralympics had only one British TV programme devoted to them. It is therefore impressive that this time Channel 4 was willing to pay £9million to outbid the BBC for the rights to broadcast the Paralympics, promising around 500 hours of coverage over the 11 days of the event. So far the bet appears to have paid off. The viewing figures are stunning: peak viewing of 11.2 million and an average of 7.6 million viewers for the stunning opening ceremony. And let's not forget the 2.4 million tickets sold. In contrast, according to The Times, NBC - the US broadcasters – will only show its viewers a 90-minute programme with highlights on September 16. This in spite of the fact that the US has 340 athletes in the Games, and the UD disabled population is estimated at around 38 million. In other countries, the situation is likely to be worse. Clearly, there's still work to be done. 
But does this all matter? And don't paralympians want our attention to be focused on their sporting performances, rather than on whichever disability they may happen to have? Are we – the able-bodied viewing public – patronising when we watch the Paralympics with added interest and Paralympians' performances with added admiration? I may be wrong on this, but I don't think we are. In my view, paralympians – just like any disable person – are who they are not in spite of their disabilities but because of them. Impairments are facts of life; just like skin colour and sexual orientation: they just exist. The Paralympics, among other things, can help society become more aware and accepting of this fact. In addition, they are fun to watch and an opportunity to be excited by the athletes' physical prowess and sheer determination. On top of this, they can help change attitudes. So in this case – but alas not in the Paralympics or the Olympics – everyone's a winner!
24 August 2012
Simone Bacchini writes: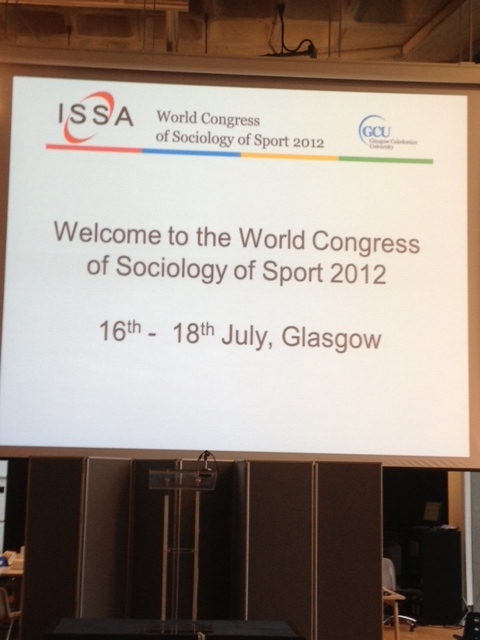 The organiser of London 2012, Lord Coe, has demanded more compulsory sport in school 'to capitalize on the enthusiasm generated by the Olympics', as the London's Independent (http://tiny.cc/hd1niw) reports. As I wrote in a previous post, the words 'compulsory' and 'sport' in the same sentence still have nightmarish reverberations for me. However, I'm willing to reconsider. Especially if Professor Peter Donnelly's invitation to allow people to be bad at sports is taken on board. 
Peter Donnelly is a professor in the faculty of kinesiology and physical education at the University of Toronto. He was only one of the numerous speakers who presented papers at the recently-held world sociology of sport congress (ISSA), at Glasgow Caledonian University, 16th – 18th July 2012. The title of this year's event was: "Sport: Challenging Boundaries". And indeed, that's exactly what it did.  
Over four days, young researchers and experienced academics from numerous countries presented their work. In parallel sessions, topics such as the evolution and future of mega-events, the inclusion/exclusion of gay and lesbian in sports, corruption and clientelism in Argentine football, and the increasingly vague meaning of words such as 'sustainability' in Olympic bid documents were addressed and discussed.  
I don't have the space to give even a brief summary of all the papers that were presented. Hopefully, some of them will find their way onto the pages of the International Review for the Sociology of Sport, as well as other media. Among the most attended papers were those dealing with various aspects of the Olympics. Various interpretations of the notion of 'legacy' were explored; questions were asked as to what exactly can be considered a legacy, and whether it can be measured.  
Perhaps unsurprisingly, a lot of attention and criticism was devoted to the IOC and the often perplexing lengths governments are willing to go to in order to win an Olympic bid. In fairness, neither the Games nor the IOC were depicted as entirely negative or malevolent. But it was refreshing to see the 'sociological imagination' applied to examine some extravagant claims and to question commonly-held assumptions, such as the ability of the Olympic to 'inspire a generation' and to create harmony and smooth out conflict often ascribed to sport.  
Another theme that was explored was the extent to which sport is and can be truly inclusive. Some fascinating papers explored the links between patriarchy and the world of sport. To a large extent, sport remains a favourite arena for the displaying and the reproduction of dominant ideas of masculinity and heteronormativity. However, as Jonah Bury, of the University of Bristol, pointed out with reference to English association football, the way in which footballers are expected to 'come out', i.e. through the media, can be problematic in itself. Yet, it is true that overt gay participation in main sporting events is still minimal and is a source of 'invisibility'. This can be also said of the presence of women in the world of sport, in which sport reporting was included. According to one speaker, in spite of the undeniable advances that have taken place, it is still predominantly males – for example – that act as experts in the world of sport reporting.  
It is not possible, here, to do justice to the scope of research that was presented in Glasgow. What was clear, however, was the fact the field of sport sociology has reached maturity. There are innumerable areas of investigation to be discovered and re-discovered and their relevance extends far beyond the realm of the individual sport or sports concerned. Hopefully, this blog, the Sport and Society website and, ultimately, the resources of the British Library will assist present and future researchers. It is certainly my hope that they will.
27 July 2012
Simone Bacchini writes: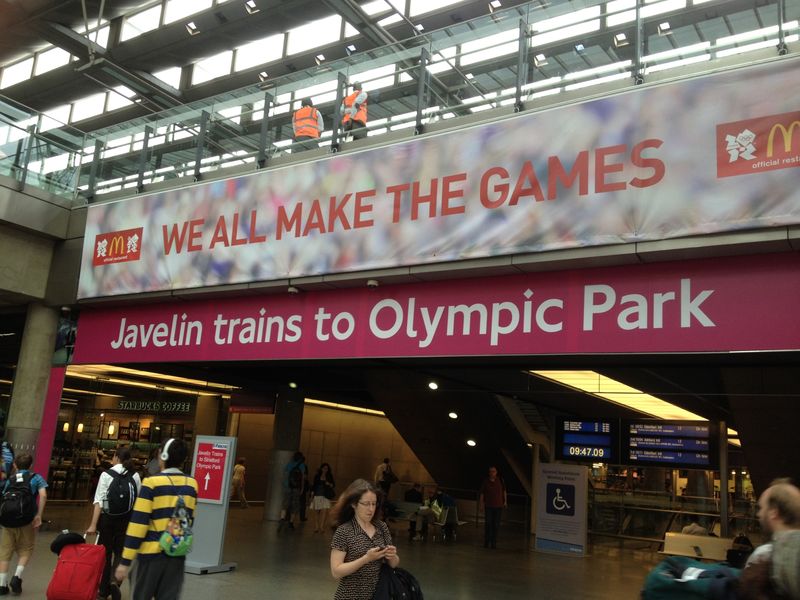 The wait is over; the XXX Olympiad is finally here. So I'm going to disobey instructions and – hoping my boss can forgive the temporary mutiny – I will write about the wonderful ISSA2012 conference I attended in Glasgow next time. As a Londoner, as a contributor to the Sport and Society website, and as one of your bloggers, I just could not let this day go without somehow marking it. 
I have been working in the social sciences team, here at the British Library, for just over a year. A lot of this time has been devoted, through developing the website and other activities, to assisting researches and interested members of the public in exploring sport through the lens of the social sciences. Undoubtedly, the Summer Olympics and Paralympics has been a fantastic catalyst for this. 
I'm well aware that – when it comes to the Games – hyperbole has been with us from the very start. An inflation of positive adjectives has characterised media coverage and official discourse about it. But I have to admit that – deep breath – this is a "once in a lifetime" opportunity to witness a rather unique event. If you live in Britain, and especially London, you happen to be right in the middle of it. And yes, it's impressive. 
Of course I don't mean to say that one should accept all the propaganda (caution: I'm using the term in its strict etymological sense!) that inevitably accompanies an event such as this. It is only right that we don't abandon our critical faculties. Social scientists, researchers, and members of the public must continue to scrutinise the grand claims made by the IOC and the Government, about things such as the "legacy" of the Games. Here at the British Library, we hope to enable people to do just that. 
However, healthy scepticism and a certain excitement, even enthusiasm, can coexist. If not to the entire world, London has become host to a large part of it. People who will be physically here, as well as those who will follow the next few weeks' events through the media. 
Walking though St Pancras International train station this morning, on my way to work, I found myself unusually cheerful. There were coloured banners, people speaking numerous languages (in itself not unusual for London; quite the contrary), Olympic volunteers in their shiny new uniforms and – in the tradition of English eccentricity – members of the public wearing outrageously over the top, carnivalesque costumes they had obviously made themselves. 
So perhaps that's what it is. The Olympics –quite aside from the sport – is also a carnival. In spite of all the hyper regulations touching upon commerce, traffic, branding, and so on, this is – or can be – a liberating moment. Temporary, with limitations, but still liberating. And perhaps that's why – if we're honest – most of us like it, at least a bit. 
Could it be that Mikhail Bakhtin could maybe tell us more about London 2012 than Lord Coe, Jacques Rogge, or David Cameron? Oh dear, I feel a PhD thesis coming…. And for that, the British Library's reading rooms might be more appropriate than the Olympic Park!
29 June 2012
Simone Bacchini writes:
For the first time ever, Saudi Arabia will enter female athletes in this year's Olympics. That has to be a good thing. Although what the real effect of this decision are going to be for ordinary Saudi women remains to be seen, it is certainly a step (albeit a small one) in the road to full emancipation for women in that country. Optimism will need to be tempered: what a few women will be able to do in London must be weighed against what many more still won't be allowed to do back in Riyadh and – to be fair – in many other places across the globe. 
On the face of it, the Olympic enterprise can indeed be a force for good. At times, the Games can live up to its ideals of – among other things – fairness and equality and become a force for good. When this happens, we should all celebrate, even if sport doesn't interest us in the least. 
However, one victory – one achievement of the Olympics and, more generally, of sport – should not blind us to the fact that sport, with its discursive and material practices, can be the very site where oppression, prejudice, and inequalities are perpetrated. And in the West, as well as in societies far removed from the places that gave rise to this tradition. In spite of much talk about equality, the ways in which female athletes – to name just one group – are represented in the print and broadcast media are still awash with old-fashioned gender stereotypes and tropes. 
Only recently, the idea that women boxers ought to wear skirts when competing at London 2012 was floated by none other than the Amateur International Boxing Association (and promptly rejected, one must say). One of the reasons given for this request was that the piece of cloth would be beneficial to – deep breath – spectators, who might find it easier to identify the competitors as, well, as women. In a burst of quick with, British lightweight champion Natasha Jonas said: "Personally, I think it's more for the aesthetics; nothing practical is going to come from wearing a skirt. The only people who would want to see women in skirts are men." Discussion closed. 
More and more women are taking part in competitive sports; yet, except in rare cases, the coverage that such sports attract is still quantitatively inferior to that of male-dominated sporting events. Maybe not as many women are interested in competitive sports; less demand is thus reflected in less coverage. I'm not sure that this explanation is true. Just to give the example of my office, women appear to be as interested as men, if not more. My own two bosses, just to give an example, are far more knowledgeable that I am on all sorts of sports and much keener spectators. 
Yet, there is still an unbalance in the way that female achievements in sports are reported. This is not only to do with the quantity of coverage, but with its quality. It is still possible to identify one type of discourse (in the sense of an accumulation of language practices and text-types) around sporting women and a different one about sporting men. Given that reality is often created, sustained, and maintained through language, this should make us think. To give a small example (which, by the way, applies to fields other than sport): why is it still common to refer to and comment on female athletes' physical appearance and not, or extremely rarely, on men's. Coincidence? I don't think so. 
In the coming weeks, the Sport and Society website will publish an article on the linguistic representation of Russian female gymnasts in the post-Soviet press, just to give an example. The opportunities for research in this field are countless. The road to equality, then, leads both to the training field and to a library's reading rooms. Stay tuned.
28 May 2012
Simone Bacchini writes:
Can the Olympics (or any other mass event, for that matter) truly be apolitical? They must; some will say. They are; others will insist. 
The lofty principles of modern Olympism are enshrined in the Olympic Charter (2011). "Olympism is a philosophy of life", states article 1 of the Preamble to this very lengthy document (95 pages!). It "seeks to create a way of life based on the joy of effort, the educational value of good example, social responsibility and respect for universal fundamental ethical principles." All well so far. To quote it more fully, Article 1 says that: 
Olympism s a philosophy of life, exalting and combining in a balanced whole the qualities of body, will and mind. Blending sport with culture and education, Olympism seeks to create a way of life based on the joy of effort, the educational value of good example, social responsibility and respect for universal fundamental ethical principles (my emphasis). 
It seems to me – and, obviously, this is only my personal opinion – that such aims are eminently political. Not in the sense of requiring specific political affiliation or allegiances but rather because their essence is political. To be achieved, they necessitate the kind of multi-level engagement and the managing and smoothing of conflicts that are the business of all political action. Unless, of course, one believes the often repeated claim that the mere engagement in organised sporting activity will result, as if by magic, in peace, harmony, and mutual understanding. 
The Olympics are also political for other reasons. Their mere existence depends on the political will of Governments and Governmental bodies to make them happen. The intense negotiations between the IOC and Governments before and following a bid and in the period preceding the staging of a Games are testimony to this. And the staging of the Games itself depends on instances of political will, such as public funding for sporting venues, or more controversial actions that demand political will, such as forced evictions or the enforcement of specific trading and branding laws, not to mention security and surveillance operations and various human rights issues and controversies. 
For the IOC to maintain that these are matters over which it has no influence is at best naïve. The modern Olympics have become a giant – a testimony to their success; and size, on the world stage, does matter. With each bid, one can see the lengths to which countries go to host a Games. This must be accompanied by ever increasing responsibility on the part of bidding cities and the IOC. 
Presumably, some people will always be opposed to the Olympics, no matter what. Others are perfectly happy to enjoy a big party and admire an astonishing spectacle but refuse to give up all criticism for the fear of being labelled 'spoilsports' or something along those lines. 
Perhaps doing away with much of current rhetoric around the Olympics is the best legacy that athletes, spectators, host cities, and organisers can hope for.
References 
Jefferson Lenskyj, H. and Wagg, S. (eds.) (2012) The Palgrave Handbook of Olympic Studies. Basingstoke: Palgrave MacMillan.
London reference collections shelfmark: SPIS 796.48 OLY 12
Jefferson Lenskyj, H. (2008) Olympic Industry Resistance: Challenging Olympic Power and Propaganda. Albany, NY: SUNY.
London reference collections shelfmark: YK.2009.a.21648
O'Bonsawin, C.M. (2010) "'No Olympics on stolen land': contesting Olympic narratives and asserting indigenous rights within the discourse of the 2010Vancouver Games", Sport in Society: Cultures, Commerce, Media, Politics. 13:1, 143-156.
General Reference Collection: ZC.9.a.7405
11 May 2012
Simone Bacchini writes:
Do you want to learn about the psychology and sociology of sport participation? Read a novel. 
That's what – unexpectedly – has recently happened to me. I've just finished, and thoroughly enjoyed, Black Swann Green, by David Mitchell. Set in 1982, it's the story of Jason Taylor, a middle-class, twelve-year old boy living in rural England. Against the background of an almost idyllic countryside, Mitchell takes the reader through the joys and turmoil of growing up. 
The problems of Britain in the Eighties – the Falklands war, a recession, unemployment (sounds familiar?) – intertwine with Jason's own challenges, like trying to fit in at school whilst finding and affirming his own identity; coping with bullying, and the realisation that human relationships are always complex and often fragile. I know, this isn't a literary blog; but as is often the case, literature can reveal more about behaviour than many a research paper (and in much more enjoyable language). 
At one point, whilst wandering through the woods, the young protagonist reminisces about the war games he used to play with other kids in those very same woods, and compares them with sport activities at school: 
"Those war games were ace. Sport at school isn't the same. Sport doesn't let you be someone you're not." 
Current discourse around sport participation is almost entirely positive. The media often reports on Government strategies to get more young people involved in it. As I mentioned in a previous blog, one of the promised 'legacies' of hosting the Olympics is an increase in the number of youths taking up a sport. But are we certain this is always desirable and undeniably beneficial? And why do some people never get involved in sports, either as spectators or participants? 
Recently, there have been reports about a survey carried out by the Institute of Sport at Loughborough University for the Women's Sport and Fitness Foundation (WSFF). The result was a report that showed that more that 51 per cent of (girl) respondents had been put off sport at school because of negative experiences during PE lessons. 45 per cent said sport at school was too competitive, whilst 48 per cent said that being sweaty was not feminine. 
So, blame it on excessive competitiveness, undesirable perspiration, or – as Harriet Walker, of The Independent newspapers, does – on incompetent, even sadistic, PE teachers, it is clear that competitive sport is not everyone's cup of tea. And why should it? One thing that should be kept in mind is that enjoying sport (just viewing it or actually taking part) and enjoying being physically active are not the same thing. To return to Mitchell's book, the young Jason clearly enjoyed being outdoors, moving about, and competing in the 'war games'. And there was team work too, since –presumably – he had to work cooperatively with his fellow 'soldiers'. It was not just the same as (competitive) school sport. 
The regimented nature of competitive sport, with its rituals, its temples, and tribal allegiances, is not for everyone. Many – not only girls – would love to be physically active; it's sport they (we) don't particularly care about. Can a compromise be found?
References 
Mitchell, D. (2006). Black Swan Green. London: Sceptre.
London reference collections shelfmark: Nov.2006/1443 
Mumford, S. (2012). Watching Sport: Aesthetics, Ethics and Emotion. London: Routledge.
London reference collections shelfmark: SPIS 796.01 MUM 12 
Perelman, M. (2012). Barbaric Sport: A Global Plague. London: Verso.
London reference collections shelfmark: SPIS 306.483 PER 12
20 April 2012
Simone Bacchini writes: 
Sport may be good for you but food advertising during the Olympics may not. As the opening of the Games is now less than a hundred days away, another threat has appeared on the horizon. Forget terrorism, tube strikes, and the spectre of a flu-pandemic; all these we can cope with. The latest menace to be identified is far more insidious, and much more difficult to steer clear of: food. To be precise, it's food advertising by way of sponsorships during the Olympics and Paralympics that has been singled out as a danger. Not to the Country's security but to Olympic spectators' waistlines, especially children's. 
The BBC (http://bbc.in/I5WSd8) reports that campaigners from the Academy of Medical Royal Colleges (AoMRC) are calling for Olympic sponsors such as Coca-Cola, McDonald's, and Cadbury to limit the visibility of their advertising which, they argue, sends out subliminal messages and encourages unhealthy eating and drinking habits, especially in children. 
I do not doubt that the AoMRC's 'War On Obesity' is well-intentioned. Unquestionably, many diseases that plague our affluent society are linked to unhealthy eating habits, which are especially difficult to combat if acquired early in life. So I'm not surprised about this latest warning. What I find interesting is – once again – the way in which it is framed. What the AoMRC seem to object to the most is the apparent contradiction that emerges from the juxtaposition of lofty Olympic ideals with less desirable messages from Olympic sponsors. 
But is it realistic to ask the Olympics organisers to either refuse or limit the visibility of certain sponsors? I doubt it. The Games are not only a mega-event; they're also a 'mega-stage'. It is not only athletes that gain maximum exposure by taking part, it is also the sponsors. And the bigger the event gets, the bigger the need for sponsors and their cash. It may not be all about money, but it's certainly a lot to do with it. "The greatest show on earth" doesn't pay for itself, in spite of the ever increasing revenue from things such as broadcasting rights. 
"Money always talks louder than principles in sport", writes Richard Godwin in London's Evening Standard (http://bit.ly/I8doJH). In his view, whether some of the major sponsors of London 2012 are "ethical" is highly debatable, to say the least. One may disagree with him, but it is undeniable that in the world of modern sports the distance between the official rhetoric and reality is far greater than the distance marathon runners need to cover. 
Is it only o question of size? Perhaps modern sport suffers from gigantism; having grown to be so big, it needs to be fed and one can't be too picky about where the 'food' is coming from. And yet, as the AoMRC reminds us, nutrition matters. Should sport perhaps go on a diet?
References
J.A Davis, The Olympic Games Effect. Singapore: Wiley, 2012.
London reference collections shelfmark:
SPIS 796.0698 DAV 12
V. Packard, The Hidden Persuaders. London: Penguin, 1981.
London reference collections shelfmark:
X.529.42240