08 November 2017
The British Library will be holding a 2-day documentary festival over the weekend Saturday- Sunday 9- 10th December, to celebrate the career of John Pilger, along with other documentaries chosen as fine examples of the craft. The festival will include screenings of films from across his career, John Pilger will speak on the Power of the Documentary (Saturday) and will be in conversation on Sunday afternoon. A full programme can be found here.
The screening celebrates the acquisition by the Library of a digital archive of Pilger's journalism – covering print, film and radio broadcasts over six decades. The archive, produced by Florian Zollmann from John Pilger's personal collection, brings together for the first time nearly 1,500 news reports, films and radio broadcasts.  This includes articles from the Daily Mirror, Guardian, New Statesman, BBC Radio, and 60 films. His latest, prescient documentary, The Coming War on China, is his 60th film. 
Throughout his career, John has demonstrated the power and significance of investigative journalism in uncovering stories of peoples who have been ignored by the mainstream media or left otherwise without voice. His ground-breaking work in Cambodia revealed the devastation caused by the Khmer Rouge, and his film Year Zero: the Silent Death of Cambodia (1979) has subsequently been described as one of the 10 most influential documentaries of the 20th century. His later film, Stealing a Nation (2004), revealed the plight of the Chagos people, who were expelled from their homes in the 1960s and 1970s on idyllic islands in the Indian Ocean to make way for a military base.
John Pilger's work is well-known for reporting on conflict, the human and civil rights abuses that result from conflict and the propaganda used to justify and prolong such abuses. His first film, The Quiet Mutiny (1970), interviewed young American soldiers in Vietnam, uncovering confusion and resistance to the war amongst conscripts and breaking the story of American troop insurrections in Vietnam.
Other work has placed a fresh focus on everyday subjects. His film, Burp! Pepsi v Coke in the Ice Cold War (1984) was an early example of investigative film-making that used originality and wit to examine the power of multinational corporations.
John Pilger's work also sounds a warning of the threats to independent investigative journalism. The War You Don't See (2011) recounts the history of embedded journalism in conflict and asks us to question the reporting of conflicts in the 21st century.
All these films will be shown at the British Library for the festival, The Power of Documentary, celebrating the career of John Pilger and emphasising the continued significance of independent investigative journalism.
20 January 2017
Image: Joan Bakewell  © Sukey Parnell
Chris Beckett, Cataloguer in Contemporary Literary Archives at the British Library, writes:
Joan Bakewell's autobiography, The Centre of the Bed (2003), begins in a white room – a room as white as 'a fresh sheet of paper' – at the top of the house in which she has lived for many years. Boxes and packets of papers long-forgotten have been retrieved from cupboards and shelves. They hold evidence of the past, prompts for the play of memory. Can memory sew the fragments together, make good the gaps in the physical record? But Bakewell is conscious that memory is a construction of the present – a reverie of now – that that can deceive as well as illuminate:
'Stacks of little diaries, a scattering of entries, a few oblique clues. School reports, a clutch of Cambridge bric-a-brac, invitations to sherry parties, a few enigmatic letters – who was Jonathan, who was Ben? And some from people I still know – Karl, Peter, Freddie. Serious boxes house the weightier matters – though just as transient – of a career in journalism and television.'
Those same boxes – the Cambridge ephemera and the 'weightier matters' ('just as transient') – have now made their way to the British Library, and their contents will soon be available to readers in another room, the Manuscripts Reading Room. 'Karl' is Karl Miller, 'Peter' is Sir Peter Hall, and 'Freddie' is Frederic Raphael ('with whom I played tennis on long sunny, Cambridge afternoons'), three university contemporaries among many who quickly rose to become, like Bakewell herself, familiar figures in the British cultural landscape.
Joan Bakewell has been an enduring presence on British television for some fifty years, from the trail-blazing topical discussion programme 'Late Night Line-Up' (BBC2, 1964-72), which tumbled through the 1960s embracing the excitement and the risks of live transmission, to the retrospective and reflective interviews in 'My Generation' (BBC2, 2000).
Her television break began in a predictable place, in the limited daytime slots scheduled for housewives in the early 1960s, in programmes like 'Table Talk' and 'Home at Four Thirty'. However, the conversation was not always about housework and babies: 'one afternoon it fell to me to interview an eager young doctor with a shock of unruly black hair [….] In three minutes on air he outlined his theory that a dysfunctional family might be a prime cause of schizophrenia.' The young doctor was R. D. Laing, author of The Divided Self. In the autumn of 1964, two evening appearances as chair of the BBC2 discussion programme 'The Second Sex' provided Bakewell with a further opportunity to demonstrate her range, and presaged an invitation to join the (otherwise all-male) 'Late Night Line-Up' team.
Since most of 'Late Night Line-Up' was transmitted live, few recordings have survived. Occasionally, items were pre-recorded, but even those have generally not been saved. In January 1969, Bakewell and camera crew spent a week in Lausanne, filming a series of interviews with Georges Simenon. Although the programme is lost, we have, in some small compensation, Bakewell's Simenon notepads which provide a glimpse of the (fastidious and orderly) author of 'Maigret' at his Swiss home.
Image above: Red note book cover
Image above: Simenon notes, reproduced with the kind permission of Joan Bakewell.
At Cambridge (1951-54), Joan Rowlands, as she was then called, was heavily involved in the theatrical productions of the Cambridge Mummers. The archive includes posters, programmes and photographs from several plays, including (1952) The Importance of Being Earnest, in which Miss Rowlands played Cecily Cardew.
It was at Cambridge that Joan Rowlands met her first husband, Michael Bakewell, who preceded her at the BBC, quickly establishing himself a highly-regarded radio and television drama producer, champion of the new theatre of Samuel Beckett, Harold Pinter, John Hopkins and David Mercer. Although acting was not to be Bakewell's profession, certainly the art of performance – and the construction of a robust public persona – have been integral to her remarkable television career.
Bakewell's autobiography is keyed to a larger narrative, to events and trends in the social and cultural history of her time. Her diaries include a number of yellow 'post-it' notes, marking where her memory has been prompted. The pocket diary for 1960, for example, includes the following highlighted entries: 18 April (Aldermaston Protest, Trafalgar Square); 27 April (Arts Theatre, Pinter, The Caretaker); 28 June (Wesker, Roots); 1 August (opening in Stratford of Michael Bakewell's production of Faustus).
Image: Aldermaston diary entry
Bakewell later recalled: 'The Easter I was pregnant with Harriet we joined the Aldermaston marchers as they came into Trafalgar Square. Our near neighbour, the American poet W. S. Merwin, had walked all the way. His plimsolls were frayed and his feet blistered, but his wife, Dido, offered us supper that night with another young couple who'd recently moved into the area, Ted Hughes and Sylvia Plath.'
In recent years, Bakewell has taken to writing fiction as another way of re-imagining the past, weaving new narratives from her archive. All the Nice Girls (2009) takes it cue from a World War II initiative (unimaginable today) that encouraged schools to 'adopt' a merchant navy ship and their pupils to exchange letters with sailors, raising pupil awareness and sailor morale. The Ship Adoption Scheme, as it was known, is recorded in the magazines of Stockport High School for Girls, which played an active part; there is a set of school magazines in Bakewell's papers (again with 'post-it' notes attached). All the Nice Girls is – like the novel that followed, She's Leaving Home (2011) – a story of love and changing sexual mores. CND marches feature in She's Leaving Home, and so does the vividly remembered detail of Bill Merwin's frayed plimsolls. A potent emblem from the past that has clearly lodged in Bakewell's memory, the worn shoes make an anonymous but recognizable reappearance in a brief snatch of dialogue (p. 130): 'I saw one bloke whose plimsolls had shredded by the time we got to Trafalgar Square'.
The comprehensive archive of Joan Bakewell at the British Library testifies to a pioneering career in television journalism and records a remarkable personal and professional journey, from pre-war Stockport to the post-millennial corridors of the House of Lords.
22 December 2015
Jonnie Robinson, Lead Curator of Spoken English, writes:
It's that time of year again when clubs, societies, institutions and industries reflect on the previous twelve months and nominate people, events or phenomena for special recognition. In November, for instance, the Oxford English Dictionary (OED) stunned linguists and pedants alike by choosing a pictograph – the 'face with tears of joy' emoji as their Word of the Year; VLM reviewers deliberated the merits of Foals' What Went Down and Tame Impala's Currents for their Album of the Year; and on Sunday BBC Sports Personality of the Year was awarded to Andy Murray. So, in a year where, despite recent events on the football pitch, Jose Mourinho's outstanding contribution to our sporting lexicon drew academic attention, here are my nominations for Sports Word of the Year 2015 selected from examples of interesting English usage in the British sporting press and media:

February (BBC online Cricket World Cup live update) [Tim Southee] sends down an absolute jaffa which cuts Dilshan in half
May (Guardian Sport): [Martin Guptill] made a brief and extremely eye-catching return to crowd-pleasing one-day stylings with this massive six to cow corner
June (Mike Selvey, Guardian Sport): Tim Southee joined a pretty exclusive club of Test pace bowlers who have conceded a gallon in both innings of a Test
June (ex-Aussie cricketer Jason Gillespie, Radio 5 Live): we're not playing for sheep stations
July (Jim Maxwell, Test Match Special, Radio 5 Live): 120 looks a bit too skinny for Australia to defend
September (Robert Kitson quoting Orrel Director of Rugby, Ian Hollis, Guardian Sport): around here they still think union's a game of kick and clap
September (Robert Kitson, Guardian Sport): he doesn't care where he's playing, who he's playing against or what Twickenham alickadoos make of his appearance
November (Jamie Jackson, Guardian Sport): The victory was a triumph for Klopp's gegenpressing ethos
November (George Riley, England vs. New Zealand Rugby League First Test, BBC1): if ifs and buts were chips and putts we'd all be Gary Player
December (John Rawling, Fighting Talk, Radio 5 Live): Dennis Wise a nasty little five footer
The dominance of cricket and rugby in this year's nominations reflects the fact 2015 featured a Cricket World Cup, an Ashes series and Rugby Union World Cup, but golf and football also make the cut. Seven items are restricted to the discourse of their respective sports of which three are international cricketing slang: cow corner is an area on the leg-side boundary to which a batsman plays an 'agricultural', i.e. unconventional slog; a jaffa is an unplayable delivery; and if a bowler concedes 100 runs in a single innings he has the dubious distinction of recording a gallon – the less desirable equivalent of a batsman's century or ton; kick and clap is used by British Rugby League fans as an expression of disdain for Rugby Union deriving from a typical Union crowd's penchant for politely clapping repeated passages of kicking in contrast to League supporters' enthusiastic encouragement of running and passing; alickadoo is used within Rugby Union circles, equally disparagingly, to refer to a somewhat out of touch 'hanger-on' or feckless club administrator; gegenpressing refers, in football, to the tactic of collectively pressurising the opposition immediately after a turnover of possession; and a Dennis Wise is golfing shorthand for a relatively short but annoyingly scary putt – a jocular reference to ex-professional footballer, Dennis Wise, who had a reputation for confrontation despite his diminutive stature. Two are idiomatic expressions: not playing for sheep stations is an Australian phrase roughly equivalent to 'it's not a matter of life and death'; while if ifs and buts were chips and putts we'd all be Gary Player adds a sporting twist to a well-known saying – Gary Player is a South African professional golfer and nine-times major winner; finally skinny refers here to an uncompetitively low run total.
Most importantly, the ten have been selected as they demonstrate a range of linguistic phenomena, from jargon and slang to dialect and proverb. Perhaps surprisingly not many are documented in conventional dictionaries or glossaries, so their presence in the BL's newspaper collections and/or TV and radio archives represents an invaluable record for language scholars investigating developments in the English language. The OED (online) includes skinny as a colloquial form for 'mean/stingy/grudging', which captures the way it is used in northern dialect and one can readily see how, by extension, this might apply to a low score in cricket – sports reporters often refer, for instance, to a 'miserly defence'. The OED also has an entry for alickadoo, categorising it as originally Irish English, while John Miller's Essential Lingo Dictionary of Australian Words and Phrases has an entry for playing for sheep stations (2015: 161). Geoff Tibball attributes Dennis Wise to British journalist and presenter, Des Kelly, in his compilation of sporting quotations, The Bowler's Holding the Batsman's Willy (2008: 189) and the Oxford Dictionary of Phrase and Fable (2005) includes the proverb if ifs and ands were pots and pans, there'd be no work for tinkers' hands as a 'traditional response to an over-optimistic conditional expression' – i.e. a common retort to someone wistfully saying 'if only …'. Coincidentally, a variant of this also made an appearance on a recent episode of Coronation Street (16 November 2015) when Erica Holroyd comforted Liz McDonald over her latest calamitous relationship break-up: as me mother always says if ifs and buts were whisky and nuts we'd all have a merry Christmas.

To my knowledge, none of the other terms have been captured in English print reference works. An internet search for gegenpressing, however, returns 219,000 hits so this is clearly well established sporting jargon. As a former German teacher, I find it a particularly intriguing loan word as it contains a German element gegen [= 'against'] blended with an English gerund pressing. Similar constructions occur in German sporting discourse even when unidiomatic in English – das Dribbling, for instance. Like other loan words in football (cf. tiki-taka and catenaccio) the relish with which it has been adopted by the British press not only speaks volumes for the charisma of Liverpool manager, Jürgen Klopp, with whom it is most closely associated, but also reflects our constant desire to adopt the latest European tactical innovation. Cow corner, on the other hand, transports me to my schooldays and a Yorkshire cricket master, who viewed any shot in that direction with utter contempt. Neither this nor jaffa warrant entries in print dictionaries, but both appear in Wikipedia's Glossary of Cricket Terms; gallon is surprisingly absent, but is included in a rival online cricket glossary, while kick and clap appears in League Freak's Rugby League Dictionary.
So to this year's winner: much though I sympathise, as a Castleford Tigers fan, with the sentiment expressed in kick and clap and was delighted to see Kevin Sinfield come runner-up on Sunday, deep down even football fans with no affiliation to Liverpool (myself included) have to admit we're all rather excited about the arrival of Jürgen Klopp, so it's got to be gegenpressing, hasn't it?
22 December 2014
Jonnie Robinson, Lead Curator of Spoken English, writes:
It's customary at this time of year for individuals, societies, institutions and industries to reflect on the previous twelve months and nominate people, events or phenomena for special recognition. In  November, for instance, lexicographers at the Oxford English Dictionary selected vape [= 'E-cigarette'] as Word of the Year 2014 (succeeding 2013's selfie) and last week BBC Sports Personality of the Year 2014 was awarded to Lewis Hamilton - best driver in a field of 24 (22 of whom apparently had inferior equipment) - ahead of Rory McIlroy - best driver, best chipper and best putter in a field of 175. So, in an equally subjective attempt to combine my two great interests - sport and language - here are my nominations for Sports Word of the Year 2014 selected from examples of interesting English usage in the British sporting press and media:
May (Adrian Chiles commenting on Hull City defence, ITV FA Cup Final): they must be too cream crackered to sort it out.
July (Guardian G2 Tour de France special):  Ey up or allez allez allez?
September (Peter Allis spotting two spectators in fancy dress watching difficult bunker shot, BBC Ryder Cup highlights): I'll tell you what they're two bobby-dazzlers there and is this going to be a bobby-dazzler?
October (Mike Selvey, Guardian Sport): He was, said Smudger, [...] the fellow who would pay the way for all of us, and he was not wrong.
October (Asteras Tripolis, Guardian Sport): The Argentinian scored twice but it was his first-half rabona that sparked a gasp from all inside the stadium.
November (Sachin Nakrani quoting QPR captain, Joey Barton, Guardian Sport): If you're not playing for Liverpool, who couldn't hit a cow's arse with a banjo, how do you get into the England squad?
November (Simon Cambers & Kevin Mitchell, Guardian Sport): Lamri [...] played a handful of minor matches on the Futures circuit, the last recorded of them when he double-bagled in a qualifier in Morocco two years ago.
November (Lizzy Ammon, Guardian Sport): [Moeen Ali] will be leaving his doosra delivery firmly in the locker for the foreseeable future.
December (Dean Ryan, Guardian Sport): "Jackling" [...] is something which can be taught as, apparently, the exceptional Francois Louw is doing with Burgess in training with Bath.
December (Martin Castrogiovanni): The widely reported, extraordinary rant that demonstrated the Italian prop's perfect mastery of the F-word and C-word.
Though not comprehensive, the list encompasses six sports: cycling, football, cricket, tennis, golf and rugby and entries were chosen to offer a range of linguistic research enquiries.
Four terms stand out as they are restricted to the discourse of their respective sports. Of these, two are loan words: rabona [= Spanish for 'to play truant'] - an impressive skill whereby a footballer kicks the ball by wrapping the kicking foot behind the standing leg thus appearing to kick the ball cross-legged; and doosra [Hindi/Urdu for 'the second/other one'] - a ball in cricket which spins away from a right-handed batsman but is delivered with a bowling action that appears to suggest the opposite. The other two are examples of the kind of jargon that inevitably occurs in descriptions designed for a specialist audience: jackling [= a blend of 'jackal' and 'tackle'] - the skill in rugby of winning the ball in a tackle before a ruck has been formed; and double-bagel [= a visual reference to two zeros] - a 6-0, 6-0 defeat in a three set match of tennis.
Six entries demonstrate how vernacular forms occur even in relatively formal sports discourse. Two items might best be categorised as dialect forms: ey up [= 'hello' or 'watch out'] and bobby-dazzler [= 'someone/something striking or impressive']. Dialect is extremely useful shorthand for conveying a sense of location and/or identity. Three are slang forms typical of an informal register: cream crackered [= rhyming slang for 'knackered', i.e. 'exhausted'], Smudger [= nickname for anyone called Smith] and couldn't hit a cow's arse with a banjo [= 'wildly inaccurate in front of goal']. This deliberate use of slang creates a sense of shared conversation between presenter and viewer/listener or between journalist and reader. Finally, swearing, though generally still taboo in mainstream press and media sports coverage (albeit part and parcel of the live experience itself), is included here as the Guardian remains unique among British newspapers in printing the C-word and F-word without resorting to asterisks to represent the letter <u>. I've often wondered whether this is confirmation of the paper's sociolinguistic maturity or more a reflection of childish editorial glee.
Most of the terms above are documented in authoritative dictionaries in the British Library's collections, but some are yet to appear in print reference works, so their presence in our newspaper collections is an invaluable resource for language scholars monitoring the continued evolution of English. For anyone interested, the Oxford English Dictionary (online) includes doosra, bobby-dazzler and cream crackered, the Collins English Dictionary (online) has an entry for jackling and includes rabona in a set of 'new word submission[s]' under consideration, while the Macmillan Dictionary (online) records bagel as 'in tennis, a score of 6-0'. The New Partridge Dictionary of Slang and Unconventional English noted Smudger in the mid-20th-century, while ey up appears in the 19th-century English Dialect Dictionary. Finally, the first person I ever heard use the phrase couldn't hit a cow's arse with a banjo was my brother-in-law who used it on a golfing holiday in the late 1980s to describe his wayward driving (and his unpredictable long-irons, inconsistent approach play and inept putting). I've not found it in a print publication, but I'm sure he'd be delighted to know it's accorded an entry at Urban Dictionary (online) and features in George Sandford's English Idioms blog.
And this year's winner is ... it's got to be bobby-dazzler, hasn't it?
22 September 2014
Professor Marsh writes:
Beginning on 29th September 2014 and running for 7 weeks, the University of Sheffield has developed a new, free, online course 'Exploring Play: the Importance of Play in Everyday Life' which will be delivered through the FutureLearn platform. Through the course, we aim to investigate play as a serious subject for study and in particular examine the place of play as an
important part of our everyday lives, across our life courses. Play is not only something that occurs in childhood, with a moving away from 'childish pleasures' in adulthood, but it is an essential part of life.
'Exploring Play' doesn't require any previous knowledge in the area, just an enthusiasm to know more. It introduces key theories and concepts, and explores the many definitions there are of play. Given that play is such a fuzzy concept, some consideration is given to the meaning of play from different personal, academic and professional perspectives and its value in terms of its contribution to our daily lives is a matter for extensive reflection.
The course is highly interactive and uses video, articles, discussions, quizzes and a wide variety of resources including the British Library Playtimes website. This website was created as part of the AHRC Beyond Text project Children's Playground Games and Songs in the New Media Age and provides information on the history and nature of play, drawing on some of the data collected in that project. In the 'Exploring Play' course, learners will engage with the material on the British Library website and consider what it tells them about changes in play over time.



Children playing on stones in a river © University of Sheffield
One of the main aims of the course is to enable participants to understand the very varied nature of play as it takes place across difference contexts. For example, the nature of play in different cultures is explored and learners will consider the way in which the values of different societies impact on the play that takes place within them.

Muffin the Mule puppet, V&A Museum of Childhood Collection
A very wide range of topics is considered, including outdoor play spaces for children and teenagers, playful adult engagement with urban environments, disability and play, play in virtual worlds and play in the workplace. Through the seven weeks of the course, learners will gain a great deal of knowledge about play - and engage in some playful learning activities along the way!
To sign up visit: www.futurelearn.com/courses/play
29 November 2013
Barley Blyton, writes:
"Why should creativity be a new thing?" The answer is: it isn't. Yet many of us view the cooking of Heston Blumenthal – owner of The Fat Duck and Dinner - as something of a novelty. Culinary creativity, championed by chefs like Blumenthal in Britain, Adria Ferran in Spain and René Redzepi in Denmark can seem 'space agey' and utterly new, but when Heston started researching for his new book, Historic Heston, he stumbled upon a whole lot of 'other Hestons' buried in the past.
Two weeks ago, as part of the Georgians Revealed exhibition, the British Library hosted a discussion between Heston Blumenthal – one of Britain's most acclaimed chefs and exponent of the egg and bacon ice-cream, and Ivan Day – food historian, broadcaster, writer and confectioner. Centring on Heston's new book and using the Georgian period as the frame for their discussion, Blumenthal and Day wound their way through history and their own pasts, expertly guided by food writer and historian Bee Wilson as Chair.
Buying his first Georgian cook book at 13 in the 1960s, a time when food was in 'a trough of despondenc',  Day felt like he had alighted on a golden age of British gastronomy. He began collecting his pocket money to cook menus from these books (by his own admission, Day was no ordinary 13 year old!). Initial obstacles were presented by the language  'how does one cook a lump?' he asked himself, 'how does one broil a lump, grill a lump or even find a lump in the first place?'. A lump, Day later discovered, referred to lumpfish. The next challenge was his lack of eighteenth century cooking equipment – where does a 13 year old boy pick up a 'larding needle' on a Saturday afternoon?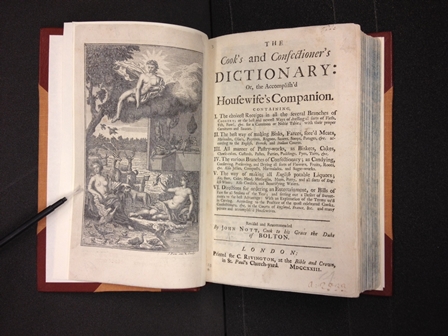 Above: The Cook's and Confectioner's Dictionary, or, the Accomplish'd Housewife's Companion. John Nott, London, 1723. Reproduced with the kind permission of the British Library
The early Georgian cookbooks that Day had stumbled across were not written for the everyday cook but for the courts of the rich and powerful. Many were menus of aspiration and display rather than intended for daily domestic reality. Later in the century, women cookery writers like Hannah Glasse and Elizabeth Raffald began to write for middle class households making a virtue of economy and simplicity.
Any assumptions, however, that things were necessarily more basic in the past are undermined by illustrations showing the intricate presentation of jellies, pastries and pies. For the talk at the British Library, Day brought with him a small, tapered rolling pin - evidence of the delicacy of the pastries produced and the exacting thought behind the instrument. A tapered rolling pin, Day explained, can be tilted and swivelled to mark out a perfect circle. The Georgian period produced a proliferation of cutting edge kitchen equipment feeding an 'exotic and experimental seam' of cookery. Many of the instruments uncannily resemble some of those used by Blumenthal today – the syringes used for piping fritters into fat in the Georgian kitchen reminded Blumenthal of the equipment he uses for similar tasks.
Like Day, Blumenthal is a history enthusiast but their approaches to history differ. While Day uses historical cookery books and tools to recreate the dishes of the past, Blumenthal uses historical gastronomy to inspire new recipes. In Historic Heston source recipes are used as a springboard for the creation of new dishes. For instance, an 1826 recipe from Margaret Dods' The Cook and Housewife's Manual for cucumber catsup (ketchup) becomes roast scallops with pickled shallots, cucumber fluid gel and cucumber ketchup in a bergamot, borage and cucumber butter emulsion.
Rather than suffering from the particularly British condition identified by Day as 'cultural amnesia' Blumenthal celebrates the creativity of the past and proudly leads the flavour-full tradition forward.
Useful information
The Exhibition Georgians Revealed will run at the British Library until the 11th March 2014.
Historic Heston is published by Bloomsbury and is available in the reading rooms at the British Library, as is Bee Wilson's recent book Consider the Fork published by Particular.
For those interested in getting a more hands-on experience of Georgian cookery, Ivan Day runs courses at his home in the Lake District and can be found at historicfood.com.
The author of this post can be contacted by email at: [email protected]
22 July 2013
In our exhibition, Propaganda: Power and Persuasion, we examine ways in which modern British identity and culture has been visualized and presented both to a British audience and on an international stage. We show the film used in bidding for the 2012 summer Olympic Games, and interviews with Tessa Jowell, Alastair Campbell and Iain Dale on bidding for and presenting the Games. You can see these interviews now on our YouTube channel.
In response to our exhibition, Maya Chandra has written this post which describes her work, and one of the films that she has produced to promote the language, culture and heritage of Karnataka, a state in south India. Maya Chandra runs a successful film production company - MAYA, based in Bangalore, and specialising in government communications. TEAM MAYA has been working with the state governments of Karnataka, Tamil Nadu and Andhra Pradesh for over 12 years and has created trend-setting films for government propaganda - be it for attracting global investors, tourists or promoting issues and policies of the Governments in power. 
Kannada : A language spoken by the people of Karnataka – a State in South India
Jeevaswaraa – "The melody of life"
This is a music video, commissioned by the Government of Karnataka (A State in South India) for propagating the language, culture and heritage of its land.
The video is a fine example of state propaganda, designed to create a sense of pride and belongingness among the citizens.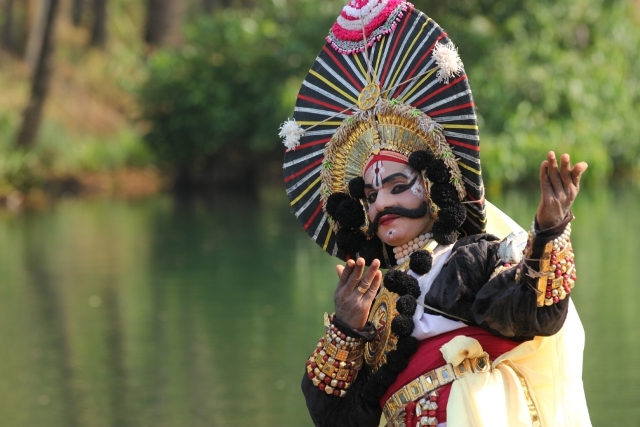 [Above: This native theatre art form called Yakshagana is one of the oldest of performing arts, and has origins in the Coastal belt of Karnataka named Mangalore. This art combines dance, dialogue, music, special make-up (made from vegetable dyes and extracts), and elaborate costumes. It is generally performed throughout the night till dawn. This art form is more of a "family heirloom", passed on for generations among the performing families. We shot this dance as the performer is on a moving boat on the backwaters of Mangalore]
Karnataka is a state with diverse cultures and home to people from all over India. It is also one of the most preferred business destinations for global investments, and very cosmopolitan in its nature.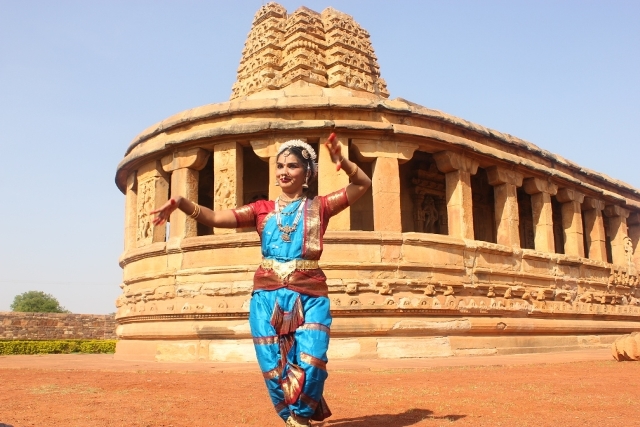 [Above: Bharatanatyam - a very ancient and popular classical Indian dance form - origins can be traced back to 3rd or 4th century BC. The potential World heritage Site where we have filmed this dance is the temple of Durga, at Aihole, situated in North of our State]
The use of the local language of Kannada is on the decline, and hence we felt there was a need to bring back the appreciation of the local language.
We felt the concept of a music video will be the best format to achieve this.
The song has been originally composed, and written by a popular lyricist and author – Dr.Jayant Kaikini.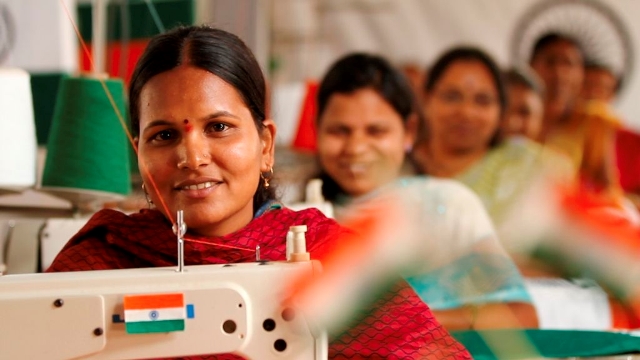 [Above: Women workers at the Indian National Flag making company - this one of its kind company is situated in Hubli - North of our State and is the official factory that manufactures the Indian National Flag. Women form the majority workforce in this Company]
We at MAYA proposed this idea to the state government, and it was created over a period of 6 months. The song evokes emotions of the local people, and personifies the Kannada language itself. Shot across the state, the video features people of different ethnicities, along with local celebrity musicians, and literary people who have contributed to the growth of the language.
This music video has received tremendous appreciation and is an innovative form of State propaganda in recent times.
Note: All images supplied courtesy of Maya Chandra © MAYA.
17 May 2013
Ian Cooke, Lead Curator in International Studies and Politics at the British Library and co-curator of the recently launched Propaganda exhibition writes about an upcoming study day that will examine the power of visual materials. Ian also provides answers to last Friday's quiz.
After nearly two years of planning, Propaganda: Power and Persuasion has opened today. Last night's launch was great fun, with David Welch and Armando Ianucci speaking, followed by our very own leaflet drop. Over the past couple of days, I've very much enjoyed showing people around and talking about the exhibition.
It's fantastic to finally see everything in place. There's a huge difference between seeing the exhibits in small groups, as we were doing during planning, and seeing everything displayed together. In the gallery, the emotional power of the more-visual elements is astounding.
We're going to be examining the power of visual materials in a study day on Saturday 1 June. We'll be looking at both printed materials, such as posters, and moving images. The programme for the day reflects the themes in our exhibition, covering nation-building, health campaigns, and propaganda in war time. We're working with the British Film Institute to look at research covering film and other visual materials, and how these kinds of resources can be studied in combination.
Above: Policemen look out of the eyes of the Statue of Liberty, with a policeman's baton forming a tear shape. The image is from a Russian poster, originally titled 'Freedom American-Style' by B Prorokov, as featured in the British Library exhibition Propaganda: Power and Persuasion.
Scott Anthony and Linda Kaye will talk about public relations in Britain and the use of film to reinforce images of Britain. Bryony Dixon will talk about public health in early silent film, and Sarah Graham, who features in our exhibition, will compare methods in visual communication in AIDS awareness campaigns. Luke McKernan will talk about newsreels in World War One, and Peter Johnston will discuss government-media relations during the Falklands War. The day starts with David Welch, talking about the use of visual materials in creating a sense of the enemy, and Sue Woods, providing an introductory guide to government film-making.
The day will be a great chance to find out more about current research and resources using these powerful and striking materials. You can find out details and book tickets on our web page.
Last week, I posted three national anthems questions. Here are the answers:
1. South Africa uses five languages in it's national anthem: isiXhosa, isiZulu, Sesotho, Afrikaans, and English.
2. The national anthem of Poland has the chorus: 'March, march, Dąbrowski, March from Italy to Poland, Under your command, We shall reach our land'.
3. The European Union uses music from Beethoven's ninth symphony, the setting of Friedrich von Schiller's 'Ode to Joy', as both its anthem and to symbolise Europe in a wider sense.