Recording of the Week: J. R. R. Tolkien at the tobacconist's
Although best known for his epic fantasy novels such as Lord of the Rings, J. R. R. Tolkien was also a philologist and professor of English. This educational disc was recorded for the Linguaphone language course company in 1929 as part of their English Conversation series. The other speaker is Prof. A. Lloyd James.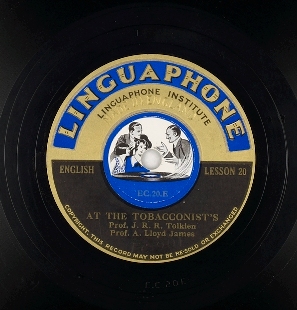 'Recording of the Week' highlights gems from the Archival Sound Recordings website, selected by British Library experts or recommended by listeners. This week's item was selected from the Early spoken word recordings collection by Stephen Cleary, Curator of Drama & Literature recordings at the British Library Sound Archive.