19 October 2009
Recording of the Week: ever heard the 'Northumbrian burr'?
Listen to the way this speaker pronounces an <r> sound on this recording. The link below also connects to accompanying text with an analysis of the lexis, phonology and grammar heard in this recording.
http://sounds.bl.uk/View.aspx?item=021M-C0908X0002XX-0500V0.xml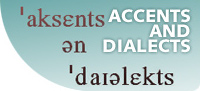 'Recording of the Week' highlights gems from the Archival Sound Recordings website, chosen by British Library experts or recommended by listeners. This week's item, selected by Jonnie Robinson, a specialist in sociolinguistics & education at the British Library, is a recording of William Dodds (d.o.b. 1909). It was made by Clive Upton in May 1974 in Ebchester, Durham, for the University of Leeds Survey of English Dialects.