12 October 2009
Recording of the Week: Vanessa Redgrave at the ICA in 1991
Reading aloud a passage from her autobiography about her opposition to the first Gulf War, Vanessa Redgrave talks to Simon Callow about her dual career as an actor and political activist and the role of the artist in society.
http://sounds.bl.uk/View.aspx?item=024M-C0095X0777XX-0100V0.xml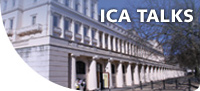 'Recording of the Week' highlights gems from the Archival Sound Recordings website, chosen by British Library experts or recommended by listeners. This week's item was selected from the Institute of Contemporary Arts talks collection by Stephen Cleary, Curator of Drama & Literature recordings at the British Library Sound Archive. The ICA talks collection has 1,000 hours of recordings of events held at the Institute of Contemporary Arts, in the Mall, London, recorded in the period 1981-1994.