27 November 2009
Recording of the Week: Alan Moore at the ICA
Graphic novelist Alan Moore recorded in conversation with Charles Shaar Murray at the Institute of Contemporary Arts in 1987.  Moore discusses his work on the weekly comic 2000 AD, his Watchmen sequence, and the different qualities of comics, novels and films.
http://sounds.bl.uk/View.aspx?item=024M-C0095X0300XX-0100V0.xml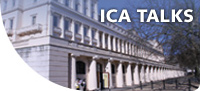 'Recording of the Week' highlights gems from the Archival Sound Recordings website, chosen by British Library experts or recommended by listeners. This week's item was selected from the Institute of Contemporary Arts talks collection by Stephen Cleary, Curator of Drama & Literature recordings at the British Library Sound Archive. The ICA talks collection has 1,000 hours of recordings of events held at the Institute of Contemporary Arts, in the Mall, London, recorded over the period 1981-1994.