02 November 2009
Recording of the Week: Indian wedding songs
Field recordist Jim Kippen announces the date, location, occasion and performer names at the front of this recording of women's wedding songs sung during a marriage celebration in Lucknow, Uttar Pradesh, India. A good model for all ethnomusicologists documenting their field recordings!
http://sounds.bl.uk/View.aspx?item=025M-C0038X0030XX-0100V0.xml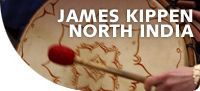 'Recording of the Week' highlights gems from the Archival Sound Recordings website, chosen by British Library experts or recommended by listeners. This week's item, recorded in March 1982, was selected from the James Kippen North India collection by Dr Janet Topp Fargion, curator of World & Traditional Music at the British Library Sound Archive.