15 December 2009
Recording of the Week: English sounds
In this 1929 recording for the Linguaphone language learning company, Prof. A. Lloyd James demonstrates English vowel sounds and dipthongs, incidentally creating some incongruous juxtapositions of examples, my personal favourite being 'ginger banana'.
http://sounds.bl.uk/View.aspx?item=024M-1CS0011608XX-0100V0.xml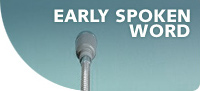 'Recording of the Week' highlights gems from the Archival Sound Recordings website, chosen by British Library experts or recommended by listeners. This week's item, part of the Linguaphone language series 'English Sounds', was selected from the  Early spoken word recordings collection by Stephen Cleary, Curator of Drama & Literature recordings at the British Library Sound Archive.