30 December 2009
Recording of the Week: Quentin Crisp at the ICA
Author, raconteur and gay icon Quentin Crisp talks to Adam Mars-Jones about the difference between British and American codes of etiquette in this recording at the Institute of Contemporary Arts in 1984 discussing Crisp's book 'Manners from Heaven: A Divine Guide to Good Behaviour':
http://sounds.bl.uk/View.aspx?item=024M-C0095X0122XX-0100V0.xml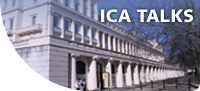 'Recording of the Week' highlights gems from the Archival Sound Recordings website, chosen by British Library experts or recommended by listeners. This week's item was selected from the Institute of Contemporary Arts talks collection by Stephen Cleary, Curator of Drama & Literature recordings at the British Library Sound Archive. The ICA talks collection has 1,000 hours of recordings of events held at the Institute of Contemporary Arts, in the Mall, London, recorded over the period 1981-1994.