08 January 2010
Recording of the Week: Ever heard the Bristol 'l'?
Listen to the way this speaker in this recording pronounces the words area (at 02:13) and piano (09:38) with an additional <l> sound . See also the link on the same web page to information on the lexis, phonology and grammar for this recording.
http://sounds.bl.uk/View.aspx?item=021M-C0900X00509X-0200V0.xml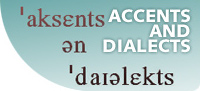 'Recording of the Week' highlights gems from the Archival Sound Recordings website, chosen by British Library experts or recommended by listeners.
This week's item, selected by Jonnie Robinson, a specialist in sociolinguistics & education at the British Library, is a recording of Pat Dallimore (d.o.b. 1937). It was made by Andrew Vincent for the BBC in 1998 in Knowle, Bristol.  The recording forms part of the British Library's Millennium Memory Bank, one of the largest single oral history collections in Europe.