01 February 2010
It begins with Muybridge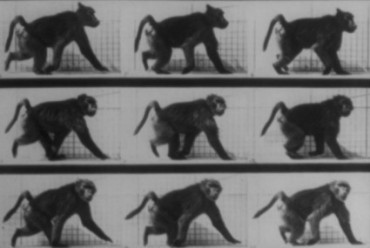 Welcome to the British Library's new Moving Image blog post series. It has three main objectives:
To talk about the British Library as a place for the study of moving images and the study of subjects through moving images
To discuss the Library's moving image holdings, moving image-related events at the Library, and resource developments
To cover developments in the moving image field which may impact upon the Library, particularly in the area of digital research
There will be more on just what moving images we have here, and how we intend to increase access and integration, in due course.
But the immediate reason for this post is to alert you to an event taking place at the Library this evening. The man who stopped time: Eadweard Muybridge – pioneer photographer, father of cinema and murderer is dedicated to the 19th-century sequence photographer, or chronophotographer, Eadweard Muybridge, whose work in capturing motion through series of photographs led the way to motion pictures.
The event will feature a talk by Brian Clegg, author of the recent biography of Muybridge, The Man Who Stopped Time, and some unique animations of Muybridge photographic sequences by Marek Pytel. Muybridge was not a filmmaker (though as early as 1880 he projected animated silhouettes taken from his photographic sequences through a device with the glorious name of the Zoöpraxiscope) but the sequences can be made to show movement, magically capturing the point at which still photography wills itself into motion. As for the murderer bit - well, yes, he did murder his wife's lover, only to be acquitted on grounds of justifiable homicide.
The event takes place on 1 February 2010 at the British Library Conference Centre, 18:30-20:00, and tickets cost £6 / £4 concessions. The event accompanies our major exhibition on 19th-century photography, Points of View, which runs until 7 March.