10 February 2010
Knowing and protecting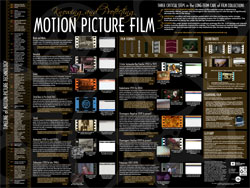 The Image Permanence Institute is a world-renowned centre for the investigation of sustainable practices for the preservation of images and cultural property. It's based at the Rochester Institute of Technology, and it list its areas of expertise as being
the nature of photographic images and other forms of print media, information and technical support for the archival and photographic conservation profession
sustainable practices in environmental management and preservation
the stability of imaging and information media and digital print preservation
development of ISO Standards for imaging media and preservation
All of which serves as preamble to the news that the IPI has produced a handsome new poster, entitled Knowing and Protecting Motion Picture Film, which illustrates the history of motion picture materials. Measuring 47"x35", the poster is described thus:
Using microscopy-imaging techniques, this poster features the striking characteristics of twelve distinct film materials from the silent era to present day. It features a time-line of motion-picture technology, a wide variety of motion picture film processes, tips for material identification, and basic knowledge on film formats and soundtracks. Also included is practical advice for film examination, a glossary of technical terms, and critical information needed for long-term preservation. Most notably, this poster is seen as an educational tool for understanding and ultimately preserving motion picture film materials.
More details are available from the IPI, but while we're on the subject of handsome posters ideal for the walls of any right-thinking moving image archivist or scholar, this is an opportunity to tell you about the BKSTS series of posters. The British Kinematograph Sound & Television Society is a professional body which runs training courses, lectures, workshops and such like, plus the journals Image Technology (online) and Cinema Technology. For many in the industry, however, it is probably best known for its superb series of wallcharts on motion picture formats, of which these are the titles:
Digital Intermediate
High Definition Systems
Film Gauges and Soundtracks
Widescreen and 3D Film Formats
Motion Picture Colour Processes
Special Venues and Theme Parks
Television Aspect Ratios
Current Film Formats
Video Recording Techniques
SFX Wallchart 2 (Animation & Computer Imaging)
SFX Wallchart 3 (Physical Effects)
Film Handling for Projectionists
Here's the Colour Processes chart to give you an idea of what's on offer: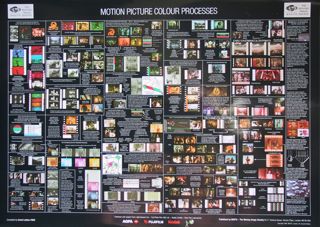 What more would be needed to impress your friends and establish your moving image credentials that to have such a poster on the wall? They also happen to be immensely useful. More details from the BKSTS website.