16 February 2010
Our moving image plans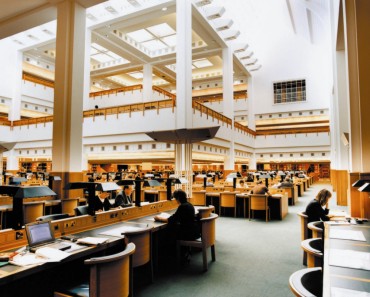 The British Library
I've already described the British Library's moving image collection, and I'll be coming back to particular aspects of the collection in future posts.
But what about our plans for the future?
The collection that we do have is relatively small (if you can call 40,000 titles small) and is very focussed on sound. It makes sense as part of the British Library Sound Archive, which is what it is, but it stands up a little less when viewed as what users of national library need to complement their research across a range of academic disciplines. The BL is keen to give the moving image a higher presence, for the simple reason that we see the future of research (and our business is research) as being 'media agnostic'; that is, the researchers of the future won't necessarily care whether something is a book, manuscript, a sound recording or a video – many are just going to want to have the necessary information in one place, in digital form, and easy to use. There must still be cinephiles, bibliophiles and those who cherish a medium for its own sake, but in the digital soup that we are all building it is the subject that is paramount.
Moving images are important for the BL's users, as our Content Strategy identified in 2007. But how are we going to acquire them? The traditional route of establishing a film archive, with all of its accoutrements and issues, isn't a sensible option. There are many film archives out there already (the UK has around 380 film collections of one sort or another) and we don't need to add to their number - we would rather work with them. Our intention is to work towards optimum moving image access for our users, underpinned by a core BL capability but working with collections elsewhere, to be integrated with the other kinds of resources that the BL holds.
Our plan has three main elements to it. Element one is to develop the delivery of moving images across particular subject areas. Already, thanks to the work of the Sound Archive, we are strong in areas such as popular music, drama, and oral history. We want to develop such specialisms further, to benefit researchers where we know there is particular need.
Element two is to develop a general moving image service and capability in line with other services that BL offers for texts, still images, maps, etc. By general I mean a service that can offer something for researchers across for many subject areas. To do so we will be establishing a digital video management system (or Video Server, as it's being called). This will host some of our existing moving image collection, but its main business will be to record television news programmes. This will fulfil a real research need, and with the exciting possibility of integrating such a service with our newspaper holdings in some way.
We will be recording news programmes (television and radio) off-air, using a system called Box of Broadcasts which has been developed by Cambridge Imaging Systems. The intention is to concentrate on 24-hour news channels available through Freeview and Freesat, content which is generally not available anywhere else to researchers post-transmission. The system is being built now, and will be ready to start recording in April. However, it won't become a public service until late next year at the earliest, not least because we want to have some time to build up a body of content. However, there will be some public tests of the service along the way. Access will be onsite only – we are able to record programmes to deliver access to them at our St Pancras site, but for copyright reasons not on the Web.
There's a lot of video out there, or so it seems
Element three is longer-term, and involves working with other institutions collectively to deliver extensive access to moving image content. You may feel that in an iPlayer and YouTube world that we are awash with video content already, but in truth only a tiny amount is really available for research. Much needs to be done before we are in a position where it is as easy for a researcher to gain access to a film or video recording at any time as it is a book or journal article. We have statutory deposit for the printed word in this country, and that means that – in principle – every book printed in this country now and in the past is available. You may have to go through some hoops to get hold of some titles, but the principle remains.
Moving images are specifically excluded from UK statutory deposit legislation, as are sound recordings. It says a lot about how moving images are viewed in our culture that this is so. There is a form of legal deposit for television, because under the Communications Act the British Film Institute records selected British television programmes from the terrestrial commercial television channels (the BBC archives its own output), but in general there is no guarantee that a film, video or programme that you would like to see for study purposes will be available to you, because no one is able, legally or technically, to keep it all.
But there is much that we can do to improve the situation, by having the major institutions work together. You may have read of the British Library and the BBC signing a memorandum of understanding at the end of 2009. A lot can come out of the signing of such agreements to co-operate.
Here's a vision of how things could work in the future. You, the researcher, are interested in Hamlet. You want to read the play. You want to look up the critical literature. You would like to listen to interviews undertaken with actors who have taken on the role. You would like to see images of set designs or costumes. You would like to see films based on the play. You would like all of this to appear through one search facility and the results to be delivered to you on one screen. Some of the content would come from the British Library. Some of it would come from other places, identified as belonging to them, but available in this same digital place. You might then want it all on the Web or your mobile as well, and that will be harder to achieve – but on site, we could do it.
This isn't about making research easy (good research won't ever be easy). It's about changing the nature of research, and about encouraging new discovery. If you find the video or the sound recording alongside the text, that leads to new forms of discovery, new conclusions, new research outputs. It's a goal worth working towards.