15 February 2010
Recording of the Week: Gerry Anderson on Thunderbirds
Gerry Anderson discusses in 1984 the making of the 'Supermarionation' TV puppet series 'Thunderbirds' and answers questions from the audience. First screened in 1965, the show has remained popular to this day, being celebrated most recently with a 'Thunderbirds Night' on BBC 4 TV in 2008.
http://sounds.bl.uk/View.aspx?item=024M-C0095X0104XX-0100V0.xml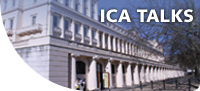 'Recording of the Week' highlights gems from the Archival Sound Recordings website, chosen by British Library experts or recommended by listeners. This week's item was selected from the Institute of Contemporary Arts talks collection by Stephen Cleary, Curator of Drama & Literature recordings at the British Library Sound Archive. The ICA talks collection has 1,000 hours of recordings of events held at the Institute of Contemporary Arts, in the Mall, London, recorded over the period 1981-1994.