09 February 2010
Recording of the Week: Ugandan legendary harp player Temutewo Mukasa
Mukasa was still serving King Mutesa when Klaus Wachsmann, then curator of the new Uganda Museum began making his recorded survey of Uganda's traditional music on one of the first 'portable' disc recorders. This was in 1949. The recording was made at the Mengo Lubiri palace in Kampala, Uganda, which was stormed in 1966 by Prime Minister Milton Obote. The King went into exile, and his musicians fled, taking their instruments with them. They did not play their repertoire again until 1987 when the heir, Ronald Mutebi, was invited back to Uganda and it became clear that the BaGanda people would be allowed to revive their kingdom.
http://sounds.bl.uk/View.aspx?item=025M-C0004X4950XX-0200V0.xml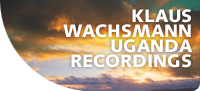 'Recording of the Week' highlights gems from the Archival Sound Recordings website, chosen by British Library experts or recommended by listeners. This week's item was recorded at Mengo, Kampala, Uganda. It is selected from the Klaus Wachsmann Uganda Collection by Dr Janet Topp Fargion, curator of World & Traditional Music at the British Library Sound Archive.
The "foremost pioneering scholar in African music", Klaus Wachsmann (1907-1984) made roughly 1,500 unique recordings of indigenous music in pre-independent, pre-Amin era Uganda, most of which have never been published before.  Further information on the Wachsmann collection.