28 February 2010
Wendy Toye
Wendy Toye (left) teaching Anna Neagle to dance boogie woogie on the set of Piccadilly Incident (1946), from Personality - Meet Anna Neagle, available at www.britishpathe.com
How sad to learn of the death of Wendy Toye. Most film histories don't mention her, but that's the usual fate of choreographers, not to mention women directors. Toye was both, and though she directed just a handful of films, there is one cast-iron classic among them, and as a choreographer she kept British films on their toes for a decade. She was also a dancer and a choreographer and director for the stage and a delightful person to know.
She started out as a dancer at a very young age. Born in 1917, she first appeared on stage before she was four, and she can be seen dancing in a 1927 cinemagazine item from the Eve's Film Review series, entitled 'Something New in Cabarets', dancing on board the R.M.S. Berengaria (the copy online at British Pathe unfortunately has the sequence missing, but the complete film is held by the BFI National Archive). By 1935 she was dancing in and then choreographing British films, working with Lilian Harvey (Invitation to the Waltz, 1935), Margaret Lockwood (I'll Be Your Sweetheart, 1945), and Anna Neagle (Piccadilly Incident, 1946). There is a delightful short film on the British Pathe site in which Toye teaches Neagle how to dance boogie woogie, followed by the classical versus modern dance sequence from what was the most popular British film of the year.
But for the film connosieur, it is Toye's work in the 1950s and 60s that merits her place in the history books. Firstly, she directed five feature films - The Teckman Mystery (1954), All for Mary (1955), Raising a Riot (1955), True as a Turtle (1956) and We Joined the Navy (1962) - and co-directed a sixth, Three Cases of Murder (1953). All are light, accomplished entertainments typical of their period, but what is most remarkable is that she was able to direct them at all. Toye was the only woman apart from Muriel Box to direct a British feature film throughout the 1950s and 60s, such was the chauvinism that existed throughout the film industry at that time.
It is the short films she directed that are exceptional. On the Twelfth Day... (1954) is a delighful exercise in artfully controlled chaos as the subjects of the song 'The Twelve Days of Christmas' gradually fill up the screen. The King's Breakfast (1963) is a jaunty intepretation of the A.A. Milne poem, demonstrating an astute eye for movement that the choreographer can bring to film direction.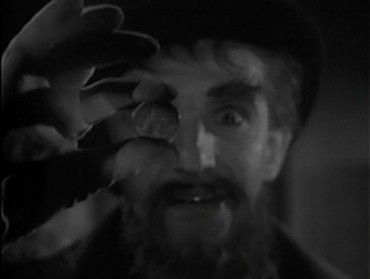 Alan Badel in The Stranger Left No Card, from www.theauteurs.com
And then there is The Stranger Left No Card (1952). This bids fair to be regarded as one of the finest short films of all time. A curiously-garbed stranger, played by Alan Badel, visits a British town (Windsor) and beguiles the inhabitants (and us) until he reveals his plan for the perfect murder. It all takes place to the precise beat of a metronome and the hynoptic sound of Hugo Alfvén's Swedish Rhapsody, and is executed with such wit and panache. It won the prize for best short film at the Cannes Film Festival and continues to entrance audiences every time it is screened. There's a tribute to the film, with evocative frame grabs, on the Auteurs site, written by David Cairns.
Toye enjoyed an extensive career beyond film. She danced for Ninette de Valois with the Vic Wells Ballet and for the Anton Dolin Ballet. She choreographed shows, musicals, theatre, pantomime and revue. She co-devised and directed the 1972 Noël Coward revue Cowardy Custard at the Mermaid Theatre. She worked in television from the 1960s onwards (including remaking The Stranger Left no Card as Stranger in Town for the 'Tales of the Unexpected' series in 1981), and served as an advisor to the Arts Council. I was honoured to meet her when I organised a special evening devoted to her films at the National Film Theatre back in 1995. The show was a sell-out, and Wendy herself was as vivacious a 78-year-old as you are ever likely to see.
There is some material that relates to Wendy Toye here at the BL beyond the standard film reference sources. She is praised for her work as a stage director in interviews done for the Theatre Archive Project and there are interviews with her or that refer to her in our Sound Archive. But if you get any sort of a chance to see The Stranger Left No Card (it's not available on video but there's a copy at the BFI National Archive and it has been screened on television) then do. It's a wonderful work to have left to posterity.