25 March 2010
Leadbelly sings for his freedom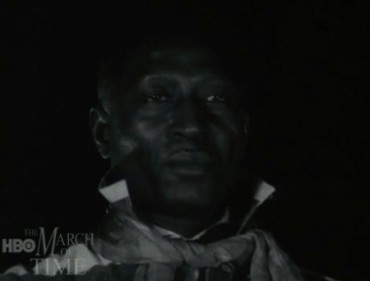 Available from the Time website
This is so wonderful to see (unfortunately I can't embed so click on the link above). It's Leadbelly from The March of Time in 1935, a famous sequence from the classic American news cinemagazine in which the American folksinger gains his freedom from prison by his singing ability, recorded by folklorist John A. Lomax. It ends up with Leadbelly's music being recorded for the Library of Congress and becoming part of the US national record alongside the Declaration of Independence. OK, so it's heavily staged for the cameras in the manner typical of The March of Time, but you have to see through the stilted delivery to what is such a precious record of a great singer, a great archivist, and incidentally a special early example of a film record showing the process of archiving - and audio-visual archiving at that. Leadbelly did sing for Governor Oscar K. Adle at Angola Prison Farm, Lousiana, in 1934, but history records that he was due for early release anyway and his song has nothing to do with his gaining his freedom - though Lomax always believed that the recording had helped his cause. In the clip Leadbelly says that he was freed from prison at an earlier time after singing to the governor, and this is apparently correct - in 1925, when he was held in Huntsville, Texas.
The March of Time was produced as an adjunct to Time magazine and shown in cinemas between 1935 and 1951 (though it had existed as a radio series since 1931 and continued as a television series after 1951). It was screened in Britain, with small variations in content, including some fresh stories filmed by its British unit. Acclaimed at the time for its dynamic style and its willingness to take on challenging subjects, it is probably best known today for the parody of its hectoring style in the 'News on the March' sequence from Orson Welles' Citizen Kane. The March of Time film library is now managed by HBO Archives. The essential history of the reel is Raymond Fielding's The March of Time, 1935-1951.
You can find plenty of information on Leadbelly (real name Huddie Ledbetter), with biography, photos, sound clips and much more, on the Lead Belly Foundation site.
Heads up to the Sound Archive Twitter feed for altering me to the clip.