02 March 2010
Opening up the BBC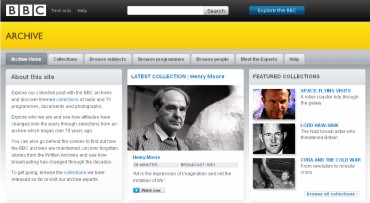 The BBC Archive site, which is making available increasing amounts of radio and TV programmes, documents and photographs in themed collections
The news today has been full of the BBC's strategy review, with the planned cuts to BBC 6 Music, Asian Network, a 25% cut on spending on BBC Online, and the promised increased concentration on quality programming grabbing the headlines.
But for the researcher, the most interesting section of the review document (which now goes out to public consultation) may be section 5, 'Guaranteeing access'. Here the BBC outlines its intention to move ever more into Internet-connected television through Project Canvas and the like, and to boost catch-up services, but also to open up its current and future programme library.
Access to BBC archive content has always been greatly sought by researchers, and to a degree systems exist to provide access for the dedicated. The British Film Institute serves as an onsite access service for BBC television programmes, and the British Library likewise for BBC radio. Many UK universities maintain BBC television programmes recorded off-air which they can make available to their students, and the British Universities Film & Video Council provides a back-up television recording service for the UK university sector. The content is there - at at least some of it - if you are in with the right people, know where to look, and are patient.
But in this day and age we demand more, and the digital revolution is making increased access an imperative. This has been coupled with a welcome rise in the profile of archives generally within the BBC, so that archive is not somewhere where programmes end up at the end of their useful life never to be seen again, but is becoming integral to the whole production process. This change in profile has led to much thinking about how to increase access to match future demand, while having to face such huge issues as third party copyright, film and video preservation on a vast scale, and the costs of digitisation. That thinking has fed into the BBC's strategy review.
The strategy review does not go into specifics, but it promises much. Its mission is to 'liberate' its programme library, which will be a long-term but inexorable and beneficial process, as the document says:
At the heart of the BBC's access strategy is an ambition to liberate its programme library — not just covering the archive of the last 88 years, but the daily accretion of hundreds of hours of new BBC programming and all the supporting materials that go with them. This will be a gradual, long-term project, and will need to be delivered through a mix of public service and commercial activities, with strong partnerships in both areas. The benefits to the UK as a whole will be significant, with the potential both to create a substantial and growing educational and cultural resource for citizens, and to stimulate new forms of creativity and commercial activity.
There are a number of key phrases that are important to note. It stresses that it does not own or even control all of the content in its archive, so going forward it will need to "partner with rights-holders and commercial providers if it is to keep as much as possible of its output available to audiences". So the archive of the future is to be built on foundations where on-going access is expected.
Mark Thompson and Lynne Brindley signing the BBC/BL memorandum of understanding
Also, the BBC does not see the process of increasing access to archive content as something that it is doing alone. It stresses that it wants to position
the BBC and its archive as part of a large and growing set of public archives made available by UK institutions, acting as an enabling force to link and support them in an increasingly common network.
Improved access to archives through shared services and common networks is something that public institutions in the moving image field are looking at very seriously. Among the BBC's partner archives are the British Library and the British Film Institute. The review states:
The BBC already has agreements in place with several key public archive partners. For example, it is working with the British Library on a wide-ranging project spanning the management, storage and distribution of archive content. It is partnering with the British Film Institute (BFI) to support key projects including Screen Heritage UK, and with Arts Council England to explore the potential of increased digital access to arts content.
There will be more to report on the British Library's Memorandum of Understanding with the BBC in due course. Also of interest to us, and the researchers we serve, is the stress the BBC places upon making its news archives accessible:
First is the content which comprises the definitive and impartial journal of record of the UK as a whole and its engagement with the world: over eighty years of BBC journalism in the form of daily news bulletins, broadcasts and scripts, together with the live broadcasts of key events. This unique and irreplaceable collection of content would be made available to audiences as a national resource, searchable and available for syndicated use by the BBC's public service partners as well as by schools or other educational institutions.
The floodgates are not going to open overnight. These processes will take time, as the BBC warns, and the hurdles that must be overcome are huge. But the principle has been laid down, and from that everything else must inevitably flow.