31 March 2010
Recording of the week: Ugandan legendary lamellaphone player praised
Muzale was a great budongo (lamellaphone) player among the Soga people of western Uganda. In this recording the performer Kasuwa sings a song in his praise.  The recording was made at the Uganda Museum where the then curator and recordist, Klaus Wachsmann, had initiated an innovative programme to include live music performances to demonstrate the musical instruments on exhibit:
http://sounds.bl.uk/View.aspx?item=025M-C0004X5013XX-0100V0.xml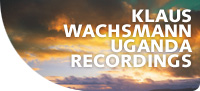 'Recording of the Week' highlights gems from the Archival Sound Recordings website, chosen by British Library experts or recommended by listeners. This week's item was recorded in 1950 at the Museum of Uganda in Kampala. It is selected from the Klaus Wachsmann Uganda Collection by Dr Janet Topp Fargion, curator of World & Traditional Music at the British Library Sound Archive.
The "foremost pioneering scholar in African music", Klaus Wachsmann (1907-1984) made roughly 1,500 unique recordings of indigenous music in pre-independent, pre-Amin era Uganda, most of which have never been published before.  Further information on the Wachsmann collection.