07 March 2010
YouTube goes Olympic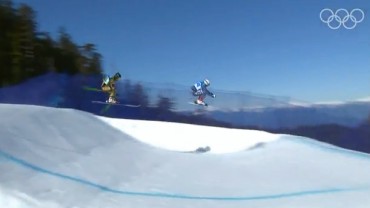 Ski cross at the 2010 Winter Olympic Games in Vancouver, from www.youtube.com/olympic
YouTube has launched an Olympic Games channel. Badged as being official (with the Olympic rings to prove it), the channel chiefly has clips from Vancouver (2010), Beijing (2008) and Torino (2006). However it clearly has ambitions to extend things further, as there are playlists for Games going back to 1928 - curiously they are all Winter Games apart from Beijing. Most of the playlists have just the one video so far, and the content is rather on the bitty side, with no attempt to indicate provenance. Better will follow, we must hope. It has been produced by the International Olympic Committee, but interestingly the site is not available in the USA where the moving image rights are held by NBC.
Olympic film comes in many forms - official films, television broadcasts, newsreels, background documentaries, web broadcasts - in a history which stretches back to 1906 (the earliest Games to be filmed). The IOC jealously guards its moving image heritage and include many film clips on its own history pages, plus there is the Olympic Television Archive Bureau which officially licenses Olympic footage, but what is available to the researcher online remains slim and not always that illuminating. It will be interesting to see if this latest venture can grows to become a real research resource, the nearer we get to the London Games in 2012. Time will tell.
No embedding of the videos is allowed, more's the pity.