The metallic song of the male Corn Bunting is often likened to the sound of jangling keys. This signature sound of the open countryside is sadly not as common as it once was, with changing agricultural practices inevitably impacting on Corn Bunting populations:
http://sounds.bl.uk/View.aspx?item=022M-W1CDR0001392-0100V0.xml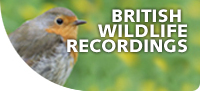 'Recording of the Week' highlights gems from the Archival Sound Recordings website, chosen by British Library experts or recommended by listeners. This week's item was selected from among 640 tracks in the British Wildlife Recordings Collection by Cheryl Tipp, curator of wildlife sounds at the British Library Sound Archive. The recording was made along the Dorset coast in June 1966 by Lawrence Shove, who in the 1960s was one of Britain's best known nature recordists.