12 April 2010
Recording of the Week: Pop Situationism
With the sad death last week of Malcolm McLaren, punk rock was briefly back in the news again. In this ICA discussion from 25 June 1984, Cynthia Rose talks to US rock critic Greil Marcus about his book Lipstick Traces: A Secret History of the Twentieth Century, which draws links between the Dadaists of the early twentieth century, the Situationists of the 1960s and the punk movement of the 1970s. Punk historian Jon Savage and artist and activist Jamie Reid - the man who put the safety pin in the Queen's nose - also contribute:
http://sounds.bl.uk/View.aspx?item=024M-C0095X0480XX-0100V0.xml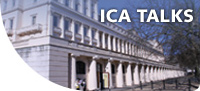 'Recording of the Week' highlights gems from the Archival Sound Recordings website, chosen by British Library experts or recommended by listeners. This week's item was selected from the Institute of Contemporary Arts talks collection by Stephen Cleary, Curator of Drama & Literature recordings at the British Library Sound Archive. The ICA talks collection has 1,000 hours of recordings of events held at the Institute of Contemporary Arts, in the Mall, London, recorded over the period 1981-1994.