04 May 2010
The film bookshelf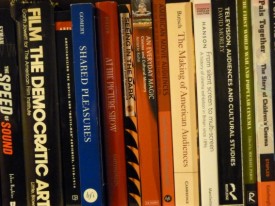 Sight & Sound has published a poll of the most useful and/or inspirational film books ever written. Not the best books ever, but those which have proven of the greatest value or which are most important to the fifty or so critics invited to take part. I was one of those invited to contribute, though I'm no film critic - but, heck, you don't turn down the chance to contribute to a Sight & Sound poll. It's a badge of honour.
The results are fascinating. The full list of titles is published in the June edition of the journal, while editor Nick James has written a thoughtful introduction, available online, alongside information on the top five titles. They turned out to be:
The list is very much a reflection of the background of most of those invited to take part. They are critics of a certain age, whose enthusiasm for cinema was lit in the 60s and 70s by Cahiers du Cinéma and auteurist cinema (Ford, Hitchcock, Hawks etc). As James points out, it was also an age when films were less readily available. Before videotape and DVD, one could go years before catching up on some classic titles, and the descriptions in such key texts told the reader what they really had to see one day, or else served as an aide-memoire for a film experienced once and unlikely to be readily available again. Apart from the above, some of the books cited by a number of the contributors include Robin Wood, Hitchcock's Films (1965), Peter Wollen, Signs and Meaning in the Cinema (1969), Kevin Brownlow, The Parade's Gone By (1968), James Agee, Agee on Film (1948), and Stanley Cavell, A World Viewed (1971).
James seems to express some disappointment at the narrowness of some of the choice, bemoaning the neglect of documentary as a subject (represented by just a couple of choices) and wondering where classic titles are such as Halliwell's Film Guide (which must have been useful to so many of those canvassed), John Alton's Painting with Light (technical books are absent apart from Karel Reisz and Gavin Millar's venerable The Technique of Film Editing) and Carol J. Clover's Men, Women and Chainsaws.
However, there are some surprises among the parade of greats: Chris Darke wins some sort of prize for selecting Plato's The Republic (for its 'Myth of the Cave' whose tale of shadows on the cave wall fool an audience into thinking that they are reality, a favoured metaphor for cinema - and television); Sukhdev Sandhu picks a Channel 4 Guide to Francois Truffaut from 1984 as an example of a handy little booklet that could inspire someone new to the joys of world cinema. Particularly interesting are the novels that have been chose. David Thomson's Suspects is easily the most popular choice here, but others have gone for Theodor Roszak, Flicker, Christopher Isherwood, Prater Violet, Adolfo Bioy Casares, The Invention of Morel, and F. Scott Fitzgerald, The Last Tycoon.
The rest you will have to discover in the journal yourselves. But there's my choices, over which I agonised for some hours. Here they are:
The last of those was meant to be a bit of left-field choice, though I'm firmly believe that it is an historically important work that pointed out at the dawn of cinema that film wasn't just there to entertain but was there to instruct, inform and document. The others are an anthology of originals texts on silent cinema, the film reference book that I most admire and have made most use of, a critical analysis of a film studio that is brimful of social and political intelligence, and the most observant of all film review anthologies - to my mind at least.
Had I chosen nothing but those books which had been most use to me, then I might have gone from Halliwell's Film Guide (and Filmgoer's Companion), Brian Coe's The History of Movie Photography, Rachael Low's The History of British Film series, or the list to beat all lists, the Library of Congress Catalog: Motion Pictures 1912-1939 - the very last book one would ever choose to read cover to cover, but constantly useful, a monument to thorough cataloguing.
But were I to choose only books that inspired, then I could just as easily have gone from Antonia Lant's marvellous anthology on women and early film, Red Velvet Seat; Lisa Cartwright's intellectually exhilarating study of medicine and visual culture, Screening the Body; Douglas Gomery's Shared Pleasures: A History of Movie Presentation in the United States, which has created a new discipline of cinema audience studies; Karl Brown's delightfully evocative account of early Hollywood, Adventures with D.W. Griffith; Raymond Durgnat's A Mirror for England: British Movies from Austerity to Affluence, which conjures up more wit in half a sentence than most film books can find in an entire chapter; Jacques Aumont's The Image, which is one of the few theoretical books that I thoroughly enjoy; or Brian Winston's Technologies of Seeing, which knows equally the how and why of what is offered to us on our screens large and small. Then, mindful of the complaint about documentaries being left out, why didn't I include Dai Vaughan's For Doumentary, as wise and insightful a selection of essays as you will find anywhere? Or Erik Barnouw's Documentary: A History of Non-Fiction Film, for being so consistently handy, or Jay Leyda's Film Begets Film, for covering a subject no-one else has thought to cover, the compilation film?
And so on and so on. I did feel, when scanning my bookshelves for this exercise, that the number of great film books was actually rather small. The number of titles ranging from the purely functional to the frankly dreadful (as reading experiences) is dispiritingly high. Finding the words to capture the experience of film is an elusive art. Film books are like poetry in translation - they follow the form but can never absolutely capture the spirit. The best they can do is to lead us back to the screen, or to conjure up a feeling that evokes for us the experience of having once viewed that film. So they have to inform, and inspire - which is precisely what the Sight & Sound poll asked its contributors to identify. Hopefully the list will inform and inspire others to read and explore for themselves.