Chris Clark, Head Selection and Documentation at the British Library Sound Archive writes:
"A little known episode from the life of Edward Elgar, his trip up the Amazon in 1922, is, on the surface, the subject of one of my all-time favourite reads, the prize-winning novel Gerontius by James Hamilton-Paterson. But Gerontius, like Elgar's music, has many facets and the themes of travel and water are employed cleverly to define a ratio between going away from somewhere and arriving somewhere else, leaving something behind and discovering something new. But what emerges from a series of encounters and awe-inspiring views is the opposite of an anthropological field trip to confirm cultural differences. Instead the reader is left with the notion that nothing new is ever found that does not repeat the memory of something that is lost. Everything is re-discovery and no matter how exotic the destination, the traveller will always find the same thing he left behind"
"So, having reached Manaus, Elgar is exasperated to meet a child-hood sweetheart who has been busy documenting the composer's every public appearance and endeavour. This recording of the author talking about Gerontius, at the ICA in 1989, must be rare as the author is a reclusive exile."
http://sounds.bl.uk/View.aspx?item=024M-C0095X0446XX-0100V0.xml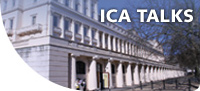 Recording of the Week highlights gems from the Archival Sound Recordings website, chosen by British Library experts or recommended by listeners. This week's item was selected from the ICA talks collection, a collection of 1,000 hours of recordings of events held at the Institute of Contemporary Arts, in the Mall, London, recorded over the period 1981-1994.