04 August 2010
Sounds wild: Chris Watson & Sir David Attenborough in conversation
Next week I'll be taking part in a public discussion about rainforests and their sounds with Sir David Attenborough and Chris Watson. Watson's wildlife sound recordings are perhaps best known through his work with Attenborough on BBC television series including The Life of Birds, The Life of Mammals, Life in the Undergrowth and Life in Cold Blood.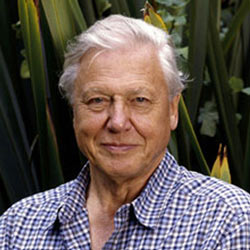 In the discussion, illustrated with tropical rainforest recordings used in Watson's current "Whispering in the Leaves" installation, we'll talk about the animals heard in the piece, experiences of filming and recording them, and the changing environment of the rainforest through the day. I'll also talk about some of the rainforest recordings that I made for the British Library's Rainforest Requiem CD.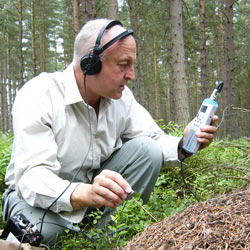 Chris Watson: recording ants
The discussion accompanies the Whispering in the Leaves sound installation, in Kew Garden's Palm House till 5 September. When I visited the installation recently, as if on cue a flock of Rose-ringed Parakeets screeched overhead as I approached the Palm House -- but these were actually wild birds, part of a growing breeding population of feral tropical parakeets that are regularly seen and heard over south London skies. Then as I entered the humid hot house and was enveloped in Watson's recording of a chorus of howler monkeys, I found myself transported to the South America jungles. This is the next best thing to the enthralling experience of actually being in a rainforest – without leaving London.
"Calls of the Wild - Chris Watson and Sir David Attenborough in Conversation", produced by Sound And Music and Forma, takes place at 7.30pm on Tuesday 10th August, in the Royal Institution, London W1. Tickets are sold out but there is a waiting list. 
Richard Ranft