03 September 2010
Recording of the Week: Can you recognise a speaker from the East Midlands?
Jonnie Robinson, a specialist in sociolinguistics & education at the British Library, writes:
Listen particularly to the distinctive intonation patterns of this speaker from Leicestershire, recorded in 1999.
http://sounds.bl.uk/View.aspx?item=021M-C0900X09097X-2100V0.xml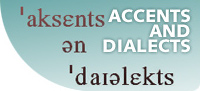 'Recording of the Week' highlights gems from the Archival Sound Recordings website, selected by British Library experts or recommended by listeners. This week's item was originally made for the BBC for the Millennium Memory Bank, one of the largest single oral history collections in Europe. During 1998 and 1999, forty BBC local radio stations recorded personal oral histories from a broad cross-section of the population for the series The Century Speaks. The result was 640 half-hour radio documentaries, broadcast in the final weeks of the millennium.
Contributors were either recruited from established groups within the community or chosen from responses to appeals broadcast over the radio: 56% of the interviewees were male and 44% female, ranging from five to 107 years old and drawn from a diversity of ethnic and socio-economic backgrounds. From the outset, the project sought to focus on local, everyday experiences and interviewees were encouraged to reflect on events and change at a community level rather than on the wider world stage.