Steve Cleary, Lead Curator, Drama and Literature Recordings, at the British Library, writes: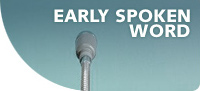 To mark the Library's current exhibition on the history and development of the English language here is a mildly amusing recording from Linguaphone's series of instructional English conversation discs. Other discs in the series feature advice on visiting a restaurant or a chemist's shop. This one offers the newcomer to the West End theatre scene invaluable instruction on matters such as booking a ticket over the telephone. Originally issued in 1929, when a programme would cost you just sixpence apparently.
http://sounds.bl.uk/View.aspx?item=024M-1CS0011570XX-0100V0.xml
'Recording of the Week' highlights gems from the Archival Sound Recordings website, chosen by British Library experts or recommended by listeners.