Alex King, Oral History Cataloguer at the British Library, writes: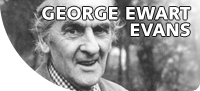 Childhood memories and food are two of the principal ingredients of Christmas. Here are the memories of Celia and Thomas Jay (born 1883 and 1884) of school, work and food in the 1890s, which show in passing (around 17 minutes into the recording) how important Christmas could be if you lived as frugally as they did. They were recorded in Suffolk in 1967 by George Ewart Evans, a pioneer of British oral history, who collected an immense diversity of reminiscences of rural East Anglia as it had been in the late nineteenth and early twentieth centuries.
http://sounds.bl.uk/View.aspx?item=021M-NP2848WXXXXX-0300V0.xml
'Recording of the Week' highlights gems from the Archival Sound Recordings website, chosen by British Library experts or recommended by listeners.