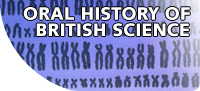 The Oral History of British Science team were saddened to hear the announcement last week that one of our interviewees, Professor David Jenkinson FRS, had passed away on 16th February.
Professor Jenkinson was a soil scientist and a long-serving member of Rothamsted staff, starting as a Scientific Officer in the then Pedology Department in 1957 and retiring from the Soil Science Department in 1988.  He was made a Fellow of the Royal Society in 1991.
In part 2 of his life-story interview Professor Jenkinson discusses his secondary education at the Royal School Armagh, building radios with his brother, and memories of home-made gunpowder:
http://sounds.bl.uk/View.aspx?item=021M-C1379X0006XX-0002V0.xml
'Recording of the Week' highlights gems from the Archival Sound Recordings website, chosen by British Library experts or recommended by listeners.