Paul Wilson, curator of radio, writes:
BBC Radio 4's The Archive Hour feature on the British Library's work with sound aired on 26th and 28th March. The idea for the programme, produced by Julian May and presented by radio historian Sean Street, was to explain and illustrate in under an hour the importance of the British Library's work in rescuing and preserving the sounds of the world around us – from Victorian Britain to the present day. No mean feat considering the enormous breadth of audio subjects and source materials which the Library is called upon to deal – from the regional dialects of chaffinches to the last recorded words of Nelson Mandela prior to his 1964 incarceration. They can be found on carriers as unlikely as rolls of wire or even postage stamps.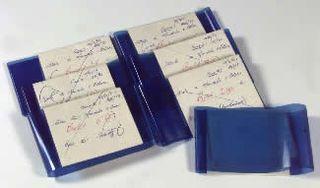 Original dictabelt recordings of Nelson Mandela's trial
Those who work with unpublished sound recordings might concur with my own view that the most rewarding moments occur during those few seconds of tape hiss or surface noise which follows the engagement of a recording device with a sound carrier of unknown origin – the suspense of waiting to be transported to an unknown place and time. And the possibility that you may be about to witness something no one has heard since a time long before you were born.
Walls of Sound presents a travelogue of such moments with some of the more unlikely recording locations offering clues:
Underwater in a marine laboratory aquarium, Aberdeen (2000)
The roof of New York's St Regis Hotel (1938)
Florence Nightingale's study (1890)
In the 'uppermost branch of a fir tree', Northants (1974)
Somewhere in Himalayan Bhutan (early 1970s)
A bookstore in Paris (1924)
Inside a coin operated recording booth, Egypt (1943)
A podium in Wembley Stadium (1924)
Lubiri palace, Kampala, Uganda (ca. 1949)
A swamp in Kauai, Hawaii (1983)
A supermarket checkout, Glasgow (2011)
But for archivists, of whatever medium, the ultimate satisfaction is experienced on those rare occasions when a forgotten document of the past can be reunited with its rightful owner.
One touching moment in the programme is the on-air transfer of the previously unheard contents of a booth disc recording picked up by Philatelic curator Paul Skinner at an online auction. It was found to contain a private audio letter from a British soldier based in Egypt during World War 2 to his family back home in Coventry – then still reeling from the blitz which had killed over 1,000 and flattened more than 60,000 buildings. Within hours of its transmission, a message was received from a Mr Keith Spragg, nephew of soldier Frank Spragg, expressing his joy at hearing a 67 year old recording he had no idea even existed, and at the unexpected opportunity of hearing again the voice of an uncle who'd survived the war but finally passed away in 1998.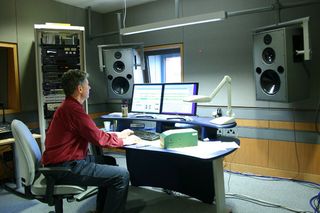 Working in the British Library's sound studios
The final voice in the programme is that of a now extinct species, the last surviving Kauai O'o A'a bird, calling to a mate killed in a hurricane the previous year and, as presenter Sean Street noted, "unaware that he is now completely alone in the world." An appropriate reminder of the vital importance of the British Library's work in recording and preserving the sounds of the world around us.
Walls of Sound can be heard online via the BBC's iPlayer until Sat April 2nd, after which it will be available within the British Library's reading rooms via the onsite Soundserver.