25 March 2011
Recording of the week: Ravel's string quartet in F major
Richard Power, Web Coordinator, writes: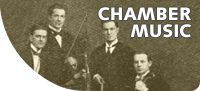 Ravel's string quartet contributed significantly to his notoriety within the French musical establishment as an unorthodox and modern composer. Written in 1903 and performed the following year, the work divided critics. Debussy, however, is said to have admired the work, apparently urging Ravel to refrain from altering it. This particular recording of the last two movements, performed by the Philharmonic Quartet, has a certain poignancy: it was recorded on the day of Debussy's death on 25th March 1918.
http://sounds.bl.uk/View.aspx?item=026M-1CL0028663XX-0100V0.xml
'Recording of the Week' highlights gems from the Archival Sound Recordings website, chosen by British Library experts or recommended by listeners.