11 April 2011
Between Two Worlds: Poetry and Translation
Stephen Cleary, Lead Curator, Drama and Literature Recordings, writes: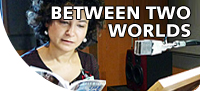 Poetry readings recorded for the British Library project Between Two Worlds are now available to listen to online. There are 30 poets featured, and more than 20 hours of audio in total.
Between Two Worlds aimed to record poets domiciled in the UK who are either bilingual or whose first language is not English. The poets were recorded in the British Library studio or in their own homes reading a selection of their poems, in English or in the language of composition, often with an English translation.
Britain is a multicultural place and that fact is very evident in the world of poetry. With this project the Library wanted to record for posterity a wide range of poets who would together exemplify that multiplicity of diverse voices and backgrounds.
The poets read in Russian, Chinese, Urdu, Punjabi, Kurdish, Welsh, Spanish, Hindi, Hungarian, Arabic, Persian, Polish, Mauritian Creole and other languages.
Countries of origin included Hungary, Turkey, Tatarstan, Iran, India, Chile, Pakistan, UK, Iraq, Azerbaijan, Hong Kong, Southern Kurdistan (Iraq), Mexico, Bulgaria, China, Ukraine, Russia and Poland.
Poet Amarjit Chandan, who suggested the idea for the project and became the Library's collaborator in realizing it, said: 'The project gave me an opportunity to come closer to my fellow poets of different tongues and cultures, sharing our life and creative experiences of post-war literary Britain'.
You can find an essay from Amarjit, a downloadable learning pack for use in schools, and, of course, the poetry recordings themselves at: http://sounds.bl.uk/betweentwoworlds