13 April 2011
Early wildlife recordings
Cheryl Tipp, Wildlife Sounds Curator, writes: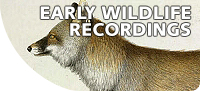 A new collection of species and habitat recordings from the first half of the 20th century have recently been added to the Environment and Nature category on Archival Sound Recordings. The majority of these recordings were originally released on gramophone records, presented in box sets and accompanied by illustrated literature that provided the listener with information about the animals they were hearing, possibly for the very first time.
 Ludwig Koch is described as being the father of wildlife sound recording and many of his recordings are featured in Early Wildlife Recordings. Born in Frankfurt on November 13th 1881, Koch made his first animal sound recording at the age of 8 when his father presented him with an Edison Phonograph and box of wax cylinders. This simple gift ignited a passion for wildlife sound recording that was to last a lifetime. Significant publications from Koch included Songs of Wild Birds (1936), More Songs of Wild Birds (1937) and Animal Language (1938), all of which are included in this collection.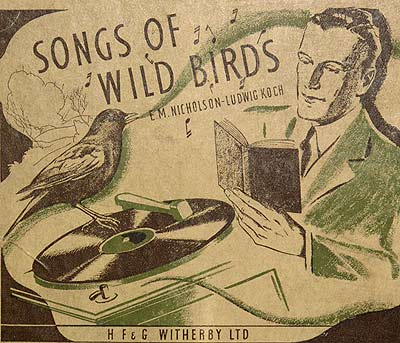 Another pioneer field recordist was the self-taught Danish ornithologist Carl Weismann. During his lifetime, Weismann recorded a wealth of material and published a number of recordings on his own record label. The recordings selected for inclusion in this compilation were taken from Weismann's original archive discs which are now held by the British Library.
There are many more examples of early published wildlife recordings that will be added to this initial selection in due course. Highlights will include the first commercially available wildlife record (Carl Reich's 'Actual Bird Record made by a Captive Nightingale') which dates back to 1910 and a series of speciality publications featuring wildlife sounds incorporated into traditional musical pieces such as 'Londonderry Air' and 'The First Noel'.