21 April 2011
New interviews added to 'Oral history of British science'
Elspeth Millar, Oral History Archive Assistant, writes: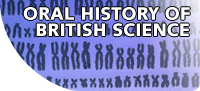 Further interviews from the National Life Stories project An Oral History of British Science, have been uploaded to ASR as streamed audio and are available to a worldwide audience via the 'Oral history of British science' package.  These newest interviews are with Professor Andy Hopper, Roy Gibson, Professor Sir Maurice Wilkes, Professor John Nye, Professor Dan McKenzie, Dr John Glen, John Kington, Professor Stephen Moorbath and Sue Vine.  Further interviews will be added over the next few months and up-to-date information on the project, including reflections from the interviewers, can be found on the History of Science blog. 
In addition, interviews with Professor Maurice Wilkins and Sir Aaron Klug, which were previously only accessible to those in UK Higher Education institutions, are now accessible as streamed audio worldwide.  These interviews were undertaken for the NLS projects Leaders of National Life and NLS: General, are were part of the original Archival Sound Recordings project, which aimed to increase access to the Library's sound archives through digitisation and online access.