Stephen Cleary, Lead Curator, Drama and Literature Recordings, writes: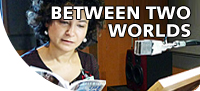 The Library's recording project Between Two Worlds focuses mainly on poets who are bilingual or whose first language is not English. David Morley is slightly different, although in his own way he very much fits the project's theme of work informed by dual cultures. Born in Blackpool to a Romani mother, his work mixes standard English with Romani words and phrases to uniquely powerful and intriguing artistic effect. This 2010 British Library studio recording includes the only complete audio rendition of David's long poem 'Kings'.
http://sounds.bl.uk/View.aspx?item=024M-C1340X0051XX-0000V0.xml
'Recording of the Week' highlights gems from the Archival Sound Recordings website, chosen by British Library experts or recommended by listeners.