16 May 2011
Recording of the week: One of the earliest chamber music recordings
Jonathan Summers, Classical Music Curator, writes: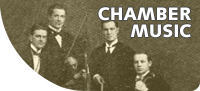 Recorded more than 105 years ago, this recording of the Minuet and Trio from Beethoven's Piano Trio in C minor Op. 1 No. 3 is one of the earliest recordings of chamber music by a well known and highly regarded ensemble. The violinist, Achille Simonetti, was born in 1857 and during the 1910 season the group performed all of Beethoven's Piano Trios in London. This single sided ten inch disc, made by the Gramophone Company, has particularly good recorded sound for its age.
http://sounds.bl.uk/View.aspx?item=026M-9CS0011622XX-0100V0.xml
'Recording of the Week' highlights gems from the Archival Sound Recordings website, chosen by British Library experts or recommended by listeners.