27 June 2011
Recording of the Week: OPIE Huddersfield
Jonnie Robinson, Lead Curator, Education and Sociolinguistics writes: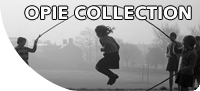 Barley, fainites, cross keys or pax? What would you say to avoid being caught during a game of tig, it or tag? Listen to these schoolchildren demonstrating playground games in Huddersfield in 1978.
http://sounds.bl.uk/View.aspx?item=021M-C0898X0012XX-0100V0.xml
'Recording of the Week' highlights gems from the Archival Sound Recordings website, chosen by British Library experts or recommended by listeners.