25 July 2011
Recording of the Week: Satyendra Srivastava
Stephen Cleary, Lead Curator, Drama and Literature Recordings, writes: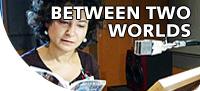 Poet Satyendra Srivastava was born in 1935 near Varanasi, India, but has lived in London since 1958. This recording, made in 2010 in the British Library studio for the Library's poetry recording project Between Two Worlds, begins with perhaps his most well-known poem 'Sir Winston Churchill Knew my Mother'. All the poems are read in both Hindi and English versions.
http://sounds.bl.uk/View.aspx?item=024M-C1340X0043XX-0000V0.xml
'Recording of the Week' highlights gems from the Archival Sound Recordings website, chosen by British Library experts or recommended by listeners.