Elspeth Millar, Oral History Archive Assistant, writes: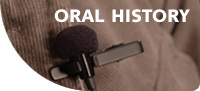 A new collection of interviews ('Potters of the Bernard Leach Legacy') is now fully catalogued and available to listeners on-site at the British Library. The collection resulted from a project co-ordinated by Pro-Natura UK, 'Preserving The Oral History of Bernard Leach's Pupils' and complements other collections of interviews with craftspeople archived at the British Library.
The project, which was funded by the Heritage Lottery Fund, ran between 2007 and 2010 and aimed to record interviews with potters who had either spent time at the Leach Pottery or whose work exhibited aspects of potting in the Leach Tradition.  Many interviewees were interviewed in their studios in the south west (including Philip Leach, John Leach, Tim Stampton, Jack Doherty, Lisa Hammond, Michael Cartwright, Jim Malone, Andrew Marshall, Svend Bayer, Anthony Richards, Trevor Corser, and Amanda Brier) although potters based as far away as New Zealand (Mirek Smisek and Peter Stichbury) were also interviewed for the project. 
The full list of those interviewed can be found by searching the Sound Archive catalogue for reference C1330.  The interviews are available to access on-site at the British Library in St Pancras and Boston Spa through the Listening & Viewing Service or via SoundServer.  As well as the twenty-four interviews recorded for the project, the collection also includes recordings made with Bernard Leach, William Marshall and Sybil Hanson, which were conducted by Canadian filmmaker Marty Gross in the 1970s.